Kerryon Johnson Should Be On Your Fantasy Radar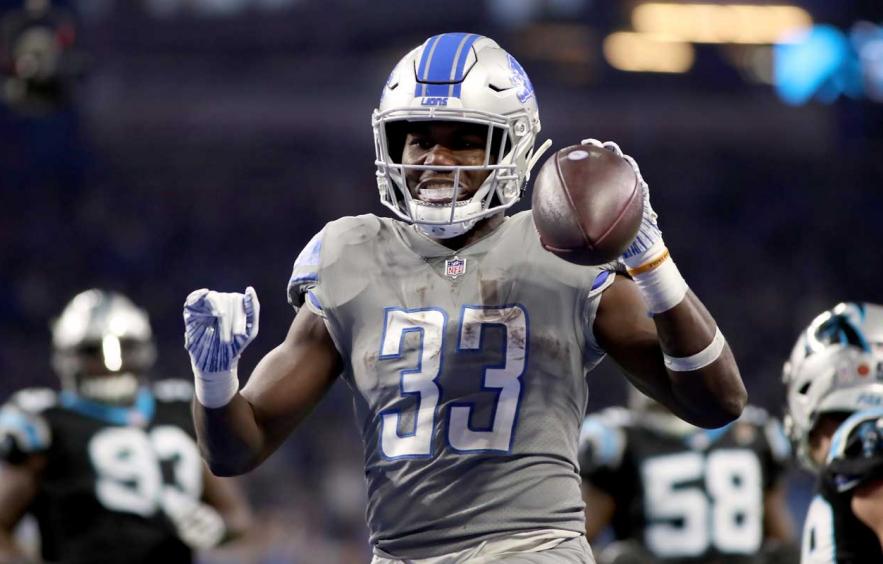 The shock of the second round in the 2018 NFL Draft took place when the Detroit Lions selected Auburn running back Kerryon Johnson with the 43rd overall pick. Not only was Johnson the sixth running back off the board, but the Lions traded up to ensure they snagged him. In an instant, Johnson jumped from fantasy afterthought to fantasy relevance.
Editor's Note: Find all our 2018 Player Profiles here. If you're in a dynasty league or you're looking for more information on the incoming rookies class, you should definitely check out all the content from our friends at Dynasty League Football.
The first thing that stands out from scouting Johnson is that he doesn't have a major weakness. He's a high-cut runner, who runs with patience, good vision, and intelligence. His ability to stay patient and allow his running lanes to open is the reason he draws comparisons to LeVeon Bell. As a runner, he plays chess while the defense plays checkers. He has so many moves in his repertoire that he consistently sets defenders up for his next move. He can lower his shoulder and use his strength to run you over, he can use his lateral agility to explode out of a jump cut to make you miss in space, or he can use a powerful stiff arm to rag doll you aside. Johnson is constantly changing up the way he wins so that when a defender is in position to take on his power he will make him miss, and when a defender breaks down and is preparing for a jump cut he can barrel over him. He showed off his explosive ability at the NFL Combine where he had a 40-inch vertical jump and a 126-inch broad jump, which ranked in the 93rd and 91st percentile, respectively, all-time among running backs.
Coming into 2017, Johnson had never rushed for more than 900 yards in a season, but due to Kamryn Pettway's suspension, he was given an opportunity to be a workhorse back. He responded by rushing for 1,391 yards and 24 touchdowns, leading the SEC in rushing yards per game at 115.9 and winning SEC Offensive Player of the Year. He also caught a career-high 21 passes, finishing his three-year tenure at Auburn with 55 catches for 478 yards and two touchdowns. Johnson showed soft hands, patience on screens, and a diverse route tree for a running back. He is unlikely to split out to the slot, but he is more than capable as a receiver out of the backfield. He is also someone who can use his vision and strength to be an asset in pass protection.
Landing Spot
The Detroit Lions come into the 2018 offseason with a clear goal in mind: Remake the run game. In addition to drafting Johnson, they hired new offensive line coach Jeff Davidson, signed Super Bowl champion running back LeGarrette Blount, and drafted the best run-blocking center Frank Ragnow in the first round. The Lions have made it clear that even though four backs (Tion Green was recently waived) from last season return, things need to look different in 2018. With that amount of resources spent on the running game, it makes you believe the Lions will run the ball more this season compared to 2017. Last season, the Lions ran the ball 37.04 percent of the time, ranking 31st in the NFL.
The Lions love to run inside and outside zone, which will take advantage of Johnson's vision, patience, and burst. General Manager Bob Quinn commented on his toughness and durability in a post-draft press conference: "Listen, any player you take — I'd say any position except for maybe corner or receiver — out of the SEC, they're tough and they're physical. So we feel really good about that. There's no issues with his durability for us." From Quinn's comments, the philosophy change, and the draft capital spent, it seems clear the Lions want to get Johnson the football and believe in his ability to be a workhorse.
The Role
By now, if you have kept up with all my rookie running back pieces, you know volume is the most important aspect of a running back's chances for success in fantasy football. Volume is the question when it comes to Johnson in Detroit, but the answer may surprise you. Ameer Abdullah's roster spot is said to be on thin ice, and Dwayne Washington, and Zach Zenner are not guaranteed rosters spots or playing time. This opens 270 touches if we safely assume these players will take a back seat to Johnson and Blount.
The Lions targeted their running backs 115 times in 2017, with Theo Riddick seeing 71 of those targets. Riddick is one of the league's best receiving backs and figures to maintain this role after averaging the 13th-most yards per reception among running backs with 8.4. This still leaves 38.2 percent of the target share available. Johnson figures to see most of this work as Blount hasn't had more than 12 targets in a season since 2011.
Where Johnson could lose some work is near the goal line. Blount saw 10 carries inside the 5-yard-line, ninth most in the league, but he only scored one touchdown. Blount will turn 32 during the season and is at the tail end of his career. He figures to get goal-line work ahead of Johnson but could cede the role to the rookie if he continues to struggle in this area.
Bottom Line
The Lions drafted Johnson for a reason. They aggressively traded up for him, using premium draft capital in an offseason where they are looking to overhaul their running game. Despite having all their ball-carriers back in the fold and signing Blount, the Lions should give Johnson a hefty workload. A conservative projection for Johnson would be 180 carries and 30 targets. Given his skill set, draft capital, and roster competition, that would put him comfortably in the RB3 conversation. Last season, only 21 backs had more than 210 touches—Johnson should be able to reach those numbers in 2018. According to FantasyPros' ADP, Johnson is being drafted as the No. 49 running back. He's an easy buy at that price tag.
Photo by Gregory Shamus/Getty Images.
Related Articles