The Training Room: Week 5 Injury Recap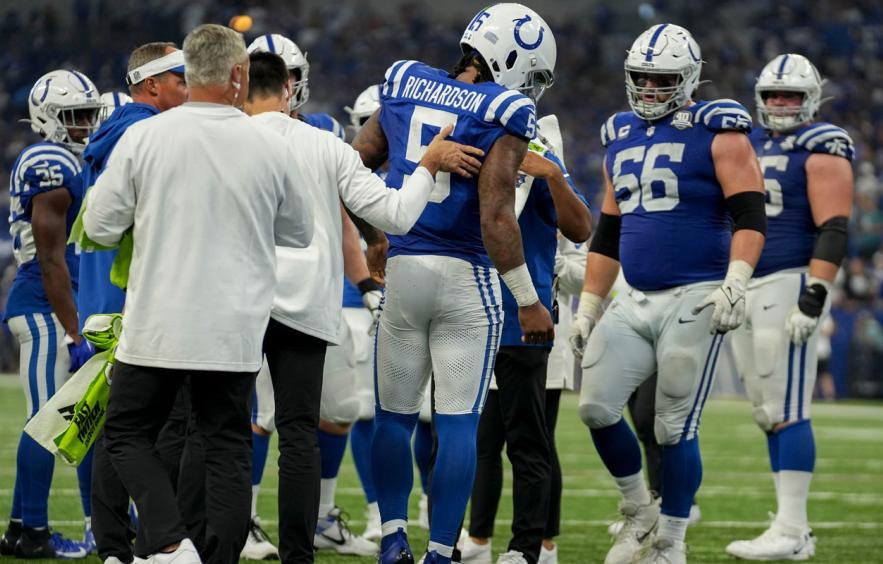 Jenna Watson/Indy Star-USA TODAY Network
Anthony Richardson

, QB Indianapolis Colts
Injury: Right AC Sprain
Projected Timetable: Week 12
Initial Thoughts:
We are starting to get concerned, with this being his third stint on this weekly injury report in his first season in the NFL. He entered the NFL with one of the highest injury risk profiles in the last few years too, so hopefully, he can stop the trend soon. For now, I would anticipate Richardson missing at least four games with what has been reported as a Grade III AC sprain, significantly worse than what Derek Carr suffered. The Colts have a Week 11 bye, so anticipate a Week 12 return versus a Week 10 return.
Daniel Jones

, QB New York Giants
Injury: Neck
Projected Timetable: Week 7-TBD
Initial Thoughts:
After the game, he told reporters that his neck injury felt similar to how his 2021 injury felt, which wound up requiring surgery. I would anticipate the Giants having him get an MRI to determine the extent of his injury, even if he is just feeling soreness, and to exercise caution with his return. His job will not be getting any easier any time soon with a battered offensive line.
James Conner

, RB Arizona Cardinals
Injury: Knee Sprain
Projected Timetable: Week 6-9
Initial Thoughts:
There are no specifics given yet on his injury, but by video, I have concerns for two things: 1) if it involves his left knee, I have concern for a meniscus injury as he planted, twisted, and continued his momentum forward, 2) if it involves his right knee, it appeared to jam and hyperextend upon impact, which could have led to a bone bruise. A meniscus injury would likely keep him out for a few weeks, or more if surgery is required. If it is a bone bruise, there is a decent chance he can suit up for next week, though it would likely be painful to play through. I will keep monitoring for more information, which likely will be released tomorrow.
De'Von Achane

, RB Miami Dolphins
Injury: Right Ankle
Projected Timetable: Week 6
Initial Thoughts:
Video was going around stating concern for an ankle sprain for Achane. By video, the mechanism looked very mild like a simple low ankle sprain. His foot did not get pinned and did not stick in the turf. I bet he could have continued playing if the game was not out of hand by the time of his injury in the fourth quarter. Monitor for updates, but I bet he plays in Week 6.
Khalil Herbert

, RB Chicago Bears
Injury: Right High Ankle Sprain
Projected Timetable: Week 8-10
Initial Thoughts:
His injury will likely cost him the most games out of all of these injuries listed. He suffered a fairly significant high ankle sprain after attempting to go down for a catch and having his toes caught in the turf underneath him. The team tried to tape his ankle up, but when he went back in and attempted to cut off of his right ankle, he buckled and fell to the ground. That play unlikely caused further damage, but indicates that his injury is at least a moderate grade. If mild, he likely could have played with heavy taping. I expect Herbert to miss at least 2-3 weeks.
Roschon Johnson

, RB Chicago Bears
Injury: Concussion
Projected Timetable: Week 6
Initial Thoughts:
Notably, only three players have suffered a concussion and played the following weeks. I do believe Johnson will have a chance to play due to having extra time between Thursday night and their next game on Sunday. If he does suit up, he would likely lead over Donta Foreman or any other running back they bring in off of the street.
Justin Jefferson

, WR Minnesota Vikings
Injury: Right Hamstring
Projected Timetable: Week 6-8
Initial Thoughts:
Given the fact that he pulled up from a route after slipping, grasped at his hamstring, and then was unable to return to the game while the team was down one score in their last two drives, I am expecting this to be more than a mild grade strain. While there is a chance he will suit up next week if the video appeared worse than the actual injury, it also would not surprise me if he misses the next one to two games. This should provide a solid boost to Jordan Addison, who has a nice matchup next week against Chicago.
Zay Jones

, WR Jacksonville Jaguars
Injury: Knee Sprain
Projected Timetable: Week 6-TBD
Initial Thoughts:
My concern level grows on his status considering that he initially injured his knee in Week 2, attempted to return and made it worse, missed the next two games, and then suffered a re-injury this week to the same knee. It makes me wonder if he will require surgery to address an issue, such as a meniscus tear or cartilage damage (meniscectomy). If so, I would expect him to miss two to four games. If not, he may continue to attempt to play through the knee injury, with a further weekly risk of more re-injuries. I expect him to miss Week 6, which provides a very nice matchup once again for Calvin Ridley against the Colts.
Tank Dell

, WR Houston Texans
Injury: Head/Concussion Screening
Projected Timetable: Week 8
Initial Thoughts:
I am playing the data on this one, with very few players being able to return the following week after suffering a concussion. The Texans bye is Week 7, so I am anticipating a Week 8 return for Dell.
Chris Olave

, WR New Orleans Saints
Injury: Toe Injury
Projected Timetable: Week 6
Initial Thoughts:
We found out just before the game started that Olave was working through a toe injury on his right side in pregame, but was able to suit up. In fact, he was still able to lead the team in routes run, so play ability should not be compromised. I do have some concerns about his production, at least for as long as this toe injury lingers and as long as Carr is not fully healthy with his right shoulder. He was able to bail us out this week with a touchdown on only two targets, but hopefully, next week will provide better results. He faces the Texans, so you likely are not benching him.
Robert Woods

, WR Houston Texans
Injury: Ribs
Projected Timetable: Week 6-7
Initial Thoughts:
He likely plays through the rib injury, considering he returned to this game and had several catches after the fact. It all depends on how painful and restricted his ribs are tomorrow and throughout this week. While I do not anticipate him missing time if he does while Dell is also out, this could provide a slight boost to John Metchie.
Juju Smith-Schuster and
Demario Douglas

, WR New England Patriots
Injury: Concussions
Projected Timetable: Week 6-7
Initial Thoughts:
Unfortunately, both of the Patriots slot wide receivers suffered concussions. Smith-Schuster's appeared to be worse by video, but again playing the data, it would seem that both will likely miss at least one game. If one were to clear, my guess would be Douglas.
Travis Kelce

, TE Kansas City Chiefs
Injury: Right Ankle
Projected Timetable: Week 6-7
Initial Thoughts:
This is the one injury that all of you Swifties came here for and I made you scroll all the way down to the bottom, my apologies. Thankfully, by video Kelce appeared to suffer a low ankle sprain, though his mechanism is a little bit different than your typical low ankle sprain. Based on his foot position when it rolled inwards (inversion sprain), there is a chance he suffered damage to his Calcaneofibular and/or Posterior Talofibular ligaments, which can cause slightly more pain than the typical Anterior Talofibular ligament (front of the lateral ankle). This likely explains why he was in so much pain despite it being a low ankle sprain. I do believe that he can play through this injury, but it likely swells and stiffens up over the next few days and the Chiefs play on Thursday night. Monitor his status. If he is active this week, you still play him considering he would be used in high-leverage situations like third downs or goal-line work when on the field. High leverage situations provide opportunity for a safe floor.