The Training Room: Week 4 Injury Recap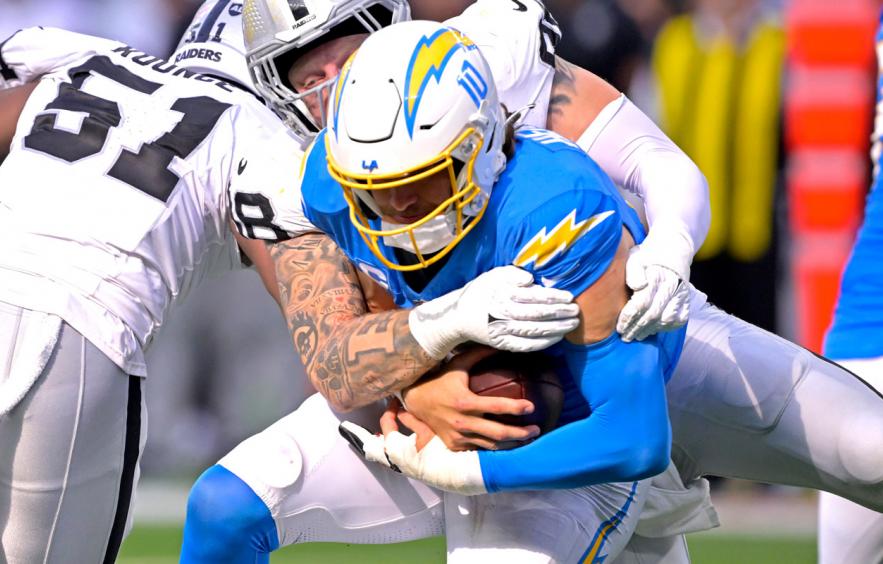 Jayne Kamin-Oncea-USA TODAY Sports
Justin Herbert

, QB Los Angeles Chargers
Injury: Left Middle Finger
Projected Timetable: Week 6-TBD
Initial Thoughts:
Herbert suffered an injury to his left middle finger after it appeared that his finger got caught in a defender's facemask during an interception. He returned to the field with a big splint on his left hand, holding his middle finger straight and fixated. There is a chance that he does not miss any time, granted taking snaps and ball security would likely be an issue, but there is also the chance that he will require surgery if there is a fracture or tendon involvement. His overall status will be determined once we have more information on the injury specifics. Stay tuned but brace for him missing some time. The Chargers Week 5 bye comes at a perfect time.
Kenny Pickett

, QB Pittsburgh Steelers
Injury: Left Knee
Projected Timetable: Week 7-TBD
Initial Thoughts:
This is most likely an MCL sprain that hopefully does not involve further damage. He was bent awkwardly on a sack and could initially barely place weight through his leg, though weight bearing visibly became easier as he got closer to the sideline. He will likely be getting imaging done on Monday to determine the true extent of the injury. Anticipate him missing a few weeks, or far more if the injury is significantly worse. Of note, the Steelers have a Week 6 bye, so he will at least have a few weeks to recover before attempting to return for Week 7, if even possible.
Matt Stafford, QB Los Angeles Rams
Injury: Right Hip
Projected Timetable: Week 5-6
Initial Thoughts:
I doubt that Stafford will miss time. He is as tough as nails, having played through the majority of the game while dealing with this hip injury. He was visibly limping around in pain but still managed to scramble away from the defenses and extend plays as needed. I would anticipate him stiffening up and hurting more tonight and tomorrow morning, but I also will not be surprised if he is able to get a full participation in on Friday and plays in Week 5. Monitor his status.
Javonte Williams

, RB Denver Broncos
Injury: Hip Flexor Strain
Projected Timetable: Week 5-7
Initial Thoughts:
Given the nature of his injury (non-contact), he was ruled out relatively quickly, and the fact that their next game is 7 days away followed by a Thursday night game 11 days from now, I am anticipating Williams missing the next two weeks with a hip flexor strain. This is most likely due to compensatory movement patterns and quite possibly due to him being ramped up too quickly in his return from his significant ACL injury. If the Broncos are smart, they will hold him out until he is fully ready to return without limitation. It sure seems like Sean Payton has rushed some of his players back from injury prematurely though, so we will find out soon enough how long Williams will be out. Jaleel McLaughlin becomes an intriguing ad.
Rico Dowdle

, RB Dallas Cowboys
Injury: Hip
Projected Timetable: TBD
Initial Thoughts:
We have less information on Dowdle than we do for Williams, but it sounds like he will miss some time. X-rays were reportedly negative, but he is set for an MRI tomorrow. Of note, the Cowboys have a Week 7 bye which could play a factor in his return to play. Dowdle has been a solid stash as the backup to one of the highest-usage running backs in Tony Pollard. Those duties will now likely go to Deuce Vaughn, though he has struggled in pass protection, which was a strong suit of Dowdle's. Maybe we finally find Leonard Fournette's landing spot.
Tee Higgins

, WR Cincinnati Bengals
Injury: Rib Fracture
Projected Timetable: Week 8
Initial Thoughts:
This is not what the Bengals need right now. Higgins suffered a (or multiple) rib fracture that will likely cost him at least two games, if not more, depending on the severity. If he returns too quickly as the fractures are healing, he runs the risk of re-fracturing. Teams often do not rush players back from these, because a more severe fracture can wind up splintering and puncturing vital organs, especially considering they are dealing with high-impact trauma playing football. Anticipate Higgins missing a few weeks at least, especially taking into account that they have a Week 7 bye. His most likely return will be Week 8 instead of rushing him back before the bye.
Davante Adams

, WR Las Vegas Raiders
Injury: Right AC Sprain
Projected Timetable: Week 5
Initial Thoughts:
Monitor his status, but I am not anticipating this costing Adams any playing time. It all depends on how his shoulder is feeling later today and tomorrow. It is unknown if he received an injection after he went into the locker room, but he was able to return to the game and play effectively. I expect the same for Week 5.
Mike Evans

, WR Tampa Bay Buccaneers
Injury: Hamstring Strain
Projected Timetable: Week 6-7
Initial Thoughts:
The bye week comes at a perfect time for Evans, who just suffered a hamstring strain. We do not have details yet on if this is a re-injury to his prior hamstring strain that he was dealing with leading up to Week 1, but if so then that could be more problematic than a simple mild strain so the opposite side. Keep an eye on his status, but we likely will not find out how he is doing until after Week 5 when Tampa Bay returns to practices.
Alec Pierce

, WR Indianapolis Colts
Injury: Head/Concussion Screening
Projected Timetable: Week 5-6
Initial Thoughts:
Pierce seemingly cleared concussion screening during the game and returned to the contest, but keep an eye on his status over the next few days. He has a past history of concussions and often times these scenarios can lead to the player arriving at the facility on Monday or Tuesday and reporting latent symptoms. Hopefully, he avoided a concussion.
Pat Freiermuth

, TE Pittsburgh Steelers
Injury: Hamstring Strain
Projected Timetable: Week 7-8
Initial Thoughts:
Freiermuth is entering the Greg Dulcich realm of injury-prone tight ends. He has an extensive history of prior hamstring strains, knee sprains, and concussions. Notably, he suffered a hamstring strain on Sunday that caused him to buckle to the field and require help off with trainer assistance. The Steelers have a Week 6 bye, so anticipate him missing at least one game as the best-case scenario, with the risk that he misses more time if the severity is worse.
Donald Parham

, TE Los Angeles Chargers
Injury: Wrist
Projected Timetable: Week 6-7
Initial Thoughts:
Once again, the Chargers bye week comes at an opportune time. The injury itself does not sound overly concerning, but he will likely be getting more evaluation on Monday. His role will be important after the team lost Mike Williams.
Juwan Johnson

, TE New Orleans Saints
Injury: Calf Strain
Projected Timetable: Week 6-9
Initial Thoughts:
Johnson suffered a re-injury of a prior calf strain that he had been dealing with, likely leading to a multi-week absence to recover. It also would not surprise me if they wind up placing him on IR, but let's monitor his status and wait for more news on the severity. The team might actually need to rely on Taysom Hill at tight end with Foster Moreau also still hampered by an ankle injury.