Fantasy Football Trader's Alley Week 1: Players to Buy, Hold, and Sell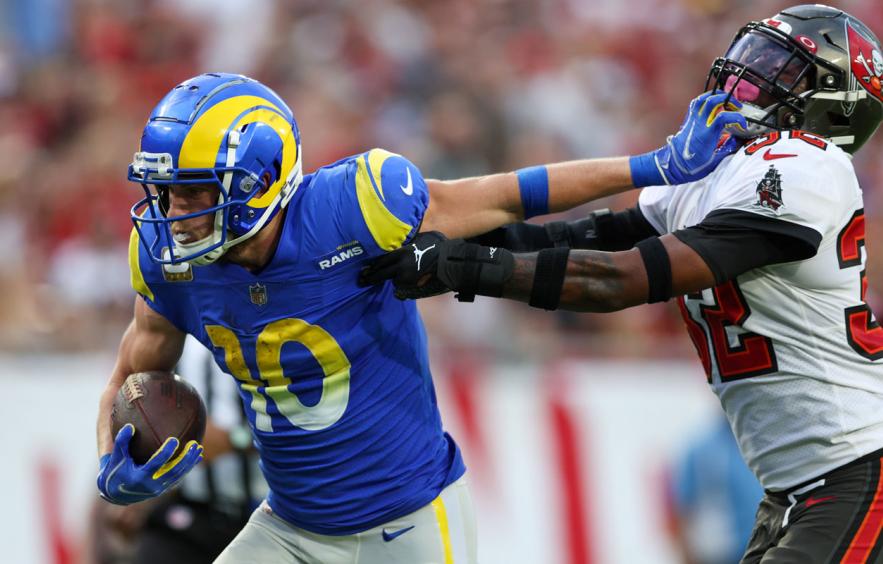 Nathan Ray Seebeck-USA TODAY Sports
Trading can be quite a frustrating task in fantasy football. It is seemingly impossible to put together an offer that makes both sides happy, and communicating with other league members can also be difficult. In the Trader's Alley, I'm going to try and guide you through making trades in your league this season. Using 4for4's powerful trade evaluator tool, I'll highlight players to buy, sell, and hold each week, and also create some hypothetical trades based on what the tool tells us.
This article will assume the following starting roster settings: 1 QB, 2 RB, 3 WR, 1 TE, 1 FLEX. Feel free to change the configurations to fit your league in the trade evaluator yourself. Obviously, this exercise is a little different before Week 1 as we don't have any actual gameplay to go off of, which makes the trade value data a little less reliable. So, the trade advice I offer this week will be based on some of the recent developments in the NFL.
Hold
Jonathan Taylor
I won't bury the lead—Taylor is without a doubt the single biggest question mark in fantasy football right now (although Cooper Kupp is giving him a serious run for his money). The Colts were unable to find a trade suitor for the disgruntled Taylor, leading to him being placed on the Physically Unable to Perform (PUP) list which will keep him out for at least the first four weeks of the season. Despite this unfortunate turn of events, I advise fantasy managers to remain patient with Taylor. His value is at an all-time low, so you'd likely be selling him for twenty-five cents on the dollar if you were to cut bait.
Continue reading for more on Taylor and additional Trader's Alley candidates.
Taylor is required to play in at least six games this season in order for his contract to not roll into next year, so he has incentive to suit up at some point in 2023. There is also still the chance that Taylor gets his wish granted and is traded to another team midseason. He is also still one of the premier young talents at the running back position and was a first-team all-pro just two seasons ago. Altogether, I'd rather stash Taylor on my IR and hope he returns to full form than trade him away for cheap.
Sell
Cooper Kupp
This might sound a little backward, but I'm actually more concerned about Kupp than Taylor even though he isn't on the PUP. After missing the final half of last season with a high ankle sprain, Kupp has suffered multiple hamstring strains this offseason and his status for Week 1 is up in the air—he is currently in Minnesota visiting a specialist and is not with the team. Hamstring injuries are notoriously prone to reinjury—Keenan Allen faced multiple setbacks and missed nine games last season with a similar injury to Kupp. So, I'd be trying to get rid of Kupp if possible right now. Although his status is supposedly "day-to-day" according to Rams head coach Sean McVay, I highly doubt Kupp plays in Week 1 and his absence could be extended much longer than that.
It definitely won't feel good giving away what might have been your first-round pick, but it's important that fantasy managers don't fall victim to sunk-cost fallacy and know that they sometimes have to bite the bullet and trade one of their stars. I'd be aiming for a second-tier running back like Josh Jacobs, Joe Mixon, or Jahmyr Gibbs in return for Kupp, but wouldn't settle for anything lower than that group.
Buy
Raheem Mostert
Just a few weeks ago, the Dolphins running back room was a mess to figure out, with Mostert, Jeff Wilson, and Devon Achane all having legitimate claims to being the No. 1 option. Now, the skies have parted and Mostert has emerged as the clear top option in the backfield to start the year. Wilson was surprisingly placed on the short-term IR, so he will miss at least the first four weeks of the season. Achane suffered a shoulder injury in the Dolphins' second preseason game and is only now practicing in full again. So, it looks like Mostert should be the undisputed two-down running back for the Dolphins.
Mostert put together a nearly fully healthy season last year, playing in 16-of-17 games and finishing as the overall RB26. If he can stay on the field, he will continue to offer fantasy value—the Dolphins offense projects to be one of the highest-scoring units in the NFL led by Tyreek Hill and Jaylen Waddle, so Mostert will receive plenty of goalline opportunities. If you could flip a high-floor, low-ceiling receiver like Brandin Cooks or Marquise Brown for Mostert, you may get a legitimate top-24 starter to start the season. I'd especially advise targeting Mostert if you have Jonathan Taylor, as their timelines match up rather nicely.
Sell
George Pickens
The George Pickens hype train is very much in effect after he had a great training camp and preseason. However, I'm a little more dubious as to how his profile translates to fantasy football. Pickens is almost solely a contested-catch / jump-ball winning threat—he was not a good separator at all last season, posting a success rate below the 35th percentile against both man and zone coverages last season according to Reception Perception. This means he will likely be a volatile fantasy option—his highlights will be great, but Pickens will struggle to consistently put up fantasy points given how much he relies on deep balls. It's quite frankly astounding to see that Pickens is valued above teammate Diontae Johnson, who will receive far more targets and be the higher-floor option.
Pickens is undoubtedly one of the most fun players in the league so letting go of him will be difficult, but I just feel like Pickens is a better real-life receiver than in fantasy. If you could trade him for a reliable RB2 like Isiah Pacheco or turn him into a solid tight end like Dallas Goedert, it would make your team a lot less frustrating week to week.
Buy
Courtland Sutton
The Denver Broncos receiving room has gotten absolutely decimated this offseason. Between Tim Patrick tearing his Achilles, K.J. Hamler discovering a heart condition that will keep him out for the year, and Jerry Jeudy getting carted off in practice due to a hamstring injury, it's honestly a miracle that Sutton is still standing. He should comfortably be the WR1 in the Broncos offense to start the year as a result of all these injuries and is a great buy-low target. Sutton was a massive disappointment in fantasy last season, as the Broncos offense was a complete fiasco in year one of the Russell Wilson era. I'm optimistic that they will bounce back as a unit—for one, statistically, there is simply no way they are that bad once again and should be on the receiving end of some heavy regression back up to the mean.
Additionally, the significance of Sean Payton replacing Nathaniel Hackett as head coach cannot be understated. Payton is a bonafide offensive guru who orchestrated one of the best offenses in the league for over a decade in New Orleans. If he can get the Broncos to even league average, Sutton will offer FLEX value in fantasy based on volume alone. You can probably get him for very cheap—a backup running back will likely do the trick—and he has legitimate upside which is hard to find in the lower ranks.
Hold
Alvin Kamara
Kamara was suspended for three games by the NFL last month for a violation of the personal conduct policy. If you drafted him, you probably planned to roster him through the suspension, so this is just a reminder to not get impatient with Kamara in the first few weeks while he's out. When Kamara comes back, he should immediately step in as a weekly top-24 option. He was an RB1 for each of the first five years of his career, and dealt with muscle asymmetry in his legs as well as heart rate issues which impacted his ability on the field last season.
Now fully healthy, Kamara will be an impact contributor the second he gets back, especially considering the Saints face a ridiculously easy schedule this year. It might get a little annoying to see him be a complete zero to start the year, but I advise Kamara managers to stay strong as he will be well worth the wait.
Quick Hitters
Hold Joe Burrow → Burrow reportedly will be ready to go for Week 1, so anybody who was concerned about Burrow missing time due to the calf injury he suffered in training camp does not need to worry anymore.
Buy Marvin Mims → Mims will be the No. 2 receiver next to Sutton and is another solid target. He was the first draft pick of the Sean Payton regime, as the Broncos traded up to draft him in the second round this year. He's a great high-upside stash.
Buy Puka Nacua → Nacua will probably be on the waiver wire in most leagues, but don't be surprised if he's a sought-after player following Week 1. Nacua has shown out during Rams training camp, and might become one of the top target options in this offense if Kupp misses extended time.
Sell Marquise Brown → The Cardinals offense looks like a train wreck this season and I want nothing to do with it. Neither Joshua Dobbs nor Clayton Tune offers much of anything at quarterback, so Hollywood owners are likely in for quite a long season.