John Daigle's 2023 NFL Mock Draft 1.0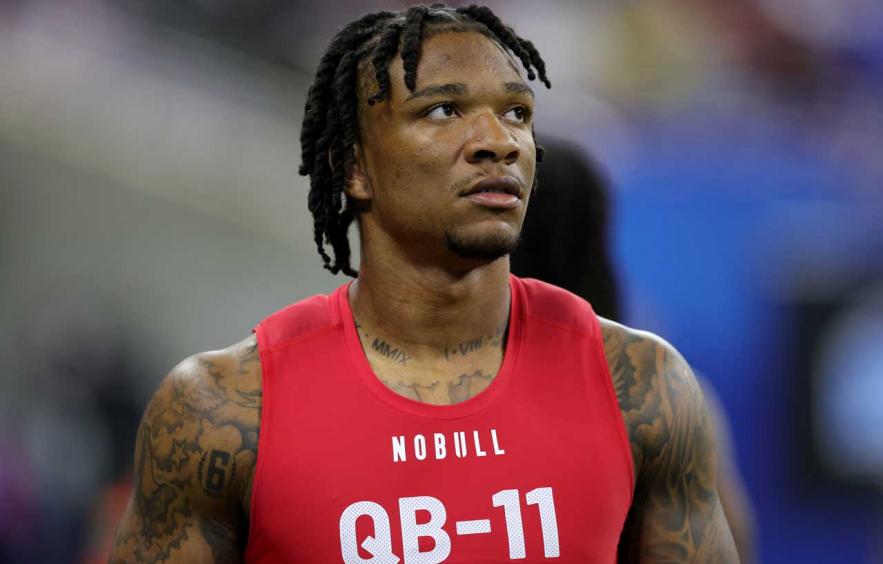 Stacy Revere/Getty Images
There is a time and place for individual player analysis throughout the offseason, but I genuinely believe it should take a backseat in mock drafting since a majority of the league's decision-makers typically forego any studious methods for hand-shaking, hearsay, and archaic jargon—"We're not selling jeans here," Billy Beane once reminded a room full of MLB scouts. The following is my best (and first) attempt at connecting the dots in the first round and my reasoning behind it, with player analysis sprinkled throughout whenever deemed fit.
You can get all of our official bets, articles, and breakdowns for 3 months ($150 retail) for as low as $5! Find out how here!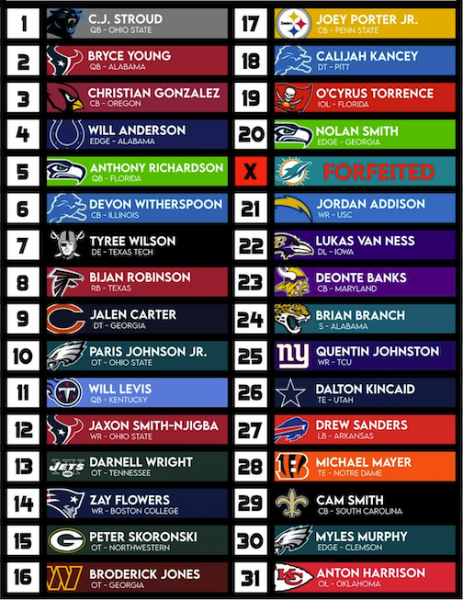 1. Carolina
Panthers

- QB

C.J. Stroud

, Ohio State

Owners typically have the final say in any hair-splitting decisions at the top of drafts, and, as it stands, David Tepper is reportedly leaning opposite of coach Frank Reich in eyeing Bryce Young. Even so, it's far too early to take a curtain call since any odds on the No. 1 overall pick only shifted once it was announced Young was set to visit the Panthers — Stroud's visit is next week. The only mistake one could make to this point was betting Stroud at anything over -120 (whether you believed it was true) since getting a better number was inevitable with a full month to wade through clickbait-driven odds.

Alternative pick: QB Bryce Young
2. Houston
Texans

- QB

Bryce Young

, Alabama

I'm of the belief the Panthers are pushing Young's name so ferociously because GM Nick Caserio is locked in his ways — both CB Derek Stingley and iOL Kenyon Green were not viewed as the top prospects at their own position last year, but that didn't stop Caserio from overvaluing his own analysis (a common tendency of Patriots cronies) and taking both first off the board. Carolina's front office (as well as the rest of the league) knows Houston is locked into Young at No. 2; dangling that carrot in order to potentially return Stroud and a mid-round selection is merely the organization doing its due diligence.

Alternative picks: EDGE Will Anderson, WR Jaxon Smith-Njigba
3. Arizona
Cardinals

- CB Christian Gonzalez, Oregon

I ultimately believe this pick will be traded. But if new GM Monti Ossenfort, who worked in every department of scouting for the Patriots from 2006-19, is not persuaded, slipping back into old habits of prioritizing the secondary comes to mind after the team lost CB Byron Murphy to the Vikings in free agency. (For what it's worth, New England only selected one first-round corner throughout Ossenfort's tenure.)

Alternative picks: EDGE Will Anderson, CB Devon Witherspoon
4. Indianapolis
Colts

- EDGE Will Anderson, Alabama
"I know [GM Chris Ballard and coach Shane Steichen] will line up together, there's no question, and I'll line up with their thinking unless something was very unusual." — Jim Irsay
Consensus has the Colts standing pat and selecting a quarterback with the No. 4 overall pick despite having a bridge familiar with the playbook, Gardner Minshew, on the roster for Week 1. More importantly, the front office did not endure a regime overhaul, which brings to light whether Ballard thinks he can afford one more year of leeway if pulling the trigger on a project. I expect the Colts to come away with a quarterback at some point in the first two days — Pro Football Network's Tony Pauline reports the team has shown interest in BYU QB Jaren Hall (6'1/207), who The Athletic's Dane Brugler projects as a 4th/5th-round selection — but not inside the first five picks. Oregon CB Christian Gonzalez, who logged the most snaps in zone coverage among his class last year, is also in play under DC Gus Bradley, who has schemed a league-high rate of Cover 3 (across three separate teams) in four of the last five seasons.
Alternative picks: CB Christian Gonzalez, QB Anthony Richardson
5. Seattle
Seahawks

- QB

Anthony Richardson

, Florida

Geno Smith's three-year, $75 million contract is actually a one-year deal since the organization can save $13.8 million against the cap by parting ways with him next year; either coach Pete Carroll and GM John Schneider purposely structured it to give themselves 'outs' before Smith turns 33 in October or their selfies with the big four quarterbacks are a smokescreen for the ages. With five picks in the first 83 selections (5, 20, 37, 52, 83), the team's other needs can be easily addressed beyond No. 5, whereas the player Smith is eventually bridging to won't be available.

Alternative pick: EDGE Tyree Wilson
6. Detroit
Lions

- CB Devon Witherspoon, Illinois

The Lions allocated $29.5 million guaranteed into Cam Sutton, Emmanuel Moseley, and versatile DB Chauncey Gardner-Johnson on the open market, but trading Jeff Okudah just three weeks before the draft suggests GM Brad Holmes is aware a shutdown corner will fall to No. 6. Jalen Carter would be taken more seriously here if his character, a priority for Holmes, had not taken a hit in March.

Alternative picks: CB Christian Gonzalez, DT Jalen Carter
7. Las Vegas
Raiders

- EDGE Tyree Wilson, Texas Tech

Sinking $24.2 million into Jimmy Garoppolo in year one allows the Raiders to, as Josh McDaniels admitted, "draft best player available at the time." Note that Chander Jones' dead cap hit plummets from an unsheddable $25.6 million in 2023 to $7.2 million next season.

Alternative pick: CB Christian Gonzalez, CB Devon Witherspoon
8. Atlanta
Falcons

- RB

Bijan Robinson

, Texas

The acquisition of Jeff Okudah for a fifth-round pick takes Atlanta out of the running for any first-round corner. Only the Cowboys averaged more RB carries per game (27.1) than the Falcons (26.7) last year, cementing Arthur Smith's intent of hiding a negligent investment under center with an efficient rushing attack.

Alternative pick: EDGE Lukas Van Ness
9. Chicago
Bears

- DT Jalen Carter, Georgia

The Bears admittedly have multiple needs, but none more pressing than plugging last year's league-highs in EPA per play and rushing yards per game (158.8) allowed from Week 9 on upon trading Roquan Smith. (I'm not sure if GM Ryan Poles has considered this, but fortifying any pass-blocking for Justin Fields requires much more nuance than simply drafting good players since his strength in extending plays has historically been his weakness in holding onto the ball for far too long.)

Alternative pick: OT Paris Johnson
10. Philadelphia
Eagles

- OT Paris Johnson, Ohio State

Howie Roseman will undoubtedly sit back and take the best player available on the team's board. The only question is which position ranks higher between OT, DT, and EDGE.

Alternative picks: DT Jalen Carter, EDGE Lukas Van Ness
11. Tennessee
Titans

- QB

Will Levis

, Kentucky

I cannot shake the fact that Ryan Tannehill's league-high $36.6 million cap hit is the difference between Tennessee being in purgatory or hitting reset altogether. Being linked to Levis in a possible trade-up scenario is the icing on the cake. For what it's worth, Mike Vrabel was reportedly giving tips on technique to OT Darnell Wright at Tennesse's pro day.

Alternative picks: OT Peter Skoronski, OT Darnell Wright
12. Houston
Texans

- WR

Jaxon Smith-Njigba

, Ohio State

All signs point to Houston coming away from night one with two of three positions between QB, WR, and EDGE. Levis is also on the radar with this pick.

Alternative picks: QB Will Levis, EDGE Lukas Van Ness
13. New York
Jets

- OT Darnell Wright, Tennessee

38-year-old Duane Brown intends to return for his 17th season but is not a long-term option; neither are Mekhi Becton, Max Mitchell, and C Connor McGovern, the latter who remains a free agent. Ensuring Aaron Rodgers is protected around the edges is of the utmost importance for this roster, and Wright, who has been steamed up draft boards for his 97th percentile speed score at 6'5/333, offers the same traits that initially lured Joe Douglas into drafting Becton.

Alternative picks: OT Peter Skoronski, C John Michael Schmitz
14. New England
Patriots

- WR

Zay Flowers

, Boston College

There will be alluring receivers available beyond New England's first pick, but this organization has not shown any restraint in securing 'their guy' when on the clock. OC Bill O'Brien even spent the day reviewing the team's offense with Flowers during his visit to their facilities.

Alternative pick: CB Joey Porter Jr.
15. Green Bay
Packers

- OT Peter Skoronski, Northwestern

Albeit a three-year starter exclusively at left tackle, Skoronski's atypical measurements (6'4/313) give him the flexibility to either be groomed in his age-22 season as David Bahktieri's successor or compete on the interior in order to grow with Jordan Love. Regardless, Rashan Gary's unclear status following November's torn ACL may force the organization's hand.

Alternative picks: S Brian Branch, EDGE Lukas Van Ness, EDGE Myles Murphy
16. Washington
Commanders

- OT Broderick Jones, Georgia

Both Andrew Wylie, familiar with Eric Bieniemy's offense from their time together with the Chiefs, and Nick Gates can play on the interior, allowing Jones to slide in as a projected All-Pro left tackle. Brian Branch is also in serious contention here since Washington's defense remains short a third S and nickel CB, both positions in which Branch logged snaps at Alabama, under DC Jack Del Rio.

Alternative picks: S Brian Branch, OT Darnell Wright, EDGE Lukas Van Ness

17. Pittsburgh
Steelers

- CB Joey Porter Jr., Penn State

As The Athletic's Mark Kaboly astutely noted, the Steelers have used only one first-round pick on a corner (Artie Burns, 2016) since 1998. Assistant GM Andy Weidl and DC Teryl Austin, however, were spotted at Porter's pro day — per Sharp Football's Ryan McCrystal, only lower-level scouts were sent to other CB pro days.

Alternative pick: EDGE Myles Murphy
18. Detroit
Lions

- DT Calijah Kancey, Pittsburgh

Brad Holmes invested a second-round pick in DL Levi Onwuzurike in 2021, but Detroit's front office reportedly "just don't know" whether he'll overcome the history of back injuries that finally forced him under the knife in October. Pairing an edge rusher opposite Aidan Hutchinson is also in play.

Alternative picks: CB Joey Porter Jr., EDGE Lukas Van Ness, EDGE Nolan Smith
19. Tampa Bay
Buccaneers

- iOL O'Cyrus Torrence, Florida

Last year's o-line finished bottom-two in ESPN's Run Block Win Rate and yards before contact per attempt then traded Shaq Mason for a sixth-round pick. Torrence, a massive (6'5/330) run blocker with SEC experience, would slide into a starter's role by default ahead of Caleb Williams' arrival next year.

Alternative pick: Anyone with a pulse
20. Seattle
Seahawks

- EDGE Nolan Smith, Georgia

Seattle knowingly made chicken salad out of chicken shit, finishing 14th in pressure rate despite failing to roster a household name on the edge. There's enough room for another athletic presence on this line, none offering more explosion than Smith's highlighted 41.5-inch vertical, 1.47-second 10-yard split, and 4.39 40-time at Indy's combine.

Alternative picks: DL Adetomiwa Adebawore, Best available TE
21. Los Angeles
Chargers

- WR

Jordan Addison

, USC

Chargers stay in-state to address an emphatic need with Addison (5'11/173), who can separate over the top and offers experience from both the boundary (81% snaps under Lincoln Riley last year) and slot (75% with Pittsburgh in 2020-21). Addison is arguably one of only two receivers virtually guaranteed to hear their names called on night one given his evaluation as Daniel Jeremiah's top receiver.

Alternative pick: WR Quentin Johnston
22. Baltimore
Ravens

- EDGE Lukas Van Ness, Iowa

Deciphering Baltimore's big board should be the priority for any mock drafts since Eric DeCosta will select the best player available. Wide receiver is also a possibility since Odell Beckham's massive one-year, $15 million contract was penned solely to ensure Lamar Jackson returns in 2023.

Alternative picks: EDGE Myles Murphy, WR Jordan Addison, WR Quentin Johnston
23. Minnesota
Vikings

- CB Deonte Banks, Maryland

Here's what we know: Patrick Peterson departed to Pittsburgh, Byron Murphy was signed to play in the slot, and GM Kwesi Adofo-Mensah's first two picks last year were sprinkled across the secondary (Lewis Cine, Andrew Booth). In valuing elite traits in his players, Banks' standout 4.36 40-speed had to have caught the eye of KAM.

Alternative picks: CB Emmanuel Forbes, WR Quentin Johnston
24. Jacksonville
Jaguars

- DB Brian Branch, Alabama

Listed as a safety, Branch actually logged 74% of his snaps aligned from the slot last year. It's coincidently the same area where the Jaguars have a plethora of holes to fill around (and, quite frankly, ahead of) Tyson Campbell and Darious Williams on the roster.

Alternative picks: CB Deonte Banks, CB Emmanuel Forbes
25. New York
Giants

- WR

Quentin Johnston

, TCU

New York's available wide receivers ahead of the first year of Daniel Jones' lucrative four-year contract: Isaiah Hodgins, Darius Slayton, Parris Campbell, Sterling Shepard, Wan'Dale Robinson, and Jamison Crowder.

Alternative picks: iOL O'Cyrus Torrence, C John Michael Schmitz
26. Dallas
Cowboys

- TE

Dalton Kincaid

, Utah

It's no secret the Cowboys are in the market to replace Dalton Schultz, and although there's a full two years between Michael Mayer's (22 in July) and Kincaid's (24 in October) ages in their rookie seasons, I can only assume NFL evaluators prefer the latter after he was ranked as Daniel Jeremiah's No. 9 overall player.

Alternative picks: RB Bijan Robinson, TE Michael Mayer, WR Quentin Johnston
27. Buffalo
Bills

- LB Drew Sanders, Arkansas

Replacing Tremaine Edmunds takes precedence with this pick.

Alternative picks: LB Trenton Simpson, LB Jack Campbell
28. Cincinnati
Bengals

- TE

Michael Mayer

, Notre Dame

Cincinnati does not have a single tight end under contract through 2024 and most recently lost Hayden Hurst, who accounted for 74% of the team's TE targets last year, in free agency. Enough said.

Alternative picks: TE Dalton Kincaid, RB Jahmyr Gibbs
29. New Orleans
Saints

- CB Cam Smith, South Carolina

Pinpointing New Orleans' lone selection in the first round requires sifting through which 31 players are most likely to be drafted on night one and which elite athletes are leftover once the Saints are on the clock. With numerous holes across from Chris Olave, behind LBs Demario Davis and Pete Werner, throughout the team's cornerbacks room, and in place of premier pass rushers David Onyemata (Falcons) and Marcus Davenport (Vikings), this one could go a number of ways.

Alternative picks: EDGE Myles Murphy, DT Bryan Bresee, LB Jack Campbell, LB Trenton Simpson
30. Philadelphia
Eagles

- EDGE Myles Murphy, Clemson

Eagles will undoubtedly find Brandon Graham's successor with one of its first two picks. Which one depends entirely on who falls to No. 10.

Alternative pick: Best player available
31. Kansas City
Chiefs

- OT Anton Harrison, Oklahoma

Jawaan Taylor was signed to replace Orlando Brown at left tackle even though the former totaled 18 snaps at that position across 66 games in Jacksonville. Right tackle is also up for debate after Andrew Wylie followed Eric Bieniemy to Washington. Harrison gets the nod here if only because he's squeezed into the first round of mock drafts more often than Ohio State's Dawand Jones.

Alternative picks: WR Quentin Johnston, RB Jahmyr Gibbs

Missed the Cut: Mississippi State CB Emmanuel Forbes, Minnesota C John Michael Schmitz, Georgia TE Darnell Washington, Iowa EDGE Will McDonald IV, Michigan DT Mazi Smith, Clemson LB Trenton Simpson, Northwestern DL Adetomiwa Adebawore, Clemson DL Bryan Bresee, Iowa LB Jack Campbell, Tennessee WR Cedric Tillman, Alabama RB Jahmyr Gibbs, Georgia Tech EDGE Keion White, Georgia CB Kelee Ringo