Post NFL Draft Dynasty Q&A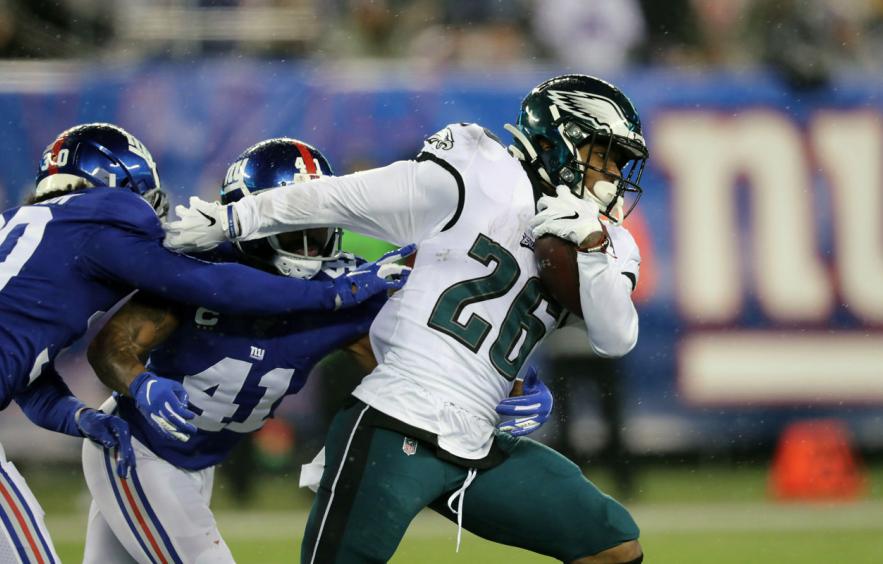 Al Pereira/Getty Images
*This article is written by Jeff Haverlack from Dynasty League Football.
The dust has settled from the NFL Draft but, for dynasty coaches at least, the work has only just begun.
Top on our list is rookie assessment, trying to determine the impact of the incoming class and how NFL veterans could be impacted. Furthermore, multiple veterans remain unsigned or on the trade block, making for another potential round of trades or player movement to capitalize upon.
At DLF there's a reason why we say: "There Is No Off-Season"
I've assembled a list of some primary questions on the minds of dynasty coaches now that many rookie drafts are underway and training camps loom in the near future.
---
More Dynasty Content: Dynasty League Football | 9 Dynasty Players To Target After The NFL Draft | 9 Dynasty Winners & Losers from the NFL Draft | Dynasty 1QB Rookie Mock Draft | The Dynasty Aftermath (DLF) | 8 Dynasty Sleepers to Supercharge Your Team | 8 Dynasty Risers & Fallers (May) |
---
Let's dive in!
Q: What do I do with
Miles Sanders

?

Recently turned 25, the injury prone back has been in a precipitous decline and is now found as DLF's RB26, though he continues to slide. As seen on his historical ADP chart below, he has nearly returned to his rookie-year value.

Playing into Sanders' issues, the Eagles have favored a broad running back by committee (RBBC), quite possibly due to his inability to remain off the trainer's table. When healthy, Sanders has averaged an impressive 5.1 ypc and has reeled in 104 receptions across his 40 games. But, again, health is the operative word.
How you view Sanders may depend on your own dynasty style. For myself, I tend to target what others are selling and with the dynasty community fading the mid-career back, I've been selectively adding him ahead of his 2023 free agency status. He'll be motivated to remain healthy in hopes of signing a new contract a year from now and has the role to produce if given the touches. That's enough for me to buy low if I can.
Q: This next one comes from Twitter:


Is Christian Watson worth the equity or would Romeo Doubs be the better value long term in Green Bay?

— BKarr (@BryanKarr93) May 9, 2022
All analysts have an area of specialty and when it comes to scouting, wide receivers are my wheelhouse. There are a couple of things to understand about the NFL when it comes to scouting. First, I don't make it a habit of discounting NFL coaching staffs and scouts. Second, it's well known that two NFL teams are very good at scouting receivers, Pittsburgh and Green Bay. If either team selects a receiver, it's noteworthy.
In DLF's Rookie Rankings, Watson is found as the WR9 and the R11 overall. Doubs is listed as our WR18 and R35. Both values are accurate based on my scouting.
Watson is a raw but dynamic prospect, possessing all the necessary attributes to be a high-upside producer in the NFL. Also working in his favor is his late-first selection by the Packers, ensuring that he's going to a favorable situation.
Don't expect immediate impact as the rookie learns the system and develops chemistry with Aaron Rodgers, but he's an easy selection for me as rookie drafts near the end of the first round. As for Doubs, he's a nice late-round rookie sleeper due to similar circumstances.
Q: Another question from Twitter:
Who has the biggest Reagor/Harry bust potential of the early round WR picks this year?

— Andrew Davis (@Evolutiom001) May 9, 2022
As poor as the 2022 NFL Draft was forecasted to be months ago with respect to offensive skill position players, I was pleasantly surprised with the development of this year's incoming wide receivers. It's a fast group and generally a plus-level class when considering route-running.
When referencing Reagor/Harry, I'm assuming that the coach posing the question is looking for the highest-ranked (dynasty) receiver with the greatest chance to bust. Therefore, I'm focusing on the top six receivers from our DLF Rookie Rankings.
There's something to like for everyone looking for a receiver from this year's class. But, historically, there are also a few flags dynasty coaches need to be aware of. Two of the primary variables are the drafted situation (team), and quarterback quality. When applying these two variables, Drake London (WR1) and Jameson Williams (WR4) rise to the top. Both have higher bust potential due to team strength and quarterback situation.
In the end, London for me has the highest bust potential, by only a modest margin over that of Williams. Without elite speed and a somewhat limited resume with no other significant non-TE receivers on the depth chart, when combined with significant quarterback concerns, there's reason for caution with London. Unquestionably, Drake London has fantastic upside as well, due to size and physicality, but this is a case where offensive situation may derail his early years. Should the team struggle to secure its quarterback situation, poor performance and a coaching carousel could easily be the result.
Q: Let's stick with Twitter for one more question:
In a super flex league are ANY of these rookie QBs worth drafting with a top 5 pick?

— Dan Magee (@realwigsmagee) May 8, 2022
As I, along with many others, have been saying for a long time, 2022 was shaping up to be a very dangerous and lackluster year for quarterback-needy teams in superflex formats. And, true to prediction, it delivered in marvelous fashion.
In most superflex mock and real drafts I viewed prior to the NFL Draft, Malik Willis was holding one of the two top draft slots, most often at 1.01 with the expectation he would be selected by Carolina, Seattle, New York, or Pittsburgh. In the end, an epic slide and selection by Tennessee elevated Kenny Pickett, selected by Pittsburgh, to the top quarterback rankings in superflex.
Pickett is the only viable candidate to be selected in the top five of superflex rookie drafts and, even then, only for a team in dire need at the position. Working in his favor is the Pittsburgh system, situation, and offense – it won't be long until he's under-center, potentially in the second half of 2022. Quality and tenured coaching only add to Pickett's foundation for potential success.
For myself, I'd be more inclined to trade away the 1.05 for an established middle-aged veteran quarterback rather than spin the wheel in the hope that Pickett is the answer. Underrated quarterbacks such as Kirk Cousins and Derek Carr may be available and even Tua Tagovailoa, Justin Fields, or Zach Wilson may not be off the table depending on the depth of rostering team. The remaining alternative is to bypass the position altogether and target one of the other primary quarterbacks in this year's class.
Q: The next question comes from our DLF Forum, the largest and most active dynasty community on the planet:

Unquestionably, the receiver to target in Denver is Jerry Jeudy. As seen on his DLF historical ADP chart below, even with the addition of Russell Wilson, Jeudy has yet to see a material increase in value. But that is changing!

Jeudy arrived on the scene in the same year (2020) as CeeDee Lamb but with a much less desirable quarterback situation which, as I mentioned earlier in this article, is a primary determinant of early-career success, or lack of in this situation. The arrival of Wilson should pay dividends for the entire offense including veteran Courtland Sutton, who I was not overly high on coming out of SMU.
It wasn't only quarterback play impacting Jeudy's production. A collection of injuries hampered his first two seasons with a high-ankle sprain costing him the early part of 2021. Now fully healthy and with a pro-bowl quarterback under-center, it's wheels-up in Mile High and for the recently-turned 23-year-old, Jeudy.
Q: Going back to the DLF Forum:
Running backs can be particularly tricky to forecast into the NFL, especially beyond the top names each year. But for this question, let me give you one from each round, two through four, and an UDFA (Undrafted Free Agent) to target late in rookie drafts or from the waiver wire.
Round Two –
Dameon Pierce

, HOU

Pierce was underutilized at Florida, possesses NFL size (5'10/218), and is in a prime position for early-career production. He's found as DLF's RB5 and should be available early in the second round of rookie drafts. He's a cheap option for production sooner rather than later.
Round Three –
Tyler Allgeier

, ATL

While not possessing the dynamic of Pierce above, Allgeier is a downhill specialist who could have a better NFL career than collegiate (BYU). Similar to Pierce, his drafted situation (ATL) should provide early-career touches which, for a dynasty third-round rookie running back, is a fantastic risk-reward addition. He's ranked as DLF's RB10.
Round Four –
Jerome Ford

, CLE

Found as DLF's RB13, there's no quick path to the field for Ford who will be behind Nick Chubb and Kareem Hunt to start his career. But Ford is built for the NFL, ran a 4.46 40-yard dash, and produced 1,319 yards and 19 touchdowns in his final year with Cincinnati. Hunt is a free agent in 2023 and starter, Chubb, while signed through 2024, could be out following 2023 should the team desire a cheaper option.
UDFA –
Kennedy Brooks

, PHI

I'm adding Brooks anywhere I can deep in rookie drafts. Brooks went undrafted during the NFL Draft due to not possessing elite talent in any one aspect. But, in film review, he's far better than his drafted value. He possesses vision and sufficient speed while having produced three 1,000-yard campaigns in his final three years in Oklahoma. When combined with his drafted situation behind a flagging Miles Sanders - a free agent following 2022 - you have a fine candidate for the next UDFA wonder at running back.

Hope you enjoyed this look at just a few questions on the minds of dynasty coaches following the NFL Draft. If you did, head over to Twitter and give me a follow: @DLF_Jeff

As always, be happy, be well and, please, be good to each other!