Post-Draft Dynasty Rookie Profile: Skyy Moore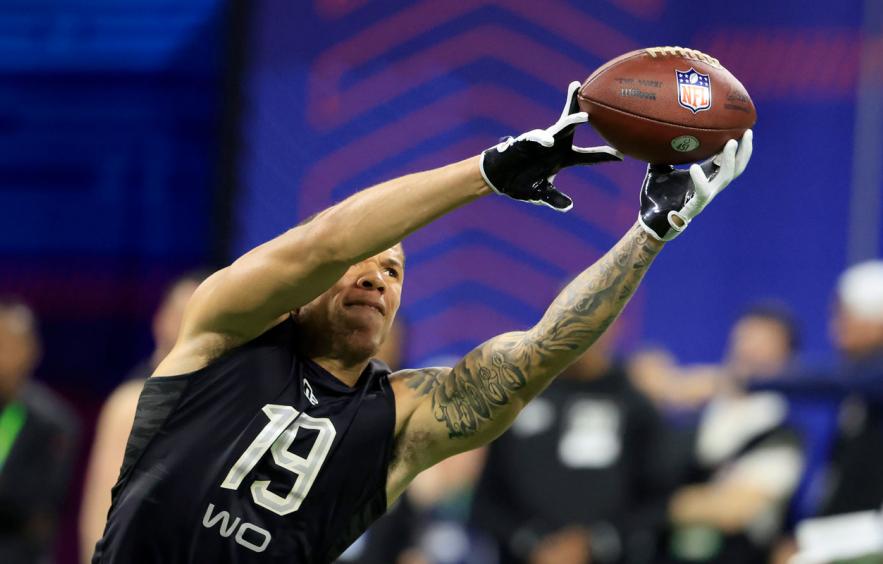 Justin Casterline/Getty Images
This article is written by Shane Manila and can also be found on Dynasty League Football, along with a plethora of other actionable dynasty content.
Name: Skyy Moore
Position: Wide Receiver
Pro Team: Kansas City Chiefs
College Team: Western Michigan
Draft Status: 54th overall, second round
---
More Dynasty Content: 9 Dynasty Players To Target After The NFL Draft | 9 Dynasty Winners & Losers from the NFL Draft | Dynasty 1QB Rookie Mock Draft | The Dynasty Aftermath (DLF) | 8 Dynasty Sleepers to Supercharge Your Team | 8 Dynasty Risers & Fallers (May) |
---
Video Highlights
You can find seven highlight videos on Moore's DLF NFL Draft Prospects video page. Skip to 0:44 of the highlights below and watch him eat-up man coverage for fun. Then stay for all the highlights DLF has on the page.
If your time (or attention span) is limited, here are a few Tweets showing off some of Moore's skills, route running:
I know it's April fools and all but Skyy Moore ain't playing around

Consistently putting out some of the best route reps on tape in this wide receiver class

Just A Filthy Stutter Go 🥶
pic.twitter.com/F2i5Dhm1TT

— Joe O'Leary (@TheHQNerd) April 1, 2022
Hands and body control:
Guys I have a problem

I can't stop drafting Skyy Moore 😈 pic.twitter.com/5mfEcy5p6l

— Joe O'Leary (@TheHQNerd) May 11, 2022
More route running (skip to 0:17 and watch him make the defensive back's ankles retire from the game of football):
I'm generally wary of G5 receivers but man Skyy Moore is just different

Early Declare ✅
Breakout Age ✅
Target Share ✅
DOM ✅
YPTpA ✅
Speed ✅
BMI ✅
Film ✅

Next up is draft capital

And it's coming pic.twitter.com/kZvLBjPnKf

— Joe O'Leary (@TheHQNerd) March 6, 2022
Combine Review
Despite standing just 5'9", Moore has some absolute monster hands, measuring in with 10 1/4" mitts that rank in the 94th percentile. His testing also confirmed that he's fast, can get to top speed quickly, and is explosive.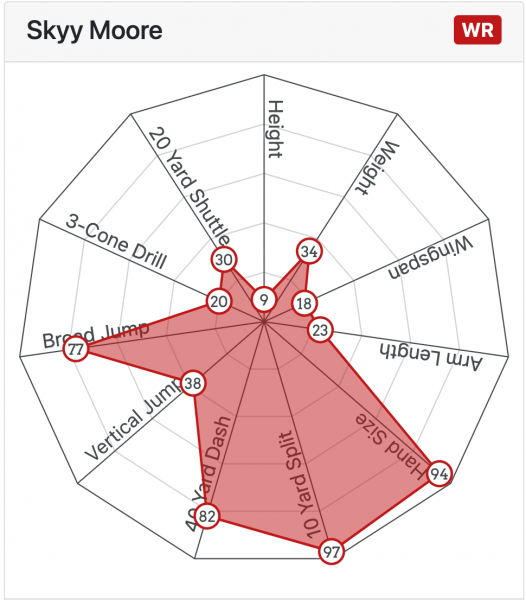 Strengths
Top End Speed
Explosive
Route running
Sheeeeeesh! 😅😅😅

That's TD No. 4️⃣ for @skyymoore24! @WMU_Football | #MACtion pic.twitter.com/oq6xc8sFKN

— #MACtion (@MACSports) November 24, 2021
Dominated in yards per team pass attempt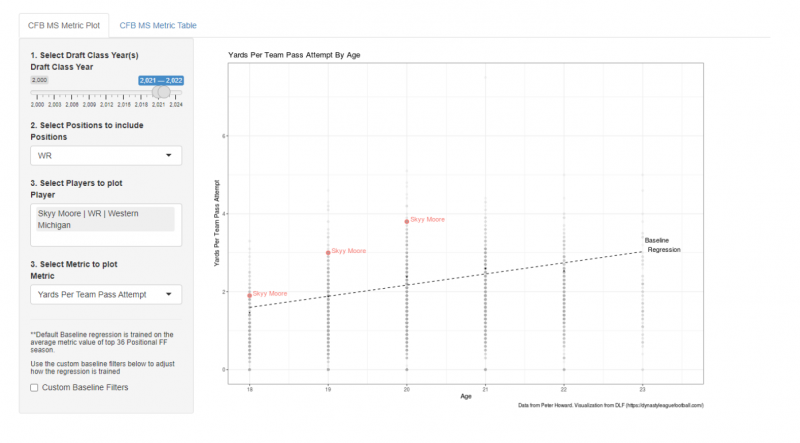 As an early declare from a Group of Five schools (this is a rarity), it speaks to how good he was in college
Weaknesses
Could be limited to the slot
Small school pedigree
Short arms and a tiny wingspan combine to give Moore the catch radius of a T-Rex
Opportunities
Since Patrick Mahomes took over as the starter in 2018, Kansas City has finished no lower than fourth in passing yards per game. Even last year, when we heard so much noise about defenses "figuring out" the Chiefs, they still ranked second in the league with 288.5 yards per game.
Tyreek Hill, who saw a 25.1% target share (and 44% of the all wide receiver targets) was traded to the Dolphins, while Bryon Pringle and Demarcus Robinson – who accounted for 29% of wide receiver targets – also left the Chiefs (via free agency). Vacated targets are not something you should hang your hat on when it comes to marginal players, but Moore's draft capital and prospect profile don't point to him being a marginal player.
Travis Kelce is obviously going to see his fair share of targets, but those targets aren't necessarily the targets that Moore should see. And though JuJu Smith-Schuster and Marquez Valdes-Scantling, and more specifically Valdes-Scantling, will see targets, neither player has shown to be a legitimate WR1 in the NFL. Smith-Schuster has seen a target share of 20% or better in just one of his five seasons, and Valdes-Scantling's career-high in target share came last year with a 14.6% share. They are nice role players, but without Hill on the roster, the Chiefs have a need for a legitimate WR1.
Threats
As great as Mahomes is, he hasn't supported multiple wide receivers for fantasy in any season during his career to this point. Part of that is no doubt due to him supporting a high-end WR1 in Hill and fantasy's number one tight end over the past four seasons in Kelce. It's also possible that he hasn't supported multiple wide receivers in fantasy because except for Hill, all of the Kansas City wide receivers just haven't been good.
But the point remains: outside of Hill, no KC receiver has ever mattered.
Short-Term Expectations
Look for Moore to be brought along slowly during his rookie season. The Chiefs have a solid array of offensive weapons, and Moore may be an ancillary option to begin the season. But as the season progresses, I would hope to see Moore integrated more into the offensive game plan. He was a late second-round receiver so I'm not expecting a Justin Jefferson/Ja'Marr Chase-like rookie campaign, but I fully expect him to approach 800 or so receiving yards. Anything less than that and I will have concerns.
Long-Term Expectations
Moore is set up for long-term success. He's tied to the best quarterback in the NFL. He joins a roster devoid of long-term receiving options, Smith-Schuster is on a one-year deal, MVS is just a guy, and Kelce is old. If Moore doesn't turn into at least a top-18 wide receiver, I would consider him a disappointment. As noted earlier, he has draft capital, an elite collegiate production profile, and landed in the perfect situation to be a valuable fantasy asset.
NFL Player Comparison
Based on size, Golden Tate is a common comparison, but the player I think he most resembles is Christian Kirk. Now before you demean Kirk, remember how much we all liked him coming out of college (don't shake your head, you loved him). Like Kirk, Moore is best suited for the slot but is a deep threat from the slot.
Projected Rookie Draft Range
In real-life rookie drafts held on the MFL platform since the beginning of May, Moore is going off the board at 9.22 overall, as the WR6. He feels like he's in a tier among himself, in between the big five receivers, Drake London, Treylon Burks, Garrett Wilson, Jameson Williams, and Chris Olave; and right before Christian Watson and George Pickens. In my rookie drafts, I've selected him as early as 1.07 and as late as 1.12.