Depth Chart Battle: Texans Running Backs (Fantasy Football)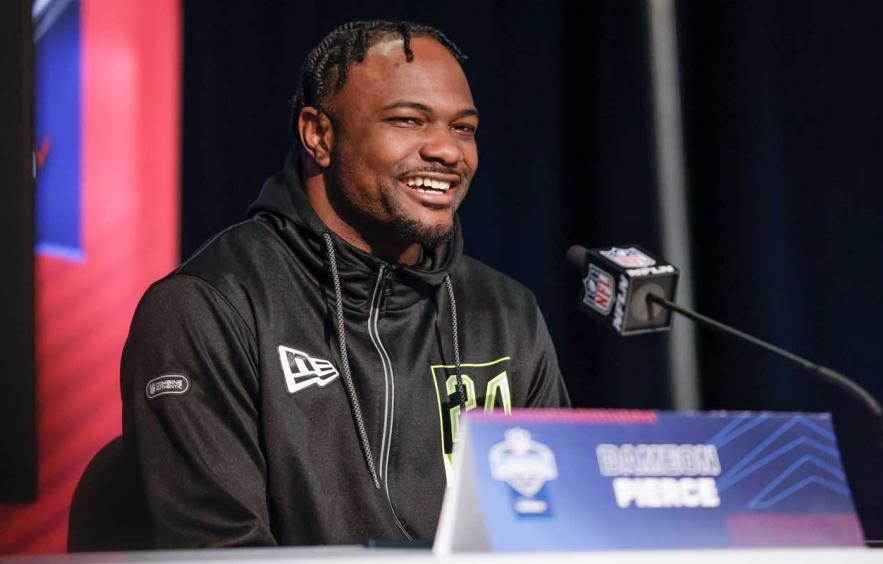 Michael Hickey/Getty Images
The Houston Texans broke camp last week and the race for the No. 1 running back role is on. Veteran backs Rex Burkhead and Marlon Mack inked one-year deals with Houston this offseason, and the team chose to make a four-year investment in the former University of Florida running back, Dameon Pierce, selecting him in the fourth round of the 2022 NFL Draft.
Since 1997, offensive coordinator Pep Hamilton has held job titles of quarterbacks coach, passing game coordinator, offensive coordinator, assistant head coach, and head coach with 11 different organizations. A master of the passing game, Hamilton has become known as a quarterback whisperer, after mentoring passers like Andrew Luck, Justin Herbert, and Houston's own Davis Mills. Houston promoted Hamilton this offseason and gave him complete control of both the playbook at play-calling duties. His West Coast scheme relies on high-efficiency pass plays that make life easy on his quarterbacks. Though Hamilton has occasionally utilized running back committees, a la Indianapolis' Ahmad Bradshaw and Trent Richardson, his offense performs at its zenith with a do-it-all, featured man in the backfield. Past pupils like Curtis Martin, Frank Gore, Matt Forte, and Austin Ekeler come to mind.
Burkhead and Mack will surely see the field this year but if there is one man who could emerge as the next great dual-threat from Hamilton's West Coast scheme, Pierce is the one to bet on.
---
Other Profiles & Debates: Player Profiles | Chargers WRs | Broncos WRs | Giants WRs
---
Dameon Pierce

(Underdog ADP: 129.5, RB43)

At 5-foot-10, 218 pounds, Pierce is built to handle a workhorse role and profiles exceptionally well as both a rusher and pass-catcher. At the University of Florida, Pierce worked his way into a passing game dominated by 2020 first-round draft picks, wide receiver Kadarius Toney and tight end Kyle Pitts, before taking over as the Gators' offensive alpha in 2021. Pierce then led the team in both yards from scrimmage (790) and total touchdowns (16). After the 17-reception campaign in 2020, Pierce upped his single-season best to 19 passes in 2021, despite the ascension of pass-catching back and recent Dallas Cowboys UDFA signee Malik Davis.

Pierce has drawn praise from teammates and the coaching staff for his attention to detail in route-running techniques, as well as his physical fortitude. Pierce's demonstrable work ethic, along with a dark enthusiasm for punishing blitzers in pass protection, shows the marks of an NFL-ready youngster.
Pierce flashed immense pass-blocking potential at the Senior Bowl and throughout the pre-draft process.



If there's any stage of the game I expect him to figure out, this would be it. I'm betting on the rookie to force his way onto the field early.

— John Crumpler (@JohnHCrumpler) August 3, 2022
As for mileage or concerns over durability, Pierce totaled 329 carries and 45 receptions at Florida. Neither sum is concerning from a health standpoint and the only injury on Pierce's record is a concussion from October of 2019.
4for4 lists Pierce as Houston's No. 2 running back with the implied expectation that he takes over lead back duties, as his projected touch-count of 155 tops that of Mack and Burkhead. Parsing the projection down to a per game level, Pierce is modestly expected to handle 8.05 carries and one reception each week.
Marlon Mack

(Underdog ADP: 177.6, RB54)

Mack was drafted in the fourth round of the 2017 NFL Draft by the Indianapolis Colts with a very strong dual-threat profile, after a three-year college career at the University of South Florida. Never missing a game, Mack averaged 195.33 carries, 21.67 receptions, and 11 touchdowns per season.

Through his first three years in the league, Mack faced stiff competition from the ageless Frank Gore and pass-catching dynamo Nyheim Hines. His sterling injury record became badly besmirched as Mack suffered two concussions, repeated hamstring strains, a labral tear in his shoulder, and a broken hand. Despite the hurdles, Mack totaled more than 1,000 yards from scrimmage in both 2018 and 2019, averaging nine all-purpose touchdowns per year.

Perhaps due to the mounting injury concerns, Indianapolis general manager Chris Ballard drafted 2020's top-ranked rookie running back, Jonathan Taylor, when Taylor fell to them at the beginning of Round 2. To Mack's credit, the then-fourth-year rusher managed to hold off Taylor for rights to the starting gig, but Mack's season ended four carries in, when he suffered a career-threatening Achilles tendon rupture. Hopes were high ahead of Mack's 2021 return from Achilles repair, but he was a shell of his former self and the team saw fit to give him just 28 carries and five targets on the year.

Medical science continues to advance in many fields, but Achilles repair seems to move more slowly than others. Los Angeles Rams running back Cam Akers was able to return to play in January of 2022, after an Achilles rupture in July of 2021 but he was entirely ineffective and doubts remain as to his long-term prospects. Former Houston running back D'Onta Foreman was able to return from an Achilles rupture with Tennessee last year, but the initial injury was suffered during his rookie season in 2017.

4for4 currently has Mack atop the depth chart but places him second on the team in touches, with 115 carries and 20 receptions. His expected 4.49 yards per carry average is far too generous though, as it is nearly 0.2 yards better than his three-year, pre-Achilles rupture average. It is unlikely that Mack can finish as the No. 2 running back in Houston, given his realistic state of play.
Rex Burkhead

(Underdog ADP: 215.9, RB85)

The 32-year-old Burkhead started his career as a sixth-round draft pick by the Cincinnati Bengals, won a Super Bowl in New England, and later joined former Patriots front-office man Nick Caserio in Houston. Known for his versatility, Burkhead has racked up a career sum of 1,828 rushing yards and 1,330 receiving yards, and at times even operated as a slot receiver during his time in New England. Burkhead has been dogged by injuries since 2017, punctuated by a 2020 ACL tear and repeated inguinal hip sprains in 2021.

Although Burkhead was able to out-touch the ancient running back duo of Mark Ingram and David Johnson last year, his 3.5 yards per carry average undoubtedly has the coaching staff ready to move him into a mentorship role. 4for4 projects Burkhead for 79 carries, at 4.36 yards per carry, and 27 receptions. The latter number might hold but the odds that he plays well enough to raise his yards per carry mark by .85 from last year's average are quite low.

Which One Should You Draft?
At worst, Houston will transition Pierce to the No. 1 back role over the course of their Week 6 bye, but there are no health or durability concerns at play with Pierce and his ability to immediately contribute as a rusher, receiver, and pass protector makes him a potential starter from Day 1. Once Pierce seals the deal, it is easy to see his path to per-game averages far higher than the 8.05 carries and one reception that 4for4 currently projects him for.
In the event that the paltry 2021 performances from Mack and Burkhead were not aberrations, it stands to reason that Pierce could end up clearing 200 carries and 50 targets, on achievable workloads of 14 carries and four targets per game. A sum that large would be highly lucrative, playing behind Houston's newly revamped offensive line.
It is also worth noting, that this will be second-year quarterback, Davis Mills', third season playing in the Hamilton system. Mills spent two years operating as Stanford's starter and although Hamilton left the Cardinal years ago, the university still employs his West Coast scheme. Mills looked right at home, funneling targets to his dual-threat lead backs in his time there and his 2020 bellcow, Austin Jones, even finished No. 2 on the team in targets. Expect Houston to move the ball far more effectively than they have in years past, with the rookie running back, Dameon Pierce operating as the next great, featured back in Pep Hamilton's West Coast offensive scheme.