2022 NFL Mock Draft Version 4.0 Final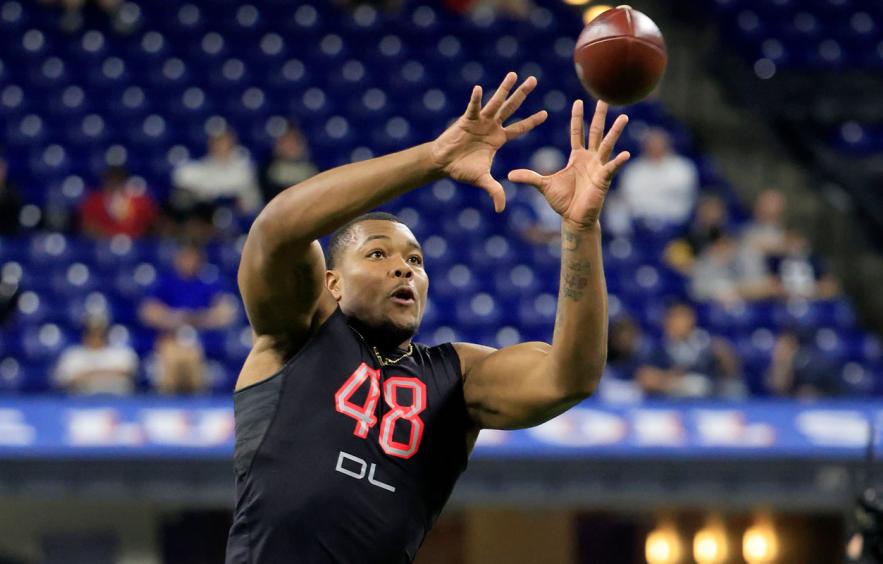 Justin Casterline/Getty Images
Ladies and Gentlemen, the NFL Draft is finally here, and we had a crazy offseason of quarterback trades (Russell Wilson to the Broncos, DeShaun Watson to the Browns, Carson Wentz to the Commanders, and Matt Ryan to the Colts), but the draft has now arrived, and selections will be made in the next day. This draft reminds me of 2013 when there wasn't a clear QB1 with a group of tackles and edge players clustered closely at the top. While there will likely be more than one quarterback drafted in the first round this year, and plenty of receivers to come off the board in the first two rounds, this draft features more depth and less top-end talent. Free agency has also shown where teams are making their moves, and this barely mentions the AFC West arms race that saw the Wilson to the Broncos, Mack to the Chargers, and Adams to the Raiders just to name a few. Rumors are swirling and the betting market has been moving quickly adjusting to all the latest news. This will be my final edition, it's go time, hope to see you guys tomorrow on the 4for4 YouTube Channel's Live Stream.
---
More Draft Resources: Big Board 3.0 | 11 NFL Draft Predictions with Fantasy Implications | Ryan Noonan's Mock Draft | Dalton Kates' Prop Bets | Draft Podcast Notes
---
2022 Draft NFL Draft Date & Time
Date: Thursday, April 28 (Round 1), Friday, April 29th ( Rounds 2 & 3) & Saturday, April 30th (Rounds 4-7)
Time: 8:00 PM EST (Round 1), 7:00 PM EST (Rounds and 3), &12:00 PM EST (Rounds 4-7)
Channels: NFL Network, ESPN & ABC, also FuboTV Livestream
2022 NFL Mock Draft
Last Updated: April 27, 2022
1. Jacksonville
Jaguars

: Travon Walker, EDGE, Georgia

While we can ignore the combine for most positions, particularly the skill spots, you cannot do so on the EDGE. Travon Walker is a flat-out dog and showed why for the Georgia Bulldogs all season long. Walker has exceptional size and length with the ability to play a variety of positions across the defensive line. Walker would give the Jaguars defense the pass-rushing threat it sorely needs across from Josh Allen. Travon smashed the combine and ended up with a near-perfect RAS of 9.99 as he ran a 4.51 at 272 pounds and posted elite jumps and agility times. Walker shows a mix of power and speed from a variety of rushing spots and can dominate in the run game, especially when lining up as an edge. Walker would add versatility to a Jaguars defense that needs to create an identity after their best defense in franchise history quickly faded and was sold off as parts. Baalke is said to be down to four people for this pick, but the betting odds have shifted so quickly in the favor of Walker that it seems like someone knows something.
Travon Walker is a DE prospect in the 2022 draft class. He scored an unofficial 9.99 RAS at the Combine out of a possible 10.00. This ranked 3 out of 1389 DE from 1987 to 2022. https://t.co/CzmPz94xEF #RAS via @Mathbomb pic.twitter.com/tEtciwiJOK

— Kent Lee Platte (@MathBomb) March 6, 2022
2. Detroit
Lions

: Aidan Hutchinson, EDGE, Michigan

Aidan Hutchinson is an old-school edge rusher with a 6-foot-7 260-pound frame and massive mitts. At the combine, Hutchinson confirmed many of his freak list numbers running a 4.74, jumping 36 inches, and a three-cone time of 6.73. Hutchinson ended up with a strong RAS score of 9.85, which ranks 20th out of 1,359 defensive ends since 1987. While Hutchinson has aligned in several spots throughout his career, his ability to defend the run and the pass will help the Lions' defense to establish an identity. The former Wolverine fits the toughness profile that Dan Campbell is looking for and has all the athleticism you look for at the position besides shorter than desired arms. He is also a local kid who was born and raised in Michigan who can help sell some tickets and for a team without much star power that is important.
3. Houston
Texans

: Derek Stingley Jr., CB, LSU

With new coach Lovie Smith in town for at least the short future, the Texans need to get some defensive weapons for Smith to deploy. The Texans have needs all over the field on both sides, but tackle seems to be their most well-set position, which is what many are mocking for the Texans. While edge is also a massive need, Houston doesn't seem to be attached to Kayvon Thibodeaux at this spot apparently due to a culture fit. Stingley, who had one of the most impressive freshman seasons in recent memory, is a versatile coverage corner who can immediately add versatility to a cornerback room lacking a true number one and depth. Stingley could immediately step in and provide the Texans defense with someone who can create turnovers and play in a variety of coverages.
4. New York
Jets

: Ikem Ekwonu, OT, NC State

Ikem Ekwonu can play multiple spots along an offensive line but had a standout 2021 season at left tackle, and with his elite athletic ability should be able to stick at the spot in the NFL. At 6-foot-4 310 pounds, Ekwonu can road grade and help build a strong run game for the Jets and potentially give them one of the best offensive line units in the NFL, certainly one with the most draft capital. Ekwonu has been a starter at left tackle since his freshman year but still struggles with technique from time to time, but is also considered one of the safest offensive linemen in this class. Ekwonu had a huge showing at the combine - one typically reserved for a top-five pick. Ickey ran a 4.93 at the combine and added good jumps to further boost his profile. Ekwonu could battle George Fant for the right tackle spot and provide insurance against another Mekhi Becton injury, and with Fant only on a one-year deal could be a long-term option on either side. With rumors of Becton also potentially being on his way out in New York, Ickey becomes the best fit both short and long term.
5. New York
Giants

: Evan Neal, OT, Alabama

The Giants fill one of their biggest needs at right tackle by selecting an SEC standout in the form of Evan Neal. Neal could play right tackle with Andrew Thomas on the left side, but also provide insurance should he struggle or decide to leave via free agency in a few years. Neal stands at 6-foot-7 and weighed in at a lean 337 pounds at the combine and can absolutely move people in the run game and routinely box jumps 48". Neal has played at least 13 games at three different positions but can play tackle on an island in the passing game, and did so against top overall pick Travon Walker on more than one occasion. Neal's experience playing a variety of positions would make him the choice as the last of the big three tackles and would give the Giants a bookend of tackles to hopefully shore up the line around Daniel Jones and Saquon Barkley as their last-ditch efforts to solidify themselves in New York.
6. Carolina
Panthers

: Charles Cross, OT, Mississippi State

Charles Cross is arguably the top tackle in this draft, but there are three very strong candidates. No matter who is under center for the Panthers this season, they cannot have as much pressure in their faces as they did last season. The Panthers allowed the fifth-most sacks last season and seem to only have one established starter across the full offensive line. Cross measured at 6-foot-5 307-pounds and had a great broad jump, but did struggle in the vertical and three-cone drill. With a sub 5.0 forty time though, Cross looked to have a successful day and solidified himself as a top-10 prospect in this class. Cross was a standout against the tough competition of the SEC and can be a day one contributor on the left side for the Panthers. The Panthers have built up the interior of their offensive line this offseason by signing Bradley Bozeman and Austin Corbett, but Cross could bookend their offensive line overhaul with the sixth pick.
7. New York
Giants

: Sauce Gardner, CB, Cincinnati

New defensive coordinator Wink Martindale wants to play a lot of man coverage and getting one of the top two corners in this class seems to be a priority for the Giants, even when they could add arguably the number one pass rusher in this class in Kayvon Thibodeaux. Sauce Gardner is a lanky 6-foot-2 190-pound corner who has been a starter since his freshman season. Gardner has the long arms at 33.5 inches and ran a better than expected forty at 4.41 to check the long speed box. Sauce is the type of corner that can create turnovers and play in a variety of coverages and with James Bradberry likely on his way out in order to sign the rookie class, Sauce becomes a staple on the outside for the Giants.
8. Atlanta
Falcons

:

Drake London

, WR, USC

After the suspension of Calvin Ridley for the season, the Falcons have the worst receiving depth chart in the entire NFL. Adding London to Kyle Pitts would give the Falcons a pair of towering wide receivers who can stretch the field vertically and win in contested catch situations, their size and speed would be tough to match up with. London is a towering 6-foot-4 219 pounds and has excellent body control to attack the ball in the air. London is an exceptional run blocker and is a better route runner than many give him credit for. Drake did not participate in on-field drills at the combine or pro day as he is recovering from a late-season ankle injury. While Drake will likely never lead the league in YAC, he can surprise after the catch much like former Trojan Michael Pittman. London's big-play strength and ability to attack the ball in the air make him the perfect option to be an eventual alpha wide receiver.
9. Seattle
Seahawks

: Kayvon Thibodeaux, EDGE, Oregon

The Seahawks sprint the card up getting a player that fits into their system and team needs perfectly and whose big personality can be managed by Pete Carroll. Kayvon Thibodeaux generated 48 pressures in 11 games last season and is one of the most explosive edge rushers in recent memory. Thibodeaux is a quick-twitch athlete who can bend around the corner and scream around the edge at opposing quarterbacks. The Oregon product had an impressive combine running a 4.58 forty at 254 pounds and putting out 27 reps on the bench, despite not having a full profile what we do have for his RAS ranked 47 out of 1389 DE from 1987 to 2022. Getting a kid from the Pacific Northwest and with pass-rushing chops this late helps ease the pain of losing Russell Wilson.
10. New York
Jets

:

Garrett Wilson

, WR, Ohio State

After the Jets selected one of the top pass rushers in the draft with their first pick, they can't ignore getting talent for their top selection last season and do so by drafting one of the top receivers in this class. Wilson could play inside or outside in the Jets attack and his deep ball tracking along with his YAC ability would be a welcome upgrade to the Jets. Wilson is a dynamo after the catch but can create space at the top of his route with elite-level quickness, Wilson can also be used in jet action and in the RPO game. Wilson also possesses refined route running prowess and has shown a knack for getting open against both man and zone coverage. Wilson put on a show at the combine and moved up to be the top receiver selected with a few different Sportbooks. Wilson ran a 4.38 at 6-foot 183 pounds and posted above-average jumps to cap off a nice day. Wilson fits the mold of receivers the Jets have tried to chase this offseason a la Tyreek Hill.
11. Washington
Commanders

: Kyle Hamilton, S, Notre Dame

The Commanders added Carson Wentz from the Colts via trade earlier this offseason but did retain their first-round pick which allows them to add some pieces to their defense. Kyle Hamilton has a chance to become the highest-drafted safety since Jamaal Adams went sixth overall to the Jets in 2017. New GM Joe Schoen and Head Coach Brian Daboll come from Buffalo where their defense has benefited from some of the league's best safety play, and Hamilton can immediately become a centerpiece of the defense. At 6-foot-4 and 220 pounds, Hamilton has linebacker size but can move sideline to sideline with the league's best. Hamilton jumped out of the room at the combine and posted a strong sub-7 three-cone time, but all everyone wants to talk about is his 4.59 40 time. Using a number like RAS however puts this into better context, as Hamilton is a top 10% athlete for the safety position. The Notre Dame product can be a tight end eraser in man coverage and a catch-all when asked to play zone, perfect for today's wide-open NFL game.
12. Minnesota
Vikings

: Jermaine Johnson, EDGE, Florida State

If the board falls like this, I think the Vikings would be looking to move this pick instead of break into the next tier of defensive backs. However, the Vikings should take the best available player at a premium position and work to sort out the rest later. They can never have too many guys who can get to the quarterback and Jermaine Johnson just had a massive performance at the Senior Bowl and combine, cementing himself as a top-10 pick. At the combine, Johnson measured in at 6-foot-4 inches and 254 pounds while running a 4.58 and broad jump of nearly 10 and a half feet. Johnson looks to have more 3-4 and 4-3 versatility than some of the other edge rushers in this class and his first step explosion is elite, which could help the Vikings from day one. Johnson was the best player on the field for Florida State and showed a variety of pass rush moves, which could provide depth and allow Za'Darius to kick inside on obvious passing situations.
13. Houston
Texans

:

Chris Olave

, WR, Ohio State

Olave would give Mills a second strong option in the passing game and his former track prowess would add some of the field stretching ability to the Texans and create some explosive plays down the field. Olave is a crispy route runner who has track speed which would fit perfectly in a timing-based passing offense that Pep Hamilton is likely to deploy. Olave could be the centerpiece of the play-action shot plays Hamilton will mix into the offense. The former Buckeye had an impressive showing at the combine running a 4.39 at over 6-foot but tipping the scales at 187 pounds. Olave could be a plug-and-play piece for an offense that needs one as they lack playmakers outside of Brandin Cooks.
14. Baltimore
Ravens

: Jordan Davis, DT, Georgia

With the interior of their defensive line aging or gone, the Ravens make a bold move for a unique athlete, enter Jordan Davis who was the anchor for the Georgia Bulldogs' defensive line. Davis has one technique and three-technique flexibility and is a mountain of a man at 6-foot-6 341 pounds. JD also destroyed the combine and has the second-highest raw RAS regardless of position thanks to running a 4.78 forty, jumping 32 inches in the vert, and smashing a 10'3" broad jump, and we mentioned he did this at 341 pounds right? Davis has shown improvement as a pass rusher and can push offensive linemen back into the opposing quarterbacks' laps when he plays with good leverage. Jordan Davis may not make the biggest impact on the stat sheet but his addition to the defense would be a boost to all those around him, allowing for more single teams for those coming off the edge. Davis' range seems to be in the early teens with Daniel Jeremiah saying 14 is his floor.
15. Philadelphia
Eagles

:

Jameson Williams

, WR, Alabama

With rumors that Jameson Williams is the Eagles' top receiver on their board and a need to replace Jalen Reagor, the Eagles fill a big need by taking the injury discount on a former Crimson Tide wide receiver who was on track to be the top receiver in the class before being derailed by a torn ACL during the College Football Playoff. Williams possesses similar route-running savvy and quickness to former Tide receiver Jerry Jeudy but has a second gear Jeudy has yet to display at the NFL level. Williams would be a run after the catch maven for an offense that lacked that threat last season and when asked to win vertically can also do that. Williams could play inside or outside in the Eagles' attack and his deep ball tracking would allow Hurts to continue to keep his eyes downfield when he scrambles out of the pocket. Jameson measured at over 6-foot-1 at the combine, but his weight was just 179 pounds, but many expect him to play between 190-195 pounds when not recovering from a torn ACL.
16. New Orleans
Saints

: Trevor Penning, OT, Northern Iowa

Penning is massive at 6-foot-7 325-pounds and has shown flashes of nasty in both the run game and pass game. Penning had a massive showing at the combine on top of top-tier measurements. The Northern Iowa product blazed a 4.89 forty and had strong agility times to give him a RAS that ranked sixth out of all tackles since 1987. Many believe Penning locked himself into the top of the first round with that performance, with Trevon Armstead leaving in free agency, Penning could battle for the left tackle spot and fill the Saints' biggest need. With the Chargers having a need at tackle, they select one prior to their selection and not after.
17. Los Angeles
Chargers

: Zion Johnson, IOL, Boston College

The Chargers have been building up their offensive line after the drafting of Rashawn Slater last season, but still have a hole at guard and right tackle. Zion has three seasons worth of starts under his belt, primarily playing on the left side with some experience at tackle, Johnson profiles as a guard at the NFL level. He possesses good technique and always seems to be consistent which is something that could benefit the Chargers. Zion measured in at just 6-foot-2 5/8 and 314 pounds but also had tackle-like arm length at 34" and smashed 32 reps on the bench. Johnson also smashed the jumps with a 32-inch vertical and 9-foot-3 broad jump. He also cleared the Josh Norris line of sub 4.47 in the shuttle and blazed a 7.38 three-cone giving him an overall RAS of 9.55 which ranks in the top 5% of all guards since 1987. Zion would improve both the run game and pass protection and his presence may allow Storm Norton to work at right tackle.
18. Philadelphia
Eagles

: George Karlaftis, EDGE, Purdue

With the second of their three first-round picks, the Eagles add to their edge room by selecting the powerful edge out of Purdue. Karlaftis isn't your typical explosive off-the-edge rusher, but can win with power and his refinement should lead to early sack numbers for a team that finished with just 31 sacks last season. Karlaftis is strong at the point of attack and can knock back defenders into ball carriers and is another Feldman Freaks List member, reportedly posting a 10-foot-1 broad jump, 37.5-inch vertical, and 4.69-second 40-yard dash last offseason. At the combine, Karlaftis measured in at 6-foot-4 266 pounds and jumped 38 inches in the vert and 10-foot-1 broad jump but did not run the 40 or the agility drills. Karlaftis' power game would complement the speed rush of Josh Sweat and Haason Reddick and provide some depth with Brandon Graham now 34 years old.
19. New Orleans
Saints

:

Kenny Pickett

, QB, Pittsburgh

Pickett is an experienced passer who has good size and functional athleticism and wowed teams with his leadership presence at the Senior Bowl and Combine. Pickett did see his stock take a slight tumble as they measured his hands at the first percentile, and while some will say it doesn't matter, others will say it does. While the Saints may have preferred to roll with Jameis Winston this season and adding a wide receiver here seems like a priority, they just can't pass up the quarterback position as Pickett falls to them at a value. Taking Pickett also takes a quarterback option from a division rival in the Panthers. Early in the draft process Daniel Jeremiah kept saying that the Saints were Pickett's floor, and in this scenario, he reaches that floor.
20. Pittsburgh
Steelers

:

Malik Willis

, QB, Liberty

With Ben Roethlisberger officially announcing his retirement, the Steelers must make quarterback plans even after the signing of Mitchell Trubisky. While the Steelers still have Mason Rudolph under contract as well, all the indications from Mike Tomlin and Kevin Colbert are that they are also looking for a quarterback that can add a dimension to the offense with his legs. Malik Willis has one of the most athletic profiles since Michael Vick and has immense upside as he also has one of the strongest arms in the class. Malik Willis has all the physical tools to be a great quarterback at the NFL level. Willis posted the top initial air speed (75.7 MPH) at the Senior Bowl confirming what we see on tape, elite-level arm strength. Willis' legs jump off the page when watching his film, but he did not run a forty at the combine or his pro day. Over the last two seasons, Willis has averaged nearly 80 rushing yards a game (including yardage lost due to sacks) and has 27 rushing touchdowns over his last 23 career games. Willis should be considered a developmental prospect after taking 51 sacks last season behind a porous offensive line and offensive weapons that failed to haul in passes, some easy and some difficult. The physical tools are there, and the ceiling is immense, but Willis will likely be best in a place where he can sit for a season and develop, and with the recent Trubisky signing may be able to do just that.
21. New England
Patriots

: Devin Lloyd, LB, Utah

The Patriots are a very linebacker-dependent defense and grab the best linebacker in this class. Lloyd has elite-level athleticism and can play all three downs for a Patriots defense that needs it. Lloyd can cover as well as excel as a blitzer when called upon. Lloyd would be an impact linebacker for the Patriots from day one and could put up big tackle numbers for a team with a strong need at the position. At the combine, Lloyd had an impressive showing measuring just under 6-foot-3 237 pounds, running a 4.66, benching 225 25 times, and jumping out of the gym with a 35-inch vert and 10-foot-6 broad jump, finishing with an unofficial RAS of 9.33. Lloyd also showcased some pass-rushing chops at Utah sacking the quarterback eight times last season, that is the type of versatility that the Patriots love.
22. Green Bay
Packers

:

Treylon Burks

, WR, Arkansas

After the trade of Davante Adams to the Raiders, the Packers acquire this pick and have to start making up for the production lost without Adams on the roster. Enter Treylon Burks who is a much different athlete than they currently have on the roster. Burks is a three-year starter and scored nine touchdowns as a freshman in the SEC. He's a specimen, a 6-foot-3 225-pound receiver who can really run and did so to the tune of an 87th percentile speed score. Treylon struggled with his change of direction and didn't jump out of the room on his vertical, but his production on film should outweigh some of those concerns. Burks has proven he can be the centerpiece of an offense and excel in nearly every facet of the game, whether it be 50/50 balls, catch and run, or beating a defense over the top. While Burks would be the first receiver Green Bay has taken in the first round in a handful of years, Burks' ability to replace Adams in the screen and quick pass game makes him a valuable selection.
23. Arizona
Cardinals

: Trent McDuffie, CB, Washington

McDuffie is similar to the other corners on the roster in Byron Murphy and Jeff Gladney but could play immediately in the nickel. McDuffie is great in short and medium coverage but can lose track of receivers deep down the field. The Washington product hasn't shown much in terms of turnover potential, but his sticky coverage abilities more than make up for it. McDuffie measured in at 5-foot-11 193-pounds with sub-30" arms but did run a 4.44 forty and showed good change of direction in on-field drills. McDuffie would give the Cardinals a third defensive back from the University of Washington and add depth to keep up with the Rams and Seahawks and their deep wide receiver corps.
24. Dallas
Cowboys

: Kenyon Green, IOL, Texas A&M

The Dallas Cowboys have had one of the worst offseasons in recent memory, with the weight of some big contracts forcing them to eschew some major contributors in recent seasons. The holes on the Cowboys are greater than when they entered the season, and this includes needing a right tackle and left guard. Green has a massive recruiting pedigree to match his massive 6-foot-4 323-pound frame. Green started 35 games for the Aggies and his ability to move people in the run game would be a big addition to the Cowboys and allow them to keep the run game as a centerpiece of their game. While he profiles as a guard at the NFL level, Green could also play right tackle in a pinch with great feet to mirror opposing rushers. Green did not excel at the combine but did measure with good size and good arm length, but posted a horrid shuttle score that ranks in the bottom 10% of guards. Green could compete for the right tackle spot in Dallas or slot in at guard spot and provide an instant impact for a team that needs to get younger on the offensive line with their stalwarts entering their late twenties.
25. Buffalo
Bills

: Kaiir Elam, CB, Florida

The Bills are considered one of the more complete rosters in the NFL with some even saying they should take a running back here. But with the injury to Tre'Davious White and last year's second corner Levi Wallace leaving for the Steelers and after seeing the Bills' defensive backs get roasted by the Chiefs and the rest of the conference adding firepower at receiver, adding a stud corner should be a top priority for the Bills. Enter Kaiir Elam who has all the size, speed, and tools to be a lockdown corner at the next level. Elam can play both man and zone coverage and could become a stopper in a division and conference full of wide receivers with speed especially now that they need to cover Tyreek Hill twice a season. Elam ran a 4.39 and faced off against an elite slate of wide receivers while at Florida.
26. Tennessee
Titans

: Tyler Smith, OT, Tulsa

The Titans have some interesting decisions to make, with Ryan Tannehill not looking like a quarterback to get them over the hump come playoff time. While a quarterback may be an option here, it seems more likely that the team adds pieces around Tannehill and Derrick Henry for another run. Smith could potentially step in on the right side of the line immediately whether it be at guard or tackle. Smith hits two of the three thresholds some teams look for in offensive lineman and posted a RAS among the top 15% of athletes at the tackle position. Smith has long arms and has a nastiness to his game that fits the profile of a Titans lineman. Smith plays with a nasty demeanor similar to Taylor Lewan and that personality has fit well with Vrabel and the Titans' mindset over the last few seasons.
27. Tampa Bay
Buccaneers

: Devonte Wyatt, DL, Georgia

The Tampa Bay Buccaneers got their best draft pick of the season when Tom Brady up and un-retired, since then a lot of the free agents have started to find their way back to town. While Ali Marpet's retirement left a gaping hole on the line, Licht traded for Shaq Mason but the team also lost Alex Cappa to the Bengals. While offensive line remains a concern, the hole on the defensive side of the ball may be slightly larger. Wyatt blazed a 4.77 at over 304 pounds and posted a RAS of 9.63 which ranks among the top 5% of all defensive tackles. Wyatt is a disruptor on the inside and can make plays in both the run and the pass game helping to create some of the havoc for the guys coming off the edge.

28. Green Bay
Packers

: Logan Hall, DL, Houston

After the Packers make a move outside of their norm by drafting a first-round receiver, they make a move right up their alley. Grabbing Logan Hall would allow the Packers to play him at five-technique in a 3-4 which fits his "tweener" profile perfectly. Caught in between a defensive tackle and an edge, Hall is a 6-foot-6 283-pound man who had 13 tackles for loss and six sacks last season at Houston. Hall ran a 4.88 and had elite agility scores which gave him an overall RAS of 9.4. Hall is considered a fringe first-round prospect but is said to have a bunch of fans in the 20s including the Buccaneers, Packers, and Bengals.
29. Kansas City
Chiefs

: Daxton Hill, S, Michigan

Daxton Hill is a hybrid safety and slot corner much in the same vein as Tyrann Mathieu who has remained unsigned this offseason. Hill can cover the slot exceptionally well but can also bring some pressure off the edge as a willing tackler in the run game. Hill is the former Mr. Oklahoma Football and possesses speed that is unmatched by many safeties. Hill also posted elite agility scores and had a total RAS above 9. Hill also has long arms and could be a starting-caliber NFL corner if a team decides to give him a look there, but his versatility at safety is also valuable for a team that lost Charvarius Ward and Mike Hughes in free agency.
30. Kansas City
Chiefs

:

Jahan Dotson

, WR, Penn State

After selecting an uber-athletic safety to give them options in the back end, the Chiefs follow it up with a receiver that possesses both speed and what I would classify as the best hands in the draft. Jahan Dotson is a silky-smooth route runner who gets in and out of his cuts quickly and with explosiveness. Dotson ran 4.43 in the forty and was a state champion in the 4x100-meter dash in Pennsylvania to highlight his need for speed. Dotson is a smaller receiver at 5-foot-10 and 178 pounds, but his quickness and overall speed profile are how he will win at the NFL level. Dotson posted above-average jumps with a 36" vertical and 10'1" broad but posted a lowly 7.28 3-cone despite his smoothness in and out of breaks on film. The Penn State receiver can cause havoc at all three levels and should be able to play both inside and outside at the NFL level. Dotson won't be able to replace Tyreek Hill himself, but his ability to win early in routes will give Patrick Mahomes an option to throw to next season.
31. Cincinnati
Bengals

: Kyler Gordon, CB, Washington

After narrowly losing the Superbowl to the Los Angeles Rams, the Bengals' lone focus this offseason has been to get more protection for Joe Burrow after he was sacked 70 times last season. But with the run on lineman in the early twenties, the Bengals are forced to look in a different direction with this pick. Outside of the offensive line, the Bengals also couldn't stop the passing game of the Rams when called upon late in the game. Kyler Gordon is a sub-6-foot corner who ran a 4.52 at the combine but his tape is equally impressive to that of previously selected teammate Trent McDuffie. Gordon has longer arms than McDuffie and is one of the corners invited to the green room on Draft Day which means the league thinks he is a Day 1 pick. Gordon is a fluid athlete who can sink his hips and break on the ball whether it be in man or zone coverage. Gordon needs to clean up his tackling, but his tenacity could get him on the field either in the slot or on the outside.
32. Detroit
Lions

: Quay Walker, LB, Georgia

Quay Walker is a coverage linebacker out of the Georgia defense who has been picking up steam in the betting markets over the last few days, even as much as he might be the first linebacker off the board. Walker stands nearly 6-foot-4 weighs in at 242 pounds and ran a 4.52 while also posting elite broad jumps and sub-7 second 3-cone time to give him a RAS of 9.63. Walker has good play recognition and uses his speed to his advantage when he attacks through opposing gaps. Walker's greatest strength is his knowledge of the passing game, however, as he knows how to reroute defenders underneath and has enough speed to carry the seam up the field. Walker would give the Lions a second Georgia defender in the draft, and help them create the defensive identity that they are lacking.