The Training Room: Week 2 Injury Updates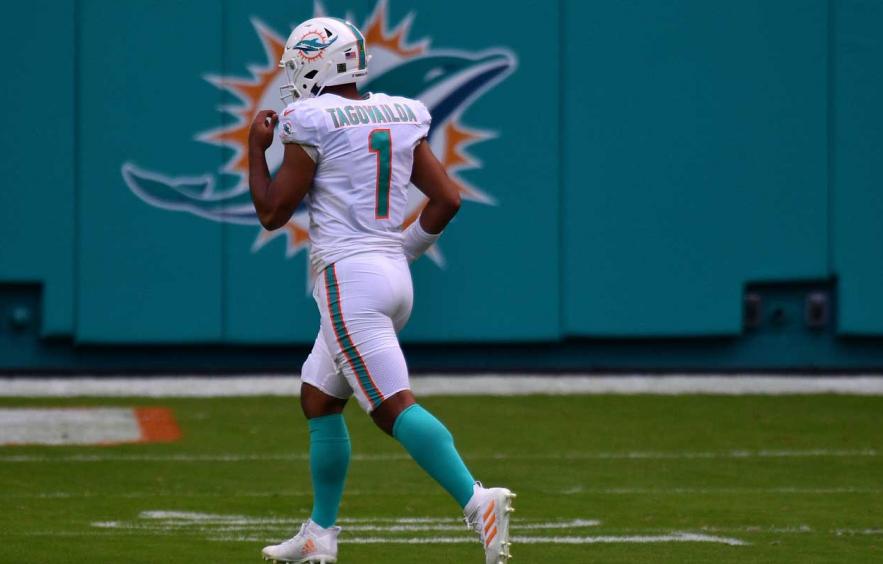 Mark Brown/Getty Images
Something I have been trying to do more of lately is validating thank yous. It sounds weird I know, but I was reading a post from another physical therapist not too long ago addressing an internal issue they noticed with their patient care. Typically when their clients would thank them for all their help during rehab, many would conclude their last visit with a simple "thank you." This physical therapist wrote that the majority of the time their response would be something like: "don't worry about it" "you did all the work" "we treat everyone the same, no need for the thanks" etc. Initially as I was reading this, I did not think much of it. As a matter of fact, I usually do the same thing with the patients I work with. However, as I read on the physical therapist explained that they have learned that those types of responses invalidate the person thanking you. In a sense, you are making them not feel special and in a way diminishing their appreciation. The author challenged physical therapists and other healthcare workers to change their language. Replies such as "happy to help" "glad you are feeling better" or even a simple "you're very welcome" go a long way. Like with most things language/phrasing matters.
That introduction has nothing to do with fantasy football, except for the simple fact that if you are here reading this I want to thank you. I am new to the 4for4 crew and hope that my insight regarding injuries in the NFL can help you with your fantasy team(s). I enjoy playing fantasy football and writing about it. I hope this content helps you, the subscribers. There is a ton of fantasy football content available these days. So again, thank you for stopping by. It means a lot.
Evan Engram

, TE New York

Giants
Injury: calf strain
Timetable for recovery: 1-2 weeks
Potential Replacement(s): Kyle Rudolph
Initial Thoughts:
Slipping through the cracks in last week's edition of Training Room, Evan Engram has been dealing with a gastrocnemius strain (calf) for the last two weeks. The promising sign is that the Giants have not placed Engram on IR. I imagine he was close to playing and might have this week if the Giants did not have to suit up this past Thursday. Typically a grade-I calf strain is a 1-2 week injury, so I am optimistic Engram returns in Week 3. Despite dealing with lower-body injuries for much of his career, calf strains have not been too challenging from Engram. Last year when Engram was limited with a calf strain he barely had a dip in production (0.1%). When healthy Engram averaged 10.6 PPR points. Fair to say when he returns his production should be normal.
Josh Jacobs

, RB Las Vegas

Raiders
Injury: toe/ankle (unspecified)
Timetable for recovery: 2-3 weeks
Initial Thoughts:
Although Josh Jacobs played in Las Vegas' home opener, it was clear even that Jacobs was not 100%. His fantasy production was salvaged by two TDs but Jacobs produced a lackluster 3.4 yards per carry on only 10 rushing attempts. Watching the game, I would see trainers swapping out Jacobs' insoles which makes me think that the Raider's star RB might be dealing with a turf toe injury. Uttering this word near fantasy managers causes PTSD, I get it. The big positive is that Jacobs has already demonstrated that he is able to play through this injury so it's possible that he is on the mend, thus my projection of time missed. The negatives are obvious, the type of injury Jacobs potentially is recovering from. Turf toe injuries are typically problematic for RBs and result in multi-week absences. When Jacobs is able to return we should expect a 20-25% dip in production for his first 1-2 games based on historical comps. It might be bleak for Jacobs in the near future when you consider those numbers combined with Vegas facing stout run defenses in the near future: Miami, Chicago, Denver and Philadelphia.
Dalvin Cook

, RB Minnesota

Vikings
Injury: ankle sprain
Timetable for recovery: no time missed/1-week
Initial Thoughts:
Dalvin Cook exited the game on multiple occasions Sunday but was able to finish the game. The most limiting injury that was reported afterward was an ankle sprain. Inversion ankle sprains can typically be managed with taping and bracing so I would not expect Cook to miss a lot of time (if any at all) considering he was able to finish the game against Arizona. Check Minnesota's practice reports on Friday, but I would plan on him being available for your fantasy team in Week 3.
Darrell Henderson

, RB Los Angeles

Rams
Injury: rib
Timetable for recovery: 2-4 weeks
Initial Thoughts:
There were a couple of rib injuries this Sunday. Darrell Henderson injured his lower right ribs when a Colts defender landed on him as he was falling towards the ground. Based on the mechanism of injury it could be a fracture which could mean time missed for the Rams' starter. Recent data has shown the RBs are able to return from rib injuries in ~2 weeks. I'm optimistic that time missed could be minimal for Henderson, but it will come down to pain management. In most leagues, I don't think there is any real need to trade for Michel or spend a high waist a high priority on Jake Funk. At the time I am writing this (Sunday night) I think Henderson's chances of playing next week are truly 50/50.
Tua Tagovailoa

, QB Miami

Dolphins
Injury: rib contusion
Timetable for recovery: 1-2 weeks
Initial Thoughts:
Miami quarterback Tua Tagovailoa also suffered a rib injury, but the public has already gotten word that x-rays were negative for a fracture. This is great news because the requirements to play QB can make managing a rib injury more difficult compared to other positions. With that said, much like Henderson, it comes down to pain management. It's possible that Tua could miss a week or two despite avoiding a broken rib.

Baker Mayfield

, QB Cleveland

Browns
Injury: left shoulder dislocation/labral tear
Timetable for recovery: NA
Potential Replacement(s): NA
Initial Thoughts:
Baker Mayfield suffered a left shoulder dislocation Sunday and briefly exited the game. The side of the injury is significant here, since Mayfield is right-handed. This injury will probably hurt most of the season. Baker might need surgery this offseason but he should be able to play. The risk of re-injury is high so there is a chance that Mayfield exits a game again should he dislocate his left shoulder again.
Jarvis Landry

, WR Cleveland

Browns
Injury: MCL sprain
Timetable for recovery: 3 - 8 weeks
Initial Thoughts:
Cleveland Browns WR Jarvis Landry had to leave Sunday's game early with what was later diagnosed as an MCL sprain. This is likely going to mean that Landry is going to be out at least two weeks, potentially more depending on the severity. This might also mean that teammate Odell Beckham Jr. returns in Week 3, because without both OBJ and Landry Cleveland's wide receiver room is very pedestrian. We should have MRI results of Landry by Monday/Tuesday. A grade-I/II sprain means Landry could return soon with a short-term IR stint, while a Grade-III tear would end his season. Prior to laying a goose egg, Schwartz was running a route on >30% of his snaps which was top-2 for rookie WRs. He could be a sneaky add in deep leagues with Landry missing time.
49ers

backfield, San Francisco

49ers
Injury: Sermon - concussion, Mitchell - shoulder, Hasty - ankle
Initial Thoughts:
The 49ers RBs(yes literally all of them) sustained some sort of injury Sunday. Sermon will be in the concussion protocol this week after barely playing. JaMycal Hasty is dealing with an ankle injury and will have to be monitored this week. Elijah Mitchell is hopefully dealing with a stinger after a shoulder injury caused him to miss some time but he was able to return to the game. The 49ers injury report will be interesting this week, follow it closely.
Diontae Johnson

, WR Pittsburgh

Steelers
Injury: right knee injury (unspecified)
Timetable for recovery: NA
Initial Thoughts:
Diontae Johnson appeared to sustain a right knee injury on the very last play of the game. The video angle is not great making it difficult to make out exactly what happened. There was a lot of hysteria surrounding the injury based on how it happened and the fact that Johnson limped off the field with aid after the game. I could not see the knee buckle which would indicate an ACL tear, but again the angle is not good. This could mean that Johnson has an MCL sprain (was seen nursing the inside of his knee) or best case he has a contusion. For the time being, we will need to wait and see once more news comes available.
Tyrod Taylor

, QB Houston

Texans
Injury: hamstring strain
Timetable for recovery: 2-6 weeks
Potential Replacement(s): Davis Mills
Initial Thoughts:
Tyrod Taylor injured his hamstring scrambling against the Cleveland Browns. The Texans immediately ruled him out and then almost right after the game was over, ruled him out for Thursday night against the Panthers. A grade-I hamstring strain could mean Taylor misses little to no time, while a higher grade would prolong this recovery.
Andy Dalton

, QB Chicago

Bears
Injury: knee unspecified
Timetable for recovery: 2-4 weeks
Initial Thoughts:
Andy Dalton appears to tweak his left knee while scrambling in the second quarter. Matt Nagy and the Chicago Bears have said they do not believe it's an ACL but the fact that they are even commenting on that means there must have been some concern. Looking at the video it might be a possible MCL sprain/tear, which could mean multiple missed games. This opens the door for Justin Fields in Chicago and depending on how he plays, Dalton might not get his starting job back.
Carson Wentz

, QB Indianapolis

Colts
Injury: left ankle inversion sprain
Timetable for recovery: 2-4 weeks
Potential Replacement(s): Jacob Eason
Initial Thoughts:
Carson Wentz rolled his left ankle during Sunday's loss to the Los Angeles Rams. Wentz dealt with foot injuries this offseason but his fracture then was on the right ankle. Players (specifically) quarterbacks can play through this injury but it also depends on the severity.
Laviska Shenault

, WR Jacksonville

Jaguars
Injury: shoulder
Timetable for recovery: NA
Potential Replacement(s): Marvin Jones Jr.
Initial Thoughts:
Shenault is getting an MRI on his shoulder Monday, meaning the Jaguars are concerned about a ligamentous injury. Given Shenault's past medical history this is worrisome. Shenault tore his left labrum (shoulder) while at Colorado during his collegiate days. Game footage does not show any obvious injury for Shenault so we will have to wait for the MRI results this week. If there is another labral tear it could mean a multi-week absence given how physical Shenault is as a player.