Running Back Market Shares: Week 12 Report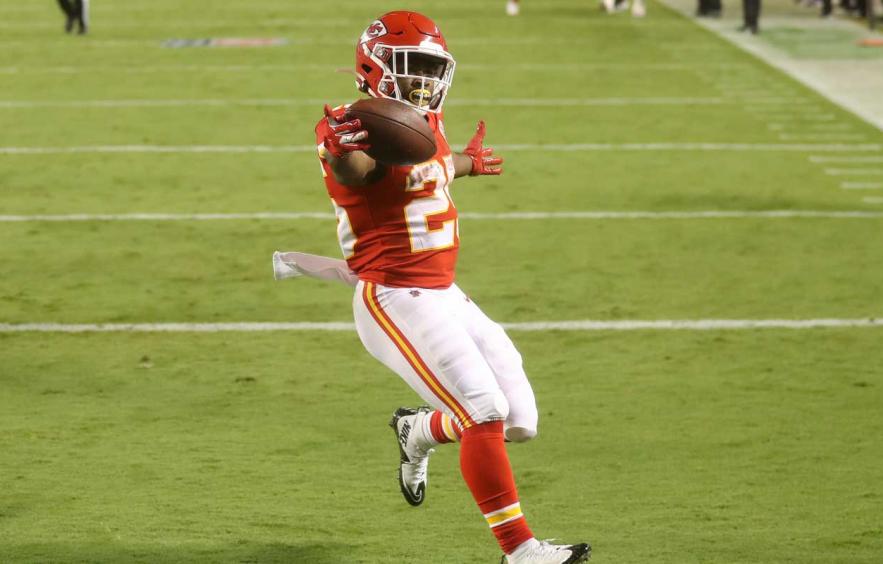 Jamie Squire/Getty Images
In the modern NFL, the running back is no longer the focal point of an offense. Gone are the days where a 400-touch rusher is the norm, and now is the age of the running back-by-committee. With carries and targets being diluted between backs more than ever, it's important for fantasy managers to know which backs are seeing usage and how they're being utilized.
This column will explore the landscape of running back rushing and receiving through team market shares – the percent of a team's running back rushes or the team's passing targets. By looking at these rates of usage rather than raw totals, we help to strip away some of the noise of game script and pare our data down to the truer representation of how each offense thinks about its backfield.
Without any further ado, let's ring the bell and open the markets: which running backs had a significant change in usage in Week 11?
Carries
Clyde Edwards-Helaire

, Kansas City, +70.6% running back rushing share

In his first week back from the injury list, Kansas City running back Clyde Edwards-Helaire sent Derrick Gore back to the bench and demoted Darrel Williams to second fiddle in one fell swoop. Though he had been losing work prior to his injury, CEH now appears to have been given another chance to be the clear lead back – though not an every-down back. Edwards-Helaire still forked over 30% of the rushing attempts to Williams, who also saw a 9.1% team target share compared to CEH's 6.1%. There's some home-stretch optimism in the amount of usage in his first game back, at the very least; that's all you can ask for.
Qadree Ollison

, Atlanta

Falcons

, +56.3%

It's hard to tell what the Atlanta Falcons are doing with their backfield now, but former undrafted free agent Qadree Ollison has taken over primary rushing duties with Cordarrelle Patterson on the shelf. Many folks had assumed that veteran Mike Davis would get the nod as the primary runner while Wayne Gallman picked up more receiving work, but instead, Ollison led the backfield's ground game in the blowout. Sure, maybe the usage ratios were tied to the blowout, but we should expect the Falcons to continue getting beat up on – which means this backfield won't be predictable for fantasy for a while.
Latavius Murray

, Baltimore

Ravens

, +37.0%

Speaking of a washed and unpredictable backfield, Latavius Murray's Baltimore Ravens afforded the veteran over a third of the running back rushes in his first game off injury as well, though he was still running behind Devonta Freeman. Hopefully, Baltimore realizes Freeman adds more to their offense than Murray at this point, but the two could easily split touches in Week 12 and flip 60-40 in Murray's favor by Week 13.
Trey Sermon

, San Francisco

49ers

, +34.5%

Just last Wednesday, San Francisco 49ers head coach Kyle Shanahan reiterated that Trey Sermon – third-round rookie trade-up target – remains behind sixth-round rookie Elijah Mitchell and former undrafted prospect Jeff Wilson Jr. In fact, this week, that got borne out yet again when Mitchell sat with a broken finger and Sermon saw exactly half the touches that Wilson did in this game. There's no 2021 fantasy hope for Sermon barring another spate of San Francisco backfield injuries.

Others of Note: Jamaal Williams, DET (+30.4%); Dontrell Hilliard, TEN (+30.4%); Matt Breida, BUF (+27.8%); Devonta Freeman, BAL (-17.7%); Eno Benjamin, ARZ (-15.3%); Boston Scott, PHI (-25.3%).
Targets
Dontrell Hilliard

, Tennessee

Titans

, +18.4% team target share

The Tennessee Titans running back carousel continues, this time landing on Dontrell Hilliard. Hilliard, recently promoted from the practice squad, was immediately thrown into the fire with a major rushing workload and almost a fifth of the Titans' targets in Week 11. Given that three different running backs have led the team in touches each of the last three weeks since Derrick Henry's injury, it's hard to say this will stick. That said, Hilliard has now flashed a secondary receiving ability that neither D'Onta Foreman nor Adrian Peterson specialize in, so perhaps that gives him a leg up.
Jeff Wilson

Jr., San Francisco

49ers

, +10.0%

Wilson was mentioned before in the rushing workload section, but – in addition to soaking up almost two-thirds of the Niners' running back rushes – adds an extra component to his game as a capable receiving target. While Elijah Mitchell is out with a broken finger, expect Wilson's stranglehold on this role to grow.
Devin Singletary

, Buffalo

Bills

, +7.0%

The Buffalo Bills' backfield is confusing, to say the least. Not only do they get very little usage (low-volume rushing attack and downfield passing), veteran Matt Breida has come on the past few games and is now absorbing a lion's share of the running back rushes and targets. This week, though, he took a backseat to Devin Singletary in the passing game. As with Tennessee's usage, it's hard to pin this situation down and expect consistency from it, but it's worth a mention that Singletary could add some sneaky PPR value going forward.
Ty Johnson

, New York

Jets

, -13.3%

In spite of major touches opening up for the next two-plus weeks due to Michael Carter's injury, I'm a tinge nervous about whether the New York Jets will send them Ty Johnson's way. That's especially true given the fact that Joe Flacco did well in Week 11 but threw very little to the running backs compared with predecessor Mike White. Johnson is still a hold in most leagues, given the number of touches that could be had in Carter's absence, but he has a much lower receiving ceiling with Flacco under center.

Others of Note: Devonta Freeman, BAL (+6.1%); Clyde Edwards-Helaire, KC (+6.1%); Trey Sermon, SF (+5.0%); Antonio Gibson, WAS (-6.7%); Matt Breida, BUF (-8.1%); Jeremy McNichols, TEN (-11.5%).

Goal-Line Work
Austin Ekeler

, Los Angeles

Chargers

, +25.0% running back goal-line share

It's hard to find fault in running back Austin Ekeler this week, who rewarded the Los Angeles Chargers' feeding him four goal-line opportunities with three goal-line scores. When the L.A. offense is humming, it's often due in large part to the versatile prowess of Ekeler. Similarly, Ekeler is in a great spot being on as potent an offensive team that can funnel him looks like this.
Myles Gaskin

, Miami

Dolphins

, -14.3%

Normally negative trends are a spot for me to dunk on the player, but in this case, I actually want to call attention to how good Myles Gaskin has been since the Miami Dolphins stopped rotating Salvon Ahmed and Malcolm Brown in every other play. Sure, Gaskin didn't end up with more than one goal-line score out of the situation, but he was given six goal-line opps in Week 11. Miami hopefully realizes what they've got in him and keeps running him out there as a full-time back.