NFL Week 10: Weekend Specials Bets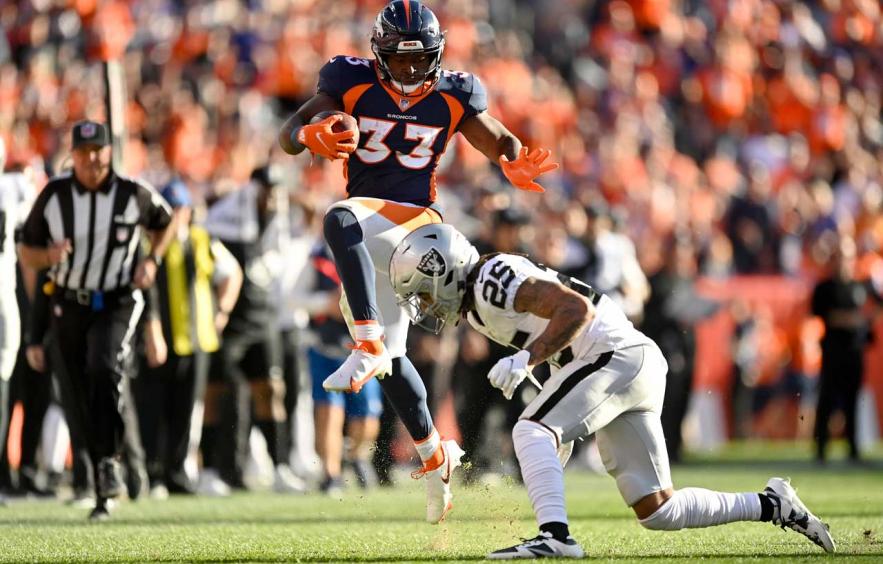 Dustin Bradford/Getty Images
For those who don't know me, my name is Dalton Kates. I once was simply a high-stakes redraft and dynasty player, but now with Arizona legalizing sports betting, my portfolio has expanded into betting. I've been lucky enough to have Connor Allen help me get quickly caught up to speed on the sports betting world.
It's all been a whirlwind nine weeks into this endeavor, but through it all, I seem to have stumbled across a market that can be exploited for some nice returns. My infatuation for weekly specials took on a life of its own when I placed three longshot bets in one week and they all hit.
Since Week 5 I've hit the following weekly specials:
I'm up 16.8 units in just five weeks of betting weekly specials. While I'm only slightly boasting about my ridiculous run good, I want to show there's an edge in this space.
Simply by leveraging John Paulsen's projections, understanding talent and identifying ceilings based on past performances, we can compare that to the market and see which players/teams are undervalued.
---
Editor's Note: This is a FREE PREVIEW sample of our premium content. Not a 4for4 betting subscriber? Sign up today at a reduced rest-of-season price to get access to all of our betting picks and tools!
---
How to Understand Talent
When scanning the weekly specials we must know a high majority of them are bad plays. Not every player in the league is created equal and we need to know who these superior players are. Which RBs possess the elite athleticism and speed to break off a long run? Which QBs can light up defenses any given week? Which WRs can hit on a couple of big plays?
This narrows our focus each week to help pinpoint types of players who can hit their ceiling. When they are given volume, they are much more likely to have big weeks.
Range of Outcomes for QBs
I wanted to understand the range of outcomes the top QB passes for every week. By knowing this, we can drastically narrow the field down to QBs who have these types of big weeks within their range of outcomes.
If a player can hit this and the market is low on them, it's likely a good bet.
I researched the top QB passing weeks on Sunday from 2016-2021 (94 weeks) to find out what this range was:
Top passing performance – 517
94th-best passing performance – 388
Median (47th-best) passing performance – 416
If we can bet on a QB and they hit 416 passing yards that week, we have a 50% chance of our bet cashing individually of the other QBs. There will be weeks where the top passer is under the 389 number, but there will also be weeks with multiple 400-yard passers.
The focus is on having a good process versus the actual results. It was still a great play if we lose because Kirk Cousins threw for 420 yards and Patrick Mahomes threw for 434 yards.
Knowing this range is important as we want QBs with a history of being able to put up these ceiling games as this will help us identify strong plays.
Range of Outcomes for RBs
Following the same process for QBs, let's dive into RBs. Of the past 94 weeks of football, here are our ranges:
Top rushing performance – 253
94th-best rushing performance – 142
Median (47th-best) rushing performance – 158
It should be noted that 36.6% of the top 94 rushing performances came in Weeks 13-17. This is likely due to the weather playing a bigger factor in games. The range is probably higher as the season progresses and is lower at the beginning of the season.
We've only had two RBs hit over the median so far this year.
Range of Outcomes for WRs
Not surprisingly, the range for WRs is a bit higher. Of the past 94 weeks, here's what we see:
Top receiving performance – 300
94th-best receiving performance – 158
Median (47th-best) receiving performance – 175
The medians are what we are ideally shooting for when looking at past performances.
With a look at the process out of the way, let's get onto this week's specials to bet...
*Lines accurate at time of publication.
Week 10 Weekend Specials Bets
Javonte Williams

Most Rushing Yards on Sunday (+8000 DraftKings)

Javonte Williams has been an efficiency monster so far this year, as he currently ranks fourth in rushing yards over expected amongst all running backs, according to Next Gen Stats. Not only that, but he's currently supporting a 6.3% breakaway run rate (percentage of carries that go for 15+ yards), which ranks 11th amongst all running backs.

Williams has already shown a decent ceiling, coming off a breakout 17-carry for 111 yards performance last week against Dallas.

A nice matchup is on the horizon as the Eagles currently rank 20th in rushing yards allowed on the year as well as 20th in Rush DVOA, according to Football Outsiders.

Williams is a talented RB with the obvious glaring issue here is playing alongside Melvin Gordon. The rookie back has seen over 50% of the snaps in just one game this season. There's reason to think he could start to see more playing time coming off a big game.

Regardless, this line undervalues a talented RB who can produce on a limited number of carries. It also doesn't consider the potential for him to see a bigger workload.

Another bonus is that two legitimate contenders in Elijah Mitchell and Darrell Henderson, both of whom 4for4 has projected in the top seven in projected rushing yards, play on Monday Night.

Risk: .1 units on DraftKings to win 8 units. (Playable to +6000.)

Jordan Howard

Most Rushing Yards on Sunday (+5000 FanDuel)

I'm going to need to take a shower after this one.

Jordan Howard has suddenly burst onto the scene as the lead RB for the Eagles. After getting 12 carries in his first game called up from the practice squad, he led all Eagles RBs with 17 carries last week. He recorded a 58.6% rush attempts share.

Howard is going up against a Broncos rush defense ranked 23rd in Football Outsiders' DVOA.

What's been interesting is to see the small sample trend of how the Eagles have approached their offense over the past two weeks. The Eagles have 66 RB rush attempts compared to only 31 pass attempts during this span. While we obviously can't expect this to continue to this extreme, it seems the Eagles are focused on running the ball more.

Recent memory hasn't been too kind to Howard from a weekly ceiling perspective, but he does have 10 career games with 110+ rushing yards. In four of those games, he ran for 140+ yards. Numbers which are squarely in the range we are looking for.

Howard doesn't possess the long speed or athleticism we are ideally looking for with this prop, but he does likely offer arguably the most important variable: volume.

Risk: .15 units on FanDuel to win 7.5 units. (Playable to +4500)
Mike Evans

Most Receiving Yards on Sunday (+3500 DraftKings)

Chris Godwin has now logged two DNP (did not participate) at practice on both Wednesday and Thursday and looks to be on the wrong side of questionable. Antonio Brown is almost surely out this week as well.

Mike Evans is now in a prime spot as not only has the target competition been minimized, but he's going up against a Washington Football Team defense ranked 31st in passing defense DVOA—they've been 31.7% worse than the average defense. They've also given up the most passing yards all season.

Evans is a supremely talented WR as we've seen some incredible ceiling games from him. Dating back to 2019, he's had four individual games of 180+ receiving yards, which puts him well within the ideal range of outcomes of what we're looking for.

Over the past two seasons, Evans has averaged 1.4 targets and a full 20 receiving yards per game better in the four games he's played without Godwin.

And to make it all gravy, the top two leaders in receiving yards this year, Cooper Kupp and Deebo Samuel, play on Monday Night, so they aren't competing with Evans for this special.

Risk: .25 units on DraftKings to win 8.75 units. (Playable to +1800)
Dak Prescott

Most Passing Yards on Sunday (+1200 DraftKings)

If there was a QB built for these weekly specials, it's Dak Prescott.

Since the start of 2020, he's played in only 12 games. Somehow, someway, Prescott has thrown for 400+ yards in five of those games. Even crazier, in our 94-game sample, Prescott holds seven of the top-25 single-game passing performances! That's four more than any other QB.

We know Prescott has the ceiling we are looking for, but how about his matchup? It's as juicy as a Georgia peach. The Falcons are 28th in pass defense DVOA.

Prescott is currently projected for the second-most passing yards of any QB playing on Sunday in John Paulsen's projections, but he is currently priced as the fifth-most in this prop, alongside QBs such as Derek Carr and Teddy Bridgewater.

Prescott should be priced closer to +750 every week, especially in a favorable matchup. I'm taking advantage.

Risk: .25 units on DraftKings to win 3 units. (Playable to +1000)
CeeDee Lamb

Most Receiving Yards on Sunday (+2700 FanDuel)

If we think Prescott has a chance at a monster passing performance, why not have some fun with his WR?

CeeDee Lamb is an absolute stud, but volume has been an issue for him at this point in his career. He has more 100-yard receiving games (five) than he has games with double-digit targets (four).

Lamb has been very efficient with Prescott on a per-target basis. In 12 games played together, Lamb has accumulated 80.6 receiving yards per game on an impressive 9.4 yards per target.

Although we have seen Lamb hit 149 receiving yards in a game, there's likely a much higher ceiling Lamb is capable of if given requisite volume.

Risk .25 units on FanDuel to win 6.75 units. (Playable to +2500)
Honorable Mentions
These are plays I'm still taking advantage of, but sprinkling less than I am on the main plays.
Tyler Lockett

Most Receiving Yards on Sunday (+3500 FanDuel)

Russell Wilson is likely back in action and the market hasn't fully adjusted. Tyler Lockett has a history of ceiling games with two 175+ yard performances over the last two seasons.

Risk .1 units on FanDuel to win 3.5 units.
Julio Jones

Most Receiving Yards on Sunday (+6000 FanDuel)

Monitor this one with Julio Jones's injury status.

Jones is the yardage king and has a vast majority of high ceiling games in his history, even having three games with 137+ yards dating back to last year.

The Saints have given up the 27th-most passing yards this season, and Marshon Lattimore should be matched up against A.J. Brown, giving Jones a better individual matchup.

Jones hasn't lost a step when on the field, it's just the volume that's been an issue. His efficiency is still elite with a 2.47 yards per route run tallied this year—13th amongst all qualifying WRs.

Risk: .05 units on FanDuel to win 3 units.

I feel like this is a fun week with quite a few values available. Let's embrace the variance and hope the process rewards us with results this week.

For the most up-to-date picks, check out my Twitter and subscribe to our Discord. This sheet, from Dan Rivera, tracks all my betting picks (and those from the rest of the betting staff). Just click on the tab with my name on it for the results.
---
This article is intended for entertainment purposes and adult users only. Call 1-800-GAMBLER if you have a gambling problem.