Kyle Pitts: Traditional Tight End or Offensive Unicorn?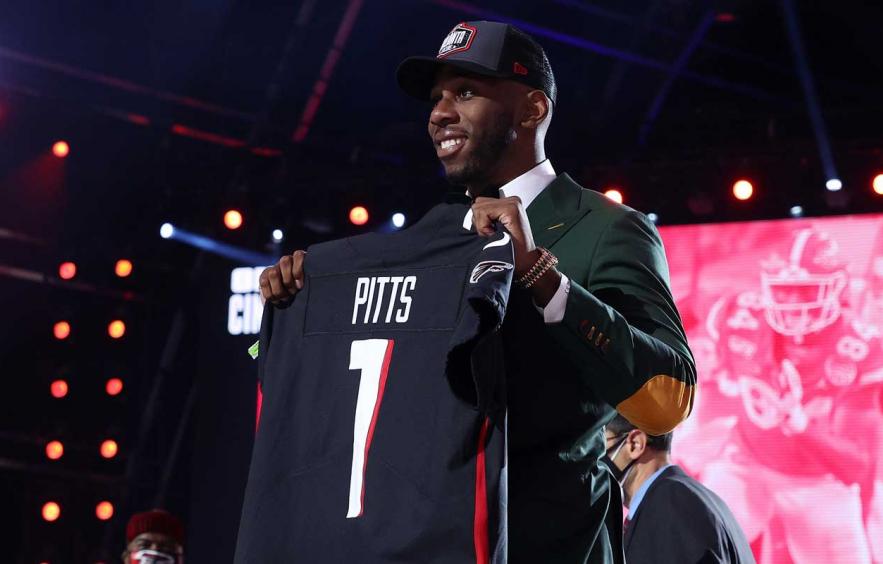 Gregory Shamus/Getty Images
One of the more intriguing picks of the first round, Atlanta passed on a quarterback and numerous needs on defense for the privilege of selecting Florida tight end Kyle Pitts with the fourth overall pick. Perhaps the best tight end prospect of all time, Pitts displayed elite athleticism and production on his path to the NFL. Now playing alongside Julio Jones and Calvin Ridley, Pitts has a chance to contribute to one of the most explosive offenses in the NFL. With that said, tight ends historically develop on a longer curve. The question with Pitts in year one remains just how high can he ascend?
This piece will first examine Pitts's collegiate production and what to expect at the NFL level. From there, we will dive into Pitts' potential fit with the Atlanta Falcons and decipher how this could influence the offense as a whole.
---
Editor's Note: Read more player profiles from the rest of the 4for4 staff!
---
Kyle Pitts

Offensive Weapon

A four-star prospect coming out of high school, Pitts started out his career in a complimentary role as a freshman in his first season on campus. Fully breaking out as a sophomore in 2019, Pitts recorded 54 receptions for 649 yards and five scores in Florida's offense. Widely regarded as the top tight end in the country entering his junior season, Pitts completely dismantled the college game. Posting 43 receptions, 770 receiving yards, and 12 scores in just eight games, Pitts easily took down the John Mackey Award given to the top tight end in the country.
Kyle Pitts

2020 Game Logs

| Opponent | Targets | Receptions | Yards | TDs |
| --- | --- | --- | --- | --- |
| Ole Miss | 9 | 8 | 170 | 4 |
| South Carolina | 8 | 4 | 57 | 2 |
| Texas A&M | 8 | 5 | 47 | 1 |
| Missouri | 8 | 5 | 81 | 0 |
| Georgia | 2 | 2 | 59 | 1 |
| Kentucky | 7 | 5 | 99 | 3 |
| Tennessee | 11 | 7 | 128 | 0 |
| Alabama | 12 | 7 | 129 | 1 |
On top of the elite production in Florida's offense, Pitts posted some of the best size-adjusted testing metrics ever seen. Standing, 6-foot-6, 245 pounds, Pitts ran an absurd 4.44 40-yard dash at Florida's Pro Day. Drawing comparisons to Calvin Johnson with his size-adjusted speed, Pitts creates the ultimate mismatch for NFL offenses. Too big for corners off the line, Pitts is also too athletic for linebackers and safeties.
This rare blend of athleticism and size appeared all over the field for Pitts. The former Gator played out of the slot and out wide on 24% and 21% of his snaps respectively. This allowed Florida to take advantage of the various mismatches created by Pitts. Likewise, Pitts dominated from an efficiency perspective. Displaying elite ball tracking downfield, Pitts ranked first in yards on catches beyond 20-yards (331), while registering the fourth-highest average depth of target (aDOT) in the country (13.8). Pitts also notched 11 contested catches and forced five missed tackles. Those metrics ranked third and ninth respectively at the position across the country.

Offensive Fit in Atlanta
Historically, tight ends follow a slightly longer developmental curve than other positions. With that said, tight ends also don't find themselves drafted in the top five picks often. With the elite draft capital involved, Atlanta certainly has plans to get Pitts more involved than traditional tight ends in year one.
However, Pitts enters one of the top receiving corps in the country, raising questions about his overall target ceiling. Calvin Ridley returns to the team after his career-best season with 90 catches, 1,374 yards, and nine scores on 143 targets. Julio Jones also returns from an injury-plagued season, where he still put up 771 yards in nine games. While entering his age-32 season, Jones still ranked top four in PFF's predictive yards per route run metric. Even Russell Gage and Hayden Hurst present target competition. Gage is also coming off a career-best year with 786 yards, while Hurst will play out the final year of his current contract in 2021 after his 571-yard season last year.
Positively, Pitts brings the versatility to line up in-line, in the slot, and out wide, which should contribute to early playing time with the Falcons. Importantly, Pitts' blocking improved in his final season with Florida as well, putting up his best grades with the program according to PFF. While he will spend most of his time running routes, serviceable blocking should allow Pitts to stay on the field in all situations. This is also important because new Falcons head coach and play-caller Arthur Smith led the league in 12-personnel formations with the Tennessee Titans last year. This allowed both Jonnu Smith and Anthony Firkser to record career highs in receiving yards in 2020 under Smith. With Pitts' versatility, the hybrid tight end could theoretically provide an upgrade over Hurst or Gage in various personnel packages.
As for fantasy football, Pitts has begun soaring up draft boards with his landing spot and draft capital. Consensus rankings already have Pitts inside the top 10 tight ends, and expert drafts see him selected even higher. While Pitts certainly has a ceiling from a redraft perspective, he looks unlikely to reach the heights of the top tight ends at the position in year one. Players like Travis Kelce, George Kittle, Darren Waller, and even Mark Andrews to a degree function as legitimate alpha receivers for their team. Playing alongside Julio Jones and Calvin Ridley, Pitts remains unlikely to hit the same target volume. Add in the historic tight end learning curve and Pitts could struggle to pay off his ADP in year one.
However, dynasty remains a completely different animal. With Julio Jones already 32 years old and the Falcons failing to pick up Hayden Hurst's fifth-year option, Pitts looks poised for a massive role down the line. Dynasty expert George Kritikos currently has Pitts as his TE1 and eighth overall player in rookie drafts. He also pegs Pitts as the TE3 in dynasty startups and 64th overall player across the board.
Bottom Line
While an exciting rookie prospect with an elite physical and production profile, Pitts continues to soar up draft boards following his fourth overall selection. On Underdog Fantasy, Pitts currently comes off the board at pick 60.8, narrowly ahead of Mark Andrews. Right at the Round 4/5 turn, Pitts currently sits as the TE5 overall. Ahead of names like T.J. Hockenson, Dallas Goedert, and Noah Fant, Pitts' average draft position remains a little rich in year one. For those creating a portfolio of drafts, gaining some Pitts exposure makes sense. However, for those in a single draft, waiting for value at the position looks like the preferred strategy.