Jaylen Waddle: Gadget Player or Alpha Receiver in Miami?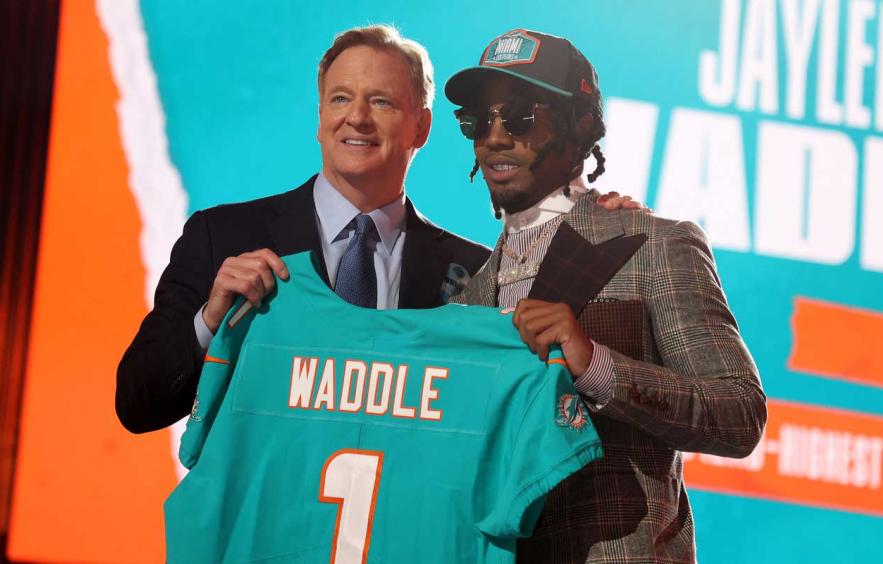 Gregory Shamus/Getty Images
After seeing his final college season cut short due to a severe ankle injury, Jaylen Waddle still found himself drafted sixth overall by the Miami Dolphins. Reunited with his former college quarterback Tua Tagovailoa, Waddle enters a suddenly explosive Miami Dolphins passing attack. Another player shooting up draft boards, Waddle offers electric play-making ability similar to a Tyreek Hill. While his college production leaves much to be desired, Waddle's draft capital and athleticism should lead to early playing time in the sunshine state.
This piece will first examine Waddle's collegiate production and what to expect at the NFL level. Second, this piece will analyze Waddle's fit with the Miami Dolphins and how this could influence the entire offense.
Jaylen Waddle

Gadget Player or Alpha Receiver?

A highly touted player during his time with Alabama, Waddle initially entered the college ranks as a highly recruited four-star prospect. Waddle stands 5-foot-10, 182 pounds, but he couldn't test athletically due to an injured ankle suffered in the 2020 regular season. Waddle ran a 4.52 40-yard dash coming out of high school, but he allegedly ran faster than any other receiver in the country according to the NCAA's GPS tracking system.

From a pure production standpoint, Waddle suffered due to Alabama's crowded receiving depth chart. In his first two seasons on campus, Waddle competed with Jerry Jeudy, Henry Ruggs, and Devonta Smith for targets. Waddle actually put up his top season as a true freshman with 45 receptions, 848 yards, and seven scores with Smith banged up for part of the season. Waddle subsequently followed this up with a 33-catch, 560-yard, six-touchdown sophomore season in the country's best receiving corps, despite his continued run as the fourth receiver.

In 2020, Waddle finally saw a bump in production following the departures of Jeudy and Ruggs. However, Waddle's season ended after four games (aside from a brief appearance in the National Championship), due to a severe ankle injury. In that span, Waddle accounted for 28 catches, 591 yards, and four scores, while eclipsing 100 receiving yards in each of those contests. However, it remains notable that Waddle played behind Jeudy, Ruggs, and Smith throughout his initial years at Alabama. Already 22.5 years old, Waddle is only a few days younger than Smith, despite playing one fewer year of college football.

Unfortunately, Waddle also doesn't meet the typical criteria for predictive college metrics like College Dominator and Breakout Age. College Dominator refers to the total percentage of receiving yardage and touchdown production a player accounted for in their final season, while Breakout Age refers to the age of a player during their first season accounting for 20% of receiving yards and touchdowns in their offense. However, he accounted for 35.4% of Alabama's receiving yards, 33.3% of the touchdowns, and a 27.6% target share in his four healthy games to start the year. It should be noted, Waddle likely notches a freshman breakout and strong dominator in any other college offense in the country.
Jaylen Waddle

2020 Game Logs

| Opponent | Targets | Receptions | Yards | Touchdowns |
| --- | --- | --- | --- | --- |
| Missouri | 10 | 8 | 134 | 2 |
| Texas A&M | 6 | 5 | 142 | 1 |
| Ole Miss | 6 | 6 | 120 | 0 |
| Georgia | 7 | 6 | 161 | 1 |
| Ohio State | 3 | 3 | 34 | 0 |
From an efficiency perspective, Waddle also displayed incredible versatility in a small sample. In 2020, Waddle produced 282 yards after the catch, averaging 10.1 per receptions on just 28 catches. He also caught six balls more than 20 yards downfield, showing an ability to win in all areas of the field. Experienced on special teams, Waddle returned 38 punts and nine kickoffs during his time with Alabama. This amounted to 947 total return yards with three scores.

Offensive Fit in Miami
On top of drafting Waddle in the top six, Miami also signed Will Fuller in free agency this offseason. With DeVante Parker, Preston Williams, Albert Wilson, and Mike Gesicki already in place, Miami now appears to have one of the most explosive wide receiver corps in the NFL. Tagovailoa also enters his second year in the system, and Miami has now pushed all of their chips in on their young signal-caller.
In 2020, Waddle played 68.1% of his snaps in the slot for Alabama. 19 of his catches, 495 yards, and all four scores came from this alignment. The Dolphins used at least three wide receivers on 63% of their plays last year, but often deployed Gesicki as their primary slot receiver. Gesicki played in the slot on 67.4% of his snaps, with Isaiah Ford also hitting 66.2%. However, Gesicki played far more raw slot snaps at 319, compared to Ford's 182. Ford is now a free agent, leaving a void at the position.
Looking forward, Parker played 22.9% of his snaps in the slot, while Fuller played there 24.4% of the time in Houston last year. Neither looks likely to assume a full-time role in the slot. Gesicki still likely plays most of his snaps in the slot, but Waddle should immediately slide into Ford's role as the slot receiver in 11-personnel for Miami. It should be noted, Gesicki only crested 70% of Miami's total snaps in just three games last year. While Waddle may not play 100% of the snaps immediately in Miami, he still should walk into a solid role in year one.
Beyond 2021, Waddle also finds himself with potentially more opportunity. The Dolphins decided to sign Fuller to a one-year deal over a long-term agreement. Comparable in size and speed, Fuller stands 6-foot-0, 184-pounds with a 4.32 40-yard dash. Gesicki also hits free agency after this season with the expiration of his rookie deal. The departure of one or both of these players should mean extra opportunity for Waddle.
Even with a potentially crowded situation in year one, Waddle still possesses paths to playing time. Aside from pure draft capital spent, Waddle already has rapport with Tagovailoa. He also provides an immediate upgrade over Ford. Still, Waddle's ADP continues to creep inside the top 100 picks in redraft leagues. With questions on the prospect profile and other notable receivers on the depth chart, Waddle may not live up to expectations in year one. This could make incumbent receiver Parker a better value pick, coming off the board just outside the top 100.
As for dynasty leagues, Waddle presents a path to strong production with Fuller and Gesicki set to hit free agency following 2021. Miami also continues to invest in the offense in intelligent ways. Rather than draft devalued positions like running back, Miami bolstered the offensive line with Notre Dame's Liam Eichenberg in the second round. With former first-round pick Austin Jackson back for his second year, Tagovailoa's protection should improve in year two as well. 4for4's dynasty expert George Kritikos currently ranks Waddle as his WR2 in this class, WR21 overall, and 42nd overall player in dynasty startups.
Bottom Line
While Waddle enters a crowded depth chart year one, Miami's offensive additions create an explosive environment for fantasy production. On Underdog Fantasy, Waddle currently comes off the board with an ADP of 92.1. This falls directly in between Fuller (74.2) and Parker (114.0). Fuller must serve a one-game suspension to begin 2021, making him a curious pick to begin with. However, Parker has now put together back-to-back seasons with at least 793 yards. Signed through 2023 and putting together his two best seasons of his career in 2019 and 2020, Parker should remain a focal point of the offense. While Waddle perhaps offers a higher ceiling, Parker likely offers more reliability and consistency within the 2021 offense. With both coming off the board in round seven or later, taking a piece of a potentially explosive Miami offense makes sense.