Fantasy Football Debate: D'Andre Swift vs. J.K. Dobbins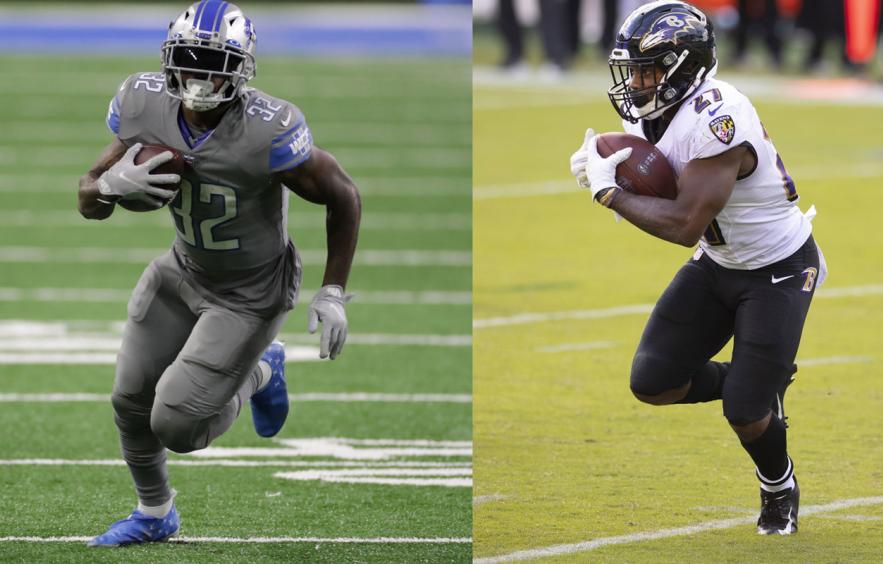 Leon Halip& Mitchell Leff/Getty Images
D'Andre Swift and J.K. Dobbins are being drafted as the RB16 and RB17 on Underdog Fantasy. In this debate, Jack Caporuscio explains why he prefers Swift while Frank Ammirante argues for Dobbins as his preferred rusher.
---
Other Fantasy Football Debates: Kyler Murray vs Lamar Jackson | Allen Robinson vs Terry McLaurin | D.J. Chark vs Laviska Shenault | Keenan Allen vs Michael Thomas
---
The Case for
D'Andre Swift
Jack: D'Andre Swift, the 35th overall draft pick in the 2020 NFL Draft by the Detroit Lions, is one of the most dynamic second-year offensive players. In his rookie season, Swift accumulated 521 rushing yards on 114 carries (4.6 yards per carry), eight rushing TDs, 357 receiving yards on 46 receptions (7.7 yards per reception) and two receiving TDs. These statistics led Swift to a fantasy finish of the RB-18 in half-PPR formats, all while only having an average snap share of 34.6% (Per FootballOutsiders.com) through his first six games. Swift finished the season with a total snap share of 37.9%, which means his potential fantasy value is far from being fully tapped. Swift is currently being drafted as the RB16 in half-PPR formats, per Underdog Fantasy ADP, which is a prime example of drafting a player at his floor and not his ceiling.
D'Andre Swift's case for support is a list swiftly growing longer the further the offseason progresses. Will the Detroit Lions win a lot of games in 2021? Survey says: probably not. However, they don't need to be a good Football Team for Swift to be a fantasy RB1. The Lions' defense is going to be bad. Not as bad as the 32nd ranked unit last season, but still bad enough to force the Lions into a negative game script more often than not. This negative game script combined with the fact that the best pass-catcher on the offense is arguably a tight end, and Swift can serve as a check-down machine for a newly anointed franchise quarterback, Jared Goff. For those who don't believe Goff throws to the running back position, Goff registered a 17.5% target share to the running back position during the 2017-2018 season and gave Todd Gurley the fourth highest target share at running back in 2017-2018 (Per Pro Football Focus).
The Detroit Lions have made investments in the o-Line this offseason in drafting Oregon offensive tackle Penei Sewell seventh overall in the 2021 NFL Draft. With Sewell in the Motor City, Interior o-lineman Frank Ragnow earning All-Pro honors in 2021 and left tackle Taylor Decker regarded as one of the better O-Linemen in the league, it becomes easy to see that the Lions' o-Line will be better than popular belief this season. This strong up-front presence will be vital to opening running lanes for Swift out of the backfield.
Combining the investments up-front with new Offensive Coordinator Anthony Lynn will prove to be a massive boon for Swift's fantasy value this season. Lynn has received media and fantasy analyst attention this offseason for his comments of Swift being a "B back" in this offensive scheme. Do you know who else was a B back in the Anthony Lynn offense? Austin Ekeler, who finished as the RB6 in half-PPR formats in 2019, which was with him serving as Melvin Gordon's backup. The B back role is the more valuable role for fantasy football purposes in this offense and backup Jamaal Williams is certainly no Melvin Gordon. Swift's skillset mirrors that of pass-catching dynamos Austin Ekeler and Alvin Kamara, both of who have been extremely valuable for fantasy managers and typically are taken near the top of drafts.
Swift is Who You Want at His ADP
In half-PPR formats, it is essential that your running backs actually catch passes. In the 2020 season, J.K. Dobbins only had 18 catches for 120 yards (6.6 yards per carry). So, not only did Dobbins have fewer catches for fewer yards than D'Andre Swift in 2020, but he was less efficient with the passes he did catch. The Baltimore Ravens have one of the best defenses in the NFL and the most run-heavy offense in recent memory. A positive game script and a quarterback in Lamar Jackson that doesn't have an affinity for throwing to the running back position will depress Dobbins' ceiling. These factors will make it extremely difficult for Dobbins to pay off at his current ADP of RB17. Out of the two players at their respective ADPs, it's easy to see why Swift is not only the safer pick but the higher upside pick as well. He is the player that can help you win your fantasy league as a fantasy RB1 being drafted at an RB2 price tag.

The Case for
J.K. Dobbins
Frank: J.K. Dobbins is coming off an impressive rookie season, rushing for 805 yards and nine touchdowns on 134 carries and catching 18-of-24 targets for 120 yards. He enters his second year as a pro as the lead back in a Ravens offense that projects as one of the most prolific in the NFL. Currently being drafted as RB17 (34.9 ADP) in Underdog Fantasy leagues, Dobbins is undervalued due to concerns over volume, particularly in the passing game. While he won't catch as many passes as D'Andre Swift, Dobbins is a special runner who deserves to go ahead of his counterpart in Detroit.
Elite Efficiency
Dobbins was extremely efficient in his rookie season, averaging an absurd 6.0 yards per carry. According to Stathead, there have been six running backs who averaged 6.0+ yards per carry on at least 100 carries since 1995: Barry Sanders, Jamaal Charles, Adrian Peterson, C.J. Spiller, Jamaal Charles, and J.K. Dobbins. That is an extremely impressive group of runners, which highlights just how impressive Dobbins was in his rookie year. This was even with a slow start to his rookie season, as Dobbins only averaged six touches per game in his first six games. Imagine what his first year would have looked like had he been given the lead role from the start of the season.
Dobbins started to take over the Ravens' backfield in Week 11. From that point forward, he totaled 495 rushing yards and seven touchdowns on 77 carries (6.43 YPC) along with three catches for 32 receiving yards. During this stretch, Dobbins ranked as RB9 in half-PPR points per game. Mark Ingram was rendered as an after-thought, while Dobbins out-touched Gus Edwards 103-77 in their final eight games together. We can expect more of the same heading into the 2021 season, although there are some concerns over passing game usage. Let's address those concerns.
Receiving Volume Concerns
Fantasy players believe that Dobbins' upside is capped by his limited usage in the passing game. After all, he only had 18 receptions and 24 targets as a rookie. But let's look to Ingram's 2019 season for some optimism. That year, Ingram caught 26-of-29 targets for 247 yards and five touchdowns. This tells us that 30+ targets are well within reach for Dobbins. This won't be a complete zero in the passing game. There are also more reasons for optimism with the evolution of this Ravens offense.
According to RotoViz, the Ravens had a 43% pass rate (32nd) and 57% rush rate (1st) in neutral game scripts (tied or within a touchdown) last season. After a second consecutive loss in the AFC Divisional Round, it's clear that the Ravens want to change this approach. They added three wide receivers this offseason: Sammy Watkins (free agency), Rashod Bateman (first-round pick), and Tylan Wallace (fourth-round pick). The Ravens plan on shifting towards a more balanced approach, with Lamar taking more snaps under center and taking more shots downfield. This increase in passing volume will allow for more opportunities for Dobbins.
Head coach John Harbaugh stated that getting their running backs more involved in the passing game was a "point of emphasis" and that Dobbins will be a "focal point" in that regard. This makes 40+ targets well within reach for Dobbins. Given his ability to make defenders miss and rack up explosive plays, this is huge for his fantasy upside. Fantasy players should not view Dobbins as a zero in the passing game like they would with Damien Harris of the Patriots.
2021 Outlook
Ingram is now in Houston, so Dobbins will only need to contend with Edwards for touches this upcoming season. We have seen how lucrative the starting running back can be in a Lamar Jackson offense, due to his explosiveness as a runner - Ingram finished as RB8 in half-PPR PPG in 2019 with similarly high efficiency (5.0 YPC, 15 TD). Add in Dobbins' increased role in the passing game and you have a high-upside fantasy running back.
While D'Andre Swift should be able to rack up receptions in a Jared Goff-led offense in Detroit, this team is going to struggle to score points. On the other hand, Dobbins will be in one of the best offenses in football with the ability to score 15+ touchdowns. The high efficiency and touchdown upside for Dobbins should outweigh the higher receiving volume for Swift. Both running backs are good bets as upside RB2s, but I'd prefer to go with Dobbins.