Depth Chart Battle: Steelers Wide Receivers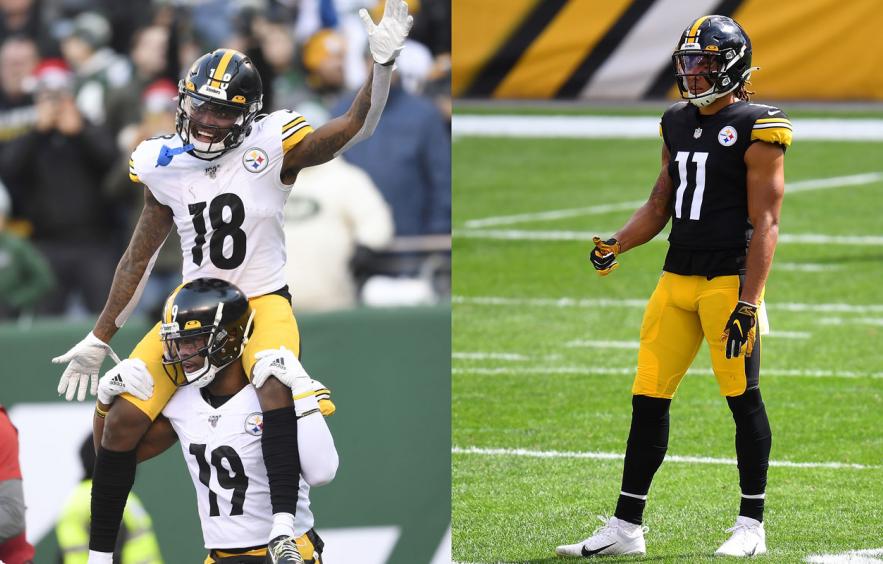 Sarah Stier & Joe Sargent/Getty Images
For almost the entirety of Ben Roethlisberger's career, the Pittsburgh Steelers have consistently churned out elite fantasy wide receivers. Last season was no exception, with the Steelers wide receiver trio of Diontae Johnson, JuJu Smith-Schuster, and Chase Claypool all finishing as top-24 fantasy wide receivers in half-PPR. All three remain on the team this year, creating a cloudy situation regarding who will assume the role of the number one option in the Pittsburgh passing game. In 2020, Johnson led the way with 144 targets, followed by Smith-Schuster with 128, and Claypool with 109. However, this hierarchy could certainly change this season, leading to an important question for fantasy managers: Which Steelers receiver should you take in your draft?
---
Other Profiles & Debates: Player Profiles | Player ADP Debates | Patriots TEs | Jaguars WRs | Patriots RBs | Broncos RBs | Bills RBs |
---
Diontae Johnson

(Underdog ADP: 49.7, WR25)

Johnson is going the highest among the Pittsburgh receivers in drafts, being taken as the WR25 according to Underdog ADP. While he had the lowest fantasy finish among the Pittsburgh receivers last season (WR22), he had the most targets (144) and yards (923). Early on in the season, Johnson was marred by injuries, exiting two games early. However, he finished the season very strong, and from weeks 9 to 17, was the overall WR7. Fantasy managers might not have fond memories of Johnson's league-leading 13 drops last year, but as the wise Zachary Krueger put it, drafters are focusing on the wrong thing. In most cases, having a high number of drops simply means that a player is being targeted a lot:

As you can see, almost every player with at least 10 drops in a season since 2018 saw at least 100 targets that same year, save for Calvin Ridley (close to 100) and Dawson Knox (I have no idea what happened there). Drops are also not a very sticky stat–of the top-10 drop leaders in 2018, just two remained in the top-10 the following year (Julian Edelman and Travis Kelce, both of whom received north of 130 targets). From 2019 to 2020, the number was actually zero. If he stays healthy, Johnson should easily receive at least 100 targets, giving him a very high floor in fantasy.

Chase Claypool

(Underdog ADP: 58.5, WR29)

After being selected in the second round of the 2020 NFL Draft out of Notre Dame, Claypool had a standout rookie season. He tallied 873 receiving yards and 11 total touchdowns, finishing as the WR19. He proved to be a deep-ball machine, ranking top-5 in the league in both air yards and deep targets per PlayerProfiler.com. Because of this, Claypool offers week-winning upside and can detonate in any game.

However, one issue with owning Claypool last year was that he was a feast-or-famine type player. He had four games with under five fantasy points, and did a lot of his damage in just a few weeks. In fact, if we remove Weeks 5 and 10 (where he scored a combined six touchdowns) from his output, Claypool's fantasy finish goes from WR19 all the way down to WR39. This volatility could make him frustrating to own in fantasy leagues this season.
JuJu Smith-Schuster

(Underdog ADP: 79.8, WR40)

Perhaps overshadowed by his off-the-field/on-the-logo antics, Smith-Schuster actually had the best fantasy finish of the Pittsburgh receivers last year, ending as the WR18 just above Claypool. In the aforementioned stretch from Weeks 9 to 17 where Johnson finished as the WR7, JuJu was close behind him as the WR11. Despite this, he is being drafted well below his teammates, going around the 80th pick in fantasy drafts.

As the de facto slot receiver in the offense, JuJu should see targets galore. Additionally, given the concerns surrounding the Pittsburgh offensive line–the Steelers lost four of their five offensive starters from last season–JuJu will also be a benefactor of Ben Roethlisberger having to get the ball out very quickly. Per NFL Next Gen Stats, Big Ben had the lowest average time to throw in 2020, and it's easy to see him finishing near the top again. Simply put, JuJu is going far too low for a player who has finished as a top-24 fantasy wide receiver in every single season where he has played more than 12 games.
Who Should You Draft?
Deciding between these three is a tough task. All three showed that they could be very relevant for fantasy last season, and they could easily do so again. With this being said, it's hard to imagine that Ben Roethlisberger has over 600 passing attempts again this year, especially following the drafting of running back Najee Harris.
I think that Diontae Johnson is the surest shot of the three receivers. He's locked into a high amount of targets and should cement his role as the number one option in the passing offense. His ADP of WR25 is appropriate, and if you could snag him in the late fourth or fifth round as your team's WR2, it would be a great pickup. At his ceiling, he could perform as he did in the home stretch of last season and finish as a top-10 receiver.
JuJu is my next favorite option, and he's a fantastic value at his ADP of WR40. He will see plenty of targets as the slot receiver and will produce in the quick passing game. While he might not have top-10 receiver upside, the likelihood that he isn't a Top-40 receiver in fantasy this year is very low. JuJu will be able to provide a high floor week in and week out, and especially in half-PPR and PPR formats, he is a good target later on in drafts.
While Claypool is the flashiest and might have the highest ceiling of the three receivers, his volatility makes me wary. If Ben Roethlisberger continues to regress as a passer, Claypool's big-play upside could be damaged. He has the makings of a touchdown-dependent fantasy option in 2021. At his ADP, I'd rather go after more reliable receivers like Robby Anderson, or chase volume with guys like DeVonta Smith or Courtland Sutton.