Diontae Johnson: Drafters are Focusing on the Wrong Thing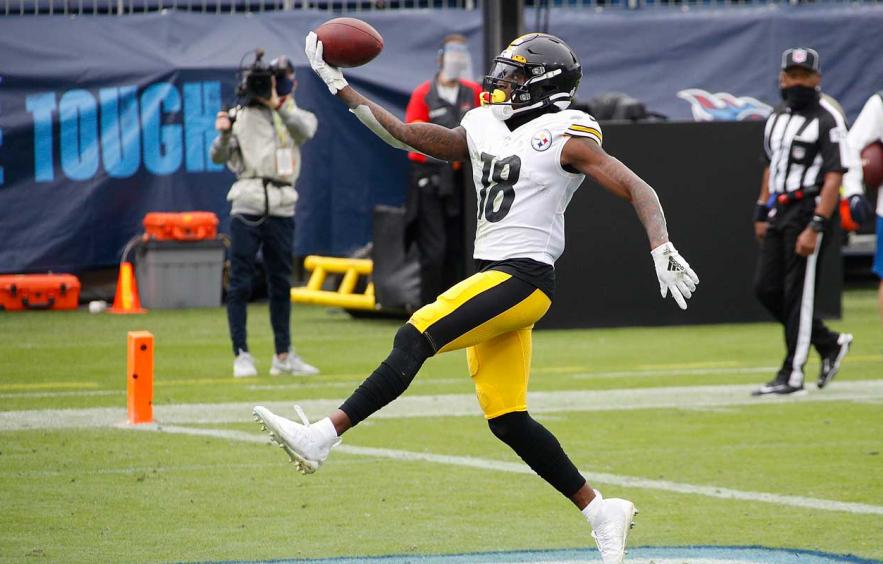 Frederick Breedon/Getty Images
If you've spent a minute in the fantasy streets, you know that fantasy gamers tend to hone in on rather meaningless tendencies.
You may (or may not) be old enough to remember that once upon a time Adrian Peterson had fumble concerns. Despite finishing each of his first two seasons as the overall RB5 in half-PPR leagues, drafters wondered how cautious they should be of Peterson, who had seven fumbles to his name from 2007-2008. In Year 3, he had a career-high six fumbles and finished as the overall RB2 in half-PPR leagues. Crazy how that works, right?
In 2019, drafters were hesitant to be too invested in Lamar Jackson because he wasn't accurate. Never mind the fact that he already appeared to be the greatest Konami Code quarterback we had ever seen, confidence in him was lukewarm at best.
---
Editor's Note: Read more player profiles from the 4for4 staff!
---
The result? That season in BestBall10 drafts, Jackson had an ADP of 132.1 while posting 451.7 fantasy points. It was the second-highest scoring season by a quarterback behind Patrick Mahomes' 451.9 output in 2018. The inaccurate Jackson led all quarterbacks that season with 36 touchdown passes, despite finishing 22nd in passing yards (3,127). His value was only boosted by his rushing upside when he rushed for the most yards by a quarterback in NFL history (1,206) to go along with seven touchdowns.
Now in 2021, fantasy drafters are making yet another misguided mistake based on a number even more meaningless than Peterson's early fumble issues, and those who are spotting the mistake are capitalizing in a big way.
Diontae Johnson

Through the Years

Diontae Johnson entered the league in 2019 after being drafted by the Steelers in the third round out of Toledo. Burdened with the arduous task of catching passes from Mason Rudolph and Devlin "Duck" Hodges for 14 games that season, Johnson still posted a receiving line of 59/680/2 on 92 targets. He finished as the overall WR43 in half-PPR with 127.6 fantasy points and finished sixth amongst his rookie class in receiving yards.

With the return of Ben Roethlisberger in 2020, expectations were high for Johnson heading into Year 2.

For those willing to invest in him, Johnson paid off quite handsomely. He finished as the overall WR22 with 177.8 points, and as the WR24 with 11.9 PPG. He posted career-highs in receiving totals, as he finished with 88 receptions for 923 yards and seven touchdowns. His 144 targets were the sixth most among receivers.
Diontae Johnson

Stat Lines, 2019–2020

| Year | Targets | Receptions | Yards | TDs | .5 PPR |
| --- | --- | --- | --- | --- | --- |
| 2019 | 92 | 59 | 672 | 5 | 130.8 |
| 2020 | 144 | 88 | 924 | 7 | 179.9 |
Johnson's per-game total was sunk by two games that he left early due to injury. In Weeks 3 and 5, Johnson totaled just 25 snaps, finishing those weeks with just three targets. Removing these two lost games from Johnson's season boosts his PPG total to 13.5, which would have tied Tyler Lockett for 12th overall.
One other stat that Johnson led not just all receivers, but the entire league in last season was drops. His 14 drops were the most of any player in 2020. Jerry Jeudy had the second-most with 12. While some drafters may doubt Johnson's upside with Roethlisberger being another year older, Johnson's drops seem to be a hot topic this offseason and may be the result of his 51.2 ADP (WR25) on Underdog Fantasy.
The Big Picture Behind Drops
Let's just start by saying that drops are annoying. I think we can all universally agree on that. But outside of their annoyance, drops tend to indicate something more than a player who is bad. As a matter of fact, if there's one thing that drops do seem to indicate, it's target volume.
Looking back over the last three seasons, we can see how the top-five drop leaders from each season fared in target distribution.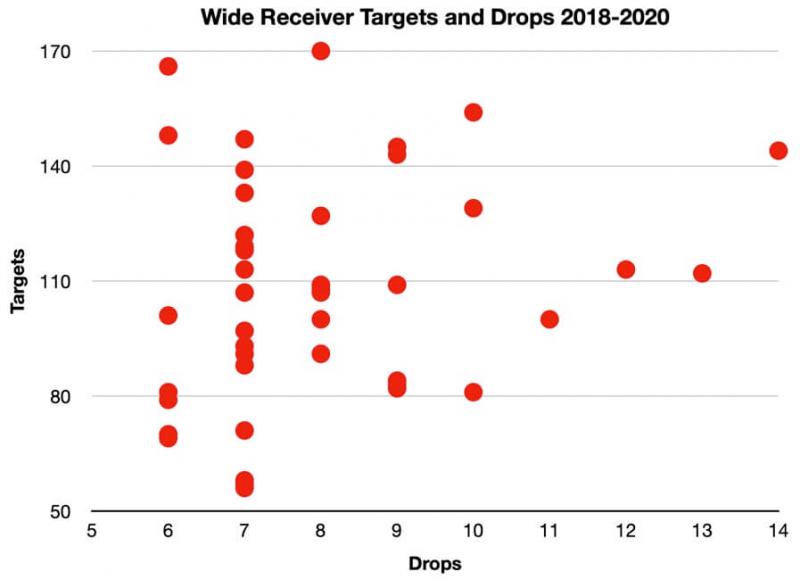 Within this group of top-five leaders in drops from 2018-2020 we have 43 different players. They averaged 8.0 drops per season, while also averaging 107.3 targets/gm. Of this group, 13 receivers drew 120+ targets, while 26 drew 100+ targets. For some perspective on what can be done when a receiver sees these totals, Cole Beasley saw 107 targets last season with Buffalo and averaged 11.1 PPG (WR32). Cooper Kupp and Justin Jefferson came the closest to 120 targets in 2020 with 115 targets each. Kupp averaged 10.8 PPG (WR35) while Jefferson averaged 14.4 PPG (WR9).
Looking at this same group of drop leaders again, here is how they performed in regards to fantasy points.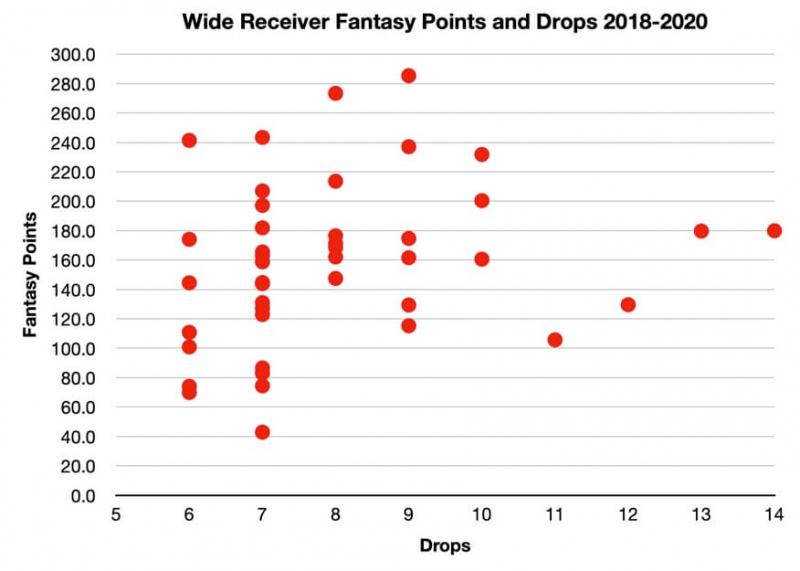 On average, our league leaders in drops averaged 158.0 points in half-PPR leagues with a median of 161.6. Nine of these players went for 200+ points with six going for 230+ points. Since 2018, receivers finishing in the top-12 of half-PPR leagues averaged 229.4 points on the season. In 2020, DK Metcalf, Calvin Ridley and Justin Jefferson were all tops among wide receivers in drops. All three finished in the top-12.
Consider for a moment other players who have led the league in drops during their career, and in some cases on more than one occasion.
In 2012, the NFL's leaders in drops were Jimmy Graham (15), Wes Welker (15), Calvin Johnson (14) and Brandon Marshall/Eric Decker (13). Graham finished as the overall TE1 in half-PPR leagues (194.7). Johnson was the overall WR1 (287.4) with Marshall behind him at WR2 (275.6), and Welker and Decker finished as the overall WR7 and WR8 respectively.
While I wouldn't be so bold as to directly compare Diontae Johnson to the likes of Calvin Johnson and Brandon Marshall, this should provide further emphasis on the minimal impact that drops have on fantasy production for receivers who command a high volume of targets.

The Bottom Line
Last season, Diontae Johnson showed WR2 production, finishing as the WR22 in total fantasy points (177.8) and as the WR24 in PPG (11.9).
If not for two "lost games" for Johnson in 2020 where he played a total of 25 snaps, we could have seen a wide receiver who was closer to top-12 in PPG instead of top-24.
Drops are annoying, but they have indicated strong volume over the last three seasons.
Fantasy production is minimally affected by drops.
Elite fantasy producers have led the league in drops several times.
With an Underdog ADP of 51.2 overall (WR25), Diontae Johnson is being priced closer to his floor than his ceiling.