Depth Chart Battle: Melvin Gordon or Javonte Williams?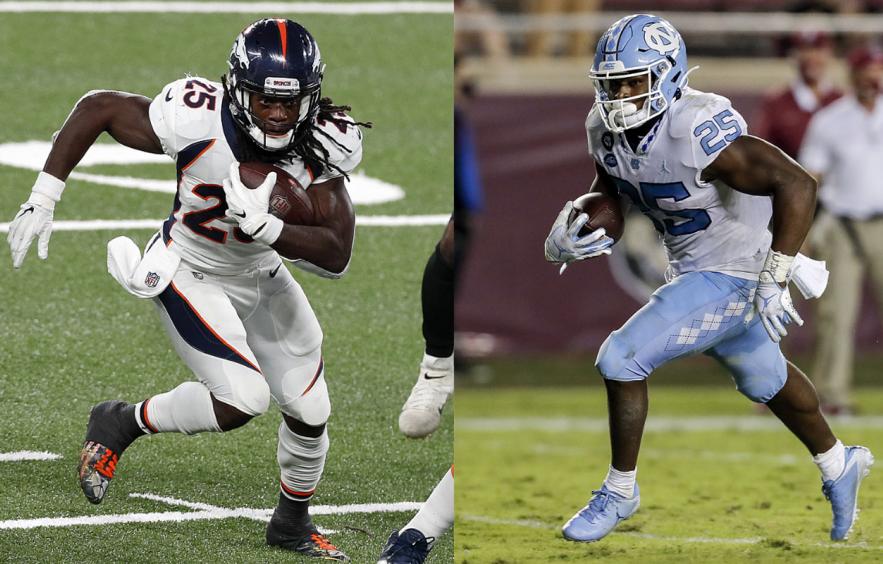 Jim McIsaac/Don Juan Moore/Getty Images
For as long as I've been watching the NFL—and that's been quite a long time—the Denver Broncos have always been a team that you could rely on to churn out productive running backs, making them a team I always felt I had to monitor in the preseason.
In the words of Pink Floyd, now I've got that feeling once again. Despite the Broncos' run-blocking struggles a year ago (they ranked 28th in adjusted line yards), in Melvin Gordon and Javonte Williams, they have two players that fantasy managers must consider adding to their rosters in the weeks ahead. But which way should you go? Side with the seasoned vet in Gordon, or go with the rookie Williams?
---
More Depth Chart Battles and Debates: Jonnu Smith vs Hunter Henry | Jaguars Wide Receivers | Courtland Sutton vs Jerry Jeudy
---
Melvin Gordon

(Underdog ADP 122.5, RB39)

You cannot say that Melvin Gordon has not enjoyed a productive run since entering the NFL as a first-round pick for the Chargers in 2015. He has rushed for 5226 yards and 46 touchdowns, good for the fourth-most and third-most among all running backs in that span. Gordon has also played his part as a pass-catcher, with 256 receptions for 2031 yards. All told, he is the RB3 in half-PPR formats since entering the league.

But while Gordon has been a productive player, he was not at his best in 2020. He was given plenty of opportunities, with 215 rushing attempts (14.3 per game) and 44 targets on the year. But he failed to reach 1000 yards rushing, finishing with 986, while averaging a career-low 3.6 yards per target. He still finished as the RB12 in half-PPR, so it wasn't a complete disaster.

The run-blocking on the Broncos was, as previously mentioned, not exactly right out of the top drawer. As a result, Gordon had to do a lot of work himself to create space and yards. Gordon forced 59 missed tackles in 2020, the 12th-most among all running backs, while racking up 669 yards after contact (average yards after contact 3.1). So how does he stand up against his young teammate?
Javonte Williams

(Underdog ADP 63.5, RB23)

While we have seen Melvin Gordon succeed in the NFL, Javonte Williams comes into the league bursting with potential. Yes, I know that potential means you haven't doing anything yet. But Williams comes into the NFL with an impressive college resume out of NC State. He also has final year stats that are strikingly similar to those of his backfield mate Gordon.

In 2020, while sharing the Tar Heels backfield with Michael Carter, Williams rushed 157 times (14.3 attempts per game) for 1140 yards, the sixth-most of any running back in this year's draft class. Williams averaged an impressive 7.3 yards per attempt in 2020, a figure good for the 93rd percentile. He drew 30 targets in 11 games, an average of 2.7 per outing, for 305 receiving yards. Gordon, for the Broncos, commanded 2.9 looks per game.

While Gordon was good at dealing with contact, Williams was exceptional at it in his final year in college. No running back forced more missed tackles than Williams in 2020, who finished the season with 76. Williams was also adept at plowing on after initial contact, racking up 720 of his rushing yards after contact (4.59 average), the fifth-most of this draft class.

Which One Should You Draft?
The almost five-round discrepancy in ADP between these two could lead some to believe that Gordon offers the most value of the two. However, while Gordon may well start the season at the top of the depth chart (although reports out of Broncos camp suggest a timeshare), I would be stunned if he stayed there for too long.
Williams is, of course, younger than Gordon and seems to offer a bit more as a receiver than his more established colleague. But we also have to consider one skill that will almost certainly endear Williams to his coaches, and his quarterback (whoever that will be): pass blocking.
Gordon was, to be quite frank, a disaster as a pass-blocker in 2020. PFF ranked him as the 115th best pass-blocking back, charging him with the second most hurries of all qualifying backs. For his part, pass blocking is an aspect in which Williams excelled in college. As per the SIS Football Rookie Handbook, in the passing game:
"(Williams) best trait...is his one-on-one pass protection....does a phenomenal job of squaring up to blitzers on the balls of his feet and delivering blows. He stands up to all comers and holds his own despite any size advantage."
Having skills as a runner and a receiver, as well as the desire to stand your ground and protect your passer, are all skills that will help a running back get on the field and stay there. All of this is why I would lean towards Williams as the back you need to roster from the Broncos backfield. While this may begin as a partnership, by the time your season reaches the business end, the Broncos will be leaning on Williams. You should too.