Depth Chart Battle: Jonnu Smith or Hunter Henry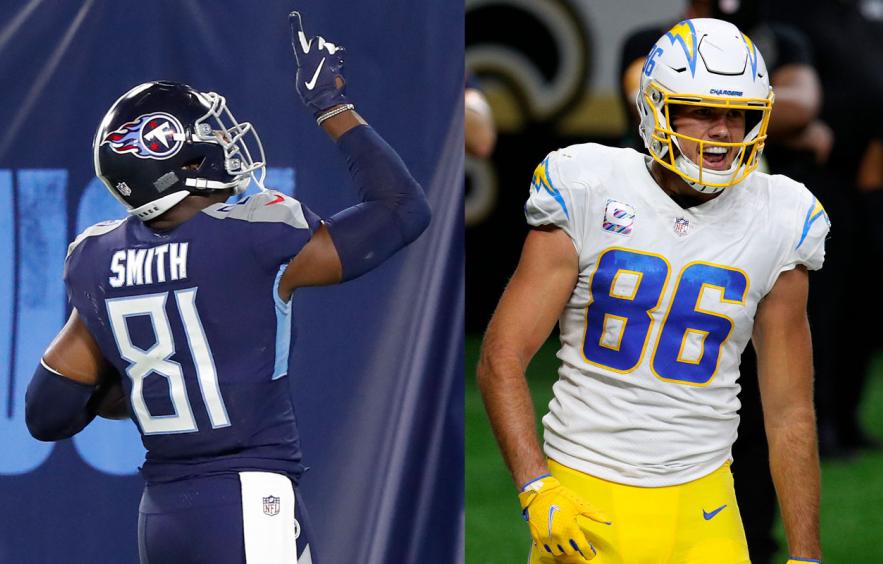 Frederick Breedon & Chris Graythen/Getty Images
The Patriots perennially seem to find a way to screw the fantasy community, and this year's version is via the tight end position. After drafting two TEs that didn't pan out in 2020 in an attempt to fill the massive hole left by Rob Gronkowski's "retirement", New England overcorrected this offseason by signing the two biggest free agents at the position in Jonnu Smith and Hunter Henry.
---
Other Profiles and Debates: Player Profiles | Player ADP Debates | More Depth Chart Battles (coming soon!)
---
This leaves drafters perplexed at what to do with these two come draft day, at a position that's already feast or famine. Considering the lack of exceptional talent on the rest of the Pats offense, this duo should be a focal point for either Cam Newton or Mac Jones this season, but which one should you take for fantasy purposes?
Jonnu Smith

(Underdog ADP:150.7, TE17)

So far Jonnu Smith has increased his production in all categories including catches, receiving yards and touchdowns with every season he's been in the league. He parlayed that growth into an impressive four-year contract worth up to $50 million with $31.25 million of it guaranteed. With his signing, Smith now boasts the third-highest average salary at his position, which bodes well for him being the lead TE in this offense, along with his skill set and potential usage.

Smith is coming from a situation where he was never higher than the fourth option in the Titans' offense. Last year Derrick Henry and A.J. Brown saw a whopping 55.9% of the touches, with Smith's 43 balls coming in sixth in the pecking order. There is no one like Henry or Brown or even Corey Davis on the current roster in New England, so Smith should be a large part of the nucleus of their passing attack.

Despite seeing only 4.3 targets per game last season (TE21), Smith made the most of his opportunities, particularly in the red zone. All eight of his touchdowns came inside the 20-yard line, bolstering the Titans' second-ranked red zone scoring percentage (74.2%), right behind only Green Bay's 76.8% in 2020.

Smith is also tops at his position once the ball is in his hands. According to Next Gen Stats, his 7.4 yards after catch per reception over the past two seasons leads the NFL among TEs, with George Kittle (7.1) coming in second. The former Titan is also a quality run blocker, but we all know Robert Kraft didn't pay Smith all that money to get out there and block.

Oh, and he can run, too. Take a look at Smith's 57-yard rush from 2019 which was the longest run by a TE in 43 years.
Jonnu Smith is a tight end.



And he's as fast as any RB out there. @Easymoney_81 #Titans #HOUvsTEN



📺: CBS

📱: NFL app // Yahoo Sports app

Watch free on mobile: https://t.co/ALWDCpltog pic.twitter.com/3uFZFmhY4Q

— NFL (@NFL) December 15, 2019
But as we all know, Smith's signing was not the only big TE splash this offseason.
Hunter Henry

(Underdog ADP: 163.1, TE20)

Just one day after Smith inked a deal with the Patriots, Hunter Henry also decided to come to New England, on a three-year contract with $25 million guaranteed. Henry has put up decent numbers in his career, despite dealing with plenty of injuries and a fight for targets. Similar to Smith, Henry's usage in the Chargers offense has increased with every season, as he went from sixth in targets in 2016, to fifth in 2017, fourth in 2019 and ended 2020 with the second-highest target volume in LA after Keenan Allen.

Last season his 6.6 targets per contest were the most of his career, but Henry only found the end zone four times and actually finished with fewer half-PPR points than Smith, despite seeing 2.3 more balls per game in 2020.

Henry has never made it a full season in his five-year NFL career, playing in just 55-of-80 potential regular-season contests since 2016. Last year he was actually on pace to make it all 16 games until he landed on the COVID-19 list for the final two matchups, which is encouraging. The 26-year old has scored 21 times in four seasons on the field and only has 13 games with at least 70 receiving yards. He's also only caught 10 deep balls (20+ yards) in his career, making him not much of a downfield threat for New England.

If you're looking to start Henry this season in fantasy, you need to hope he finds the end zone, which is a spot where Smith excels.

Which One Should You Draft?
This answer is not a simple one as it appears New England may attempt to recreate the glory days of Rob Gronkowski and Aaron Hernandez, who were both Top 12 fantasy TEs back in 2011. It's only been done one other time, as Zach Ertz and Dallas Goedert ended as TE5 and TE10 respectively in half-PPR points in 2019.
Smith and Henry both feature the talent to produce starting fantasy numbers, but it's highly unlikely given they're both on new teams with a sketchy QB situation that lacks high-passing volume.
Smith gets the edge this season for several reasons. His rushing ability and YAC are something to marvel at and there's no way Josh McDaniels and Bill Belichick don't take advantage of it. Henry is more of a "Y" tight end and with the lack of passes this offense throws (31st in the NFL last year), it doesn't look good for the former Charger's fantasy production this year. We can't read into contracts too much, but we also can't ignore the fact that New England made Smith the third-highest average paid TE in 2021. The Patriots don't make those kinds of decisions lightly or for no reason.
Smith projects as a low-end fantasy starter with plenty of upside if something were to happen to Henry. He's currently being drafted as TE17, with Henry coming off boards as TE20. I would probably pass on both for standard one-TE redraft leagues, but Smith is intriguing in larger formats and in leagues with multiple TE slots. He's also someone to keep an eye on for streaming purposes once we see how the QB situation shakes out in New England.