Depth Chart Battle: Patriots Running Backs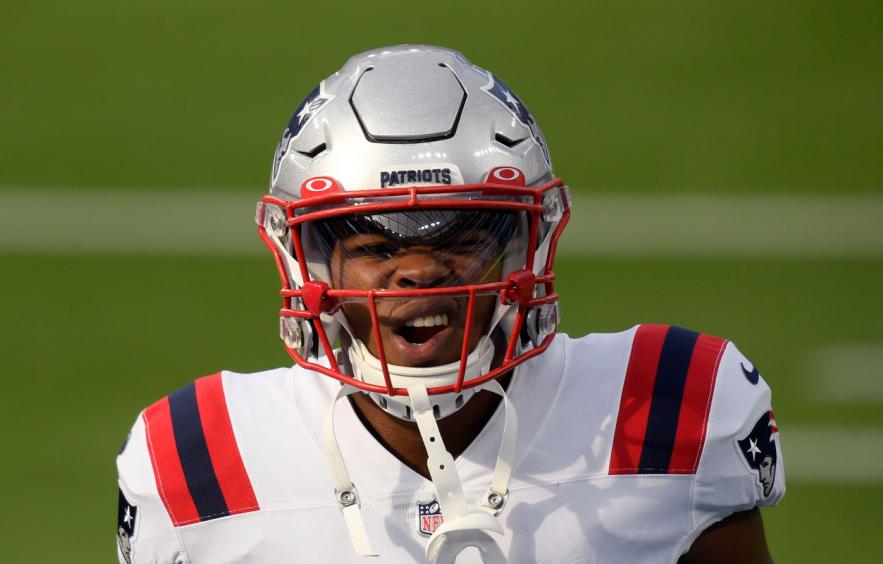 Harry How/Getty Images
The New England Patriots might just be the most difficult team for fantasy managers to get a handle on. They brought in a plethora of new pass-catchers, two of which were the most expensive tight ends on the market. They also used their first-round pick on quarterback Mac Jones from Alabama. Jones and incumbent starter, Cam Newton could not be any more different in terms of their playing style. All of this creates one question after the next, but that shouldn't be true at running back. The backfield of Damien Harris, James White and newly-drafted Rhamondre Stevenson looks to be more clear than the rest of the offense.
If there's one thing fantasy managers can take away from the Patriots' offseason moves, it's that they want to play smash-mouth football. Signing Jonnu Smith and Hunter Henry to the contracts they did tells us they are both going to be on the field at the same time. Fantasy managers can expect a lot of 12-personnel this season, which is generally a good thing for running backs.
---
More Depth Chart Battles and Debates: Jonnu Smith vs Hunter Henry | Jaguars Wide Receivers | Courtland Sutton vs Jerry Jeudy | Melvin Gordon vs Javonte Williams
---
A Quick Look at the
Patriots

' Offense

Last season, the Patriots ended with the seventh-fewest red zone trips in the NFL and were 24th in red zone scoring, strictly in terms of touchdowns scored. It shouldn't be surprising to see they finished as the sixth-worst scoring team in the entire league. Typically, that wouldn't be an offense that fantasy managers should be looking to invest in, but this is Bill Belichick and Josh McDaniels we're talking about, some of the best coaches in the NFL.

Fantasy managers should be expecting a solid bounce-back season from the Patriots' offense. Last year, they were attempting to install a new quarterback without almost no preparation because of COVID-19. This season they'll have ample time to get on the same page and they'll have last year's experience to help them out.

From strictly a talent perspective, the Patriots' offense was one of the worst in the entire league—their wide receivers and tight ends were arguably the worst groups in the NFL. The addition of Nelson Agholor, who is coming off a career season in Las Vegas, Hunter Henry and Jonnu Smith drastically improves the talent level.

There are arguably no better coaches at adapting and using their player personnel better than Belichick and McDaniels. They are constantly changing game plans to fit their opponent. While the rest of the league has focused on speed, the Patriots' offense has bulked up in a big way. We already touched on the additions of Henry and Smith at tight end, but the Patriots also re-built their offensive line. They are designed to be a running Football Team, one that plays with two tight ends on the field forcing their opposition to play in their base defense.

It's going to be a different look than what "normal" offenses are doing nowadays, but for the Patriots' running backs, it could mean they're in for a big season and one that includes a lot of involvement as they focus on running the football.
Rhamondre Stevenson

(Underdog ADP: 215.2, RB90) &

Sony Michel

(Underdog ADP: 215.2, RB54)

Recent reports indicate Stevenson has been put on the Non-Football Injury (NFI) list to start the season, which is certainly not the best way for the rookie to start his first season in the NFL. Sony Michel is still technically on the team, but he may not make the 53-man roster. With Harris, Stevenson and James White all locks for the final roster, Michel will be battling with Brandon Bolden and J.J. Taylor. Both Taylor and Bolden bring with them the ability to play on special teams, which is not something Michel has done in his career. His skill-set is very similar to that of Harris and Stevenson and his contract is the most expensive of the three. If the Patriots' were to cut him, they would save almost two million dollars.

If Michel is not on the roster at the start of the season and Stevenson is still playing catch-up, the Patriots' backfield could be much more consolidated than fantasy managers are used to. With Harris operating as the early-down and goal-line back, White will be primed to continue as the primary pass-catcher and third-down back. However, with the current roster construction and the assumption Cam Newton is the starting quarterback in Week 1, White's fantasy value is a lot less appealing.
James White

(Underdog ADP: 173.2, RB46)

White received only 62 targets last season, which was the lowest number of targets he's seen in a year since his sophomore season. He had the least amount of receiving yards in his career for any season he played in more than four games. There is a slight negative correlation between running back targets and mobile quarterbacks. They are more prone to take off with the football than to dump it off. To make matters even worse for White, there is also some negative correlation between tight end targets and running back targets. Since both players generally do not run deep routes, their roles and targets often overlap. Unfortunately, for the former Badger, the Patriots just invested a ton of money into the tight end position, a tell-tale sign they intend on using those two players heavily, which could drastically lower James's role in the offense.

With the expectation that Newton is the starter in New England, fantasy managers shouldn't be looking for a bounce-back campaign from White. Newton didn't target White last year and it resulted in one of the worst receiving years in White's career. With the additions of Henry and Smith, fantasy managers shouldn't be expecting that to change. Newton has a long history of relying on his tight ends too, dating back to his Carolina days with Greg Olsen.

A quarterback change to Mac Jones could, in theory, bring White back to fantasy relevance. Jones is an immobile, precision passer who might be inclined to dump the ball off when he's falling pressure in the pocket. However, if with Jones under center, White will still be competing for targets with their two newly acquired, high-priced tight ends. There's plenty of question marks surrounding White's role in the passing game and he's never brought much value, if any, on the ground.

While White's draft price is cheap enough where it might seem worth throwing a dart, fantasy managers are likely able to find other players who have more upside. A few examples of running backs in White's ADP range with more upside include Xavier Jones, Phillip Lindsay, Darrynton Evans, Kenneth Gainwell and Rashaad Penny.
Damien Harris

(Underdog ADP: 85.6, RB30)

Determining who is the lead back in New England is somewhat more convoluted than other organizations. Fantasy managers should not be expecting the No. 1 running back to be getting all of the work here. That's just not going to happen, but that's not really what we're after. As fantasy managers, we're looking for which running back we should be targeting in this backfield.

Based on what we saw from 2020, that looks to undoubtedly be Damien Harris. He missed the first and last three weeks of the season. During Weeks 4–14, Harris received 137 carries and ran for 691 yards. Extrapolating those statistics over a 16-game season, Harris would have had 219 attempts for 1,106 yards. After averaging 5.04 yards per carry (YPC), fantasy managers should expect Harris to lead the Patriots in carries by a wide margin.

The third-year pro should not be expected to provide fantasy managers very much in the receiving department. In 10 games last year, he received only seven targets. This lack of involvement in the passing game certainly lowers his upside. However, currently being drafted as the RB33, fantasy managers should find the former Crimson Tide runner very appealing.
Damien Harris could be "Josh Jacobs-lite" in '21. The NE OL & offense will be much improved. He was very effective on the ground & could end up w/225 carries. There won't be much pass work, but 225 carries could equal 1,000 yards & 7 TD's. He's a good value in the 8th rd.

— Rob (@RobFFAddict) July 3, 2021
He can typically be drafted at the end of the eighth round, which provides fantasy managers with immense value. It's rare to find a starting running back who is likely looking at 225 touches or more so late in the draft. The addition of Henry and Smith at tight end and with the improvements they made at offensive line should make for a lot of running lanes.
Newton will, unfortunately, continue to be involved near the goal line, which hinders Harris's value. Last year with Newton as the quarterback, Harris only scored two touchdowns. This wasn't a case of bad luck either, he simply didn't get the opportunities. Harris received just three carries inside the five-yard line, while Newton garnered 19 of them, which was the fourth-most in the NFL. If Jones is under center, those goal-line carries are going to go to Harris, which will significantly increase his value and weekly upside.
This is going to be Harris's backfield and he's the guy fantasy managers should be targeting. Zachary Krueger makes an excellent case here for targeting Damien Harris this season.
"I see Damien Harris as the RB1, and it's pretty decisive." - @MikeReiss talking #Patriots on @SiriusXMFantasy

— Joe Dolan (@FG_Dolan) June 25, 2021
In the weeks that Harris was active (4–14), he absolutely dominated the touches out of the backfield. In the table below you'll be able to see just how large the difference was between Harris and everyone else. Based on their offseason changes, there's no reason to expect a different formula in how their offense operates.

Harris provides fantasy managers with a running back who could possibly return RB2 value at an RB3 price. He averaged 14 touches per game during his healthy stretch last season, which would amount to 238 carries over a 17-game season. It's not out of the question that Harris could log as many as 250 touches this season when factoring in a more successful and effective Patriots offense.

Who Should You Draft?
The Patriots offense is built around power football and establishing the run. Damien Harris is the best Patriots running back for the job. He was incredibly efficient on the ground last year and fantasy managers shouldn't be surprised if he flirts with 250 touches.
While James White might be appealing as a bye-week replacement, he lacks any kind of upside fantasy managers are often chasing with their late-round picks. Their expected offensive scheme and offseason additions do not favor White's game and he could be left falling behind Smith and Henry on those short-yardage targets.
Fantasy managers should always be chasing volume. Harris is the one who is going to provide that this season. His current price is well worth the price of admission. He's one of the better values right now in fantasy football drafts. The former Crimson Tide hammer is the Patriots' running back fantasy managers should be interested in drafting.