Depth Chart Battle: Indianapolis Colts Wide Receivers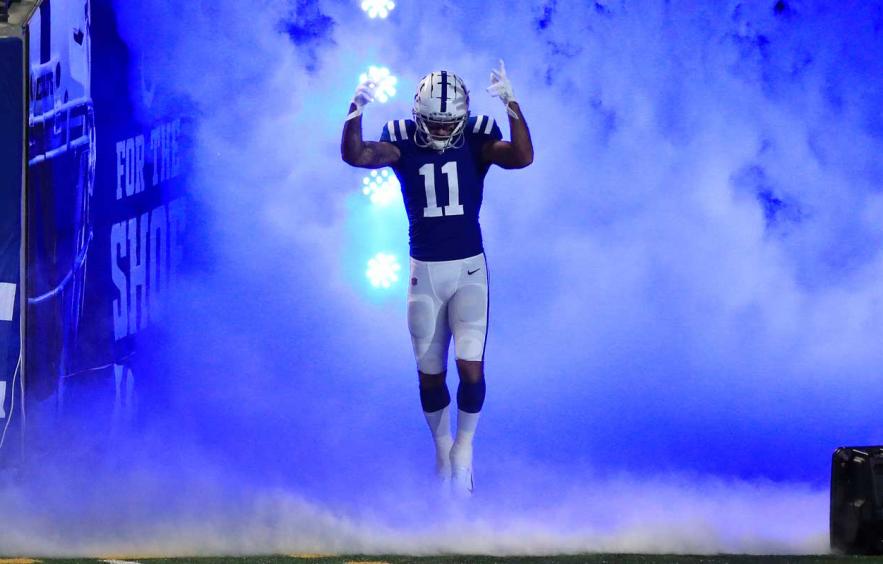 Andy Lyons/Getty Images
Fantasy managers have written off the Colts' passing game with the news Carson Wentz will be sidelined 5-12 weeks because of a foot injury. However, there are still five weeks until the start of the season. What this all adds up to is that while Wentz likely misses time to start the season, it's unlikely to be a significant amount of time. Recent reports have Wentz pushing that earlier timeframe, so fantasy managers should expect him back under center within the first four games of the season.
---
More Debates: Allen Robinson vs Terry McLaurin | D.J. Chark vs Laviska Shenault | Courtland Sutton vs Jerry Jeudy | Darren Waller vs George Kittle
---
This is great news for fantasy managers for a number of reasons. First and foremost, it's going to unnecessarily lower the ADP of all three main Colts receivers. Second, while all three receivers have some sleeper appeal, the fact of the matter is that none of them had a "starter" ADP. Fantasy managers targeting Colts receivers are likely eyeing up a potential breakout season or a bye/injury week replacement. None of that is off the table with Wentz returning early, but it sure is nice when prices drop.
The Elephant in the Room:
Carson Wentz
It's hard to talk about the Colts' receivers without first touching on Carson Wentz. So many fantasy managers have been turned off to Wentz and, subsequently, this entire passing game because of what he put on tape in 2020. There is no way around it, Wentz's performance last year was not good. However, it's certainly not best practice to look at a stat line and come to a judgment on it without some context.
Last season, the Eagles dealt with a ridiculous amount of injuries:
Carson Wentz was sacked a total of 50 times last year in Philadelphia, while Philip Rivers was only sacked 19 times in Indianapolis.
While 2020 was a dumpster fire for the Eagles, when fantasy managers look objectively at the number of injuries they dealt with, it's easier to understand why. From 2017-2019, however, Wentz was a good fantasy quarterback. He averaged 27 touchdowns and seven interceptions to go along with 3,570 yards. Those numbers look even better on a per-game basis since he missed a few games during that stretch, but the point is Wentz has shown the capability of being an above-average starter. During those three seasons, Wentz's Eagles ranked 3rd, 18th and 12th in points scored and 13th, 7th and 11th in passing yards. So, if we're going to buy into the upside and potential of this passing game, where should fantasy managers invest?

Parris Campbell

(Underdog ADP: 160.7, WR73)

With a 13th-round ADP, Parris Campbell is essentially free for any willing fantasy manager who wants to make that leap of faith. He was drafted in the second round of the NFL Draft out of Ohio State as a big-bodied slot receiver with wheels. Unfortunately, fantasy managers have never seen the former Buckeye put his talents to good use on the gridiron. As a rookie, he sustained an abdominal injury that forced him to miss three games. Shortly after recovering from that ailment, he suffered another one. This time he missed four games due to a broken hand and not long after returning from that, he broke his foot, which effectively ended his rookie season. With a lot of fanfare surrounding his sophomore season last year, Campbell suffered a significant knee injury to both his MCL and PCL in Week 1, which resulted in him going on IR. He's back and healthy and by all accounts, looking great in camp thus far. The question is what can fantasy managers actually expect this season? The answer is completely unknown, which is why his ADP is where it's at. Campbell is not without talent. Receivers do not get drafted in the second round without it, but we've so little of him, it's impossible to know what to make of him. Campbell makes for a fine dart throw at the end of fantasy drafts, but at this time, he's not anything more than that. I prefer him at cost vs. T.Y. Hilton because as the likely slot receiver, he'll be due more consistent volume. Despite the small sample size, Campbell did catch six out of nine targets for 71 yards in Week 1 of last season before sustaining his knee injury. If fantasy managers get a similar workload, he could make for a nice value this late in drafts.
T.Y. Hilton

(Underdog ADP: 157.2, WR71)

It feels almost criminal to see T.Y. Hilton ranked so low, but this lines up with 4for4's rankings, as well. It is difficult for fantasy managers to get excited about a 5-foot-9 receiver who is on the cusp of turning 32. Hilton has seen his targets per game drop sharply in the past two years. In 2018, he averaged 8.6 targets per game. That number dropped to 6.8 in 2019 and down to 6.2 in 2020. The other concerning trend can be found in his yards per reception totals the last two seasons. In the seven years prior to 2019, Hilton had only one campaign where he averaged less than 15.9 yards per catch. In 2019, his yards per reception rate was 11.1 and last year it was 13.6. His game is so heavily reliant on his speed and ability to beat defenses over the top. With that element of his game waning at this stage of his career, there's little to get excited about in terms of fantasy prospects. His lack of size will make it almost impossible for Hilton to be used in a different manner. He had 11 games last season where he didn't score more than 7.2 points in half-PPR. The four games he had double-digits all featured a touchdown. He is what he is at this stage, which is a touchdown-dependent wide receiver. Due to his lack of upside and the impossibility of predicting when he might be a viable fantasy starter, Hilton is the least desirable of the Colts receivers. While Campbell is a giant question mark, he at least possesses the physical tools and the slot receiver role, which could make him a viable streamer on the right week.
Michael Pittman

(Underdog ADP: 107.5, WR54)

If there is one Colts receiver fantasy managers should be betting on it's Michael Pittman Jr. He had a somewhat disappointing rookie season, but he dealt with a nagging foot injury and no offseason to speak of. The fact his rookie campaign wasn't as good as we were maybe expecting isn't a reason to write him off just yet. At 6-foot-4 and 223 pounds, Pittman is exactly the kind of receiver Wentz loved in Philadelphia when he routinely locked onto Alshon Jeffery. His big body made him an easy target for Wentz, and Pittman replicates that.
MPJ is a Mike Evans doppelgänger, at least physically.



Mike Evans:



⁃6'5"

⁃231 lbs

⁃4.53 40

⁃37" vertical

⁃12 bench reps

⁃7.08 3-cone

⁃4.26 shuttle



Michael Pittman Jr:



⁃6'4"

⁃223 lbs

⁃4.52 40

⁃36.5" vertical

⁃13 bench reps

⁃6.96 3-cone

⁃4.14 shuttle

— David J. Gautieri (@GuruFantasyWrld) July 11, 2021
While his stat line as a rookie may look uninspiring, that doesn't tell the whole tale. Among receivers who played in at least eight games last season, the former USC product averaged 7.3 yards after the catch. This ranked second among all qualifying receivers. Pittman was an absolute beast after the catch. That average was a full yard better than A.J. Brown and George Kittle. He also had a drop rate of 1.6%, which tied for 12th-lowest among all wide receivers.
Don't think Michael Pittman is getting enough attention as a possible breakout candidate. With a 71.6% success rate vs. man coverage in #ReceptionPerception he's in some good company and ranked 5th among 2020 rookie WRs. I'm buying.



Full profile:https://t.co/tRChQ0wWUF pic.twitter.com/UMmDzahX3s

— Matt Harmon (@MattHarmon_BYB) July 14, 2021
Pittman is also likely to be the primary option in the red zone due to his height and ability to overwhelm smaller defenders. He showcased his upside in their lone playoff game last season when he was used as the clear No. 1 target, receiving 10 targets and turning them into 90 yards.
Who Should You Draft?
Michael Pittman Jr. is the clear answer here. While none of the three receivers have a high price tag, Pittman is the only one who comes with some semblance of a reasonable upside. He was drafted last year to be the focal point of the passing game and nothing has changed during that timeframe. Colts brass hasn't added anyone to the mix, which, for more than anyone else, is a giant vote of confidence in Pittman. The competition is seemingly wide open in Indianapolis, but Hilton is on the wrong side of 30 and Campbell hasn't shown the ability to stay healthy.
Pittman possesses above-average athleticism despite his elite size. His stature and playstyle fits perfectly with the kind of quarterback Wentz is and the kind of players he has targeted in the past. While the Colts' offense is going to focus on running the football, Pittman looks the part of a quality safety valve for Wentz.