Depth Chart Battle: Dolphins Wide Receivers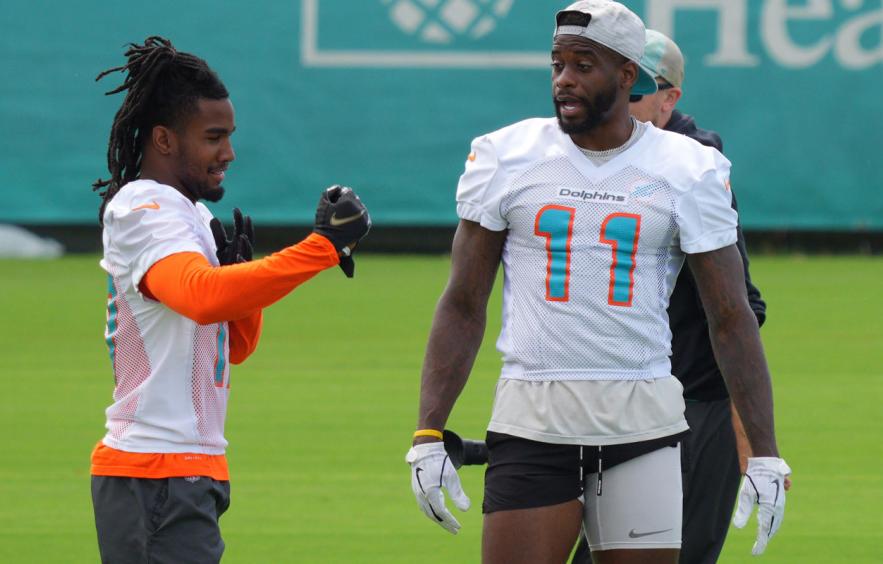 Mark Brown/Getty Images
The Dolphins were very active this off-season, making many changes to their shaky offense from last year. Most notably, this involved two big additions to their wide receiving corps–Will Fuller (signed in free agency) and Jaylen Waddle (selected in 1st round of NFL Draft). After having zero wide receivers finish in the top-40 for fantasy last year, the Dolphins should be much improved at the position in 2021. However, one big question mark that remains is who exactly will emerge as the number one option in the offense. Fuller, Waddle, and DeVante Parker all can make cases to be the target leader in the offense, creating a confounding situation for managers in fantasy drafts. In this article, I'll break down the Miami wide receiver depth chart, and try to answer the question: Which Dolphins wide receiver should I take in my drafts?
---
More Depth Chart Battles: Zack Moss vs. Devin Singletary | Jonnu Smith vs. Hunter Henry | Melvin Gordon vs. Javonte Williams | Brandon Aiyuk vs. Deebo Samuel | Ronald Jones vs Leonard Fournette
---
Dolphins

2021 Offensive Outlook

Before getting into the nitty-gritty of each wide receiver, let's first take a holistic look at the Dolphins' offense. Heading into this season, the Dolphins' offensive strength will lie on one main question that people can't seem to agree on an answer to: Can Tua Tagovailoa be a good starting quarterback? The former Alabama superstar had an up-and-down rookie season. He had some moments where he showed out, but also seemed to struggle to adjust to the NFL at times, leading to him being benched in the fourth quarter of two games.

So far this off-season, Tua has played well in training camp. It is very possible that Tua's shortcomings as a rookie can be attributed to the hip injury he suffered in his final season at Alabama. He also certainly didn't get much help from his supporting cast.
(Tua Tagovailoa didn't get a lot of help as a rookie) pic.twitter.com/vO9UE0pY45

— Ian Hartitz (@Ihartitz) February 9, 2021
If Tua improves in his sophomore season, it would be a great sign for the Dolphins' offense, especially the wide receivers.
The receiving depth chart in Miami is pretty crowded. Along with the trio of wideouts, tight end Mike Gesicki and running back Myles Gaskin are bound to see their fair share of targets. If the Miami defense plays up to its potential, it would also mean that the Dolphins see a lot of positive rushing game scripts. With a lot of mouths to feed and potentially not as many targets to go around, it is all the more important to identify who will emerge as the primary target in the offense. Without any further ado, let's get into the candidates:
Will Fuller

(Underdog ADP: 85.2, WR43)

Fantasy managers might not remember it, but, before Fuller got suspended for PEDs at the end of last season, he was the overall WR5. While in the past he was a notoriously hit-or-miss type of player, Fuller was also incredibly consistent last year. He scored a touchdown in seven of the 11 games he played in, finishing with below 10 fantasy points just twice.

Historically, Fuller has elevated the play of his quarterbacks. Here's a look at Texans QB Deshaun Watson's stats with and without Fuller in the lineup:
Deshaun Watson

Stats, With and Without

Will Fuller

| | Passing Yards per Game | Passing TDs per Game | Passing EPA per Play | Fantasy Points per Game |
| --- | --- | --- | --- | --- |
| With Fuller | 280.47 (4th) | 2.28 (3rd) | 0.24 (2nd) | 23.58 (2nd) |
| Without Fuller | 250.29 (15th) | 1.43 (21st) | 0.06 (18th) | 19.99 (6th) |
As you can see, in games where Fuller played, Watson was significantly better in almost every passing statistic. This shows that Fuller has the ability to make his quarterback better, which is something that bodes well for his 2021 fantasy outlook.
Last year, following DeAndre Hopkins' departure from Houston, Fuller proved that he could be a legitimate number one option in an offense. Here's what Matt Harmon's Reception Perception had to say about Fuller's progression:
"Perhaps the Reception Perception stat that best encapsulates Fuller's transformation from big-play specialist to a top target was his 74.2 percent success rate vs. press coverage. He'd never finished higher than 62.7 percent (41st percentile) in any other season."
Now that he is in Miami, where there's no clear top target, Fuller has a serious shot to seize the number one role.
Jaylen Waddle

(Underdog ADP: 93.0, WR47)

The Dolphins selected Waddle with the sixth overall pick in this year's NFL Draft. Waddle, who was teammates with Tua Tagovailoa for a couple of seasons at Alabama, is a speed demon with a knack for making big plays. The Tyreek Hill comparison gets thrown around a bit too much in the NFL, but Waddle is as close as it comes.

In 2021, Waddle should immediately step in and be the slot receiver in the Miami offense. With Tua having just the 17th highest average target depth last season (7.9) and the seventh-lowest time to throw (per PFF), this could lead to Waddle becoming a target machine in his rookie season. Additionally, Waddle's explosiveness makes him the type of player that will get manufactured touches, such as through the screen game or out of the backfield. Given his talents and established rapport with Tua, Waddle could be a serious value in the later rounds of fantasy drafts.

DeVante Parker

(Underdog ADP: 105.3, WR53)

Parker is the longest-tenured of the bunch but is going the lowest in drafts. After finally breaking out in 2019 (72 catches for 1202 yards, WR7 finish), Parker fell back to earth last season, tallying under 800 receiving yards. He struggled to develop a connection with Tua, posting just 29 catches for 345 yards in eight games with the rookie under center. For comparison, in the eight games with Ryan Fitzpatrick at quarterback, Parker had 43 catches for 544 yards. Already on the PUP list in camp, it doesn't look like Parker will have a chance to strike a connection with Tua in the off-season. He has the makings of being a touchdown-dependent fantasy option in 2021 who could have some major bust weeks.
Who Should You Draft?
How the Dolphins wide receiver room breaks down will be one of the most intriguing things to watch for in fantasy football this year. 4for4 has them projected within five fantasy points of one another at the moment. However, I think that the ADP is right on this one, and the hierarchy in Miami should shake out as follows: Fuller, Waddle, Parker.
Why Fuller is being drafted so low in fantasy drafts puzzles me. He proved last year that he could be an elite fantasy option, and despite his one-game suspension to start the season, has the best chance at emerging as the number one in this option. His current ADP of WR43 is much closer to his floor than his ceiling.
Waddle is next up. His field-tilting speed and explosiveness make him an enticing target in drafts. He should offer the highest floor among the three receivers and be peppered with targets from Tua Tagovailoa. If he reaches his full potential in his rookie season, Waddle could finish as a top-20 receiver for fantasy, making him a potential value in drafts. Fuller and Waddle are both being drafted as WR4s, but it's easy to imagine a situation where they are both startable fantasy players.
Parker has a bit more uncertainty. It's possible that he has a bounce-back season and returns to fantasy dominance, but I find it hard to imagine a situation where he is consistently great due to the target competition. The Dolphins likely won't throw enough to sustain three dependable fantasy options (unlike, for example, the Cowboys or Bengals), and Parker has the highest probability of being the odd man out. He had four games with under six fantasy points last season, and could have a similar level of unreliability in 2021.