Depth Chart Battle: Ronald Jones vs. Leonard Fournette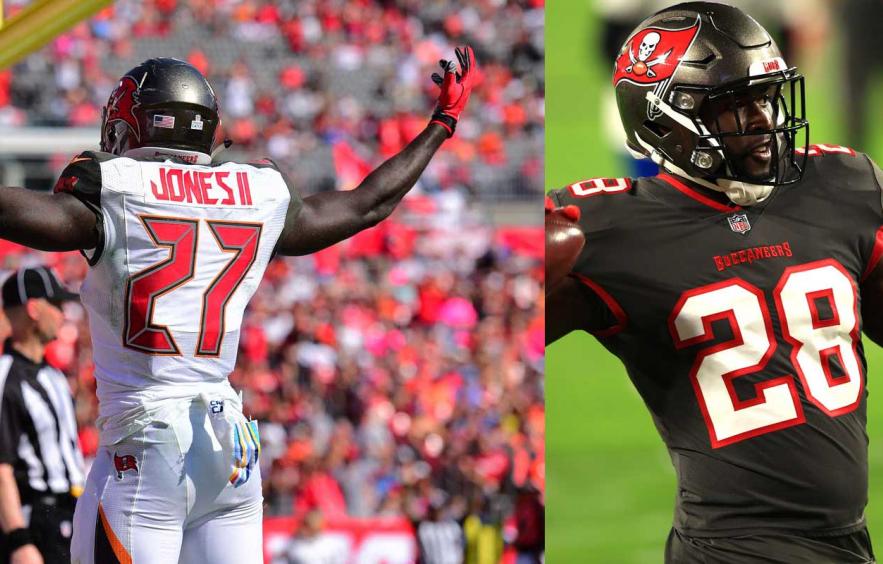 Mike Ehrmann & Julio Aguilar/Getty Images
Grabbing players from the Super Bowl champions, the Tampa Bay Buccaneers, an offense helmed by a player some are tentatively beginning to think could be a pretty decent quarterback one day in Tom Brady, is something fantasy managers should consider doing. While Mike Evans, Chris Godwin, Antonio Brown and Rob Gronkowski are players fantasy managers are greedily snapping up, Bucs running backs require more careful consideration.
---
More Depth Chart Battles: Zack Moss vs. Devin Singletary | Jonnu Smith vs. Hunter Henry | Melvin Gordon vs. Javonte Williams | Brandon Aiyuk vs. Deebo Samuel
---
Ronald Jones and Leonard Fournette are going off the boards in a similar area in drafts at present. Which one should you draft, though, assuming you want a piece of this rushing offense on your fantasy roster?
Ronald Jones

(Underdog ADP 103.2, RB33)

The 2020 season was something of a breakout campaign for Ronald Jones. He saw a career-high 192 rushing attempts, from which he earned 978 yards on the ground. Jones also scored seven rushing touchdowns, matching his tally from the previous two seasons combined. He earned an 84.7 rushing grade from Pro Football Focus, good for sixth-best among all backs. Jones also commanded a career-high with 42 targets, although he was far from a productive weapon as a receiver. Jones caught 28 passes for a mediocre 165 yards. All in, Jones accounted for 28% of the Bucs' offensive opportunities and finished the year as the RB16 in Half-PPR formats.

Jones has been something of a disappointment since entering the league, at least from a counting stats point of view. Since 2018, he has a total of 387 rushing attempts for 1,746 yards with 14 touchdowns. These are good for 31st, 29th and 26th, respectively, among all backs. Despite catching 71.7% of his 92 targets (66), Jones has just 509 receiving yards in his career. Thirty-eight backs have more yards since 2018. These deeds and feats have brought Jones 348.3 fantasy points in Half-PPR formats, the 30th-most at the position during that timeframe.

Leonard Fournette

(Underdog ADP 122.8, RB39)

Unlike Jones, Leonard Fournette has been a productive member of the NFL society since he joined it back in 2017. Perhaps not the most efficient, I grant you. But productive, certainly.

Fournette has recorded the ninth-most attempts in the league over the last four seasons, with his 763 carries bringing him 2,998 yards (15th). He has found the end zone via the ground 23 times. Fournette has shown himself to be a competent receiver, too. Fournette is 11th among all backs with 170 receptions, while only 14 have more receiving yards (1,714) than him. He is the fantasy RB12 in Half-PPR.

Yet, these numbers mask the fact he was clearly behind Jones during the 2020 regular season. Fournette was outsnapped 451-383 by Jones. Fournette saw just 97 rushing attempts, managing 367 yards. He saw more targets than Jones, but only 47 compared to 42. Jones also commanded more goal-line carries than Fournette, but not by a particularly wide margin. Jones saw seven, while Fournette had five. Pro Football Focus scored Fournette with a 70.9 rushing grade, a considerable downgrade from Jones.

Ronald Jones is the back you want from this offense if we go by last season's numbers. He commanded a 59% share of the team rushing attempts. He was a better rusher, according to the rankers. Jones was entrusted with more high-leverage work (receptions and goal-line carries). You should automatically draft Jones over Fournette, right?

Not so fast.
Which One Should You Draft?
The statistics from the regular season tell us that the back to roster is Jones, but the stats from the postseason tell quite a different tale. On their way to their second Super Bowl title in team history, it was Fournette who the Bucs rode to victory. Fournette handled 53% of the team's backfield touches in the playoffs, with 300 yards and three touchdowns on 64 attempts. Jones rushed just 35 times, gaining 139 scoreless yards. Fournette also saw 16% of the team's targets in January and February, posting 18 receptions for 148 yards. Jones was targeted twice. He caught neither.
The question fantasy drafters need to answer then is which season do we think carries the most weight heading into 2021: the 16-game regular season or the four-game tournament? Personally, and the drafters agree with me here, neither player is in "Must Have" territory. If pressed, though, I would side with Jones.
Postseason heroics aside, Jones is a player the Bucs look like leaning on in the regular season, with Fournette occasionally earning an opportunity. There is a good chance both will see their passing work drop in 2021 with the signing of Giovanni Bernard, allied to individual woes in pass protection. Jones "earned" a pass-blocking grade of 42.3 from PFF, good for 113th. Fournette was worse, with a 28.9, landing him 136th. As much as we should want to target prolific offenses, this looks like a situation to avoid.