Depth Chart Battle: Brandon Aiyuk vs. Deebo Samuel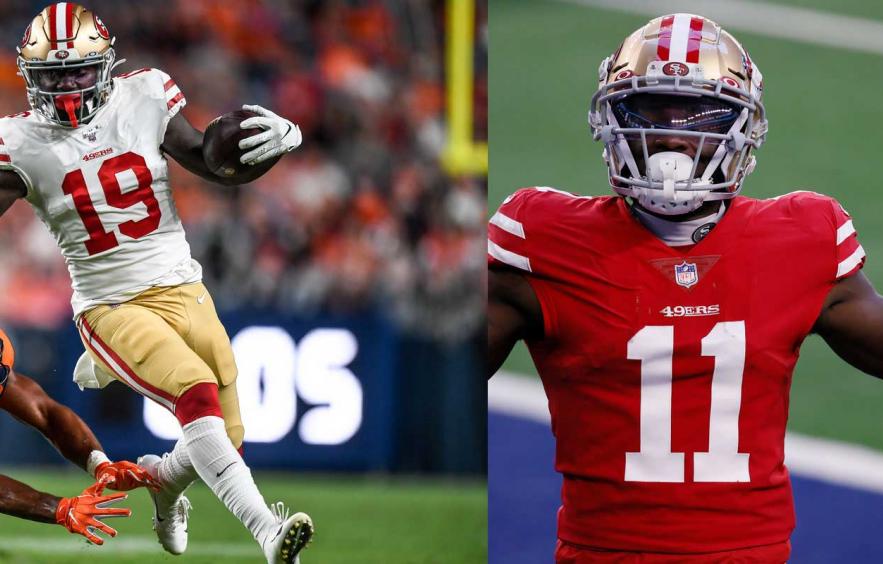 Tom Pennington & Dustin Bradford/Getty Images
The battle for the No. 1 spot at wide receiver in San Fransico between Bradon Aiyuk and Deebo Samuel is an interesting one for fantasy managers. There are so many different factors at play here it can be difficult to decipher which wide receiver fantasy managers should invest in. First off, despite the battle for the No. 1 receiver spot, the No. 1 passing target is already set in stone: George Kittle.
This becomes a bigger issue because the 49ers are typically one of the more run-heavier offenses in the league. Kyle Shanahan will no doubt want to take the pressure off of whoever his quarterback is. Whether that's Jimmy Garoppolo returning from injury or Trey Lance in his rookie season. One thing we know for certain, though, is that Kittle is undoubtedly the most talented of the three and is a sure-fire bet to lead the team in targets, health permitting.
---
More Depth Chart Battles: Zack Moss vs. Devin Singletary | Jonnu Smith vs. Hunter Henry | Melvin Gordon vs. Javonte Williams
---
This leads to the biggest question mark: health. Kittle missed eight games last season and two the year prior. Deebo Samuel was absent even more in 2020, missing nine games total. He also struggled with his health as a rookie. That was something Brandon Aiyuk dealt with too in his rookie campaign, missing four games.
On top of that, there's the pending quarterback change that may or may not happen sometime in 2021. That's an impossible domino for fantasy managers to deal with it, but it is one of many factors fantasy managers need to tackle when deciding which 49ers receiver is the best draft selection. Let's dive in and see which 49ers eceiver fantasy managers should buy at cost this season...
Deebo Samuel

(Underdog ADP: 72.7, WR35)

The third-year pro is currently the cheaper of the two, which is expected after the 2020 season. Samuel struggled to stay on the field, and struggled to produce when he did play. He finished with only 33 catches, 391 yards and one touchdown. However, the most concerning element to Samuel's 2020 season was how he was used.

Samuel averaged only 14 air yards per game, which has been found to be an excellent predictor of fantasy success. This ranked dead last out of 111 qualifying receivers who averaged at least three targets per game last season, according to 4for4's Air Yards App. What this means is that Samuel wasn't being used downfield whatsoever. Such a role drastically eliminates the chances for any big plays. His average depth of target last season was only 2.2 yards, which also was dead last under the same parameters.

One particular stat almost impossible to believe is that Samuel racked up 398 yards after the catch last season, but he finished with only 391 receiving yards. As far as his 2021 fantasy prospects go, these numbers destroy his potential upside. If his usage from 2020 carries into 2021, Samuel is bound to be a disappointment at his current ADP.

It is notably difficult to decipher last season's results because all three of the 49ers' primary targets were in and out of the lineup so much. However, it is still nonetheless concerning to see Samuel be exclusively used at the line of scrimmage. He's one of the better receivers in getting yards after the catch, but that kind of role will put a lot of pressure on Samuel to create his own yards and fantasy points.

Another concerning trend fantasy managers saw last year was Samuel's complete absence from the red zone game plan. He received only one red-zone target across seven games. The 2020 season was certainly not optimal for the 49ers offense and required a lot of adjusting on a weekly basis based on who was in the lineup, but one red-zone target is certainly eye-catching.

What fantasy managers are left looking at is a receiver without a downfield role and a second thought in the red zone. Those two factors mean if Samuel is going to be a positive fantasy player in 2021 he's going to have to do it by racking up a bunch of catches, essentially rendering him as a fantasy player only viable in some sort of PPR scoring format. The problem with that is the 49ers have historically not been a pass-heavy team, so it becomes difficult to fathom where Samuel will see enough volume to make up for his role deficiencies.

The other concerning element about Deebo Samuel has been the moves the 49ers brass has made around him. In 2020, they acquired Emmanuel Sanders at the trade deadline to give Jimmy Garoppolo another pass-catcher en route to a possible Super Bowl run. Then in the 2021 NFL Draft, they selected Brandon Aiyuk in the first round. One of them in a vacuum isn't so much of a concern, but two big investments at wide receiver in such a short period of time shouldn't be ignored.

Brandon Aiyuk

(Underdog ADP: 50.9, WR25)

What a rookie perfomance from Aiyuk last season. As if being a rookie in the NFL wasn't hard enough, Aiyuk had to deal with a completely virtual offseason and a backup quarterback for most of the season. To make things even more difficult, he missed a few games due to injury and COVID-19. Despite all of that, Aiyuk dazzled and looks primed for a 2021 breakout campaign, according to Alex Gelhar.

While part of his fantasy success was due to Samuel and Kittle missing so many games, which cemented him as the lone option in the passing game, fantasy managers need to remember he was still just a rookie working with a backup quarterback. Success was not guaranteed given the circumstances just because he had regular volume.

Aiyuk only played four games with Samuel and Kittle both healthy. It's a really small sample size and one that saw three different quarterbacks throw passes during that time. However, it should still be noted during that time, Aiyuk would have been on pace for 59 catches, 946 yards and three touchdowns on 93 targets. It's a far cry from what his 2020 averages ended up being, indicating he did benefit from their absence. Such a stat line would also leave fantasy managers disappointed considering his current ADP.

Still, we need to note how successful he was in the games he played. In 8-of-12 games last season, Aiyuk had at least 12.5 points or more in half-PPR scoring. In 9-of-12 games, Aiyuk scored a touchdown or had 70+ receiving yards. While fantasy managers shouldn't expect that kind of production from in 2021 with Samuel and Kittle healthy, it does show the kind of upside he has if there are any injuries to the pass-catching core in San Francisco.

Last season, Aiyuk had a 31.6% share of all the air yards for the 49ers, and 14 red-zone targets, cementing his role as a deep ball threat and someone they will look to throw to when they get into scoring position. This kind of role is crucial to fantasy success, especially in an offensive scheme that does not intend on throwing it 600 times in a season, which the 49ers certainly do not want to do. 49ers beat writer, Matt Barrows of The Athletic stated the 49ers hope to run the ball 500 times this season. It's a lofty goal, no doubt. Only three teams reached that number in 2020, and only one in 2019.

According to ReceptionPerception, he was in the 88th-percentile in his success rate vs. man coverage and in the 86th-percentile in success vs. press. Matt Harmon of ReceptionPerception wrote this about Aiyuk, "I walked away from Aiyuk's film believing this player has the potential to become a true superstar at the wide receiver position."
Which One Should You Draft?
Due to the expected lower passing volume in the 49ers offense it makes sense for fantasy managers to target the receiver who can score points with a limited volume. Due to Aiyuk's role as a deep-ball threat and his usage in the red zone, he should be the primary target.
Samuel's role requires a high number of targets to be effective because there's such a limited amount of big-play potential with the targets he routinely received last season. Moreover, a healthy Jimmy Garoppolo is likely to help Aiyuk more than Samuel. Garoppolo has an 8.2 yards per attempt career average, while Nick Mullens was at 7.5 and C.J. Beathard was at 7.6 yards per attempt last season. Garoppolo is more willing and capable of pushing the ball down the field, which will only help Aiyuk's game.
Furthermore, an improvement in quarterback play will lead to more scoring opportunities. Aiyuk was used more heavily in that area of the field than Samuel was last season, indicating Aiyuk might get another boost in fantasy scoring with Garoppolo under center.
Aiyuk's ReceptionPerception profile as a rookie only solidifies him as an elite talent and fantasy managers should always be willing to bet on talent. Especially with an offensive genius such as Kyle Shanahan at the helm.