Monkey Knife Fight Plays: Week 10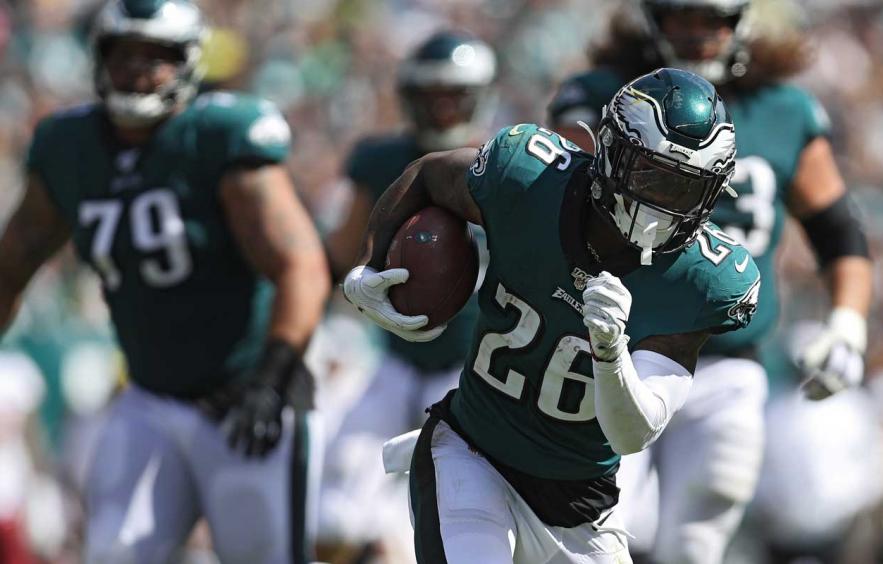 Patrick Smith/Getty Images
Week 9 Recap: After the disaster that was Week 8, we bounced back in Week 9. DeVante Parker's under got destroyed after Preston Williams suffered a game-ending injury. Parker only had two receptions prior to Williams's mid-game exit but then became the top target going forward. If you would have told me the 14-point favorite Steelers would be in negative game script for most of the game, I wouldn't have believed you. Every Steelers pass-catcher saw plenty of volume, as Ben Roethlisberger chucked it 42 times—his second-highest total of the season. This allowed Chase Claypool to smash his over/under as all Steelers pass-catchers saw significant volume.
For those reading this column for the first time, we scrape Monkey Knife Fight's contests against our projections. I'll go through 10 plays we feel confident in exceeding (More Than) or failing to reach (Less Than) MKF's projections by the percent likelihood we give the outcome. The percentage you see in parentheses next to each player's name is the chance we believe the More Than or Less Than hits, according to our projections.
Most of our recommendations will be to side with the Less Than on MKF, as they know the majority of fantasy players like to root for more of everything—more points, more yards, more receptions, etc.—and set their numbers higher than a normal median projection. Be sure to check out our Discord server and the #mkf channel where I'll post the full list of how our projections stack up against those of Monkey Knife Fight. On to Week 10…
Editor's Note: Open a new MKF account and deposit at least $10 to get a free 4for4 subscription of your choice.
---
Before we dive in, a quick More or Less refresher:
More or Less - You will be drafting your team by choosing More or Less for a group of player statistics presented. You will be squaring off with your own predictions. Choose the coinciding number of tiers correctly to win the prize shown prior to entry.
Top Week 10 MKF More or Less Plays
Cam Sims

, WR – Football Team (85%)
MKF Line: 3.5 receptions
4for4 Projection: 1.9 receptions
This is quite an odd line on Sims. He has never caught four passes in a game in his entire three-year career. He only started seeing playing time on the offense in Week 7 (88% snap share), but didn't crack 10% of the snaps in any game before that. Looking just at the games he's played meaningful snaps in, Sims has one and three receptions on one and four targets in consecutive games. It's certainly possible that he winds up with four receptions but it would be at the top end of his range of outcomes.
Tre'Quan Smith

, WR – Saints (81.3%)
MKF Line: 3.5 receptions
4for4 Projection: 2.1 receptions
With Michael Thomas and Emmanuel Sanders back, Smith will once again be an ancillary pass-catcher for the Saints. He had just one reception on two targets last week. I expect much of the same going forward, and getting four receptions out of Smith is a big ask with this much target competition.
Jamaal Williams

, RB – Packers (75.5%)
MKF Line: 3.5 receptions
4for4 Projection: 2.5 receptions
Williams has been all over the place in terms of his receiving usage. He has three games with either one or zero receptions, two with four receptions, one with eight receptions, and one with six. A lot of it has come with Aaron Jones sidelined, so it's not something you should bank on every week. With Jones handling 20 touches in last week's game, I doubt Williams plays much more than a backup role coming off the COVID-19 reserve list.
Tyler Higbee

, TE – Rams (72.1%)
MKF Line: 3.5 receptions
4for4 Projection: 2.6 receptions
This is at least half a reception off what the line should be. Higbee has 4+receptions in only one game this season and he just set a season-low in snap share at 60% last week. Ride the Less Than as much as possible.
D.J. Moore

, WR – Panthers (69.6%)
MKF Line: 4.5 receptions
4for4 Projection: 3.7 receptions
This is another line that's off. Moore has more than four receptions in just 2-of-9 games this season. One of those games happens to be in their first matchup against Tampa Bay, though. That was actually his best game of the season. Since then, Moore has taken a backseat to Robby Anderson and is now the clear 2A WR with Curtis Samuel.
Mike Davis

, RB – Panthers (67.6%)
MKF Line: 51.5 rushing yards
4for4 Projection: 42.7 rushing yards
I talked about this line in our Discord chat. Here's a look at how the Bucs have performed against opposing running backs:
Literally, only Christian McCaffrey has rushed for more than 51 yards against them—and it took 18 carries.
Brandon Aiyuk

, WR – 49ers (79.3%)
MKF Line: 3.5 receptions
4for4 Projection: 5 receptions
Aiyuk has taken on a bigger role the past two weeks, hauling in six and eight receptions on seven and 10 targets. With George Kittle and Deebo Samuel both out, expect Aiyuk to be the 49ers' No. 1 target.
DeAndre Hopkins

, WR – Cardinals (66.3%)
MKF Line: 5.5 receptions
4for4 Projection: 7.7 receptions
Hopkins has largely been a target hog this season outside of last week. He has more than 5.5 receptions in 6-of-8 games this season and has 7+ targets in all but last week's game. The Cardinals square off against the Bills in what's expected to be a back-and-forth affair with a game total at 56.5 points.
James Robinson

, RB – Jaguars (65.8%)
MKF Line: 3.5 receptions
4for4 Projection: 3 receptions
The key here is that pass-catching running back Chris Thompson is playing. Last week against the Texans, Robinson didn't catch either of his two targets. While Robinson has seen some work in the passing game on early downs, they also will be rolling out Jake Luton, who wasn't as apt to check the ball down to Robinson in his first start.
Miles Sanders

, RB – Eagles (64.8%)
MKF Line: 55.5 rushing yards
4for4 Projection: 79.3 rushing yards
I get that it's a bit scary to be betting on a player returning from injury but this line is just too low. Sanders has more than 55.5 rushing yards in 4-of-5 games this season and logged a full practice on Thursday.
Thanks for reading and If you have any questions feel free to reach out to me on Twitter @ConnorAllenNFL or on Discord.
---
Editor's Note: The More or Less plays and projections were available at the time of this article being published. Please refer to MKF for the most up-to-date offerings.