Using Vacated Touches to Identify Opportunity (2020)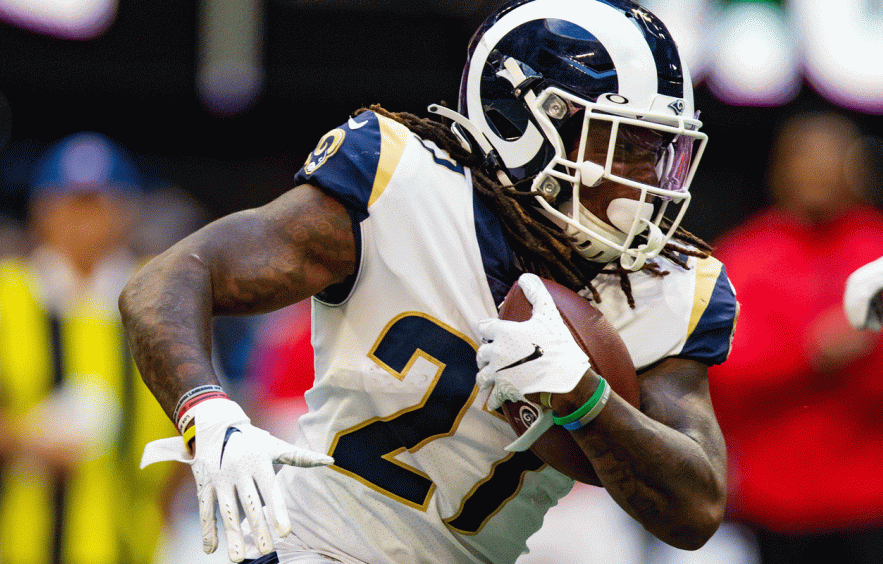 Carmen Mandato/Getty Images
Opportunity is one of the major factors I consider as I evaluate free agent signings and trades, and attempt to identify impact rookies in any given season. Typically, I'll gauge this opportunity holistically—e.g. the Rams cut Todd Gurley so there are touches available in L.A.—but last season I thought I'd go through the process of calculating vacated running back touches to see if it would identify opportunity that wasn't readily apparent.
Note: On Wednesday, April 22, at 10 AM Pacific I'll be doing a chat on my Instagram [link] to discuss both the vacated targets and vacated touches articles.
Be sure to check out Part 1 of this opportunity study: Using Vacated Targets to Identify Opportunity.
Looking back at that (pre-NFL Draft) article, the process did identify several teams with major opportunity in their RB corps.
Given injuries, trades and Week 17 weirdness, it's a little tricky to calculate total vacated touches, but I think the numbers below provide a good roadmap to find opportunity.
All running back touches through Week 16 are included. I've added some notes below the table and there's also a chart that provides the same information visually.
Vacated Touches (2020)

| Team | Vacated Tchs/G | Vacated Tchs % | Key Additions |
| --- | --- | --- | --- |
| HOU | 16.7 | 67.7% | David Johnson |
| ATL | 15.5 | 62.5% | Todd Gurley |
| LAR | 15.5 | 68.4% | |
| LAC | 13.7 | 45.9% | |
| BUF | 11.3 | 45.0% | Taiwan Jones |
| PHI | 10.8 | 36.7% | |
| TB | 10.8 | 40.3% | |
| KC | 10.1 | 39.8% | DeAndre Washington |
| MIA | 9.1 | 40.1% | Jordan Howard |
| ARI | 8.9 | 39.3% | |
| LVR | 7.9 | 25.5% | |
| NYJ | 6.9 | 25.9% | |
| WAS | 6.9 | 27.9% | Peyton Barber, J.D. McKissic |
| DET | 6.7 | 24.7% | |
| TEN | 5.2 | 20.5% | |
| IND | 3.6 | 12.2% | |
| NYG | 2.8 | 12.1% | Dion Lewis |
| SEA | 2.2 | 7.6% | |
| NO | 1.5 | 5.2% | |
| DEN | 1.3 | 4.6% | Melvin Gordon |
| CHI | 1.2 | 4.6% | |
| GB | 1.2 | 4.2% | |
| PIT | 0.7 | 2.4% | |
| NE | 0.2 | 0.6% | |
| JAX | 0.0 | 0.0% | |
| BAL | 0.0 | 0.0% | |
| MIN | 0.0 | 0.0% | |
| CLE | 0.0 | 0.0% | |
| SF | 0.0 | 0.0% | |
| DAL | 0.0 | 0.0% | |
| CAR | 0.0 | 0.0% | |
| CIN | 0.0 | 0.0% | |
Here's the same data in chart format: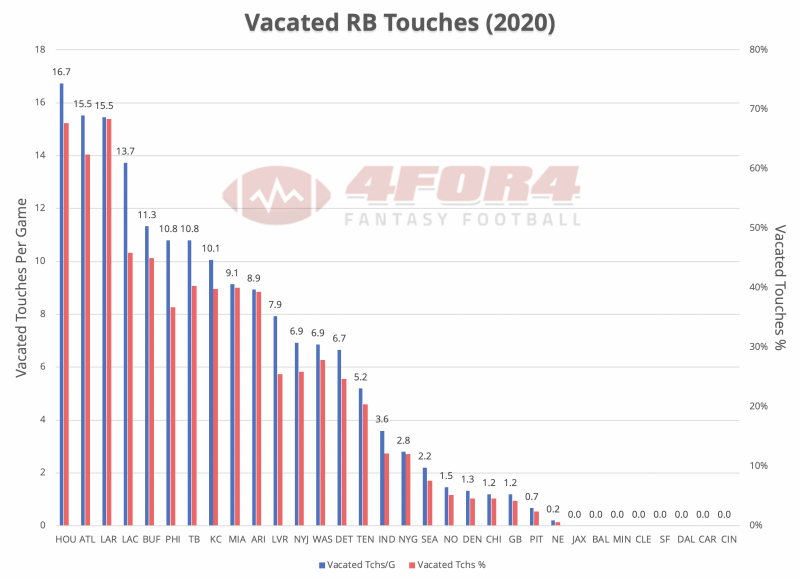 Players to Keep An Eye On