DFS Air Yards Buy-Low Model: Week 15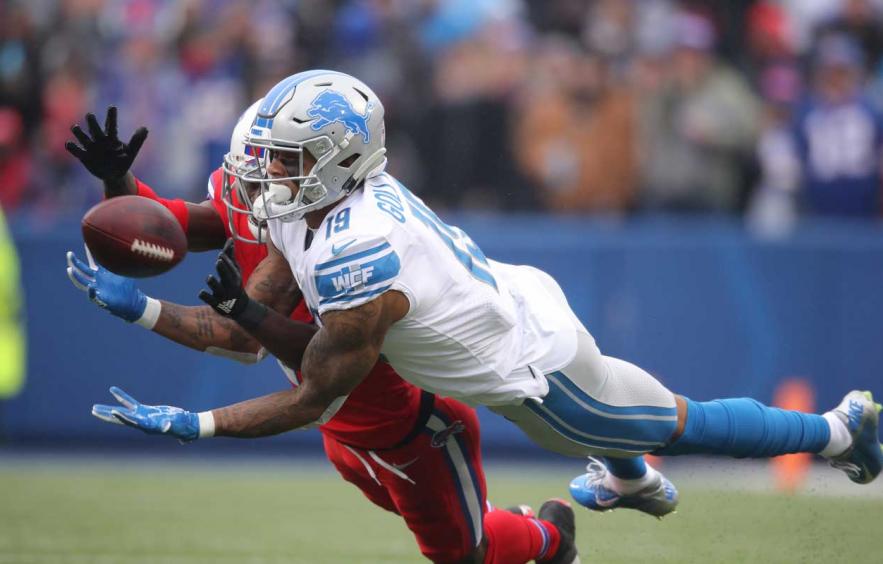 Josh Hermsmeyer
Week 15 of the Air Yards Buy-Low Model is here with a vengeance. Last week the model had a 40 percent hit rate and this week, well just wait until you see this week.
For new readers, the Buy-Low Model looks at players who have received opportunity in the form of targets and air yards in the previous three weeks and offers an expected fantasy points value based on those inputs. It then highlights which players underperformed relative to that expectation. The key insight behind the model is that opportunity is sticky and production in the form of catches, touchdowns and shot plays are not. You want to buy the signal and fade the noise. The list highlights players who are strong candidates to have a performance spike in the near future.
This is a free offering in our weekly content contained in the 4for4 DFS subscription. To get access to all of our weekly DFS analysis, sign up here!
In GPPs you need to look beyond the median projections and identify value plays that are low-owned that can set your team apart and put up crooked numbers. Here is a list of receivers and tight ends who have underperformed their volume for the past three weeks that the model thinks could be in store for a bounce-back week in the near future. Maybe even this week.
This week the model sports an out-of-sample r-squared of 0.48.
Key Takeaways
The top five names on this list are unreal. I've never seen so many big names make the list, and because it's new ground some interpretation is needed. These plays may be more chalk than you'd normally find, but the chances are good that each player listed will give a solid return on investment. Simply avoiding the chalk is probably not a great tournament strategy anyway. You want to be just different enough that you win, not have an entire team full of sleepers.
Tyreek Hill ($8,300 DK/$8,400 FD) blew up the last time he was on the list. The same goes for Odell Beckham, but he is nursing a sore quad which casts some doubt on both his availability and his ability to perform. Likewise, the last time Christian McCaffery was on the list he also ended up in the DK Millionaire winning lineup. Both DeAndre Hopkins and Michael Thomas have never before appeared on the list, so it is new territory for both. Of the top five, I view Nuk as the strongest play.
Kenny Golladay ($5,400 DK/$6,800 FD) makes the list for the first time. Detroit wide receivers saw an anemic 11 total targets last week. This is still the NFL, and it's a passing league. That number is bound to regress and Golladay is the clear number one in the passing offense. I'm excited about him this week, and the low Vegas total (38) will keep fishy thinkers off of him and ownership low in the event he does explode.
Courtland Sutton ($4,500 DK/$5,900 FD) was a major flop last week and that should depress his ownership this week. DaeSean Hamilton is a fine talent, but it was Tim Patrick who saw the most targets and air yards in Week 14. Sutton is the number one in this Denver offense, and Patrick looks like the clear number two. Either make a solid buy low, even if Patrick is not on the list, and this is especially true given Sutton will be expensive relative to other receivers on the short slate.
Jimmy Graham ($3,800 DK/$5,500 FD) is back again, and Green Bay looked decent last week against a struggling Atlanta team. Aaron Rodgers' sub-7 YPA in the game remains worrisome, but he remains elite at throwing TDs, and that's what you're looking for. Plus, he's super cheap.
Photo by Tom Szczerbowski/Getty Images.