John Daigle's Final 2023 NFL Mock Draft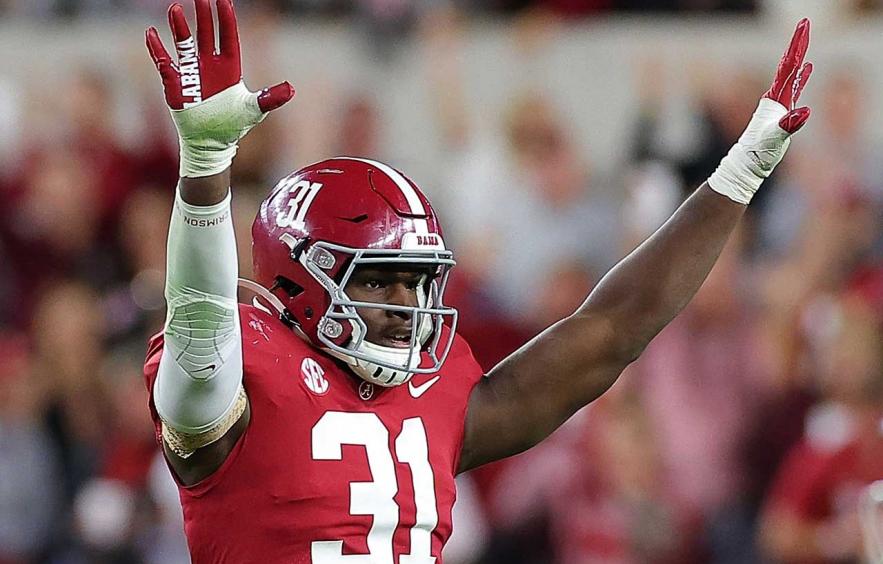 Kevin C. Cox/Getty Images
Trades are for betas.
---
The easiest way to get access to all of these bets is through our newest partners, which allows you to get a 3-month subscription for just $5! Find out how here!
---
1. Carolina
Panthers

- QB

Bryce Young

, Alabama

Let's be honest: you've been scrolling past this slot in every mock draft for weeks.

Mock 1.0: QB C.J. Stroud
2. Houston
Texans

- EDGE Will Anderson, Alabama

Will Levis is not an option here and, although the Texans reportedly cleared Tyree Wilson of any medical concerns, Anderson is the cleaner prospect. I expect Houston to address quarterback at No. 12 or, with three picks (including No. 33 overall) on day two, a move back inside the first round.

Mock 1.0: QB Bryce Young
3. Arizona
Cardinals

- EDGE Tyree Wilson, Texas Tech

Paris Johnson Jr. will be the pick if Kyler Murray has his way. One thing is clear: Arizona would trade back in an instant for any mid-round bundle.

Mock 1.0: CB Christian Gonzalez
4. Indianapolis
Colts

- QB

Anthony Richardson

, Florida

C.J. Stroud, Levis, or Richardson: choose your fighter. If Indy's organization is truly being run as a democracy, AR15 is the middle ground between owner Jim Irsay (Richardson reportedly 'electrified' all in attendance at last year's Manning Passing Academy), coach Shane Steichen (previously groomed an athletic project in Jalen Hurts), and GM Chris Ballard, who had a hand in finding ceiling options (Travis Kelce, Tyreek Hill, Quenton Nelson, Shaquille Leonard) with the Chiefs and Colts in the past.

Mock 1.0: EDGE Will Anderson
5. Seattle
Seahawks

- DT Jalen Carter, Georgia

The Seahawks have had the most to lose throughout the draft process if Carter is truly (as rumored) the No. 1 player on their board; hence Pete Carroll's and GM John Schneider's intentional selfies with the big four quarterbacks. With four more picks in the first 83 selections (20, 37, 52, 83), the team's other needs can be addressed over the weekend.

Mock 1.0: QB Anthony Richardson
6. Detroit
Lions

- QB

C.J. Stroud

, Ohio State

Devon Witherspoon admittedly makes the most sense here. But with one more selection inside the top 20, I can see a forward-thinking organization making forward-thinking moves. Note that Jared Goff's dead cap number plummets from $15 million in 2023 to $5 million next year.

Mock 1.0: CB Devon Witherspoon
7. Las Vegas
Raiders

- CB Devon Witherspoon, Illinois

The Raiders can't possibly gift Davante Adams $28 million annually and then deploy him alongside a rookie quarterback. Witherspoon, the top corner on nearly every board, is the only option here assuming the Lions don't scratch that itch.

Mock 1.0: EDGE Tyree Wilson
8. Atlanta
Falcons

- RB

Bijan Robinson

, Texas

The acquisition of Jeff Okudah for a fifth-round pick takes Atlanta out of the running for any first-round corner. Only the Cowboys averaged more RB carries per game (27.1) than the Falcons (26.7) last year, cementing Arthur Smith's intent of hiding a negligent investment under center with an efficient rushing attack.

Mock 1.0: RB Bijan Robinson
9. Chicago
Bears

- OT Darnell Wright, Tennessee

Wright did not allow a single sack competing against Will Anderson, Will McDonald IV, and B.J. Ojulari (among others) in his lone year at RT, the exact spot Chicago is aching for help given Braxton Jones' standing as the team's starting LT.

Mock 1.0: DT Jalen Carter
10. Philadelphia
Eagles

- OT Paris Johnson Jr., Ohio State

Howie Roseman will undoubtedly sit back and take the best player available on the team's board. The only question? Which position he's ranked higher between OT and EDGE (Nolan Smith in particular) assuming Jalen Carter is drafted before No. 10.

Mock 1.0: OT Paris Johnson Jr.
11. Tennessee
Titans

- QB

Will Levis

, Kentucky

I cannot shake the fact that Ryan Tannehill's league-high $36.6 million cap hit is the difference between Tennessee being in purgatory or hitting reset altogether. Being linked to Levis in any trade-up scenarios is the icing on the cake (and does not need to happen if he plummets).

Mock 1.0: QB Will Levis
12. Houston
Texans

- QB

Hendon Hooker

, Tennessee

All signs point to Houston coming away from night one with two of three positions between QB, RB, and EDGE. This is an assumption that if they are out on Levis at No. 2 overall, they are out altogether (and prefer Hooker's character). All teams also received an email from Hooker's surgeon Wednesday morning confirming the 25-year-old will be cleared from November's torn ACL by Week 1.

Mock 1.0: WR Jaxon Smith-Njigba
13. Green Bay
Packers

- EDGE Lukas Van Ness, Iowa

The Packers have not drafted a first-round receiver since Javon Walker in 2002. Why start now?

Mock 1.0: OT Darnell Wright
14. New England
Patriots

- CB Christian Gonzalez, Oregon

A corner who fits the bill of what the Patriots desire in their players — Gonzalez played across punt and kick returns, as well as field goal-block coverages throughout his collegiate career — simply falls to them.

Mock 1.0: WR Zay Flowers
15. New York
Jets

- OT Peter Skoronski, Northwestern

Skoronski's atypical measurements at 6'4/313 with 4th-percentile (!) arm length give him the flexibility to either be groomed in his age-22 season behind 38-year-old Duane Brown or simply out-perform Mekhi Becton and Max Mitchell to ensure Aaron Rodgers keeps clean.

Mock 1.0: OT Darnell Wright
16. Washington
Commanders

- OT Broderick Jones, Georgia

Both Andrew Wylie, familiar with Eric Bieniemy's offense from their time together with the Chiefs, and Nick Gates can play on the interior, allowing Jones to slide in as a projected All-Pro left tackle. Emmanuel Forbes is an alternative fit here since Washington's defense remains short a third CB under DC Jack Del Rio.

Mock 1.0: OT Broderick Jones

17. Pittsburgh
Steelers

- OT Anton Harrison, Oklahoma

Do the Steelers prefer to shore up its o-line or bathe in nostalgia?

Mock 1.0: CB Joey Porter Jr.
18. Detroit
Lions

- CB Emmanuel Forbes, Mississippi State

GM Brad Holmes took a swing at No. 6 because, at the time, not a single cornerback was off the board. Jeff Okudah's departure is addressed here. Interior linemen O'Cyrus Torrence (Florida) and Steve Avila (TCU) are also options.

Mock 1.0: DT Calijah Kancey
19. Tampa Bay
Buccaneers

- EDGE Myles Murphy, Clemson

With a plethora of needs and an untimely run on tackles prior, Tampa Bay pads Shaq Barrett's questionable status (torn Achilles) with the best EDGE remaining.

Mock 1.0: iOL O'Cyrus Torrence
20. Seattle
Seahawks

- WR

Jaxon Smith-Njigba

, Ohio State

Rather than pairing another pass rusher with Jalen Carter, the Seahawks opt for that third playmaker in the passing game they've failed to find to date. Both D.K. Metcalf (16.8% slot rate last year) and Tyler Lockett (42.4%) would be more than comfortable moving around to make room for JSN, who ran just five routes from the boundary last year.

Mock 1.0: EDGE Nolan Smith
21. Los Angeles
Chargers

- WR

Jordan Addison

, USC

Chargers stay in-state to address an emphatic need with Addison (5'11/173), who offers experience and explosion from both the boundary (81% snaps under Lincoln Riley last year) and slot (75% with Pittsburgh in 2020-21). Addison is arguably one of only three receivers virtually guaranteed to hear their names called on night one given his evaluation as Daniel Jeremiah's top receiver.

Mock 1.0: WR Jordan Addison
22. Baltimore
Ravens

- CB Deonte Banks, Maryland

Maryland's own stays in the area after displaying above-average man-coverage ability in his final year.

Mock 1.0: EDGE Lukas Van Ness
23. Minnesota
Vikings

- DB Brian Branch, Alabama

Here's what we know: Patrick Peterson departed to Pittsburgh, Byron Murphy has experience both outside and from the slot, and GM Kwesi Adofo-Mensah's first two picks last year were sprinkled across the secondary (Lewis Cine, Andrew Booth). Branch also logged 74% of his snaps from the slot in 2022 and could be utilized as Brian Flores' chess piece all over.

Mock 1.0: CB Deonte Banks
24. Jacksonville
Jaguars

- OT Matthew Bergeron, Syracuse

Cam Robinson's suspension causes a sudden need following Jawaan Taylor's departure.

Mock 1.0: DB Brian Branch
25. New York
Giants

- WR

Zay Flowers

, Boston College

New York's available wide receivers in year one of Daniel Jones' lucrative four-year agreement: Isaiah Hodgins, Darius Slayton, Parris Campbell, Sterling Shepard, Wan'Dale Robinson, and Jamison Crowder.

Mock 1.0: WR Quentin Johnston
26. Dallas
Cowboys

- TE

Michael Mayer

, Notre Dame

It's no secret the Cowboys are in the market to replace Dalton Schultz, and Mayer's three-down ability as a ferocious run blocker earns him the nod over Utah's Dalton Kincaid, who some teams (albeit a sprinkling) have not cleared for medical concerns.

Mock 1.0: TE Dalton Kincaid
27. Buffalo
Bills

- DT Mazi Smith, Michigan

No interior presence in this class is more terrifying than Smith, who has bench pressed 325 pounds for 22 reps. His 33-inch vertical at 6'3/323 is inhumane.

Mock 1.0: LB Drew Sanders
28. Cincinnati
Bengals

- DT Calijah Kancey, Pittsburgh

D.J. Reader and B.J. Hill are stout run-stuffers but do not offer the bullrush of Kancey, who led the FBS' defensive tackles in TFLs (14.5) in his final year.

Mock 1.0: TE Michael Mayer
29. New Orleans
Saints

- EDGE Will McDonald IV, Iowa State

David Onyemata's (Falcons) and Marcus Davenport's (Vikings) absences take precedence; New Orleans will take the best leftover pass rusher between Myles Murphy and McDonald.

Mock 1.0: CB Cam Smith
30. Philadelphia
Eagles

- EDGE Nolan Smith, Georgia

The Eagles will undoubtedly find Brandon Graham's successor with one of its first two picks. Which one depends entirely on who falls to No. 10.

Mock 1.0: EDGE Myles Murphy
31. Kansas City
Chiefs

- WR

Quentin Johnston

, TCU

With a career 7.7 yards after the catch per reception (at 6'3/208) with the Horned Frogs, Johnston lends the Chiefs a big-bodied receiver capable of being uniquely schemed over the middle and underneath against two-high safeties.

Mock 1.0: OT Anton Harrison

Missed the Cut: Utah TE Dalton Kincaid, Alabama RB Jahmyr Gibbs, Penn State CB Joey Porter Jr., Florida iOL O'Cyrus Torrence, Georgia Tech EDGE Keion White, Minnesota C John Michael Schmitz, Northwestern DL Adetomiwa Adebawore, Clemson DL Bryan Bresee, Iowa LB Jack Campbell, TCU G Steve Avila, Ohio State OT Dawand Jones, Georgia TE Darnell Washington, Clemson LB Trenton Simpson, Georgia CB Kelee Ringo