Can Real Life Success Translate to Fantasy Football for Bryce Young?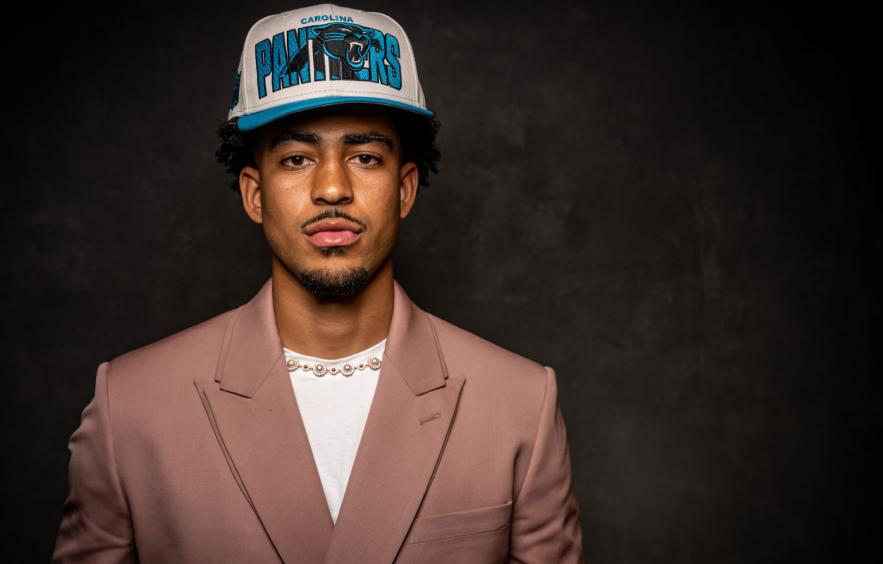 Todd Rosenberg/Getty Images
The Carolina Panthers made an early splash in the 2023 NFL Draft, trading away two first-round picks, two second-round picks, and D.J. Moore in order to move up and select Bryce Young. Young wasn't always the consensus first-overall pick but reportedly won over the team and front office throughout the draft process. The former Alabama quarterback has incredibly high expectations after the haul Carolina gave up but Young is in a good position to meet or exceed them.
---
Click here for more 2023 Player Profiles!
---
Bryce Young

Prospect Profile

Bryce Young stands at 5'10, 204-pounds but will almost certainly play in the mid-190s during the NFL season. The Panthers clearly don't mind Young's smaller stature as he more than makes up for it with his accuracy, decision-making, and playmaking ability. Young won the Heisman in 2021 and in his time at Alabama combined for a 65.8% completion rate while averaging 8.8 yards per attempt. He threw for a total of 80 touchdowns to just 12 interceptions. He was hyper-accurate, extended plays, and was consistent. On top of that, he was able to make "wow" plays like this:
Bryce Young does an excellent job navigating defenders in the pocket, and instead of trying to scramble, he finds the open WR downfield for the TD. pic.twitter.com/Eop4uB12bO

— Nick Penticoff (@NickPenticoff) April 2, 2023
Collegiate rushing stats don't properly reflect Young's rushing upside as sacks count as negative rushing yards. Young isn't going to provide upper-echelon rushing upside, but he's agile and will likely add some rushing yards and touchdowns on the ground.
How
Bryce Young

Fits on the

Panthers

Let's get this out of the way early. Despite signing competent backup Andy Dalton and preaching they won't play a quarterback until they are ready, Bryce Young is going to be the Week 1 starter. As the most NFL-ready quarterback in this class, Young should take over as this team's leader and signal-caller immediately.

The Panthers' receiving corps has undergone some changes as well this offseason starting with the trade of DJ Moore. The Panthers have gone on record saying they didn't want to trade him away but it was the final piece of the trade that made it happen. The Panthers lost the second-highest percentage of air yards (62.8%) and targets (49.6%) this offseason but tried their best to surround Young with more receiving options.

The Panthers added veteran wideouts, Adam Thielen, D.J. Chark, and Damiere Byrd in free agency in addition to Jonathan Mingo in the second round with pick No. 39. Given the draft capital spent on Mingo, I'd anticipate he has the leg up on Terrace Marshall and Byrd for playing time with a chance to start over Chark or Thielen as the season progresses.

They also added underrated tight end, Hayden Hurst. While Young's receiving options aren't a massive strength of the team, they are enough for him to work with as a rookie. They also added running back Miles Sanders, a capable pass-catcher who has gotten pretty consistent buzz from the coaching staff as a receiving threat. Chuba Hubbard and Raheem Blackshear make up the rest of the running back group, both of whom are viable pass-catching options.

The offensive line for the Panthers figures to be above average after adding Bradley Bozeman at center and drafting Chandler Zavala in the middle rounds to compete at left guard. The right side of their offensive line with Austin Corbett and Taylor Moton remains a strength as both graded above average according to Pro Football Focus.
Bryce Young

's Fantasy Football Value

Bryce Young's current ADP is 144th overall and QB22. While that's likely closer to his floor, it's tough to imagine a ton of upside for Bryce Young as a rookie.

Being a dual-threat quarterback is so important for fantasy football. Last year's top-six quarterbacks in fantasy football were Patrick Mahomes, Josh Allen, Jalen Hurts, Joe Burrow, Geno Smith, and Justin Fields. All of them rushed for at least 350 yards or five touchdowns.

Over the past three seasons, top-five quarterbacks have averaged 438 rushing yards, 4.7 touchdowns, and 72.08 fantasy points on the ground per season. Since outliers like Lamar Jackson throw off the average a bit, the median is 362 rushing yards, three rushing touchdowns, and 54 fantasy points on the ground. Not only does rushing add a healthy floor for a quarterback's fantasy output, but it also generally unlocks their ceiling. 19-of-20 top-five quarterbacks over the past four years rushed for at least 250 yards or three touchdowns.

The way the game of fantasy football is trending you either have to be an elite passer capable of picking up some extra yards with their legs or a quarterback who will be running the ball a lot. I see Bryce Young as much more of the former than the latter given his smaller frame and skill set. Given that he doesn't have the athleticism of Lamar Jackson or Justin Fields he probably won't be adding significant rushing upside and hitting his ceiling with rushing upside. This means he needs to be significantly above average as a passer for him to finish as a QB1 in fantasy football. Let alone a top-five option.

Given his average supporting cast and just being a rookie, Young is probably a middling QB2 for fantasy purposes. There could be upside if he is a remarkable passer instantly, but that's generally pretty rare. Even if he does hit as a passer, it would be extremely unlikely he creeps into the top five or is a true difference-maker at the position as a rookie.

Bottom Line
Bryce Young is undersized, but the Carolina Panthers still took him first overall and aren't bothered by his size.
The Panthers lost D.J. Moore but added Adam Thielen, D.J. Chark, Jonathan Mingo, and Hayden Hurst to round out a respectable receiving group.
Rushing ability is crucial to unlocking top-end fantasy football upside for quarterbacks. While Young has above-average mobility, running the ball won't be his signature trait and he likely doesn't have top-five upside as a rookie.
Young is being drafted as a back-end QB2 (ADP:144) and while his median outcome is a bit higher than that, he is likely a better real-life quarterback than a fantasy starter.