The Training Room: Week 3 Injury Updates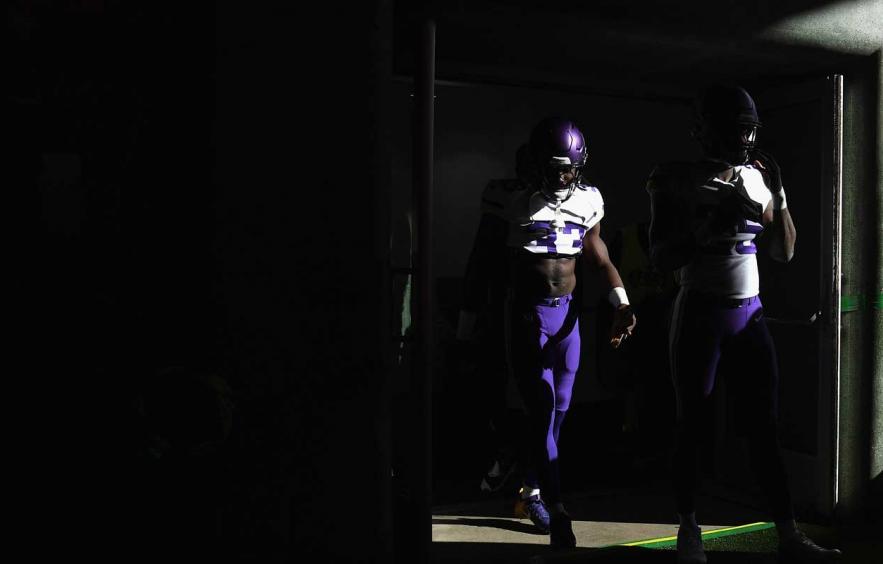 Harry How/Getty Images
Week 3 was a big bounce back for some of fantasy football's best players. Derrick Henry eclipsed the top-5 amongst RBs with a surprising 58 receiving yards. Marquise Hollywood Brown finally started to mesh with his new/former college QB and provided that "boom" week fantasy managers were eager to see. Even Kyle Pitts! Although this is what most expected would be the floor for the Atlanta TE, Kyle Pitts saw a healthy target share and scored ~18 PPR points - another top-5 performance. Forget what head coach Arther Smith said. He heard us fantasy managers clamoring for #8 to get the ball and delivered.
However, with anything good in life, it would appear there needs to be a negative to balance it all out. Here's to hoping some of the players below that are dealing with injuries, are able to return to your fantasy line-ups soon
Dalvin Cook

, RB Minnesota

Vikings
Injury: shoulder dislocation
Projected Timetable: 2-3 weeks
Potential Replacement(s):
Alexander Mattison

,

Kene Nwangwu
Initial Thoughts:
Well it feels like it was only a matter of time before Dalvin Cook re-injured his, what appears to be unstable, left shoulder. This is an injury that has plagued Cook all the way back to his high school days. Cook has dislocated his left shoulder before and already had surgery in the past. Cook told the press after the game that he would be wearing a shoulder harness and start in Week 4, but I think there are a few reasons this could be an issue.
For starters, Cook has missed at least one game the two previous times he injured his left shoulder. His most recent shoulder dislocation in 2021 caused Cook to miss one week, and upon his return, his fantasy production dipped by 80% compared to his healthy average. Averaging his first and second game back post-injury, Cook's production declined by 60%. This production dip was not due to a lack of ability but more so because his opportunity was significantly reduced. The bell-cow back failed to crest 60% of Minnesota's offensive snaps.
Additionally, this will be an abnormal week for Dalvin Cook when it comes to preparation and getting the medical help he needs to get ready for Week 4. The Vikings are playing in London on Sunday. When we consider these two variables, I think it makes sense for Cook to sit at least in Week 4. He could push it, but I'd be cautious starting him. The chances of Cook re-injuring his left shoulder and leaving a game early go up with every dislocation, but if you drafted him, you were likely well aware of this risk. Hopefully, you stashed Alexander Mattison, but he is only on waiver wires in the most shallow leagues.

David Montgomery

, RB Chicago

Bears
Injury: knee and ankle injury
Projected Timetable: 3 weeks
Potential Replacement(s):
Khalil Herbert
Initial Thoughts:
Based on video, it would appear that David Montgomery is dealing with a pair of injuries. (I want to reiterate that video is not diagnostic. I cannot diagnose a player's injury based on video). With that said, the way Montgomery's right leg twisted with a Houston Texans defender landed on his knee has me worried about two potential injuries: 1. High ankle sprain and/or 2. MCL sprain.
The high ankle sprain would be a killer. On average, RBs miss 3-4 weeks after a high ankle sprain based on data since 2010. 90% of RBs that had a known high ankle sprain missed at least one week. Looking at rest of season production, RB fantasy points dip by 20% compared to their healthy average. For more on this, check out the Injury Index.

MCL sprains also typically result in 3-4 weeks missed for NFL running backs. When players return, their production is typically back to pre-injury levels. David Montgomery missed four games in 2020 when he landed on the IR with an MCL sprain in his left knee.
Bear's HC Matt Eberflus said after Sunday's win that the extent of Montgomery's injuries was more promising than originally thought and that the former Cyclone would be considered "day to day." We don't have much experience with Eberflus, so it's possible that he is telling the truth, although in most cases when a team lists a player as "day to day," it's really closer to "week to week." However, based on the optimism, it's possible that Montgomery escaped a significant knee injury and is dealing with a minor high ankle sprain, giving fantasy managers a tiny glimmer of hope he returns next week.
D'Andre Swfit, RB Detroit
Lions
Injury: shoulder injury
Projected Timetable: 3 weeks
Potential Replacement(s):
Jamaal Williams
Initial Thoughts:
If you roster Aaron Jones or A.J. Dillion, start a prayer circle now because NFC RBs were dropping like flies Sunday. D'Andre Swift, who was already dealing with an ankle injury, left Sunday's game early with a shoulder injury. Although Swift was able to return later on, he saw limited work before he exited again. It's not really clear what the exact shoulder injury is, but it is likely something minor. Detroit head coach Dan Campbell made the timeline for this injury real simple. Swift is going to rest up till after the Lion's bye week in Week 6. This should give Swift enough time to recover from both his ankle and shoulder injuries.
Mac Jones

, QB New England

Patriots
Injury: high ankle sprain
Projected Timetable: 4-6 weeks
Potential Replacement(s):
Brian Hoyer
Initial Thoughts:
Mac Jones suffered a significant ankle injury on Sunday and is going to miss a few weeks. Immediately after the game, news emerged that X-rays on Jones' ankle were negative for a fracture - a good sign. However Jones sustained a high ankle sprain which do not show up on X-rays. Right now, it sounds like surgery is in consideration.
The high ankle sprain surgery that has become popular is known as the "tight-rope procedure." Players in the past that have had this surgery have been able to return to play in ~4 weeks. With the Patriots' bye only six weeks away, it's possible Jones does not return until Week 11.
Patriots' QB Mac Jones has what doctors diagnosed as a severe high ankle sprain that would cause many to have surgery, per sources. He is likely to miss multiple games. Jones and the Patriots still are discussing his options and the best way to proceed.

— Adam Schefter (@AdamSchefter) September 26, 2022
Among the NFL QBs since 2017 that have returned following a high ankle sprain, typically, production is normal upon return. QBs who rely on rushing to boost their fantasy output were more limited (Kyler Murray 2021). When Jones does return to under center, we should see his normal production.
Michael Thomas

, WR New Orleans

Saints
Injury: toe injury
Projected Timetable: 2-3 weeks
Potential Replacement(s):
Chris Olave

,

Jarvis Landry
Initial Thoughts:
Michael Thomas. Foot Injury. Did you flinch? Although Michael Thomas did sustain another foot injury, there is some promising news. This is not the same foot that caused him to miss the past two seasons, and the Saints are reporting that Thomas has a toe injury. The most common toe injury in the NFL is turf toe. A sample of 11 NFL WRs showed that the average time missed with turf toe was three weeks. A minor toe sprain could mean no time missed for Thomas, so follow NOLA's practice/injury reports this week for more clarity.
The good news is that toe injuries do not commonly impact fantasy production for WRs upon return unlike other ankle/foot injuries.
Sterling Shepard

, WR New York

Giants
Injury: left knee injry (concern of ACL)
Projected Timetable: potentially season ending
Potential Replacement(s):
Darius Slayton

,

Richie James
Initial Thoughts:
During Monday night Shepard sustained a non-contact knee injury with a mechanism that fits an ACL tear. This was later confirmed Tuesday morning.
Sterling Shepard tore his left ACL. His season is over. Per Brian Daboll #Giants

— Pat Leonard (@PLeonardNYDN) September 27, 2022
Disappointing news since the Giant wide out had looked impressive since returning from his Achilles tendon repair last season.