Can Tyreek Hill Still Produce for Fantasy Managers in Miami?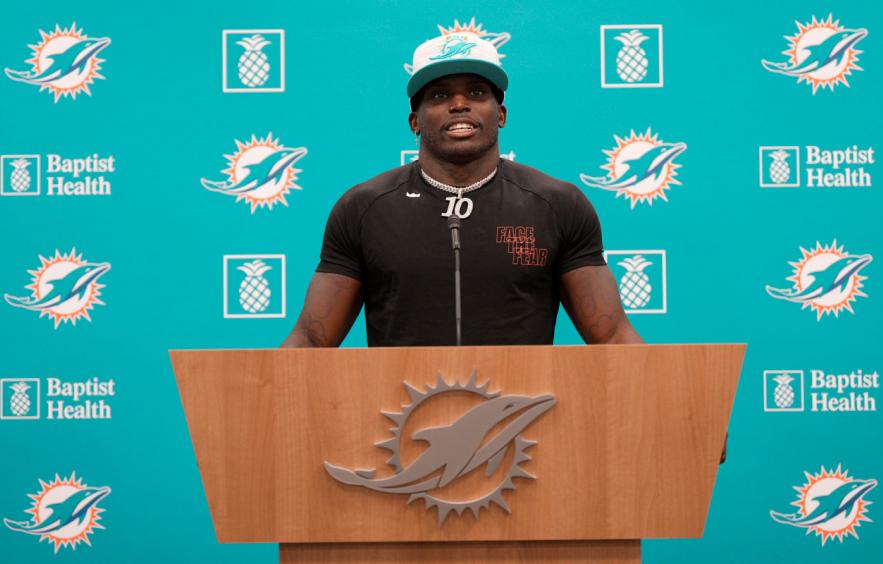 Mark Brown/Getty Images
This offseason has been one for the ages. Who would have ever expected the NFL to turn into a fantasy football league? Fantasy managers have seen guys like Russell Wilson, Davante Adams, DeShaun Watson, Khalil Mack and now, Tyreek Hill get dealt. It's rare to see one player of that stature get traded, much less five of them. With Hill now in Miami and going from Patrick Mahomes to Tua Tagovailoa, what can you expect from Hill in 2022?
---
Click here for more 2022 Player Profiles!
---
Respect The Cheetah
When fantasy managers think about Hill, the first thing that comes to mind is his speed. He's one of, if not the best deep-ball threat in the NFL, and his pairing with Patrick Mahomes equaled elite fantasy football production. While some may think of him as more of a one-trick pony, albeit an insanely talented one-trick pony, that would be disrespectful to Hill's overall game. In 2021, with teams defending the Chiefs' deep pass, the whole offense needed to adjust, Mahomes and Hill especially.
Prior to last season, the six-year pro had not had a yard per reception average lower than 14.7 since his rookie season. From years 2–5, fantasy managers saw the cheetah burn defenses deep on the regular. Defenses finally forced the Chiefs to change and Hill responded in a big way. How he won was adjusted, but make no mistake, he won all the time. In the four seasons prior, Hill had averaged roughly 81 receptions. Last season, he racked up 111 receptions. Teams forced him to win on shorter and more intermediate routes rather than the long ball and the six-time Pro Bowler did just that. What he proved last year was that he didn't need the deep ball to be an impactful NFL receiver or a fantasy one for that matter. Simply put, he's just one of the best receivers in the game.
Tyreek Hill

Stats and Rankings, 2017–2021

| Year | Receptions | WR Reception Rank | Yards | WR Yards Rank | Touchdowns | WR Touchdowns Rank | Fantasy Rank |
| --- | --- | --- | --- | --- | --- | --- | --- |
| 2021 | 111 | 3rd | 1,239 | 10th | 9 | 9th | WR6 |
| 2020 | 87 | 16th | 1,276 | 7th | 15 | 2nd | WR2 |
| 2019 | 58 | 22nd | 860 | 17th | 7 | 7th | WR9 |
| 2018 | 87 | 10th | 1,479 | 4th | 12 | 3rd | WR1 |
| 2017 | 75 | 11th | 1,183 | 7th | 7 | 14th | WR8 |
All of the numbers are based on seasonal totals except for 2019 when Hill missed four games, those rankings are based on his per-game ranking. As you can see from the numbers above, he's an absolute stud. He has three seasons where he ranked in the top-12 in receptions, four in the top-10 in the yards, and another four in the top-10 in touchdowns. There has never been a single season where Hill did not produce WR1 numbers.
While there's no question having Patrick Mahomes slinging you the football can help to increase your overall output, Hill's been very good no matter who's been under center. His entire 2017 season was spent catching passes from Alex Smith. Then in 2019, Hill's talent was really put to the test. Mahomes suffered a knee injury and gave way to Matt Moore for three games, a quarterback with a lowly 60.1% completion percentage, just a 1.36-to-1 touchdown-to-interception ratio, and a quarterback rating of 82.8. No way could he be successful with that guy, right?
Think again. In those three games, Hill would record 23 total targets and caught 15 of them. He had 290 yards and two touchdowns. He finished as the WR5 during that time span and was pacing for an 80 reception, 1,547 yard, and 11 touchdown season with Moore behind center. It's no doubt a small sample size, but it does indicate Hill can be successful with quarterback play that is not elite. Fantasy managers also have the entire 2017 campaign to look at as evidence of this. So how does all of this impact how we value Tyreek Hill in Miami?
Is
Tyreek Hill

Still a WR1 as a Dolphin?

The quarterback downgrade is real. Going from Patrick Mahomes to Tua Tagovailoa is a major step down and there are going to be ramifications because of it, but will all of that impact Hill's fantasy football value?

Tagovailoa has become somewhat of a punchline, a result of Miami's on and off again interest in DeShaun Watson and Ryan Fitzpatrick being brought in during late games as their "closer" in 2020. Most fantasy managers, if asked who is the better quarterback between Tua and Alex Smith, Hill's 2017 quarterback, would say Smith. A look at their per-game averages shows us something else entirely and it's almost uncanny how similar they are.
| Name | Completion Percentage | Yards | Touchdowns | Interceptions | Yards Per Attempt | QB Rate |
| --- | --- | --- | --- | --- | --- | --- |
| Tua Tagovailoa | 66.2% | 194.2 | 1.2 | 0.6 | 6.6 | 86.9 |
| Alex Smith | 62.6% | 204.9 | 1.1 | 0.7 | 6.9 | 88.8 |
The belief that Hill is no longer a candidate for a WR1 season in Miami because of Tua is somewhat dispelled because we have already seen Hill put up top-end numbers with a similar quarterback, at least in terms of career numbers.
The fantasy football community has begun asking whether Tagovailoa can throw deep. His 6.6 yard per attempt average seems to indicate this may be an area he struggles with. He averaged just 7.0 intended air yards per attempt last season, which ranked 30th among qualifying passers, another metric that paints an ugly picture for his ability to throw down the field. However, when the question is asked, "can Tua throw deep?", are we asking if he can or if he has time to.
In 2021, according to SportsInfoSolutions, only the Giants had more blown pass-blocking snaps than the Dolphins. Miami finished with 243 pressures, which was the sixth-most in the entire league. The terrible offensive line of Miami last season hampered their game plan and limited what they could do offensively. Liam Eichenberg was the starting left guard and he surrendered the most blown pass-blocking snaps with 40. He'll be replaced by Connor Williams who allowed just 10. At left tackle, Austin Jackson allowed the 21st-most blown passing-blocking snaps with 21 and he'll be replaced by the three-time Pro-Bowler, Terron Armstead. Fantasy managers should expect the third-year signal-caller to have much more time in the pocket this season.
The notion the former Alabama standout does not have the skill set to throw deep doesn't really line up with statistics from the 2021 season. He attempted just 25 passes of 20 or more air yards, which ranked 30th last season. Part of that may have been due to the poor offensive line play or offensive scheme, which will be completely new in 2022 with Mike McDaniels as the new head coach. Tagovailoa's effectiveness on deep throws really stands out Below is a chart showing his statistics from SportsInfoSolutions on passes thrown with 20 or more air yards and where he ranked vs other quarterbacks in 2021.
Tua Tagovailoa

Deep Passing, 2021

| Completion % | Completion % Rank | Catchable % | Catchable Rank | On-Target % | On-Target Rank |
| --- | --- | --- | --- | --- | --- |
| 48.0% | 2nd | 73.9% | 5th | 65.2% | 3rd |
You can see from the numbers above, the problem isn't that the Tagovialoa can't throw deep, the problem has been that he hasn't. In 2020, only two Dolphins had more than 700 receiving yards and the third leading receiver was at 388. Two years ago, the problem was a terrible offensive line and pass-catchers. Last season, the main culprit was another awful offensive line, but that problem seems to have been addressed this offseason.
Fantasy managers have already seen Hill be an extremely valuable fantasy football commodity last season despite his deep ball being limited compared to years past. His 11.2 yard per reception average ranked just 78th among qualifying pass-catchers last season. He has proven that he can be an incredible fantasy asset no matter what role he's being asked to play.
Last season the Dolphins had 238 targets that were directed to DeVante Parker (a trade/cut candidate), Albert Wilson, Durham Smythe, Mack Hollins, Isaiah Ford, Preston Williams, Adam Shaheen, and Will Fuller. Fantasy managers often get stuck on this "too many mouths to feed" narrative, but the reality is, the big dogs eat first and Hill is the big dog. When you look at how many targets were directed to below-average talent or players who aren't on the roster anymore, it should completely eliminate the concerns regarding Hill and Jaylen Waddle co-existing.
This is a brand-new Miami offense that looks promising and exciting. Predicting what that offense may look like becomes a little more challenging because there are so many new faces with a new coaching staff and a new game plan. However, Hill has cemented himself as one of the very best receivers in the NFL, and fantasy managers should still be valuing him as a top-10 receiver. The ceiling he once had in Kansas City with Patrick Mahomes is unlikely to be obtained, but that doesn't mean he still isn't one of the elite fantasy receivers because he still very much is.
What is the Fantasy Fallout in Miami?
The first concern for fantasy managers is how this trade impacts rookie sensation, Jaylen Waddle. While Hill's expected target share will lower Waddle's overall ceiling, he also can still be a very useful fantasy asset. Prior to the trade, Waddle was looking at an elite target share, possibly top-five in the NFL. That kind of volume would have carried immense potential. To some extent, that ceiling no longer exists with Hill in Miami, but that doesn't mean Waddle is not going to be a valuable fantasy player in his own right.
As already mentioned, the Dolphins had 238 targets directed to replacement-level talent and that didn't touch Waddle or Gesicki's share. Fantasy managers should be expecting the second-year player to be the second-leading target getter on the team and in almost all of the other receiving metrics. In fact, if Hill becomes the deep threat player the Dolphins did not have last season, Waddle's overall role may not end up changing very much. You should be expecting Waddle to handle a healthy target share again in 2022, similar to what he had last year.
The Hill addition will do a number of things for the offense and for Waddle, specifically. For starters, it will take away some of the defensive attention he had earned after a masterful rookie season. The former Chief will also elevate the offense creating more scoring opportunities and helping to extend more drives. Both are excellent things for the Penguin in 2022.
Fantasy managers should be treating Waddle as a solid WR2 entering the new season. With Hill's arrival and an offensive-minded head coach, the expectation should be that Tua takes another step forward. The sheer volume alone will allow both Hill and Waddle to be top-24 receivers with some varying level of upside depending on Tua's progression.
There's no question Gesicki has dropped a bit further down on the target hierarchy. He's coming off of back-to-back 700+ yard seasons, has averaged just under 100 targets, and has been a backend TE1 the past two years. With the additions of Chase Edmonds and Cedrick Wilson Jr., he may find himself sharing that No. 3 role on more weeks than fantasy managers will like. Waddle and Hill are surely going to eat first and Gesicki will have his weeks, but there's a lot more target competition than there was last season. Wilson was an efficient player for the Cowboys last season and Edmonds has proven to be one of the better pass-catching backs in the league.
Fantasy managers will likely want to tread carefully with Gesicki this season. Tagovaiola has not yet shown the ability to support two high-end fantasy players and while fantasy managers should expect that to end this season, supporting three fantasy players would require e a sizable leap in Tua's performance and volume.
Wilson signed with Miami this offseason after a big third season in Dallas where he had over 600 yards and six touchdowns. He showed some promise when given a bigger role when Michael Gallup was injured. He's certainly shown he can be a quality target for Tagovailoa. The question as it relates to his fantasy value is just how much volume he'll see behind the big-three in Miami. The unfortunate reality is that he will likely serve as the third or fourth option in the passing game most weeks and that won't provide you with enough consistency on a weekly basis. He's likely to spend some of 2021 on the waiver wire unless there's an injury or you're playing in a deeper league.
Tua gets the biggest boost here. He was mostly valued as a backend QB2 entering this season, but Hill's arrival changes that a bit. There's a ceiling now that wasn't there just a few days ago. However, it's still best to keep expectations realistic. The quarterback position is as deep as it's ever been and fantasy managers should be expecting much better seasons from the 2021 rookie class. It'll take a big second season just for Tua to get into that top-15.
Last season, Ryan Tannehill, QB15 in terms of PPG, averaged 16.61 points. Tagovailoa was at 14.69, a difference of 1.92 PPG. Over 17-games that equals 32.64 points. In fantasy points for a quarterback, that's an extra 315 yards and five touchdowns by season's end. That's doable, but it's no guarantee and that's just to finish as QB15. That also doesn't include Trey Lance, Trevor Lawrence, or Justin Fields, all of whom have that same top-15 potential.
Fantasy managers should value Tagovailoa as a mid-tier QB2, right behind guys like Derek Carr and Trey Lance, who fill out the top-15 quarterbacks for 2022.

The Bottom Line
Tyreek Hill still should be valued as an elite, top-10 receiver in Miami.
Hill's overall ceiling is lower without Patrick Mahomes and is now a long-shot to finish in the top-three at his position.
Jaylen Waddle's ceiling is lowered with Hill's arrival.
Waddle should still be treated as a mid-tier WR2 with upside if Tua can take a step forward.
Gesicki becomes a risky play without Tua taking a sizable leap forward in year three. He's best treated as a high-end TE2.
Wilson is unlikely to become someone fantasy managers will want in their lineups in 2022, short of an injury to Hill or Waddle. He's a fine NFL player, but one who will unlikely make a mark when it comes to fantasy.
Tua's ceiling is raised with Hill's addition and his value should reflect that. He's more of a mid-tier QB2 with high-end QB2 potential.