8 Dynasty Risers and Fallers (June 2022)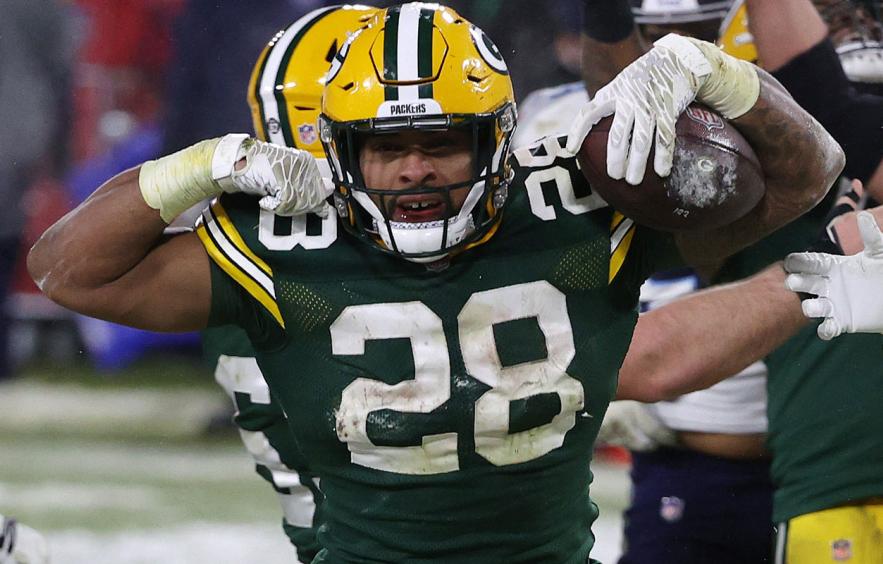 Dylan Buell/Getty Images
We are in the painful portion of the NFL offseason, with almost no meaningful news blurbs trickling in on a daily basis. Weeks away from the opening of training camps, you might expect dynasty player value to become static, but that's not the case. Sometimes all it takes is a tweet of speculation from a beat writer or an impressive catch in optional mini-camps for a player's value to change.
At Dynasty League Football, we produce monthly dynasty ADP data year-round. In addition to the obvious benefit this information can provide during a dynasty startup draft, I also find it very helpful in tracking player value month to month.
---
More Dynasty Content: Dynasty League Football | Dynasty Rookie Mock: Superflex PPR | Dynasty Profile: Skyy Moore | 8 Dynasty Sleepers Who Will Supercharge Your Team | Dynasty Rookie Profile: Drake London
---
Using our most recent June ADP data, I've identified some of the players whose value has changed over the past month. Here are some of the biggest dynasty risers and fallers for June.
Risers
Jarvis Landry

, WR NO

In May, the veteran wideout Jarvis Landry saw his dynasty ADP dip to 178 overall and WR80, representing a new all-time value low point for the former Browns receiver. Landry's contract demands were out of line and his prospects seemed limited. Soon though, Landry agreed to a deal to return to a familiar spot, signing a one-year pact with the Saints, close to where he played his college ball for LSU. Although Landry struggled through the worst season of his career in 2021, the move to New Orleans represents a fresh start and a chance to quickly regain some lost dynasty value. Given the lingering questions surrounding veteran Michael Thomas (more on that later) Landry is in a good position to be the Saints' top target in 2022. This was enough to make Landry one of the top risers in June, leaping up nearly six rounds to an overall ADP of 120 and the WR59.
A.J. Dillon

, RB GB

As the days until training camps dwindle away, it seems as if dynasty managers are accepting the fact that the Green Bay Packers once again have some serious questions surrounding their receiver depth chart. While that may not be good news for quarterback Aaron Rodgers, both of the team's top running backs continue to steadily gain value. After his dynasty ADP dipped to 78 overall last month, A.J. Dillon became one of June's top risers, gaining 16 spots to finish with an ADP of 62, just outside of the fifth round. Dynasty managers are clearly expecting Dillon's role to grow as he shares the backfield with Aaron Jones and the duo pick up the slack for the departed Davante Adams. With a common expectation that 2022 could be Jones' final season in Green Bay, this new ADP could actually represent a value for Dillon.
Chris Olave

, WR NO

Another Saints receiver, another dynasty riser. The value path for rookies typically follows a common route, which includes a low entry ADP and steady gains, followed by a post-NFL Draft spike. After being selected in Round 1 by the Saints, Chris Olave's ADP actually dropped from April to May. This was a major surprise given the draft capital and expected early opportunity for the former Buckeye. That ADP self-corrected this month as Olave climbed more than a full round, moving up to the WR29 and 56 overall in our June dynasty ADP. The previously mentioned doubts about Thomas and running back Alvin Kamara are boosting the value and possibly the production of Olave and Landry.
Jalen Hurts

, QB PHI

Here's another surprising one. After the Eagles added receiver A.J. Brown on a draft-night trade, the dynasty ADP of quarterback Jalen Hurts actually dropped a few spots. Other than the lingering concerns about being replaced, there are no reasons for Hurts to lose value. Like others before him, that was corrected this month as Hurts moved up a full round to an ADP of 91 overall, making him the QB7. That positional rank is tied for Hurts' highest mark of his career. With votes of confidence from both the front office and coaching staff, 2022 is Hurts' chance to cement himself among the elite dynasty quarterbacks in the game.

Fallers
Michael Thomas

, WR NO

Few players in NFL history had a better start to their respective careers than Saints receiver Michael Thomas. Through his first four seasons, Thomas totaled 470 receptions for 5,512 yards and 32 touchdowns. Thomas was a dominant force and was widely considered the most valuable wide receiver in the dynasty game. Then came a serious and lingering ankle injury that cost Thomas the entire 2021 season and that came after missing nine games the previous season. At 29 years old and sorely missing future Hall of Famer Drew Brees, Thomas enters a pivotal season. The problem is there are already concerns about his availability in 2022 as well. Saints head coach Dennis Allen has referenced "a few hurdles" when asked about Thomas' return to the field and the receiver was not able to participate in the team's recent mini-camp. Dynasty managers have had enough. In June, Thomas' ADP plummeted to 85 overall and WR45, each marking new lows for the star.

Using the ADP Over Time tool on Dynasty League Football, we see the full history of Thomas's ADP, including this new value floor.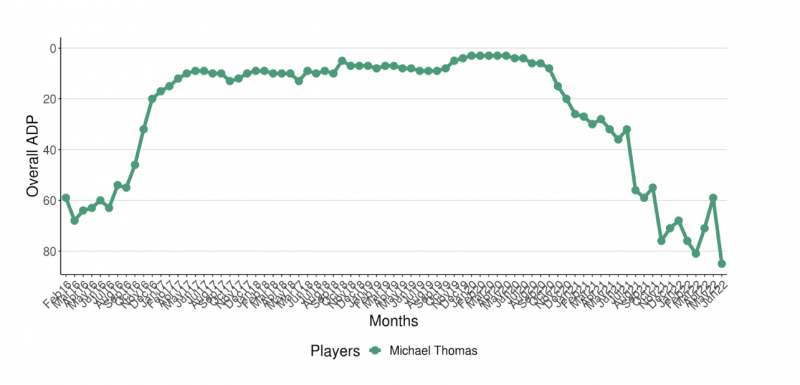 Dak Prescott

, QB DAL

As I've already mentioned, sometimes the ebbs and flows of player value simply don't make sense. Here's one of those cases. Since May, Dak Prescott's dynasty ADP dropped from 77 to 93, which is tied for the quarterback's lowest ADP since late in the 2019 season. That means Prescott's value wasn't even this low after he suffered a season-ending broken ankle during the 2020 season. To be fair, there are some slight concerns about the Dallas offense following the loss of Amari Cooper and the ACL injury to Michael Gallup. While Prescott won't have the same level of weapons as in past years, there is no reason to panic, which the new ADP suggests is happening.
Allen Robinson

, WR LAR

Last month, new Rams wide receiver Allen Robinson was among the top risers, moving from 81 overall all the way up to 60. Now, Robinson is back down to 75 overall and the WR39. This is likely just an example of overcorrection but Robinson is a steal at his current ADP. Robinson is finally set to play with a top quarterback for the first time in his nine-year career. Robinson is also expected to be used heavily in the red zone, which is good news after he scored just one touchdown last season.
DeAndre Hopkins

, WR ARI

Early in May, it was announced that veteran receiver DeAndre Hopkins had been suspended for six games after violating the league's substance abuse policy. That caused his dynasty ADP to fall from 62 to 79, the lowest mark of his career. With another month to consider the implications of the suspension, along with Hopkins' disappointing 2021 campaign, the free fall continued. The Cardinals' star receiver's ADP dropped again, this time all the way to 94 overall and WR48. That's a 32-spot drop in just two months, a number that Hopkins will have trouble making up, even with a strong return following his suspension.