Post-Draft Dynasty Rookie Profile: Drake London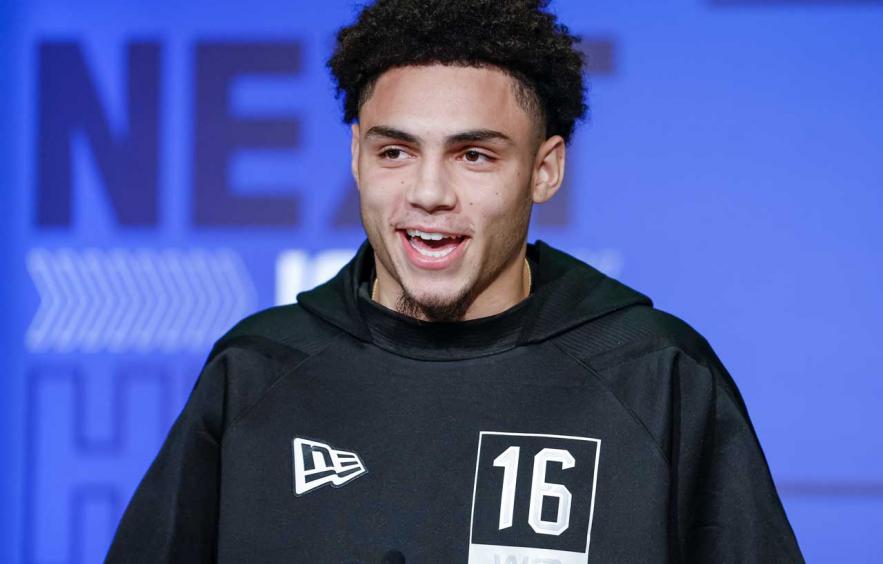 Michael Hickey/Getty Images
This article is written by Rob Willette and can also be found on Dynasty League Football, along with a plethora of other actionable dynasty content.
Name: Drake London
Position: Wide Receiver
Pro Team: Atlanta Falcons
College Team: University of Southern California
Draft Status: Round One, Eighth overall
---
More Dynasty Content: 9 Dynasty Players To Target After The NFL Draft | 9 Dynasty Winners & Losers from the NFL Draft | Dynasty 1QB Rookie Mock Draft | The Dynasty Aftermath (DLF) | 8 Dynasty Sleepers to Supercharge Your Team | 8 Dynasty Risers & Fallers (May) |
---
Video Highlights
There are a lot of excellent resources on London's DLF player page when it comes to video. Here are some highlights too:
Combine/Pro Day Review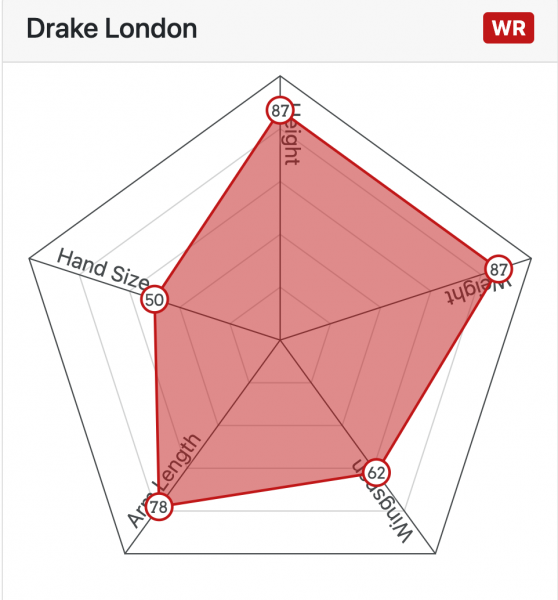 Strengths
Size
Strong Hands
RAC ability
Power forward skills at the catch point
Competitiveness
Incredible production
Basketball background
Weaknesses
Mediocre burst
Physicality leads to him taking heavy hits
Can get moved off his spot by physical press corners
Lack of thorough testing numbers
Opportunities
The Atlanta Falcons had rare freedom in the 2022 NFL Draft: they could consider most positions and it would be deemed a position of need. Prior to the draft, the Falcons had arguably (indisputably?) the league's worst depth chart at wide receiver. Following the suspension of Calvin Ridley and the departure of Russell Gage in free agency, their receiver room lacked the depth and talent of many at the college level.
London saunters onto this roster as the clear favorite to lead receivers in targets in 2022. We don't have a feel for Marcus Mariota after several years as a backup, but the big negative on Mariota has always been his unwillingness to let loose and take chances. This may cap London's upside to a degree, but he is extremely dangerous in the intermediate game thanks to his play strength and ability to create yards in the open field. London is the rare rookie receiver who could assert himself as a viable redraft play.
Threats
While I feel the Falcons have done an acceptable job building receiver behind London depth without using premium resources, we are not worried about Auden Tate or Bryan Edwards hindering any sort of breakout party. This offense will funnel through London and Kyle Pitts, and while we do not expect it to be a high-octane passing offense with Mariota under center, the lack of talent on defense could lead to this being a pass-heavy team. London has every opportunity to earn a heavy target share as a rookie and profiles as this team's number one receiver for years to come.
Short-Term Expectations
We have been spoiled by rookie receivers the past several seasons. Justin Jefferson and Ja'Marr Chase re-wrote the record books and we have seen more and more first-year pass-catchers earn a significant role on their team. This has put the notion of receivers taking longer to develop into question.
This can be looked at in two ways. It is possible we're seeing more high-end, NFL-ready receivers enter the NFL ranks than ever before. It is also possibly a glitch in The Matrix, an anomaly that will prove an outlier over the long term. I tend to lean towards the former; we are seeing incredible talents being developed at the position, spearheaded by the need to produce talent at what is now arguably a premium position.
All this is to say I feel London can transition smoothly. His game is one that should allow him to produce out of the gate. If the foot injury suffered in late 2021 is fully healed, London should challenge to be 2022's most productive rookie receiver.
Long-Term Expectations
We have big questions about the long-term quarterback situation in Atlanta. Marcus Mariota is merely a Band-Aid. Desmond Ridder has intrigue as a developmental prospect, but the reality is he is a third-round prospect who will not prevent the Falcons from returning to the quarterback market in 2023.
The good news for London is he was dubbed the best receiver by the Falcons in a draft with depth at the position. He is the long-term number one. We should expect London to be a mainstay on dynasty rosters for years to come. Should Atlanta resolve its quarterback issues – and it is not a reach to think they could be picking very highly in 2023 – London has dynasty cornerstone type of upside.
NFL Player Comparison
While Mike Evans often gets bandied around due to London's size, I liken him more to former receiver Brandon Marshall. Marshall was a big-bodied receiver who was strong in tight spaces and a menace after the catch. A career even approaching the one Marshall had would be a fantastic outcome for London.
Projected Rookie Draft Range
Even as a top-ten pick, London is still fairly polarizing. Many are lukewarm on his prospects and don't even see him as a top-five receiver in this class, let alone a top-five rookie pick. Yet DLF rookie mocks show him as one of draft's biggest assets, with an ADP of 1.02. When forced to speak with their actions, fantasy managers are treating London like an elite prospect. You'll need to pick early if you want to nab him.