Underdog Battle Royale Picks: Week 7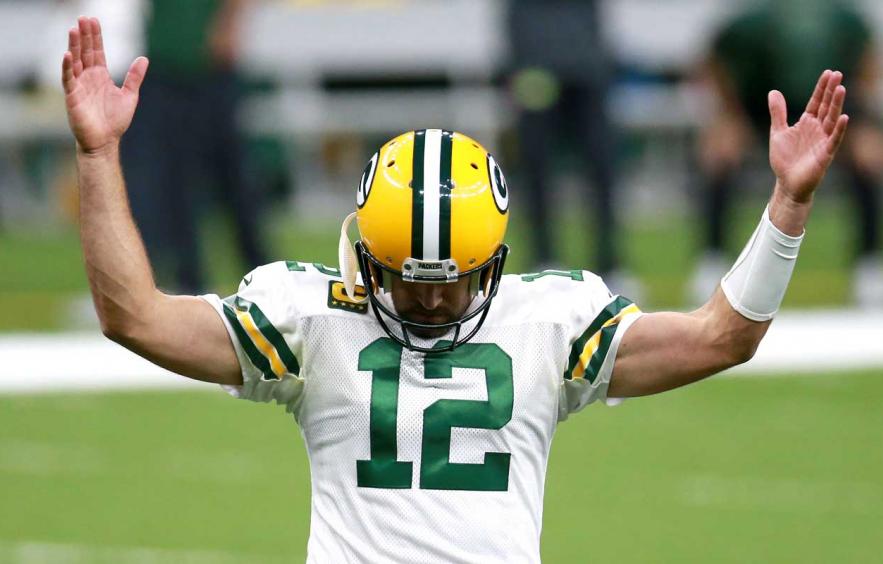 Sean Gardner/Getty Images
If you thought the first round of byes that Week 6 had to offer was bad, then you are in for a doozy this Week 7. If you're one of the many well-adjusted human beings hanging out on fantasy football Twitter, then I would imagine by mid-Sunday afternoon you could log on to find half of the space on tilt over the fact that their roster Duct taped together by Chris Moore and Le'Veon Bell fell flat on its face.
Hopefully, it isn't quite that bad, but it's not pretty.
Week 7 leaves us without six teams on the slate. The Bills, Cowboys, Chargers, Jaguars, Vikings and Steelers are all off. This means that four of the top-12 QBs in fantasy points per game are out, And Seahawks quarterback Russell Wilson will miss his second consecutive game, which technically leaves us without five top-12 QBs as Wilson is the current QB12 in points per game with 19.7.
Last weekend's winner of the $12,000 grand prize navigated the Week 6 byes with a Cardinals mini-stack that featured Kyler Murray and DeAndre Hopkins against the Browns, and solidified their roster with Jonathan Taylor against the Texans. They also had Cooper Kupp and CeeDee Lamb who combined for 61.1 points, and Noah Fant had his best game of the season with 20.2 fantasy points. They finished with 154.36 points in total.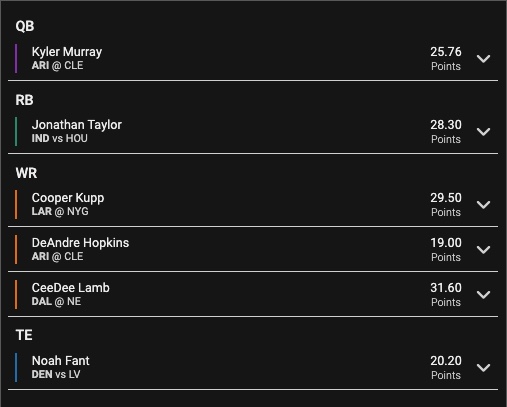 This weekend's tournament features 11 games on the slate. So let's navigate this tough stretch of games, and see what we can do, and who we should look to in hopes of coming out on top.
Week 7 Spread and Over/Under
Los Angeles Rams (-16) vs. Detroit - O/U 50
Green Bay (-10) vs. Washington - O/U 49
Las Vegas (-3) vs. Philadelphia - O/U 48.5
Miami (-1) vs. Atlanta - O/U 47.5
Tampa Bay (-13) vs. Chicago - O/U 47
Arizona (-17) vs. Houston - O/U 47
Baltimore (-6.5) vs. Cincinnati - O/U 46.5
San Francisco (-4) vs. Indianapolis - O/U 44
Quarterback
Aaron Rodgers

, Green Bay

Packers

Given the number of top quarterbacks who are down this week, it feels like a good week to be early on quarterback in your drafts. Patrick Mahomes, Lamar Jackson and Kyler Murray all look like solid starts against underwhelming defenses in games that have nice totals.

However, if you wanted to fade quarterback a bit later, and still land on an elite option, then you might consider Packers quarterback Aaron Rodgers.

Rodgers is the current QB15 in fantasy points per game at 19.0 but faces a Washington defense that has allowed the most fantasy points per game to opposing quarterbacks over the last five weeks. Over that span, only one quarterback didn't throw for over 30 fantasy points (Patrick Mahomes 22.95 in Week 6).

On the year, Rodgers is averaging two touchdown passes per game and is attempting 31 passes per game.

Our rankings project Rodgers as the overall QB7 on the week with 19.9 points. Underdog projects him as a QB7 as well, but with 21.5 points. In a format where only six quarterbacks are taken, Rodgers could land at or near the end of your drafts.
Tua Tagovailoa

, Miami

Dolphins

The Dolphins vs. Falcons matchup has one of the higher projected totals on the slate, and Tua would be a very contrarian play should you opt to get weird in Week 7. If there were ever a week to get weird, this is definitely the one to do it in.

In his return from injury last week against the Jaguars, Tua went for 22.36 fantasy points thanks in part to his 329 passing yards and two touchdowns on 47 attempts. For a game that was competitive throughout and only featured 43 combined points, Tua throwing the ball 47 times feels a bit unexpected.

The sophomore is averaging 12.69 points this season, but that factors in Week 2 against Buffalo in which he exited injured after attempting only four passes. If you remove the Buffalo week, Tua is averaging 18.8 points per game. Derek Carr is currently the QB13 on points per game with 18.8.

This game could turn into a shootout, as both the Dolphins and the Falcons are two of the worst teams in the league at defending against the pass.

Running Backs
Darrell Henderson

, Los Angeles

Rams

Truthfully, there's no running back on this slate, or any slate in the future, more valuable than Derrick Henry. Even in a game against the Chiefs that could feature a negative game script, the Titans appear fully committed to winning the game with Henry come hell or high water.

With that being said, of the running backs on the slate not named Derrick Henry, Rams running back Darrell Henderson appears to get a particularly strong matchup this week against the Lions.

On the year, Henderson is the overall RB7 in points per game (17.0) and gets the easiest matchup on the slate according to our half-PPR running back rankings.

Over his last three games, Henderson is averaging 18.1 points and has found the end zone in each of the last two games. He scored once on the ground and once through the air last week against the Giants.

Henderson is seeing work in both the running in the passing game, averaging 16.2 carries and 74.4 rushing yards per game to go with 2.4 receptions and 23.8 receiving yards per game. He's averaging one touchdown per game as well.
Cordarrelle Patterson

, Atlanta

Falcons

Aside from the more obvious top running back choices, the Atlanta Falcons have returned from their bye which means we can get back to enjoying Cordarrelle Patterson SZN.

Patterson has emerged in an unexpected way for the Falcons and fantasy managers this season, averaging 17.9 fantasy points per game (RB3). He is averaging 14.4 opportunities/gm, which includes a weekly average of 6.2 targets, five receptions and 59 receiving yards.

Between fellow backfield battery mates Mike Davis and Wayne Gallman, Patterson has looked like the only one worth trusting with a heavy workload. Our rankings project Patterson as the RB6 on the week with 16.5 points.
Wide Receivers
Calvin Ridley

, Atlanta

Falcons

Through the first five games of the season, Calvin Ridley has not at all been what drafters hoped for when they were taking him in the late-first/early-second round of drafts. While the volume has been there for Ridley (10.5 targets/gm), the fantasy points simply haven't. Heading into Week 7, Ridley is the WR29 at 11.3 fantasy points per game and has only found the end zone once this season.

That could change this weekend against the Dolphins, who are allowing the most receiving yards per game to opposing wide receivers (15.6) and 1.4 touchdowns per game to wide receivers.

We already mentioned that this game could set up to be one that features more points than expected.

Our rankings project Ridley as the overall WR12 on the week (12.2 points), but his ceiling could be as high as the overall WR1 if the volume sticks and he pieces everything else together against Miami.
Marquise Brown

, Baltimore

Ravens

Throughout his career, Marquise Brown has lit up the Cincinnati Bengals. He's scored in each of the three games he has played against them and had a two-touchdown performance in Week 17 of last season.

In half-PPR scoring, Brown is averaging 17.1 points per game in his career against Cincinnati and is the WR8 in points per game this season with 15.9.

The Ravens have found new life in their passing attack on the season. Lamar Jackson is averaging the 10th most passing yards per game (281.0) among quarterbacks, despite being the QB22 in pass attempts per game (32.3).

The Bengals are only allowing 240.5 passing yards per game, but have gone up against some truly underwhelming offenses in Chicago, Pittsburgh, Jacksonville and Detroit.

Our rankings project Brown as the overall WR14 on the week at 12.0 points, but Brown has given us enough big games on the season to know we shouldn't sleep on him this year. Especially against teams he has thrived against.
Tight Ends
Zach Ertz

, Arizona

Cardinals

The Cardinals went out and acquired Zach Ertz from the Eagles last week in hopes of fixing up a tight end corps that was never particularly strong, and then was decimated with the season-ending loss to Maxx Williams. It was a disappointing end to Williams' season after the seven-year veteran was lost to a knee injury despite a strong start of 16/193/1 to the season.

Now the Cardinals will look to user Ertz into the fold for the remainder of the season.

Ertz has had a solid few games for the Eagles over the last four weeks. He's averaged 6.8 targets per game in that time frame, 37.3 yards and found the end zone twice. He hasn't been explosive, but he would still be a tight end I would be willing to rely on in a good offense, and the Cardinals have been an offensive powerhouse this season.

Heading into his Cardinals debut, Ertz gets a matchup with the Houston Texans, who have allowed numerous productive days to opposing tight ends so far. The Texans are also allowing the ninth-most receiving yards to tight ends per game at (60.8).

The top-tier tight ends are always my preferred picks in this format. But if you were to get off them in your draft, I like Ertz in his Cardinals debut.
Dallas Goedert

, Philadelphia

Eagles

The departure of Zach Ertz to Arizona has created what we hope will be a massive boost to Dallas Goedert's upside through the remainder of the season.

Even with Ertz lurking, Goedert still sits as the TE15 in total fantasy points (41.1) and the TE13 in fantasy points per game (8.2).

Goedert has performed well for fantasy purposes despite his limited volume. He is averaging only 3.8 targets per game and three receptions per game, but Goedert has also looked explosive, averaging 14.4 yards per reception on the year.

With Ertz no longer in the way, a target boon should be on the way for Goedert, which could give him as much as top-5 upside the rest of the way. We'll get to see what that upside looks like in Week 7 against the Raiders (assuming Goedert is removed from the COVID-19 list), as the Raiders are allowing a league-high 7.6 receptions per game to opposing tight ends over the past five weeks, and 77.4 receiving yards per game.