Underdog Battle Royale Picks: Week 5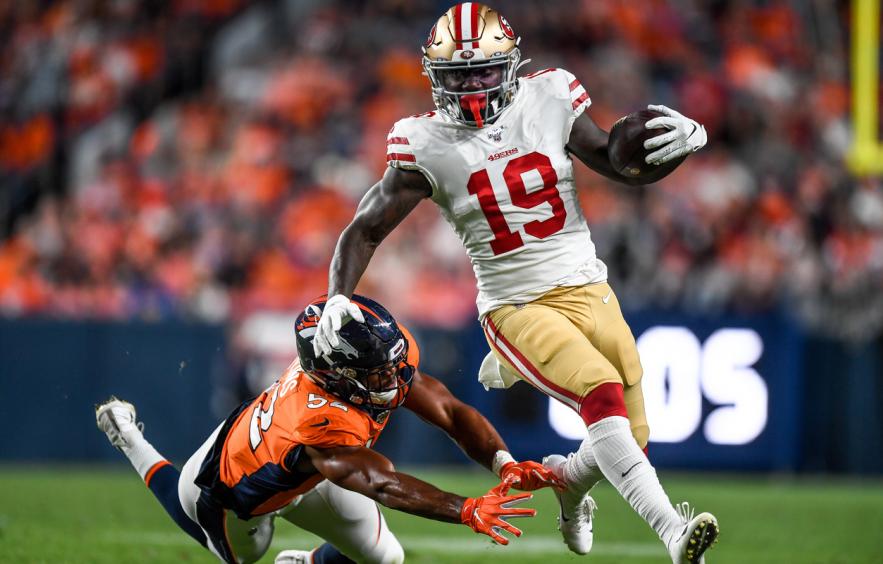 Dustin Bradford/Getty Images
Prior to last week's slate of games, we briefly touched on the idea of stacking players on the same team, or within the same game as a viable option to enhancing your lineups in these Underdog Fantasy Battle Royale Tournaments.
Chances are if you went out of your way to do this for Week 4, you likely enjoyed some success, assuming the rest of your lineup was built out nicely as well.
The combination of Patrick Mahomes and Tyreek Hill in Week 4 against the Eagles was an absurdly lethal one, as Mahomes (32.72 points) and Hill (42.1 points) combined to give you 74.82 points alone. If you've played these Battle Royale Tournaments, you know that getting 74 fantasy points out of your team can at times feel like a difficult task given the six-man rosters that you are constructing.
Another completely galaxy-brained stack would have been Matt Ryan and Cordarrelle Patterson, which returned a combined 61.1 points thanks in part to Patterson's 32.1 point performance and Ryan's 29.0 point performance against the Football Team. Of course, the catch with Patterson is that stacking him with Ryan would be a QB/RB stack, whereas most drafters are looking to stack their QB with a receiver or tight end, but Patterson is unique in that most of his success this season has come through the air and not on the ground.
Week 5 offers us a chance to stack a few games that have tremendous potential for fantasy points. Two games that stand out to me, in particular, are in Kansas City vs. Buffalo and then Arizona vs. San Francisco, assuming we get Trey Lance at QB this week.
There are several high-powered offenses and players to be had in this slate of games,
Week 5 Spread and Over/Under
Kansas City (-3) vs. Buffalo - O/U 56.5
Dallas (-7.5) vs. New York Giants - O/U 52
Cincinnati (+3) vs. Green Bay - O/U 50.5
Arizona (-4.5) vs. San Francisco - O/U 50.5
Minnesota (-8) vs. Detroit - O/U 49
Jacksonville (+3.5) vs. Tennessee - O/U 48
Tampa Bay (-10.5) vs. Miami - O/U 47.5
Los Angeles Chargers (-1.5) vs. Cleveland - O/U 46.5
Baltimore (-7) vs. Indianapolis - O/U 46
Quarterback
Trey Lance

, San Francisco

49ers

Until we get more clarity on the Jimmy Garoppolo situation, I would expect drafters early in the week to be a bit timid on drafting rookie quarterback Trey Lance, and understandably so. However, this could also be a good chance to get some more unique lineups in early, as opposed to later, where drafters may be more bullish on Lance if he is officially named the starter for Week 5 at Arizona.

Of course, the risk with this is that those early lineups become useless if Garoppolo is named the starter, but fortune does favor the bold.

Lance was solid in relief of Garoppolo on Sunday against the Seahawks. From a real-life football perspective, he wasn't great. Lance went 9-for-18 as a passer for 157 yards and two touchdowns, with 76 of his passing yards being amassed on a single touchdown pass to Deebo Samuel. Lance added an additional 41 rushing yards to finish the day with 20.38 fantasy points (QB13), which was a rather impressive fantasy point total given that Lance only played the second half of this game.

Assuming he is named the starter, Lance could be in for a big day against the 4-0 Cardinals, in a game that could feature a total well above its 50.5 projection.

Our rankings have Lance projected for 18.7 points (QB14), but I think there could be a bigger day in store for the dynamic dual-threat QB.
Patrick Mahomes

, Kansas City

Chiefs

or

Josh Allen

, Buffalo

Bills

I'm cheating slightly on this one, picking both Patrick Mahomes and Josh Allen here, but the logic here is simple. In a game projected to be the highest-scoring game on the weekend, that features two of the most dynamic quarterbacks in the league, why not go out of your way to get one for this weekend's tournament?

The available stacks are also great. As previously mentioned, Mahomes and Tyreek Hill were virtual league-winners for you in Week 4, which came at the expense of Travis Kelce (4.3 points), but even that is a fine stack in more weeks than not.

Stacking Allen with Stefon Diggs may be a more affordable option, as Diggs has yet to give us more than 14.9 points in any of his first four games, and is currently projected on Underdog for 15.2 points.

Our projections have Allen and Mahomes as the second and third-highest scoring QBs on this weekend's slate, with 22.8 and 22.7 projected points, respectively. Hill is projected as the overall WR2 with 18.5 points but has the second most difficult matchup on the weekend. While Diggs is projected as the overall WR6 with 14.2 points but has the third easiest matchup on the slate.

It could be a bit of a balancing act trying to build lineups that feature stacks from both teams, then of course you should also bear in mind running back your team stacks with in-game correlations. Maybe something like Mahomes/Hill with Zack Moss isn't as crazy as it sounds.

Running Back
Aaron Jones

, Green Bay

Packers

The Packers and Aaron Jones get what should be a rather generous matchup on the road against the Cincinnati Bengals.

While the Bengals' defense has been much improved compared to 2020, allowing only 323.0 yards per game, they have not faced an offense like the Packers, with arguably their most difficult matchup coming in Week 1 when they faced the Vikings. In that game, Kirk Cousins threw for 351 yards and two touchdowns, while Dalvin Cook amassed 104 yards from scrimmage and a touchdown, good for 19.4 fantasy points on the day.

Now the Bengals get a matchup with Aaron Rodgers and the Packers, along with Jones, who currently leads all running backs in red zone opportunities (21) through the first four weeks.

Jones has been a viable fantasy asset this season, rushing for 206 yards and two scores, while adding to that a receiving line of 13/126/3. He currently ranks as the RB4 with 16.9 points per game and has the 13th easiest matchup for running backs according to our rankings. We have him projected for 17.2 points (RB3).
Derrick Henry

, Tennessee

Titans

Why not go with the Big Dog in this one?

The Titans are coming off a 27-24 loss to the New York Jets, in a game where their backfield combined for 48 opportunities due to wide receivers AJ Brown and Julio Jones being sidelined with injuries.

Derrick Henry posted a rushing line of 33/157/1 on the week, finishing with 24.7 fantasy points, and now has a chance to maul through a Jaguars defense that is surrendering 106.3 rushing yards per game and allowing 1.5 rushing touchdowns per game.

In his last four games against the Jaguars, Henry is averaging 21.75 carries for 125.5 yards and 1.25 rushing touchdowns. In Week 14 of the 2020 season, Henry posted 35.2 fantasy points against the Jaguars while rushing for 215 yards and two touchdowns.

Fantasy football doesn't have to be hard. If Henry is on the board for your first pick this week, you take him.
Wide Receiver
Ja'Marr Chase

, Cincinnati

Bengals

Going back to the Cincinnati and Green Bay well for a moment, running back things back with multiple players from this game could wind up paying huge dividends.

Rookie wide receiver Ja'Marr Chase has lived up to his pre-draft billing after getting over a bad case of the drops this offseason.

Chase has come to post a receiving line of 17/297/4 through the first four games of the season, and is the overall WR10 with 15.5 fantasy points per game.

Defensively, the Packers have been limiting opposing offenses to just 209.5 passing yards per game, but are allowing 2.5 passing touchdowns per game, which is tied for the second-most passing touchdowns allowed on a per-game basis. The Bengals currently sit as three-point home underdogs in this one as well and could be without running back Joe Mixon.

Should Joe Burrow be forced into throwing 40 to 50 times in this one, Chase could be on the receiving end of a big fantasy day. Our rankings project Chase as WR12 on the week with 13.9 points.
Deebo Samuel

, San Francisco

49ers

What Deebo Samuel has done at the start of the 2021 season has been completely unprecedented.

The third-year wide receiver has already racked up 28 receptions for 490 yards and three touchdowns and is on pace for a receiving line of 119 receptions for 2,083 yards and 13 touchdowns.

Those numbers will likely all come down a bit, but all that to say, Samuel has been a beast out the gate.

Having already mentioned how much I like this game, especially if Trey Lance gets the nod to start, the Cardinals defense is allowing 357.3 yards per game and surrendered five combined touchdown passes to Matthew Stafford and Kirk Cousins. The Jaguars and Titans combined for only one touchdown pass against the Cardinals, but I hold this 49ers' offense in higher regards than what's been coming out of the AFC South thus far.

Our rankings project Samuel as the overall WR9 on the week with 14.1 points.
Tight End
Dalton Schultz

, Dallas

Cowboys

All offseason, the public incorrectly faded Dalton Schultz in drafts for Blake Jarwin. Largely due to poor narrative.

Schultz, who was fresh of a 2020 season in which he went for 63/615/4, was thought to be in danger of losing snaps to Jarwin, who was returning from injury, in large because Jarwin was the starter last season prior to getting injured.

Through the first four weeks of the season, that narrative appears to be all but dead, as Schultz leads Jarwin in every receiving category, and has also out-snapped him 202 to 152.

Heading into Week 5 against the Giants, our rankings project Schultz as the overall TE9 with 8.5 points. On the year, he is currently the overall TE4 at 12.0 points per game. He appeared to have truly separated himself from Jarwin last week against the Panthers when he converted 6-of-8 targets into 58 yards and one touchdown (14.8 points, TE6).
Dawson Knox

, Buffalo

Bills

If you're looking to get in on the Chiefs vs. Bills action but want to pivot off the big names like Hill, Diggs and Kelce, Dawson Knox could be just the interesting pivot you are looking for.

Knox has had a quietly strong fantasy season thus far, having hauled in 15 passes for 144 yards and four touchdowns, scoring at least once in each of the Bills' last three games.

As it stands right now, Knox is averaging five targets per game but posted a receiving line of 5/37/2 on a season-high eight targets last week against the Texans.

Our rankings project Knox for 9.0 fantasy points (TE7), and rate him as having the 12th easiest matchup for tight ends this weekend against the Chiefs. On a per-game basis, Kansas City is allowing 6.6 receptions for 87.4 yards and 0.4 touchdowns to opposing tight ends this season.