DFS Core Four and Value Stacks: Week 11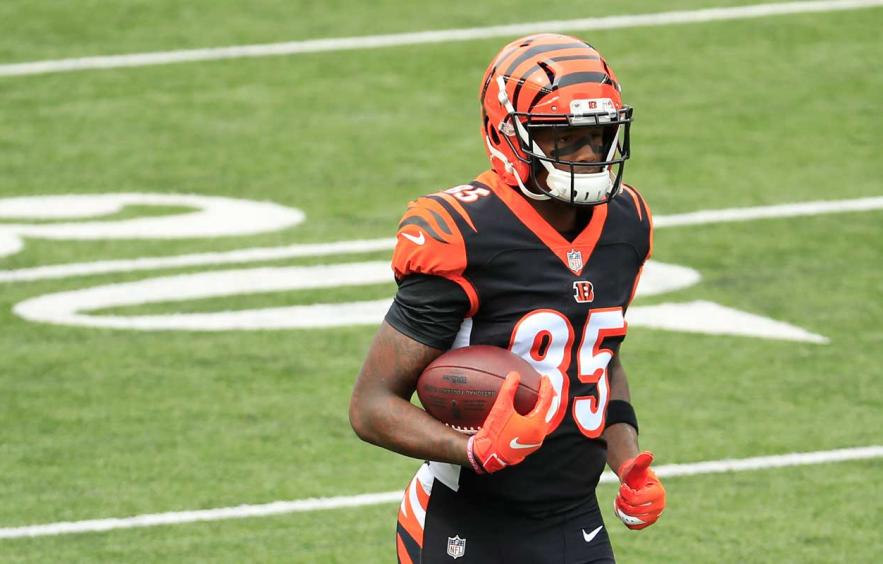 Andy Lyons/Getty Images
This Week 11 NFL DFS article consists of two parts, the "Core Four" and value stacks. The Core Four are my four favorite plays on the main slate for any game format, regardless of price or projected percent rostered. All four will almost assuredly be in my cash lineup and be an integral part of my GPP core plays (though they probably won't all be in the same GPP lineup).
For the value stacks, I'll be using 4for4's Stack Value Reports to find stacks that can take down a tournament. I like building contrarian stacks around my chalkier core of players because you only have to get one instance correct for it to hit. Though there may be a chalkier player or two within the value stack, I will usually add a piece from the game that makes the stack a bit contrarian.
For example, if we hit on a contrarian quarterback play while having a pass-catcher or two from that same game, the positive correlation of those stacks is technically getting one contrarian play correct despite filling multiple roster slots. I feel this is easier than having a chalkier stack while trying to hit multiple individual low-rostered plays throughout the rest of your lineup. Keep in mind that these are contrarian stacks, so you don't have to use these stacks in a large percentage of lineups to be overweight on the field. They should be used in tandem with a chalkier core of players.
For up-to-the-minute and Sunday morning updates, be sure to join the 4for4 DFS subscription-only Discord channel.
Core Four Plays
RB
A.J. Dillon

($7,000 FD/$6,300 DK)

We see this often when a starter is ruled out for a team that has viable backup. The backup becomes an even more appealing option than the starter because he assumes the starter's role, but often sees greater usage because the third-string back isn't counted on as much as the original backup. Therefore the RB2 steps into an even bigger RB1 role. That is what we should see from Dillon when he takes the field against the middle of the pack Vikings run defense. Dillon normally plays between 25% and 40% of snaps when Aaron Jones is healthy. In those games, he's averaged 10 PPR fantasy points per game on limited touches. I'm expecting him to handle nearly all the backfield touches in this game. He's not near minimum price like we got with Mark Ingram and D'ernest Johnson last week, but he's still a cash game lock given his increased usage this week.
RB
Mark Ingram

($6,800 FD/$5,400 DK)

Hopefully, you checked back on Sunday morning for the edits made to the Core Four as Mark Ingram and Jonathan Taylor were added when late news broke. Ingram again looks like he'll take the reigns of the Saints backfield. This time it may even be without Taysom Hill sticking his nose in also. Either way, if Kamara is ruled out Ingram will most definitely be in my cash lineup. More so than his work in the rushing game, which is adequate, he is being used heavily in the passing game. The Eagles are more beatable on the ground than they are through the air. Their pass rush can be menacing at times, so I'm expecting the Saints to run the ball and use the short passing game to alleviate the pressure. Get Ingram in if it is his backfield on Sunday.
TE
Cole Kmet

($5,100 FD/$3,400 DK)

Kmet's chemistry with Justin Fields has grown over the last month. Kmet is tied for the team lead in target share at 23% since Week 7. He's a bit cheaper than all of the other tight ends that have similar workloads like Dan Arnold and Pat Freiermuth. If you think of some of the memorable tight end performances in the league this year, many have come at the hands of the Ravens. C.J. Uzomah, Darren Waller, Travis Kelce, and Noah Fant all had smash performances against these safeties and linebackers. Of course, there is the goose egg Mike Gesicki put up last week, but that was more of a product of quarterback play. Gesicki got open and was fed targets—it was probably an aberration he caught 0-of-7 passes thrown his way in that game. Kmet looks like a great cash game salary saver so you can stack up studs at other positions.
WR
Tee Higgins

($6,500 FD/$5,300 DK)

Higgins usage is otherworldly, he just hasn't had that breakthrough performance yet. The good thing is his price hasn't increased very much either. On the season he owns a 25% target share and 33% air yards share, but over the last three games, that number has bumped to a 41% air yards share which leads the team. Through those three weeks Higgins had solid fantasy outputs, but nothing spectacular due to the lack of touchdowns. According to the Air Yards App, he had an expected TD rate of .57 per game in that stretch, yet didn't score. If he sees anywhere close to that same usage again this week, which I expect he will, the odds are in his favor to score. Additionally, I like this Bengals/Raiders tilt to have a good amount of points, so there should be plenty of opportunities for Higgins to finally convert on his opportunities.
Value Stacks to Target
QB
Kirk Cousins

,

Vikings

($7,400 FD/$6,100DK)

WR

Justin Jefferson

,

Vikings

($7,900 FD/$8,100 DK)

TE

Tyler Conklin

,

Vikings

($5,500 FD/$3,900DK)

WR

Davante Adams

,

Packers

($8,400 FD/$8,400 DK)

The Packers defense has played well defensively through 10 weeks, however, Kirk Cousins has had some solid games against good defensive teams—in fact, his best game came against a better than advertised Panthers' defense. As John Paulsen points out in his Week 11 Sneaky Starts article, Cousins has performed markedly better at home this year. TJ Hernandez has also pointed out that tournament-winning quarterbacks have not been heavily skewed towards mobile signal-callers. Cousins has a great chance to hit the 300-yard bonus this week if the Packers' offense can also get going.

Justin Jefferson and Tyler Conklin make the most sense to stack for a few reasons. Dalvin Cook will most likely be heavily rostered, so this provides some leverage off of him. Additionally, Conklin has been an end zone maven, picking up right where prime Kyle Rudolph left off. Cousins needs touchdowns if he's going to hit the optimal lineup in a stack because he's not rushing for 100 yards like Lamar. Of course, this ignores Adam Thielen, but he eats up too much salary in this stack. Jefferson sees more tournament-winning targets as he has 40% of the air yards and an average depth of target of 11.6 on the season.

Adams continues to have an insane market share of air yards (43%) and targets (35%) in this Green Bay offense. He, too, is leverage off a super popular A.J. Dillon this week. The Vikings have been slaughtered by wide receivers and Adams is the only bring-back that feels correct in this instance. If Cousins, Jefferson, and Conklin explode, Adams will undoubtedly get there if the Packers need to keep pace.
QB
Tua Tagovailoa

,

Dolphins

($7,000 FD/$5,500 DK)

WR

Jaylen Waddle

,

Dolphins

($6,700 FD/$5,600 DK)

TE

Mike Gesicki

,

Dolphins

($6,300 FD/$5,200 DK)

The Dolphins' offense remains underpriced for the damage they are capable of in any given week. Sure they are volatile, and the range of outcomes of this squad is wide, but this week sets up well for them. Tua has faced two beatable defenses and four stingy defenses. He's capitalized on his opportunities against the two beatable defenses, scoring 25 and 29 DraftKings points against the Jaguars and Falcons, respectively. The matchup this week with the Jets projects to be more similar to those games than his struggles against the Ravens, Patriots and Bills. Of course, there is concern over him not being fully healed from his rib injury, but he looked decent last week in emergency duty. If he was truly injured, I don' think Flores would have him out on the field at all.

Waddle and Gesicki account for half of the Dolphins' air yards and 44% of the targets since Devante Parker's injury. They are the clear top two targets going forward. I think there is some leverage in this stack because many are talking up Myles Gaskin while neglecting Gesicki. Gesicki couldn't reel in any of his seven targets last week, but that is as fluky as it gets. The Jets rate out 22nd in schedule-adjusted points allowed to wide receivers and 20th to tight ends. The matchup is one I've been targeting a lot this season. The good news about Waddle is his average target depth has increased to nearly 12 yards with the absence of Parker, up from his yearly average of seven yards.

You could add a Corey Davis or Elijah Moore type bring-back to this stack, however, the Jets are stack killers on many slates. With Joe Flacco under center, I could see this game not requiring a pass-catcher from the Jets on the other side.