Bestball10s Win Rates: Wide Receivers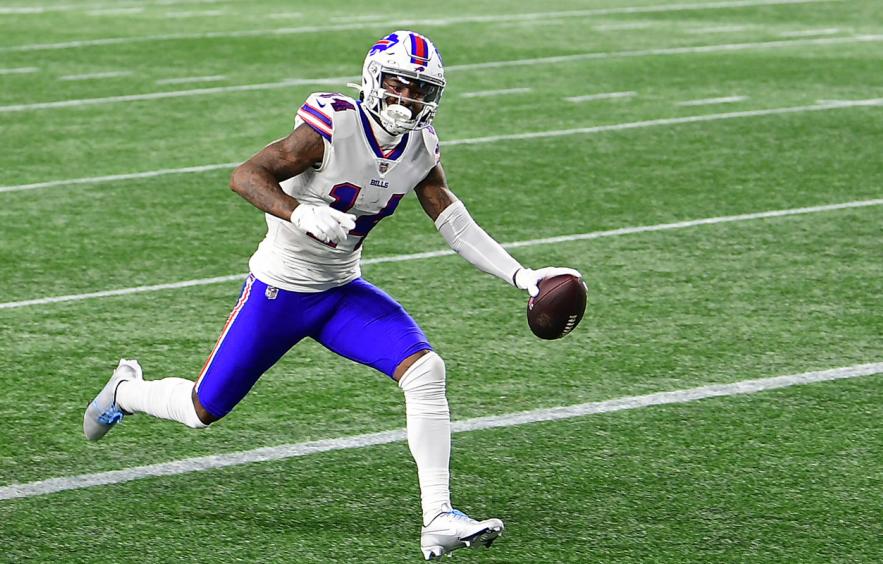 Billie Weiss/Getty Images
Next up in my Bestball10s win-rate series is the deepest of positions, the wideout. This piece will delve into the 12 wide receivers with the highest win rates on the site in 2020, pointing out any patterns and trends that may be useful when drafting the position this season.
Bestball10s are full-PPR scoring, with three required WRs every week, plus a flex spot. I covered roster construction for BB10s a few weeks ago which goes into detail on the various strategies and techniques for building the strongest team in 2021.
---
Read about more BB10 Win Rates: QB | RB | TE
---
Highest WR Win Rates
Good news for the Robust WR/Zero RB crowd, as half of the wideouts with the highest win rates were selected within the first five rounds of BB10s drafts in 2020.
It's also no surprise to see that high target volume had a sticky correlation to winners last season. Of those WRs in the top 12 in win rate percentage, seven were among the 10 wideouts with the most targets, and one more, Justin Jefferson, ended within the top 20 in total targets. The outliers as far as volume went were Brandon Aiyuk (WR38), Adam Thielen (WR28), Corey Davis (WR42) and Curtis Samuel (WR37), who all but Thielen were taken after Round 12.
Early-Round Review
The following section will examine the WRs drafted within the first six rounds who ended up on the highest percentage of winning BB10s teams in 2020.
Half of the winningest wideouts came from this area of the draft, with a fairly even distribution within the first five rounds. Davante Adams is the lone representative from Round 1 and is also the only other WR taken among the first 12 picks besides Michael Thomas, who only played in seven games in 2020. Adams was first in both PPR points per game (25.6) and targets per game (10.6) at his position, and there's no reason to think he won't be at the top again in 2021.
With an ADP just after the turn (2.02), Tyreek Hill was one of four wideouts drafted in the second round but the only one to make the top 12 in win rate percentage. His 21.9 PPR points per tilt were only behind Adams and bested the other three guys from Round 2 (Julio Jones, DeAndre Hopkins and Chris Godwin) by an average of 5.2 per game. Hopkins was the only one whose targets per contest average (10.0) was higher than Hill's 9.0, but the rest were all in the seven-balls-per-game range.
According to current ADP data on BB10s, Hill has moved up to the first round in 2021 to join Adams, with Stefon Diggs, Hopkins, Calvin Ridley, DK Metcalf and Justin Jefferson all leaving boards in the second. Metcalf is the only one in here that gives me pause when it comes to volume, as Seattle's run-first-and-often approach is something that's probably not going away no matter how Pete Carroll tries to spin it. Metcalf is solid if he slips, but I'd rather take one of the other WRs on more pass-heavy offenses in the second round.
The third round gave us only Allen Robinson, out of the six wideouts taken from spots 25-36 in 2020. Despite playing in another crap offense in 2020, Robinson continued to be a target monster, ending as WR3 in total balls with 151. Sadly, A-Rob was franchise-tagged this offseason so will be back in Chicago, but with Andy Dalton throwing him the ball in 2021. The 27-year old is a third-rounder again according to early ADP and should be considered a fringe WR1.
Two fourth-rounders were among the 12 WRs with the highest BB10s win rates last season. Adam Thielen wasn't exactly a volume player at WR28 in total targets, but he posted the third-most touchdowns (14) which propelled his fantasy output to WR11 in PPR points per contest. Sophomore Justin Jefferson is firmly implanted in this Vikings offense and projects as a fantasy WR1, with touchdown-dependant Thielen falling to WR2 territory in 2021.
Calvin Ridley ended last year as WR7 in both total targets and targets per contest and was the beneficiary of a down year for Julio Jones. His upward trajectory of production shall continue into 2021 and Ridley remains among the Top 10 receivers. The 26-year old's ADP has spiked to 2.07, but his output should match his hefty price tag this season.
Last but certainly not least in this tier is Stefon Diggs. Drafters were unsure of his potential in Buffalo with Josh Allen, and his ADP fell to 5.12 in BB10s. Diggs and Allen proved to be a lethal combination for the Bills, and the former Viking ended first among WRs in targets, receptions and receiving yards. It's no surprise that BB10s drafters got insane value out of Diggs' almost sixth-round ADP in 2020, but that gravy train is over, as he's currently leaving boards as the 2.02. (He's still worth it.)
Favorite 2021 Early-Round Picks: Davante Adams (1.07), Stefon Diggs (2.02), A.J. Brown(3.01), Terry McLaurin (3.11), Robert Woods (4.07)
Mid-Round Review
Here we'll look at which wideouts drafted in Rounds 7-14 made the Top 12 in win rate percentages on the Besball10s site last season.
It is worth noting that only one WR from Rounds 7-11 made this list, emphasizing the importance of drafting the position early and often since three players are part of your weekly starting scores. Many managers started out hammering five or six RBs in a row last season, but when it came to filling out their WRs slots, possibly came up empty in those next handful of rounds unless they hit on the exact right ones.
Despite leading the league in drops (10) and battling multiple injuries, Diontae Johnson still led the Steelers in targets and receiving yards. He came in as WR6 in opportunities through the air in 2020, which translated to 14.8 PPR points per game, good enough for WR22. Johnson has shot up four rounds to a current ADP of 4.10, which feels a tad high considering JuJu Smith-Schuster is back in Pittsburgh in 2021. Consider him in fantasy-WR2 territory again this year, but as more of a fifth-rounder.
Two receivers from the same team and same round came in as the 11th and 12th in highest win rate percentages in 2020. Robby Anderson morphed from a solely vertical role player to a lower yardage, win-after-the-catch guy, and he put up 1,096 yards and three touchdowns in his new home in Carolina. His teammate Curtis Samuel also had career highs in receptions and yardage and came in as WR27 in PPR points per game to Anderson's WR29. Both players are coming off draft boards much earlier so far in 2021, as Anderson's ADP sits at 6.10 with Samuel's currently 8.11.
Ryan Fitzpatrick will be throwing the ball in Washington where Samuel should be their second wideout, while Anderson is also the clear WR2 behind D.J. Moore or could be more of a 1b if they use him similarly to last season. Both men should produce solid fantasy numbers and could appear in this article again in 2021.
Our final mid-rounder was Justin Jefferson who was arguably the biggest rookie success story last season. He posted the third-most receiving yards on the 16th-most targets and outproduced 48 WRs who were selected before him in PPR points per game. You now have to pay up for the 2021 second-rounder, but his production along with the potential for a step-up in end-zone work as Thielen's last season touchdown frenzy is unsustainable, makes him worth his expensive price jump.
Favorite 2021 Mid-Round Picks: Curtis Samuel (8.11), Marvin Jones (11.08), Cole Beasley (11.11)
Late-Round Review
Below, I'll focus on the WRs whose 2020 ADPs landed in the 15 to 20 round range but still managed to finish among the top 12 wide receivers in win rate.
Brandon Aiyuk was a rookie dart throw in the 15th round in 2020, as George Kittle was the impending target leader with their QB play suspect heading into the season. Oh, and their coach loves his running backs, too. The 49ers were a triage unit last year and Aiyuk stepped up as their target leader (97) and finished the season with the most PPR points per game among San Francisco offensive players. His fantasy WR2 numbers bested many taken before him and Aiyuk ended up on 15.2% of winning BB10s rosters, which was the fourth-highest win rate at his position.
Aiyuk is set up for success again in 2021, as he and Deebo Samuel should function as a one-two punch with a healthy Kittle also out there, making it tough for defenses to cover all three players. The sophomore's ADP is currently at 5.03 in BB10s leagues.
The flock of Corey Davis truthers finally had their moment in 2020, as the 26-year old outproduced his ADP by 44 spots. He ended the season as WR32 in PPR points per tilt and was drafted as WR76 in the late 18th round. We can't forget that he disappeared at the end of 2020—zero catches in two of the last three contests—and he seems to function better as a team's WR2. He's now a member of the New York Jets and if Jamison Crowder is still there, Davis should be fine at his current 10th round price tag.
If he's perceived as having a fantasy WR1 workload and his price rises in the coming months, Davis is a fade for me and I'd rather have his teammate Denzel Mims in the mid-12th.
Last year saw a group of late-round WRs with win rate percentages that didn't crack the Top 12 but were still high enough to take note. Here's a table of those players and their respective ADPs, so that you guys have as much information heading into these BB10s drafts as I can give you.
When looking at roster construction for 2020, it showed that the positional draft rates by winners favored WRs over any other position besides defense in Rounds 15-20, indicating that hitting on a successful wideout in the final six rounds may occur more frequently than taking a stab at a rusher here.
Favorite 2021 Late-Round Picks: Allen Lazard (15.11), Emmanuel Sanders (17.11), Josh Reynolds (22.03), DeSean Jackson (22.12), Tyler Johnson (27.03)
Bottom Line
Half of the Top-12 WRs with the highest win rate percentages were drafted in the first five rounds, supporting those bucking the heavy-RB start trend.
As usual, targets correlated strongly to those wideouts who were on winning BB10s teams in 2020, as seven of the 12 WRs with the highest win rates were among the 10 wideouts with the most targets last season.
Rounds 7-11 was a dead zone for WRs last season in productivity as only one player found their way to the Top-12 win rate list, and he was 11th. Besides the few mentioned as my favorite picks, the crop of wideouts falling in that mid-draft range in 2021 could lack potential volume again in 2021.
Based on roster construction data from 2020, taking a stab at WR in those final rounds over QB, RB and TE proved more effective.