Bestball10s Win Rates: Running Backs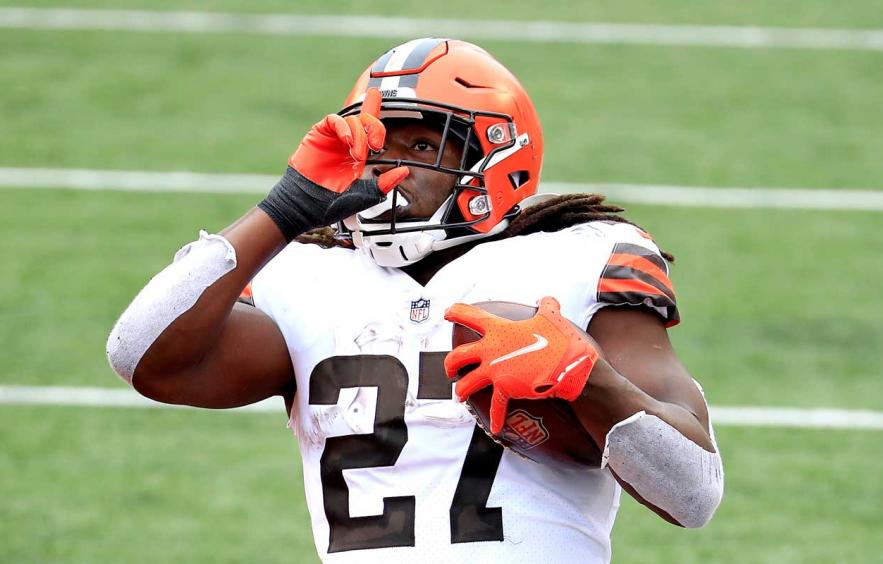 Andy Lyons/Getty Images
Lobbies for best ball drafts have been rolling for a while now and with free agency taking shape, jumping in a draft or four is a great way to see what's happening with ADP.
Taking a look at last year's win rates by position can give us a glimpse of what worked, why it worked and what possibly could have been. This piece will focus on running backs from Bestball10s in 2020, exploring who the big winners were and if they're set up to repeat, along with some possible late-round finds heading into 2021.
Highest RB Win Rates
The biggest winners for the managers who drafted them were Alvin Kamara, Dalvin Cook and Derrick Henry, who not surprisingly ended the season as RB1, RB2 and RB3 respectively in total PPR points.
Only one other back among those with the highest win rates, Chris Carson, was taken in the first few rounds—a win for those who chose to implement some form of a Zero RB strategy in 2020. More on that later.
One link prevalent in this data is the correlation between pass-catching backs and successful Bestball10s teams in 2020. There were seven backs among the 12 with the highest win rates who ended last year within the top 21 in both targets and receiving yards at the RB position, with five of those falling among the top 10 in receiving yards and top 15 in targets. Below you'll find a table showing which RBs made those lists, along with their output.
Early-Round Review
Half of the RBs to make the 12-highest-win-rate list were selected between Rounds 1-6.
Similar to the year before, there were 30 RBs taken between Rounds 1-6, with 18 coming in the first three rounds, and 12 drafted from the fourth through the sixth round. The hoarding of RBs appears to be here to stay, as BB10s ADP from the start of free agency through today shows 29 backs coming off boards in the first six rounds, with the bulk (21) being drafted within the first 36 picks.
The first three backs on this list are no surprise to anyone and will continue to get selected at the start of all drafts along with Christian McCaffrey. The next set of rushers on this list all presented solid value last season and were excellent targets for those rolling with any type of Zero RB strategy.
Chris Carson is a back who gets very little attention and falls within the so-called dead zone but has appeared among the top 12 RBs in win rate for two-straight years in BB10s. The freshly re-signed Seahawk cracked starting fantasy RB numbers in PPR points per game in both 2020 and 2019 with 15.7 and 15.5 respectively and was just outside in 2018 as RB15 with an average of 14.4 PPR points per contest. Carson is set up for another superb-value season as his ADP is currently 5.04 in BB10s leagues and he's still in Pete Carroll's run-heavy offense.
The last two players in this tier are David Montgomery and Kareem Hunt, who were drafted in the fifth and sixth rounds respectively by BB10s winners last season. If you waited on RB in 2020 and grabbed either or both of these guys, you were rewarded, as Montgomery ended as RB7 in PPR points per game and Hunt was RB21. The Bears back outproduced 24 rushers taken before him and Hunt posted higher PPR points per tilt than 12 of the fellow backs drafted prior to his sixth-round ADP.
Cleveland was fourth in rushing attempts and 28th when it came to throws last season, and with their talented one-two punch of Nick Chubb and Hunt, there's no reason to deviate from what worked. Hunt is currently being drafted in the late fourth-round and is a viable target for Zero RB folks again in 2021, playing spoiler to the RB hierarchy.
Montgomery gives me pause though, as his current BB10s ADP is 3.09, and last year he benefited from the ideal circumstances for his breakout. The 2021 Bears have a new QB in Andy Dalton who's arguably a step up for the passing game, plus we have the return of Tarik Cohen along with the addition of Damien Williams. Both Cohen and Williams should eat Monty's pass-game work, making it tough to justify his potential as an early-round back.
Favorite Early-Round Picks for 2021: Alvin Kamara (1.03), Austin Ekeler (2.03), Chris Carson (5.04), Chase Edmonds (6.02)
Mid-Round Review
This section will take a look at the six backs who left draft boards in Rounds 7-15 last year, and found themselves with the highest win rates among BB10s drafted teams.
Ronald Jones was the lone draftee from the seventh round to make this list. For the majority of draft season, he was the expected starting back in Tampa Bay, until the team signed Leonard Fournette on September 2, 2020. Despite the Bucs rushing the ball at the fourth-lowest rate last season, both Jones and Fournette had moments of production. Ending as a fantasy RB2 with an average of 13.3 PPR points a game, Jones proved a solid value as a late-seventh rounder. With both players back with Tampa Bay again in 2021, along with all the returning passing options, I'm not so sure Jones is worth his ADP that has crept up to 5.11.
Latavius Murray, similar to Carson above, is a guy who's a repeat top win-rate-list maker but isn't the sexiest or most exciting RB out there. He landed 11th on this list in 2019 and moved up a spot to 10th last season. Murray is implanted as the backup to Alvin Kamara in an offense that ran the fifth-most rushing plays last year. With Drew Brees hanging up his cleats, this offense could look a bit different, but Murray's place as a fantasy RB3/4 should be solid, and he's currently being undervalued as RB54 in the 14th round.
The next three players—Tony Pollard, Chase Edmonds and Nyheim Hines—fall in that desired pass-catching-back category that leads to success in fantasy football, specifically PPR formats. This applies more to Hines and Edmonds, who both landed in the top 20 in targets per game among RBs last year as RB6 and RB17 respectively. Pollard's weekly usage in the passing game wasn't as prevalent, but he did end with 40 total targets, which was good enough for RB30.
All three of these guys have a chance to outproduce their ADPs again in 2021. Edmonds is leaving boards as a sixth-rounder and is currently the lead back in Arizona pending any future moves, and both Pollard (9.12) and Hines (10.03) should see similar roles on their respective offenses for a very affordable price tag.
Last but not least in the mid-rounder bracket is Antonio Gibson, who was on 12.2% of BB10s winning rosters as a late-14th round pick. The 2020 rookie was intriguing heading into the draft as his known dual-threat ability had the potential to skyrocket Gibson way past his draft spot.
In the first 13 weeks of the season, the 22-year old put up RB12 numbers in PPR points per contest with an average of 15.3, but suffered turf toe and missed Weeks 14 and 15. He rushed for nearly 800 yards and 11 touchdowns last year, adding another 247 receiving yards on 44 targets. With even more NFL reps and a new-look offense in Washington, Gibson could flirt with RB1 numbers in 2021 as WFT's all-purpose back. His ADP is pretty high right now though (2.12), so any discount is long gone.
Favorite Mid-Round RBs for 2021: Jeff Wilson (9.03), Nyheim Hines (9.12), James White (12.10), Mike Davis (13.07), Latavius Murray (14.5)
Late-Round Review
There were no RBs from the final five rounds to make the highest win-rate column for 2020. When looking at roster construction data, I discovered that the percentages of winning fantasy managers on BB10s who drafted rushers after Round 16 drops off fairly dramatically, indicating that hitting on a successful WR in the final six rounds may occur more frequently than taking a stab at a rusher here.
For an RB to really hit in these last rounds, they'll need either a few massive spike weeks or for one or even sometimes two backs ahead of them to miss significant time. There are times when a dart-throw-RB pans out, but they'll need the perfect storm of opportunity and production.
Favorite Late-Round Picks for 2021: Anthony McFarland (17.10), Mike Boone (19.10)
Bottom Line
Running backs who also catch passes are advantageous in BB10s leagues. More than half of the RBs with the highest win rates also ended last year within the top 21 in both targets and receiving yards, with five of those falling among the top 10 in receiving yards, and top 15 in targets.
After the top elite tier of rushers, there is still value to be found later in the draft, so hoarding backs is not needed but is still a trend in 2021. Players like Chris Carson, Kareem Hunt and Chase Edmonds should continue to be solid targets for those waiting on RBs.
In the middle rounds, seek out pass-catchers with upside, especially in this full-PPR format. While not the sexiest, there are perennial producers from this tier with consistent win-rate success.
Use the final five rounds for defenses and stabs at WR, as data shows fewer hits on later-round backs.