Bestball10s Win Rates: Tight Ends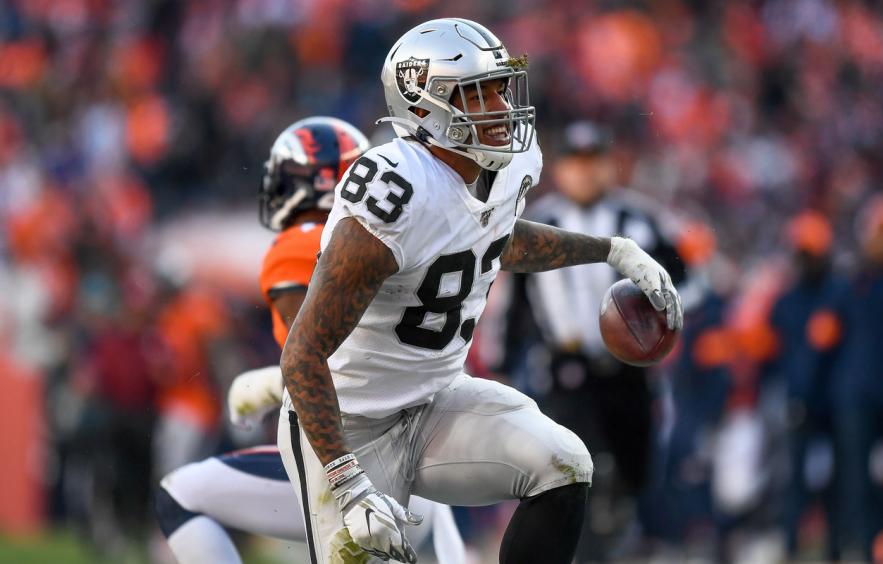 Dustin Bradford/Getty Images
It's time to take a look at everyone's favorite onesie position—the tight end. Sure, they get a bad rap for fantasy purposes, but grabbing the right ones in best-ball formats can be advantageous to your wallet at the end of the football season.
This piece will explore the 12 tight ends with the highest win rate percentages in Bestball10s leagues from 2020, pointing out any patterns or trends we can utilize for drafting the position in 2021.
BB10s are full-PPR scoring with no premium for tight ends and go for 20 rounds.
Highest TE Win Rates
It comes as no surprise to see just two TEs from the early rounds on this list, with the bulk coming from the middle part of the draft. I looked at roster construction from 2020 winning teams earlier this offseason and found that 27.5% of the winners chose their TE (Kelce) in the second round, with the next highest percentages coming in Rounds 10, 11 and 12, which came in at 22.5%, 26.0%, 20.4%, respectively.
Volume remained king again last year when it came to fantasy production, as this list is packed with target leaders. The top five tight ends with the highest win rate percentage were Darren Waller (TE1), Travis Kelce (TE2), T.J. Hockenson (TE5), Mike Gesicki (TE12), and Eric Ebron (TE8) in total targets, with Noah Fant, Hunter Henry, Hayden Hurst and Rob Gronkowski all within the top 13 in target volume for 2021.
Early-Round Review
The following section will delve into BB10s winningest tight ends drafted in Rounds 1-6 last season.
Only two TEs of the five who were drafted in the first six rounds in 2020 made the Top 12 win rate list. Travis Kelce and Darren Waller were also the two at the position with the highest win rates, rewarding those who paid up for them last year.
Kelce has been the TE1 or TE2 in targets per game for the last four seasons and his 9.0 average from last season was the same or higher than many of the pass-catchers drafted around him like Tyreek Hill (9.0) or Julio Jones (7.6). Looking at the RBs selected in that same ADP range, Kelce's 19.5 PPR points per contest were greater than Josh Jacobs (15.4), Joe Mixon (16.6) and Miles Sanders (14.8). I know it's mentally tough sometimes for people to pay up for TE, but opportunity cost shows us it's been well worth it in recent years.
Darren Waller basically functioned as a WR1 in numbers, as his 17.4 PPR points per contest translated to the overall WR7 slot, and he bested receivers drafted around him (Marquise Brown, Devante Parker) by 5.75 PPR points a game. Waller was the target leader in the Las Vegas offense by nearly double the next player, and that guy, Nelson Agholor, is no longer a Raider. John Brown should see WR1 volume, but Waller is set up for a really nice workload again in 2021. The days of getting the 28-year old in the sixth round are long gone, but he's still worth his current 3.05 ADP.
Favorite 2021 Early-Round Picks: Travis Kelce (1.08), Darren Waller (3.05)
Mid-Round Review
Here we'll look at which tight ends drafted in Rounds 7-14 made the Top 12 in win rate percentages on the Bestball10s site last season.
As you can see, this is where the meat lived last season, and as I mentioned above, besides Round 2, the majority of BB10s highest-scoring managers in 2020 took their TEs in Rounds 10-12. It's tempting to reach for the position after missing out on the top tier, but drafters who were patient last year reaped the rewards.
Nine of the 12 TEs with the highest win rates came from this portion of the draft, with the most leaving boards in the 10th round. Hunter Henry was the first TE from this group as a late-eighth rounder, and his 8.0% win rate was 12th at his position last season. Despite missing two contests, Henry was seventh in total targets last year, but LA let him walk and he wound up in a committee situation with Jonnu Smith in New England, in a run-heavy Cam Newton-led offense. Henry is a fade for me, but his 9.05 price tag is certainly affordable.
There were four TEs from the 10th round who boasted high win rates last year, and in order of draft pick they were Hayden Hurst, Mike Gesicki, Rob Gronkowski and Noah Fant. Three of the four were among the Top 12 in total receptions, with Gronk coming in as TE18, and all four were among the 18 most targeted at the position. In a PPR format, that kind of volume and subsequent output makes each of these TEs solid value in the middle of the draft.
Dallas Goedert was undervalued heading into the 2020 season and fell to the 11th round. The Eagles offense was a mess, but the 26-year old managed to put up TE10 numbers in PPR points per game with 10.6 and was the second-highest non-QB fantasy scorer in Philly behind only Miles Sanders. Goedert has certainly carved out a role for himself even with Zach Ertz still there (for now), and despite his two-round jump in 2021 is a safe pick for those who get antsy before double-digit territory.
The other 11th rounder, T.J. Hockenson, was TE8 in both PPR points per tilt and targets per game, but that speaks more to the fantasy brutality position than his actual performance in 2020. Hock was more consistent last year which was a change from 2019, but he never broke 89 receiving yards in a game and didn't have any of those high-scoring outliers that we look for from late-round TEs in best ball formats.
Detroit vacated over 300 targets this offseason and Hockenson could see massive volume in this new-look offense comprised of arguably the worst WR corps in the NFL. The third-year Lion's ADP has spiked to the early-seventh in 2021, but he could be worth it if this receiving group remains as is, especially with a TE-friendly Jared Goff (12th in targets to TEs in 2020) under center.
Jonnu Smith didn't have a great year overall but ended up with the sixth-highest win rate (9.6%) on BB10s winning teams. He was drafted in the 12th round which certainly helped his value, but Smith's output throughout the season was of a low-end TE2. What did help propel his managers was his end zone prowess, as Smith's eight touchdowns were the fourth-highest among TEs, and he had two weeks with multiple dances, giving us those scoring spikes needed from a late-round draft pick. Like Henry, Smith landed in a congested TE room in New England and will need those massive scoring peaks again in 2021 to make this list next offseason.
While most had no faith in Eric Ebron last year in Pittsburgh (or really ever), the 27-year old produced in that offense and was on 9.7% of BB10s winning rosters. As a 14th rounder, Ebron put up more PPR points per contest than 11 TEs drafted before him and saw the eighth-most targets at the position in 2021. With his QB healthy and him also being undervalued this season, Ebron is a steal yet again with a current ADP of 15.02.
Favorite 2021 Mid-Round Picks: T.J. Hockenson (7.02), Dallas Goedert (8.09), Mike Gesicki (10.03), Irv Smith Jr. (11.03)
Late-Round Review
Below you'll find the highest win rate tight ends from the latter part of drafts - Rounds 15-20.
Highest TE Win Rates, Rounds 15-20

| Rank | Player | Win Rate % | ADP |
| --- | --- | --- | --- |
| 8 | Irv Smith Jr. | 9.0% | 15.03 |
When looking at positional draft rates by last year's winners in my prior piece on roster construction, I found that BB10s winners had single-digit success rates in Rounds 17-19, the lowest percentages after Rounds 3-5.
So it's not too shocking to see only one TE among the Top 12 in win rates show up in these final rounds. Similar to the other TE that shares his last name, Irv Smith Jr. didn't crush anything last year, as he was a fantasy TE3 in volume and PPR points per game, but he did find the end zone five times, which helped those who drafted him in the 15th round. With Kyle Rudolph out of his way, Smith Jr. could see a third-year breakout in 2021 and is considered a TE2 with upside as a current 11th rounder.
Favorite 2021 Late-Round Picks: Eric Ebron (15.02), Gerald Everett (16.10), Anthony Firkser (19.06)
Bottom Line
Paying up for TE may feel painful, but looking at opportunity cost, it's worth it when in the right draft spot.
Chasing volume should continue to be a thing, as nine of the 12 TEs with the highest BB10s win rate last year were among the Top 13 in total targets.
The middle of the draft (Rounds 7-14) is where the bulk of winning fantasy managers drafted their TEs last year, and there are some gems in that range again in 2021.
It's difficult to nab a winner at TE towards the end of the draft, save those spots for your defense and depth at WR. If you're going to throw a dart at the position, go for one with touchdown upside to get those high-scoring boom weeks.