2021 NFC South Betting Preview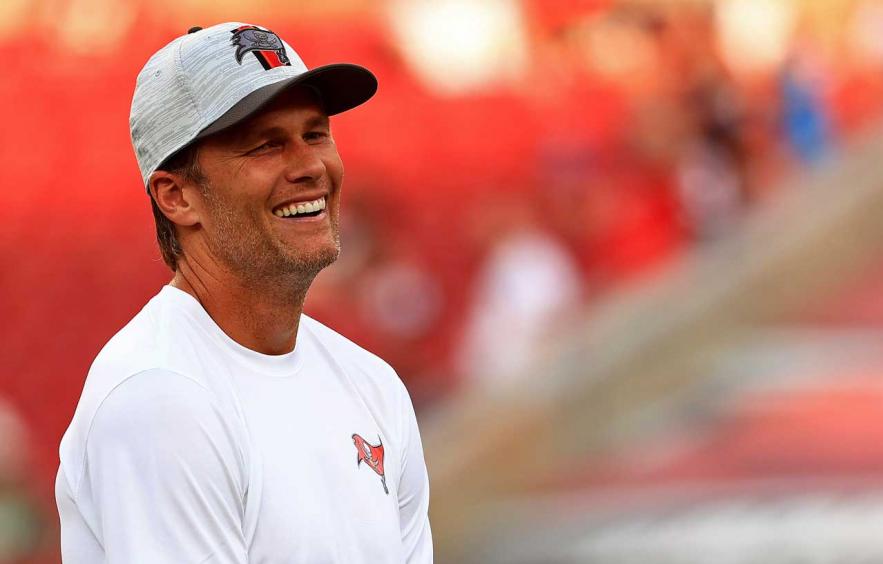 Mike Ehrmann/Getty Images
My divisional preview series is designed to be a long-form extension of our Move The Line division betting breakdowns. I'll be previewing each division while providing you with insight on the best ways to bet on each team. This time, we're looking at the NFC South.
The Buccaneers know their window to win now is still wide open, so they're getting the band back together and running it back. This level of continuity from a Super Bowl Championship roster and coaching staff is unprecedented.
---
More Divisional Betting Previews: AFC West | AFC North | NFC West | NFC North | AFC South | NFC East | AFC East
---
The Saints begin the post-Drew Brees era, and as we sit here today, we still don't know who will get the first crack at the gig. I think starting the younger guy, who has significantly more reps and isn't a part-time tight end would be the easy choice, although we know Sean Payton loves Taysom Hill more than life itself.
Drafting for positional need over talent has never been the best way to build a roster, and the Falcons are the new poster child for it. After mismanaging the salary cap to the point where you need to trade Julio Jones, the Falcons are left with questionable replacements alongside Calvin Ridley. The blow could have been softened significantly if Atlanta had drafted CeeDee Lamb instead of A.J. Terrell, but they were locked in on a cornerback regardless of how the board shook out in front of them.
It's only a matter of time before Panthers offensive coordinator Joe Brady is a head coach in this league. If he can shake the Adam Gase stench off of Sam Darnold, that'll be sooner than later.
Tampa Bay
Buccaneers

Preview

The months following a Super Bowl victory typically include a few tried and true traditions. After the parade is over and the confetti has been cleared, the Super Bowl Champs usually get a bit of a face-lift. Either due to losing a few key players via free agency or, equally as common, a new coordinator to replace the one that got a head coaching job elsewhere. But not this Bucs club. They're not only bringing back both starting lineups, their most commonly used backups are still here as well. According to The Athletic, 31 players logged at least 200 snaps for the Bucs last season, and they're all back.
Key Statistics (2020 Bucs)

| 2020 Record | OFF DVOA Rank | OFF EPA/Play Rank | Yards/Drive Rank | Points/Drive Rank |
| --- | --- | --- | --- | --- |
| 11-5 | 3 | 5 | 9 | 5 |
| | DEF DVOA Rank | DEF EPA/Play Rank | Yards Allowed/Drive Rank | Points Allowed/Drive Rank |
| | 5 | 5 | 5 | 6 |
Buccaneers

Offensive Outlook

We've used all of the superlatives for Tom Brady. There are none left. At this point, even some of the strongest anti-Brady folks that I know have relented after last season's performance. It's embarrassing it took them so long, but that's between them and theirs. It took a bit to acclimate to a new offense and teammates, but Brady and the Bucs took off when it mattered most. From Week 10 on, the 43-year-old Brady led all quarterbacks in EPA per play, and by a significant margin. He was second in average depth of target on the season at 9.3 yards per attempt while, according to PFF, having the lowest rate of turnover-worthy plays in the league. Like Jameis Winston, but without the downside.

Brady's toy chest is deep. The trio of Mike Evans, Chris Godwin and Antonio Brown has as much potential as any in the league. From a production standpoint, as it pertains to props and fantasy, there's a possibility they cannibalize each other a bit. From a football standpoint, they're an impossible matchup because they complement each other so well. O.J. Howard returns to add depth to the tight end room, while free-agent signing Giovani Bernard does the same for the running backs. Early reports are encouraging for Bernard, who'll likely carve out a sizeable third-down role in Brady's offense—shades of Kevin Faulk, Shane Vereen and James White.
Buccaneers

Player Props

(Prop lines from our NFL Player Prop Tool)
Buccaneers

Defensive Outlook

Todd Bowles seems to be in the elite coordinator archetype. We've seen many come before him. Guys who struggle as a head coach, but return to being world-class at the role that earned them the opportunity in the first place. Last year, this Bowles-led defense ranked fifth in defensive DVOA on the year. They put on a clinic in the Super Bowl, exploiting the Chiefs' JV-level offensive line over and over again. You can make the case that their front seven is the best in the league, plus they have a lot of young talent in the secondary. Defensive performance is not super sticky year to year, but the Bucs should be a top-10 unit again if they stay relatively healthy.
Buccaneers

Bottom Line

The Bucs have the fifth-easiest schedule in terms of projected win totals for their opponents. They really don't have a stretch of games that jumps out as difficult, either. They're on the road for three out of four after their bye, but they'll be 4.5-to-7-point favorites in all of them.

The floor is so high for this club. Unless there's a Brady injury, I think the Buccaneers should be considered massive favorites to represent the NFC in the Super Bowl again. I love getting plus money on their win total at 12.5. I think +600 (FanDuel) to have the best regular-season record is a viable play.
2021 Bucs Futures

| | |
| --- | --- |
| Win Total | Over 12.5 +115 (BetMGM) Under 12 -110 (DraftKings) |
| Playoffs Y/N | Yes -560 (BetRivers) No +500 (DraftKings) |
| Win NFC | +300 (FanDuel) |
| Win Super Bowl | +700 (BetMGM) |
New Orleans
Saints

Preview

Besides deciding what to do at the most critical position in the sport, the Saints are dealing with drama elsewhere. Best case scenario sounds like Michael Thomas returns from injury mid-season. Worst case scenario, and one that feels entirely more likely than people seem to think, Michael Thomas has played his last game for the Saints. With or without Thomas, this roster is beginning to feel the squeeze of salary cap hell, a situation they've been able to finagle at times over the years to extend the window with their aging quarterback.
Key Statistics (2020

Saints

)

| | | | | |
| --- | --- | --- | --- | --- |
| 2020 Record | OFF DVOA Rank | OFF EPA/Play Rank | Yards/Drive Rank | Points/Drive Rank |
| 12-4 | 7 | 12 | 16 | 6 |
| | DEF DVOA Rank | DEF EPA/Play Rank | Yards Allowed/Drive Rank | Points Allowed/Drive Rank |
| | 2 | 4 | 6 | 7 |
Saints

Offensive Outlook

The Saints have invested a lot of draft capital in their offensive line over the years, and it's paid off. It's consistently one of the league's top offensive lines, ranking fifth in pass block win rate and fourth in adjusted line yards created last year. Alvin Kamara is the catalyst for this offense, though it was troubling to see how little he was involved in the passing game when Taysom Hill was under center last year. I think the Thomas injury forces their hand a bit, preventing Kamara's targets from cratering again, but his floor is not nearly as high as seasons past. The alternative involves a lot of Marquez Callaway, Tre'Quan Smith and Adam Trautman. As complimentary pieces, they're all fine. As pillars of your offense, they're a bit unsettling. Rumors of Latavius Murray being let go make little sense to me. I anticipate a heavier reliance on the ground game regardless of who wins the quarterback job, and Murray should garner a large slice of that pie.
Saints

Player Props

(Prop lines from our NFL Player Prop Tool)
Saints

Defensive Outlook

Role uncertainties aren't exclusive to the offensive side of the ball in New Orleans. The Saints' defense was terrific last season, but with Trey Hendrickson, Malcolm Brown, Sheldon Rankins and Janoris Jenkins departing during free agency, they're likely due to regress. Hendrickson led the team in quarterback hits and sacks, and if they're going to improve on last year's bottom-10 pass rush win rate, they'll need to replace him and more. Marcus Davenport and first-round pick Payton Turner will need to fill those shoes, along with the ageless Cameron Jordan. In the back half, the secondary has depth issues behind Marcus Lattimore. Defensive coordinator Dennis Allen has shown an ability to get more out of his roster than most. He'll have his hands full this season.
Saints

Bottom Line

The Saints have the league's fourth-toughest schedule, but there aren't any real travel anomalies worth noting. I think their Super Bowl window closed last season, and while I don't expect them to fall off the cliff and careen into a 4-5 win club, I don't think this is a playoff team. I lean under on their win total as well.
2021

Saints

Futures

| | |
| --- | --- |
| Win Total | Over 9 +110 (PointsBet) Under 9 -115 (Caesars) |
| Playoffs Y/N | Yes +114 (SugarHouse) No -125 (Caesars) |
| Win NFC | +2000 (PointsBet) |
| Win Super Bowl | +4000 (PointsBet) |
Atlanta
Falcons

Preview

The Falcons have an entirely new regime. New GM Terry Fontenot hired former Titans OC Arthur Smith as the head coach, and he managed to get Dean Pees to unretire and run his defense. I'm not sure I understand what the Falcons are trying to do. The Kyle Pitts pick, in a vacuum, is a terrific selection. I think the kid hits the ground running and is a massive problem right away. But picking Pitts instead of a quarterback prospect, along with restructuring Matt Ryan's deal signals you're trying to compete now. On the whole, I think that's fine as well. But then why trade Julio?
Key Statistics (2020

Falcons

)

| 2020 Record | OFF DVOA Rank | OFF EPA/Play Rank | Yards/Drive Rank | Points/Drive Rank |
| --- | --- | --- | --- | --- |
| 4-12 | 21 | 16 | 13 | 15 |
| | DEF DVOA Rank | DEF EPA/play Rank | Yards Allowed/Drive Rank | Points Allowed/Drive Rank |
| | 14 | 20 | 27 | 22 |
Falcons

Offensive Outlook

Arthur Smith has shown himself to be a creative offensive mind and a talent maximizer in Tennessee. An increase in play-action will help, as Smith's Titans lead the league in play-action rate while he was there. The Calvin Ridley and Kyle Pitts duo should be fun, but they'll need some guys to step up. Mike Davis played really well in Christian McCaffrey's absence last season, parlaying that into a new deal with the Falcons. Everyone thought they were a candidate to add a running back early in the draft, but they didn't, so Davis should have a long leash. Russell Gage and Olamide Zaccheaus will be called upon to fill the vacancy left by Julio Jones's departure. Smith used 12 personnel at the second-highest rate in the league last season, so we'll see Hayden Hurst and Kyle Pitts in a lot of two tight-end looks. Game environments and Arthur Smith are both boons to Matt Ryan's outlook, but his on/off splits with Julio Jones paint a bleak picture, one I'm not sure Pitts alone can help him overcome. I took the under on his 4500.5 passing yards prop when it opened.
Falcons

Player Props

(Prop lines from our NFL Player Prop Tool)
Falcons

Defensive Outlook

Defensively, Pees will have his hands full. He has been a difference-maker throughout his career, though, so improvements are possible. They don't have much of a pass rush outside of blitzing. I anticipate heavy man coverage tendencies while they bring pressure with their talented linebacking duo of Deion Jones and Foye Oluokun. Their cornerbacks are underwhelming. A.J. Terrell will need to make massive strides in his second year. This is likely a team we'll be looking to attack with quarterback and wide receiver overs during the season.
Falcons

Bottom Line

The Falcons finished third in adjusted games lost due to injury, but that's where the good luck ends. They were a stunning 1-8 in one-score games last season. Also, according to Football Outsiders, Atlanta fell 3.5 wins short of their Pythagorean Win expectation. Three and a half. For context, two is a lot. Three and a half is wild. That's the third-largest difference since the merger of 1970. I'm bullish long-term on the Smith/Pees duo, but I think it's more likely the Falcons finish last in this division than it is that they contend for a playoff berth.
2021

Falcons

Futures

| | |
| --- | --- |
| Win Total | Over 7.5 -130 (Caesars) Under 7.5 +125 (BetMGM) |
| Playoffs Y/N | Yes +220 (PointsBet) No -275 (DraftKings) |
| Win NFC | +4000 (BetMGM) |
| Win Super Bowl | +8000 (DraftKings) |
Carolina
Panthers

Preview

It's Year Two of the Matt Ruhle era in Carolina. The Panthers were competitive last season despite having the youngest defense in the league and losing their best offensive weapon, Christian McCaffrey, for the majority of the year. If anyone can wash the Adam Gase-stench off of someone, it's Panthers offensive coordinator Joe Brady.
Key Statistics (2020

Panthers

)

| 2020 Record | OFF DVOA Rank | OFF EPA/Play Rank | Yards/Drive Rank | Points/Drive Rank |
| --- | --- | --- | --- | --- |
| 5-11 | 17 | 19 | 8 | 20 |
| | DEF DVOA Rank | DEF EPA/Play Rank | Yards Allowed/Drive Rank | Points Allowed/Drive Rank |
| | 24 | 24 | 25 | 26 |
Panthers

Offensive Outlook

Is Sam Darnold a lemon or can Joe Brady manufacture some lemonade? That's the fate of the Panthers this season. I think there's some lemonade coming. It might not be good enough to drink on its own, but add some iced tea, and you might get a delicious Arnold Palmer in Carolina this fall. In this instance, Carolina's weapons are the iced tea, a diverse group that dwarfs anything Darnold saw while with the Jets. A healthy Christian McCaffrey returns to the backfield, along with an improved offensive line. At wide receiver, the Panthers are loaded. The trio of D.J. Moore, Robby Anderson and Terrace Marshall Jr. complement each other so well, with each having above-average run after catch abilities. During the draft evaluation process, Marshall was my second-ranked receiver in this class. He fell out of the first round on draft night due to medical concerns, but he's a legit talent. His prop number is a massive buy.
Panthers

Player Props

(Prop lines from our NFL Player Prop Tool)
Panthers

Defensive Outlook

The defense is young but improving. They drafted defensive players with every pick in the 2020 draft and continued that trend, using their eighth overall pick this year on cornerback Jaycee Horn. Phil Snow is hoping to incorporate more man coverage compared to last season. The trio of Horn, Donte Jackson and A.J. Bouye at cornerback is better than both the Saints and Falcons, plus they have Brian Burns and Derrick Brown up front to pressure the quarterback.
Panthers

Bottom Line

If the Panthers are going to push their team total over, they'll need to get off to a great start. It's the softest part of their schedule, and their December is pretty brutal. Their last four are at Buffalo, home to Tampa, at New Orleans and at Tampa to finish the year. The caveat here is there's a strong chance that Week 18 at Tampa is against backups. You can't bank on that when deciding to chase their win total, but it's worth considering. I believe in this coaching staff, and I'm taking over 7.5 wins.
2021

Panthers

Futures

| | |
| --- | --- |
| Win Total | Over 7.5 +105 (BetMGM) Under 7.5 -105 (DraftKings) |
| Playoffs Y/N | Yes +260 (PointsBet) No -275 (DraftKings) |
| Win NFC | +5000 (FanDuel) |
| Win Super Bowl | +9000 (DraftKings) |