Darren Waller is in Tight End Purgatory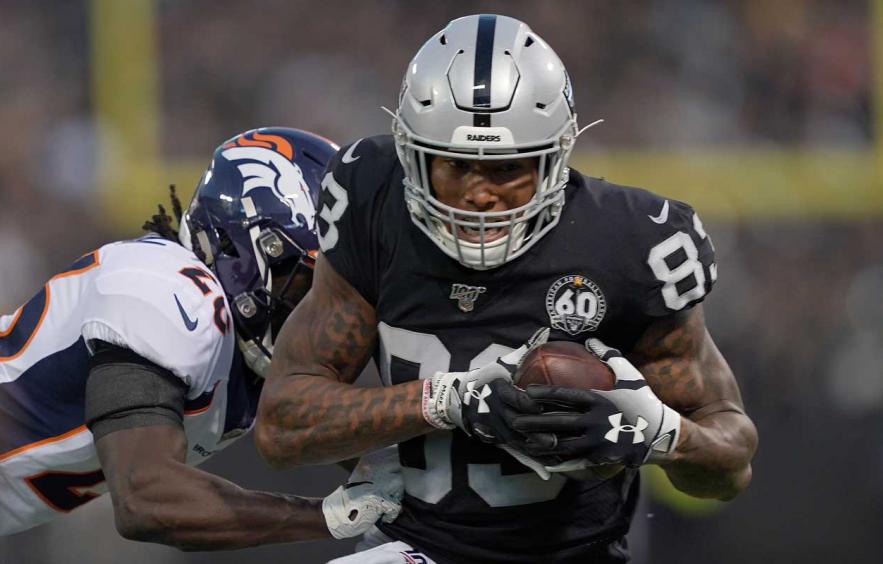 Thearon W. Henderson/Getty Images
Fantasy footballers can develop strange allegiances that transcend a player's shifting average draft position. We'll target a guy because our feeble brain is filled with good memories of getting him late in last year's draft and watching him become an every-week starter.
We are, first and foremost, emotional creatures.
There are many (many) fantasy players who will draft Raiders tight end Darren Waller in the fifth round with visions of 2019 dancing in their heads. It's hard to blame them: Waller, drafted in the final few rounds of most drafts last August, emerged as a top fantasy tight end, commanding the kind of target share usually reserved for tight ends taken in the opening rounds. He was among the best late-round tight ends of the past decade.
The uncomfortable truth for those targeting Waller -- an absolute athletic marvel who has long tantalized fantasy managers -- as something of an arbitrage play on guys like Mark Andrews and Zach Ertz is that everything aligned perfectly for him in the weeks leading up to the 2019 season. Antonio Brown, in the midst of one of his classic meltdowns, was released by the Silver and Black just as coaches were talking up Waller as a primary target for Derek Carr -- someone who created mismatches with linebackers and safeties alike. Waller entered the season competing for targets with Zay Jones and Tyrell Williams.
We know the rest: he led the Raiders' offense with 117 targets, a 23.82% target share. Nearly 28% of the team's receiving yardage belonged to Waller. Remarkable. But how likely is it that Waller can once again command a team-leading target share in 2020?
He's Not So Alone Anymore
The Raiders did a very Raiders thing and drafted Henry Ruggs with their first-round pick, and you better believe Jon Gruden will give the rookie every chance to be the top dog in the passing attack this season. It's not that Ruggs will occupy the middle of the field (which Waller dominated through much of 2019), but the team prioritizing another pass-catcher isn't the best news for a tight end going in the fifth round of 12-team leagues.
The presence of Hunter Renfrow could also pose a problem for Waller's 2020 opportunity in Vegas. The diminutive slot guy began seeing consistent targets in the final six weeks of 2019. Renfrow saw 6.85 targets during the stretch, receiving at least five targets in each contest. In 13 games with Renfrow on the field, Waller's per-game yardage dropped to around 65, compared to 98 in three games with Renfrow sidelined. Waller's receptions per game fell from seven per game without Renfrow to around five with him active. A full 16 games for Renfrow, who struggled with injuries throughout the 2019 season, probably wouldn't be a disaster for Waller's fantasy usefulness, but it could be an irritant.
The much younger (and big and fast) tight end Foster Moreau might be an issue for Waller, too. Though (the island of Dr.) Moreau saw just 25 targets last year, he caught five touchdowns for the Raiders, two more than Waller caught on 92 more targets. Moreau and Waller each got four targets inside the 10-yard line, while Waller out-targeted Moreau inside the 20-yard line, 11 to seven. It was a tight end red zone split that made Waller drafters squirm through parts of 2019. I know because I was one.
Raiders

' Offensive Outlook

Then there's the matter of what kind of offense the Raiders want to be. Gruden is quick to dismiss analytics and seems committed to the idea that the Raiders can be a tough, ground and pound sort of offense with Josh Jacobs as the unquestioned centerpiece. The team was most certainly committed to the run when it could be last season: they ran the ball on 50.4% of their offensive snaps while leading. While tied, they had a 50% rush rate. It was when they were chasing points that they threw it and threw it a lot (72% of the time).

Vegas oddsmakers have the Raiders' win total at 7.5 -- not elite, but not nearly as low as the league's bottom dwellers. Loads of neutral and positive game script for the Raiders likely wouldn't be great for Waller's opportunity.

Check out John Paulsen's Waller projections and how they factor into the 4for4 ADP Bargain tool: Waller is being drafted 13 picks too early, per the tool. Among tight ends, only Ertz, Evan Engram, and Noah Fant are more overvalued, according to the ADP Bargain machine. Waller profiles as a perfectly sensible selection if he drops by a full round (or more). He's floating around tight end purgatory though.

I prefer to plunge into the depths of hell for my late-round tight end rather than grab a mid-round guy who very well might be drafted at his fantasy ceiling.