A Look Back at Tight Ends in 2019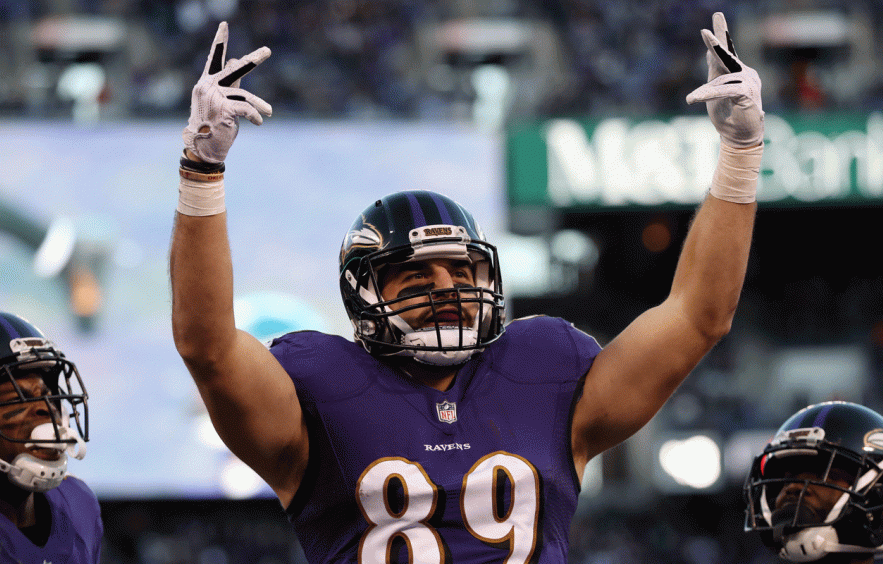 Rob Carr/Getty Images
Some of us hoisted fantasy championship trophies in 2019, while others probably want to forget last season even happened. Either way, it's a good idea to take a look back and see what worked and what didn't at each position, so we can get a better idea of where to focus our efforts as we head into this year's draft season.
In this piece, I'll tackle a unanimous wasteland from this season, the TE. The 2019 season proved to be a rough ride for those who did not draft within the top tier which consisted of Travis Kelce, Zach Ertz and George Kittle. Kelce finished as TE1 for the fourth straight season, with Kittle and Ertz ending as TE2 and TE4, respectively. However, there were some undervalued guys who overproduced, elevating rosters across fantasyland.
The table below shows the ADPs of the 20 highest-drafted TEs in the order they came off draft boards in 2019. At the end of this piece will be a table showing the final standings of the TE position and how it all panned out.
2019 Tight End Favorites
I'll start this look back with some TEs that I was high on heading into last year. These are guys I highlighted during draft season as players with the potential to break out on new teams or improved situations, based on year-to-year data and team schedules. There were some hits, and of course my fair share of misses.
Fantasy Points Per Game
When comparing year-to-year correlations for various TE stats, the stat with the strongest correlation was found to be PPR Fantasy Points per Game (PPR FPs/G), with a .57 on the scale from -1.0 to 1.0. An absolute value of 1.0 signifies a perfect correlation so PPR FP/G has a moderate-to-high relationship year after year. The three TEs I pegged to succeed based on potential PPR FPs/G were Jack Doyle, Chris Herndon and Trey Burton.
Herndon was slapped with a suspension then suffered both a hamstring and rib injury that derailed his entire 2019 season, so let's just put him off to the side. Doyle ended the season as TE15 with an even 7.0 PPR FP/G, so he outperformed his TE20 ADP and finished ahead of a myriad of players taken before him like Jimmy Graham, T.J. Hockenson and of course, O.J. Howard.
A massive disappointment to those who believed in Burton this season, the Chicago TE came off the board as TE14 and finished as TE71, with an average of just 2.8 PPR FP/G. He was hurt for half of the season and the Bears as a whole struggled on offense in 2019, but Burton gravely underproduced, sending his drafters to the waiver wire or to stream land for the bulk of the season.
Receptions Per Game and Yards Per Game
Two additional stats with strong relationships from year to year used to identify players with the potential to break out are receptions per game (R/G) and yards per game (Y/G). Coming in as the second-highest statistical category, Y/G had a .56 correlation, with R/G fourth at .49.
The three players I pinpointed in August to breakout based on these stats were Austin Hooper, David Njoku and Mark Andrews. Two-for-three isn't too shabby and who knows what Njoku could have done this season had he not gone down in Week 2.
Hooper's R/G jumped from 4.4 in 2018 to 5.8 this season, landing him as TE5 in that category, while his Y/G increased by nearly 20 from 41.3 as TE10 last year to 60.5 as TE5 in 2019. The 25-year old's ADP was TE11, and snagging him in the ninth round was advantageous for those willing to roll with the least sexy TE on the draft board.
Andrews was someone who gained traction as draft season chugged along and those who bought the hype were handsomely rewarded. He was TE24 in R/G in 2018 with just 2.1, but he and Lamar Jackson's chemistry kicked up a few notches this season, bolstering his volume up to 4.3 R/G as TE7, and also improving his Y/G from just 34.5 last year to a healthy 56.8 in 2019.
Strength of Schedule
Schedule-adjusted fantasy points allowed, or aFPA, is a metric we rely heavily on at 4for4, and for good reason. By removing bias, we can level the playing field and compare matchups in an "apples-to-apples" manner.
Heading into 2019, there were three mid-to-low tier TEs who I identified as having cushy schedules based on TE aFPA. We already covered Andrews and Herndon, which leaves Darren Waller. Seeing what Jared Cook was able to accomplish in 2018 along with their schedule littered with soft opponents when it comes to the TE, Waller stood out as a potential breakout.
On a middling 7-9 team, Waller finished this season as TE3 in total PPR points at his position. The fourth-year player totaled 90 receptions on the season which checks in as TE2 and 11th overall in the NFL, along with 71.7 yards per game which sits third behind Travis Kelce and George Kittle.
ADP Crushers
This last category is an homage to a few guys who absolutely slayed their draft spot this season and should find themselves much higher on draft boards as we head into the summer months.
Tyler Higbee wasn't even a thought for most likely all drafters, carrying an ADP of TE71 in 2019. Thanks to an injury to Gerald Everett, who was being selected as TE30, Higbee experienced a late-season breakout which propelled him to TE8 on the year. It's worth noting that Higbee already received a multi-year contract extension from the Rams and should be in the TE1 conversation heading into 2020.
Dallas Goedert is someone who gets overlooked based on the mere presence of Zach Ertz, but we learned this season that he certainly has stand-alone value. Ertz did finish as TE4, but his teammate wasn't too far behind him as TE10 in total PPR points. Goedert bested his ADP by 13 spots and way outperformed his 17th round draft position in 2019. Of course, the Philly offense was a revolving infirmary which didn't hurt his volume, but Goedert made the plays needed to be a TE1 on the season.
I admittedly was not a Mike Gesicki believer and may still not be, but it's tough to ignore his jump from year one to two. The Miami TE was TE52 at the end of the 2018 season and had an ADP somewhere in the 21st round this year. With 51 receptions for 570 yards and five touchdowns, Gesicki came in as TE12 in 2019 and should see a decent surge in his ADP this offseason.
2019 Overvalued Tight Ends
Next, are some of the players I pegged as due for a regression, or those who were being drafted too high heading into last season.
2019 Regression Picks

| Player | Predraft Positional ADP | Round | Final Positional | PPR Points |
| --- | --- | --- | --- | --- |
| Evan Engram | TE5 | 5th | TE18 | 109.4 |
| Eric Ebron | TE9 | 8th | TE27 | 86.5 |
| Greg Olsen | TE15 | 12th | TE13 | 123.7 |
I didn't trust that a repeat of 2018 was in the cards for Eric Ebron and it proved to be the right call. He only played in 11 games this season, but wasn't much of a factor when healthy, posting just 7.9 PPR points per tilt. When on the field the volume was there, as he sat third in targets per game among the Colts offense this season, but Ebron just fell way short of his eighth-round ADP.
Evan Engram was another guy I was shaky on at the start of 2019 due to the cluster that was/is the Giants offense. They took a major hit on pass catchers in training camp and that meant extra coverage on Engram. Sadly, a foot injury got in the way of his 2019 season and he only hit the field for eight contests, but Engram did average 13.7 PPR points per game which ranked seventh at his position. Overall, the third-year TE ended as TE18 in total PPR points, 13 spots from his TE5 ADP. I suspect his draft stock will remain in a similar position as New York truly embarks on the Daniel Jones era.
Key Takeaways
The stats we utilize to predict success at TE are still viable year after year. Even in a garbage season for the position, there were some players who rose up like Andrews, Waller and Higbee, with others simply out producing and providing solid value such as Hooper, Goedert and Gesicki. The top tier is still the top tier, and you will be paying again this season to get your hands on Kelce, Ertz and Kittle.
However, if that's not your style or in your plans, there will be plenty of TEs in situations to yield points in 2020, like Gesicki, Blake Jarwin and Jonnu Smith. Chasing production from season to season can be tricky, but we will be here to provide plenty of value picks to outsmart your league mates heading into draft season.