The Rundown: Week 13 Stats to Know & Thanksgiving Extravaganza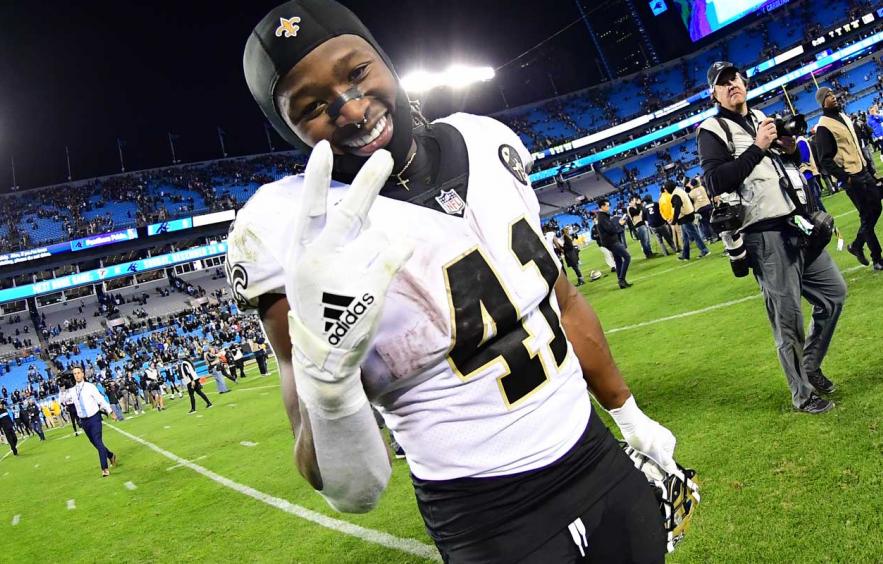 Scott Cunningham/Getty Images
Week 12 set the table for this week, which seems appropriate given the holiday. It starts with a tripleheader on Thursday that will highlight playoff teams and provide some big help for those starting the fantasy playoffs. The rest of Week 13 will feature a potential Super Bowl preview with the Ravens and 49ers along with a Sunday night game that should frustrate and delight fantasy players all at once. For those celebrating Thanksgiving this week, enjoy the time with family and friends!
Each week, I will provide a preview article with some key overall stats to watch for along with the Thursday game preview which includes start/sit ratings. Then, there will be subsequent previews later in the week with all the other games in time for the remaining fantasy decisions before kickoff. For much of this data, I will be using 4for4's Snaps, Touches, and Targets Apps as well as analyzing each team's pace and play-calling tendencies.
Ten Stats to Know for Week 13
Bears

@

Lions

Spread: Lions +3 | Total: 39

This is likely the game everyone will be the least thankful for on Thursday. The Bears had one of their best offensive games in Week 12 and they still scored just 19 points. While they get a bottom 10 defense in the Lions, the Bears are still likely going to struggle to reach the end zone. The Lions offense, meanwhile, have been toying with the idea of shutting down Matthew Stafford for the season, but he wants to come back. Regardless, he won't be playing in this game and Jeff Driskel has looked better than expected. This will be a tough test for him but he should get some chances here.
Chicago
Bears
This is an opportunity to try and establish some offensive rhythm. The Lions are bottom 10 against both the pass and the run. The ceiling with this offense is low, think 300 or so offensive yards, but they should get close to it here. It may not result in many useable fantasy games outside of Allen Robinson, however.
Team Trends That Matter
Opponents only score on 28.5% of their offensive possessions, the fourth-lowest rate in the NFL.
Have allowed just one quarterback to throw for over 250 yards in the last five games. It was Jeff Driskel.
Converting just 30.1% of their third downs, fourth-worst in the league.
Fantasy Rating and a Stat to Know
Detroit
Lions
Jeff Driskel had success in the first meeting and his versatility is needed to replicate the feat against the fourth-ranked Bears defense. Bo Scarbrough could be a key here as the Bears have struggled with bigger running backs this season. The touchdown upside isn't high here but they should get chances if the Bears offense struggles with turnovers.
Team Trends That Matter
Have allowed a receiving touchdown from seven different running backs this year.
The Lions defense has forced a turnover on just 3.2% of their defensive drives, the lowest rate in the NFL.
Week 12 was just the third time the Lions haven't allowed multiple touchdown passes to an opposing quarterback.
Fantasy Rating and a Stat to Know
Bills

@

Cowboys

Spread: Cowboys -7 | Total: 45

This matchup has NFL and fantasy implications with plenty of interesting matchups. The Bills bring their top three pass defense to counteract the Cowboys and their top-ranked passing attack. Both will also bring their top 10 rushing offenses as well. Ultimately, the Bills will need to keep the Cowboys off the field and continue to convert at a high rate when they reach the red zone.
Buffalo
Bills
Simply, run the ball and avoid turnovers. Considering they only have two turnovers since their Week 6 bye, it's in line with how they have been working recently. The Cowboys defense is penetrable and Josh Allen, Devin Singletary, and John Brown should all have nice games. Don't sleep on Cole Beasley either.
Team Trends That Matter
Have allowed just four receiving touchdowns to wide receivers this year.
The Bills defense is allowing touchdowns on just 15.3% of defensive drives, third-best in the league.
No tight end has scored 12 PPR points against the Bills in 2019.
Fantasy Rating and a Stat to Know
Dallas
Cowboys
We might see the more traditional run-first approach from the Cowboys knowing the resistance the Bills pass defense can provide. That could mean a big game for Ezekiel Elliott. It would be nice if Dak Prescott is given a few more designed runs as well. Amari Cooper could struggle for a second week.
Team Trends That Matter
Only two quarterbacks have thrown for more than 250 yards against the Cowboys.
Have not allowed a receiving touchdown to a running back this season.
The Cowboys punt on just 28.9% of their offensive drives, the third-lowest rate in the league.
Fantasy Rating and a Stat to Know
Saints

@

Falcons

Spread: Falcons +7 | Total: 49

This is a good way to wake up from the inevitable Thanksgiving coma. Two top 10 passing offenses meet here with the Saints having scored 30 offensive points in four of the past five games. They should threaten that mark again here. The Falcons, meanwhile, remain the team with the most passing attempts but allow the fourth-highest net yards per pass attempt. This should feature plenty of fireworks and expect the Saints to be out for blood after being embarrassed in their first matchup.
New Orleans
Saints
The struggles for the Saints against the Falcons in the last matchup was in the run game. They will want that to change here and with a fully healthy backfield, it's hard to bet against that. The pass game will thrive as well with a secondary option like Jared Cook capable of putting together a second nice game in a row.
Team Trends That Matter
Have only failed to reach 100 team rushing yards once in the last two months. It was against the Falcons.
Week 12 was the first time they allowed over 18 PPR points to a running back. It was Christian McCaffrey.
Four different wide receivers have scored 30-plus PPR points against the Saints.
Fantasy Rating and a Stat to Know
QB Drew Brees (5) - QB10 in fantasy points per game since his return from injury in Week 8
RB Alvin Kamara (5) - RB10 in PPR points per game since he last scored a touchdown in Week 3
RB Latavius Murray (3) - Has yet to play 30 offensive snaps in a game since the Week 9 bye
WR Michael Thomas (5) - Eight straight games with eight or more catches
WR TreQuan Smith (0) - Tied his season-best with three targets in Week 12
TE Jared Cook (4) - The TE2 since his return from injury in Week 10
Atlanta
Falcons
Normally, the Falcons look to throw the ball a lot, but the Saints are a top-five run defense, so this may skew even more in that direction. That helps every non-running back and should put three wide receivers in line to be strong fantasy contributors this week. Matt Ryan could finish as a top-three quarterback this week, or outside the top 12. That's how volatile this game could be.
Team Trends That Matter
Four straight games allowing 100 or more yards to a receiver.
The Falcons defense lets opponents score on 45.9% of their possessions, the second-worst rate in the NFL.
Their 67.2% pass rate in the highest in the NFL this season.
Fantasy Rating and a Stat to Know
Fantasy Rating Key
(5) - Elite option. Must start.
(4) - Strong option. Likely start.
(3) - Good option. Low-end starter to high-end backup.
(2) - Weak option. Possible flex or desperation play.
(1) - Bad option. Bench in nearly all cases.
(0) - Not an option. Injured, bench, or waivers.