Dante Pettis is a 2019 Breakout Candidate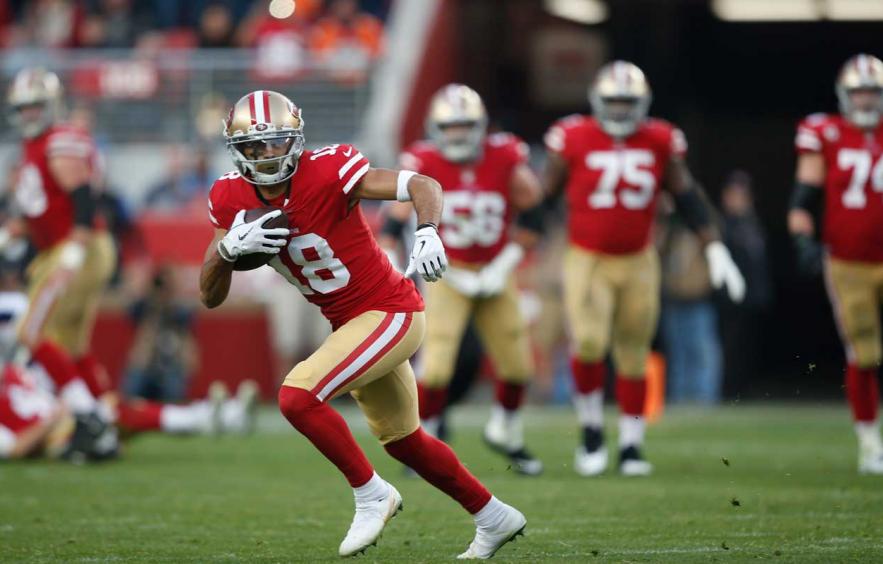 Michael Zagaris/Getty Images
Many were surprised last April when the San Francisco 49ers traded picks No. 59 and 74 of the NFL Draft to move up and select Dante Pettis in the second round, with pick No. 44.
At that point in the draft only three receivers had been chosen, and very few analysts had Pettis ranked even within their top seven at the position. Despite the fact that he was productive as a receiver, with 24 receiving touchdowns in his college career at Washington, many saw him as merely a return specialist in the NFL.
While it is certainly impressive that he scored nine return touchdowns in college, Pettis is no return specialist. He is an NFL wide receiver, and a very good one at that. The reason Pettis is the next big thing at wide receiver is fairly simple: he is very talented, and he is in the perfect situation for that talent to translate to success on the field.
We will take a look at both his talent and his situation below, but first, let's take a look back at how he fared in his rookie season.
Editor's note: While there have been reports of Dante Pettis struggling in training camp, he sits atop San Francisco's official depth chart as of this writing
A 2018 Review
Pettis's rookie year was marred by injury. He came out of the gate in strong fashion, being targeted by Jimmy Garropolo five times in week 1 and catching a beautiful touchdown in the process.
This happened in Dante Pettis's first game in the NFL. He first sees his QB in trouble and streaks for the post, to open space. Then he extends his hands beautifully for the catch and drags his feet for the score. Rookies don't do that in their first game. pic.twitter.com/ee1iSL9xoE

— Kevin Scott (@champofantasy) August 1, 2019
But injuries began slowing him down soon after, and he did not see significant targets again until week 7. From Weeks 7–12, we got a taste of what Pettis is capable of. We did not see his ceiling, because by that time Garoppolo was out for the season and the 49ers season was careening toward a poor finish. Pettis played with C.J. Beathard and Nick Mullens during those weeks, both significant downgrades from Garoppolo. Nevertheless, we got a taste of how good he can be.
Against a tough Seattle defense he finished with 129 yards and two scores, including this impressive touchdown that showed his after-the-catch ability:
Dante Pettis was known mostly as a return specialist coming out of Washington, but he is going to be known as a great wide receiver after this season. Nevertheless, those return skills do translate to his role as receiver - he has the ability to take any catch to the house. pic.twitter.com/DwcGS21efq

— Kevin Scott (@champofantasy) August 1, 2019
He was really catching his stride in Weeks 8-10, getting seven targets in each game and scoring in each. But in Week 12, after a quick start to the game, he went down with a knee injury, ending his season.
The knee injury was not a major one, and it can be seen in a positive light by fantasy players. He was on the verge of breaking out and was becoming an important part of the weekly offensive game plan, but his breakout came to a halt when the injury occurred. So in a way, the injury has helped keep his profile low coming into this season.
Pettis is now 100% healthy and has reportedly bulked up a bit for this season to help prevent injuries this year.
By all accounts, the team is high on him and plans to use him as their No. 1 receiver. Why would that be their plan? Let's dive into his talent a bit more to find out.
Dante Pettis

's Talent

The videos above give a taste of what makes Pettis special, but they do not show his most impressive quality. Yes, he has excellent, soft hands. He snags the ball out of the air and catches it away from his body, with proper technique. And yes, he possesses rare after-the-catch ability that means he can take even a short throw all the way to the end zone. But those two qualities are the icing on top—what truly sets Pettis apart is his route running.

The ability to gain separation is the most important attribute for an NFL wide receiver. Defenders are big and fast, and often press receivers at the line and jam them, preventing them from getting a clean release. If a receiver has the quickness to get a clean release off of press coverage, they simply get open far more often than they would otherwise. And receivers who get open are receivers who get targets, catches, and yards.

Antonio Brown, for example, has never been the biggest or the fastest receiver, which led many to underestimate him when he entered the league. What he is excellent at is gaining separation. His footwork and quickness are off-the-charts, so he is almost always open. That is why Roethlisberger targeted Brown between 154 and 193 times every season since 2013. Open receivers get targets.

Another similar example is Keenan Allen. He is not a big receiver and is certainly not a burner, but he is an elite route runner with great footwork—so he gets open. He has averaged around 130 targets per season when healthy.

Pettis is a similar player. He isn't the biggest or the fastest on the field. He doesn't have Kenny Golladay's body or Tyreek Hill's speed, but he will simply be open a ton due to this elite route running. Footwork and body control go into making a player great at running routes and gaining separation, and that is what you see from Pettis on tape. Once he is targeted he has great hands to catch the ball, and a great ability to gain yards after the catch. But it all starts with separation.

Let's check out a few plays which showed that ability, even in his shortened rookie season.

In the first play, Pettis uses a delay to act like the play is a run, then jabs quickly to the outside and gets the cornerback to bite. That leaves him wide open to the inside for the easy catch and score. His body control and foot quickness are rare, and those qualities help him turn cornerbacks around.
The Bucs are playing man-to-man and have 2nd round draft pick Carlton Davis on Pettis in the right slot. Davis got straight embarrassed by Pettis's juke on this play, leaving Pettis wide open for the catch and TD. His body control and footwork are off the charts. pic.twitter.com/JhDOZpiWQN

— Kevin Scott (@champofantasy) June 24, 2019
In this next play, Pettis is down on the goal line, meaning he only has a step or two with which to get open. He is able to get the defender leaning inside by jabbing and shifting his weight, then explodes to the outside for the easy touchdown catch.
Now watch that same play in slow motion to see Pettis's move up close. He only has a second to get free, so his juke is compact. But he quickly gets his man leaning by planting on his right leg and faking inside, before getting around 3 yards of separation in just a couple steps. pic.twitter.com/IsS60GaMJg

— Kevin Scott (@champofantasy) June 17, 2019
Here is a play in Week 2 where Pettis is running a corner post. Watch how all the receiver has to do is follow him but he cannot. Pettis fakes toward the inside and the defender falls down, leaving him wide open. That's route running skill.
Dante Pettis was one of the top separators in the league as a rookie according to @NextGenStats



Week 2 v Lions - Bottom of screen in slot.



- Gets corner to open slight outside quick release inside

- Puts trail position on skates (not easy)

- Opens up underneath the safety



Wow pic.twitter.com/Ccm7YtHzyZ

— Context Matters (@dwainmcfarland) July 18, 2019
Hopefully, you're convinced from those few plays that Pettis is a highly talented receiver. Now that he has a year under his belt and is getting his body more NFL-ready, I fully anticipate his talent will be even more evident on the field this season.
The Situation in San Francisco
How about Pettis's situation? Is he likely to explode this season in San Francisco, or will his setting keep him from reaching his potential? After all, there are many talented players across the league who simply don't get the opportunity to excel because of bad offensive schemes, a lack of playing time, or a poor surrounding cast.
The answer is that Pettis finds himself in an enviable situation on nearly every level.
First of all, the 49ers see him as their No. 1 receiver, and it sounds like he will be on the field for virtually every snap. We will discuss what the means as far as his 2019 projections below. Second, he showed chemistry with Jimmy Garoppolo last season, who is a huge upgrade at quarterback over Mullens and Beathard. Third, Kyle Shanahan is running an innovative and dynamic offense that keeps defenses guessing. That should lead to an overall productive offense that spreads the ball around and prevents teams from taking away any one element.
Many will point to the presence of George Kittle as a reason to fade Pettis, but having another threat on the field actually helps him. If Pettis was the only legitimate receiving threat, defenses would scheme to take him away. But Kittle's dominance means that often teams will scheme for him, leaving Pettis to work one-on-one against a corner—a situation that he should win more often than not.
Kittle is a fabulous receiver and will produce great numbers, but that will not take away from Pettis doing the same. During Weeks 7–12, when Pettis was beginning to come into his own, they played together and both produced nicely.
2019 Projections
Let's take a look at some projections for Pettis for the 2019 season. Overall, I anticipate the 49ers improving a fair amount from last season. Last season they ran 955 offensive plays, including 532 passing plays. That ranked them 20th overall in number of pass attempts, while they ranked 11th in rushing attempts with 423. That 56%/44% split should shift a bit toward the pass since I anticipate the passing game will be more efficient this season with Garoppolo under center.
The offense as a whole should also be more efficient under Garoppolo, resulting in more first downs, more red zone trips, and more scoring. As a result, they should run more plays and could easily approach 1,000 total plays. Even with a slight bump in passing rate, San Francisco could throw 565–575 passes, or roughly top-12 numbers in 2018.
The most elite wide receivers in the league reach about 28% of the target share. For example, last season Julio Jones garnered 170 targets out of his team's 617 attempts, for a 27.5% target share. DeAndre Hopkins received 163 targets out of 506 passing attempts, for an unbelievable 32% target share. Hopkins's target share from 2018 was off the charts; most clear-cut No. 1 receivers are in that 26%–28% target share range.
It is clear from the way the 49ers have approached the wide receiver position this offseason that they see Pettis as their No. 1 wide receiver. They did not add anyone of consequence in free agency. Though they were reportedly interested in trading for Odell Beckham, they did not. San Francisco did not sign any other free agents except for Jordan Matthews, who typically plays the slot.
In the draft, they selected another slot receiver in Deebo Samuel. Some believe he can play the outside in the NFL, but he is more suited for the slot long-term. They also drafted Jalen Hurd, who profiles as a gadget wide receiver in the short-term. Otherwise, they have Marquise Goodwin, an undersized speed receiver, and Trent Taylor, another slot guy.
This should all scream to us that they see Pettis as a primary outside receiver capable of being a lead guy. We should assume they will give him that opportunity. So if he is their lead guy, what target share should we expect, and what stats will that likely lead to?
Due to various injuries and to being a rookie, Pettis started only seven games last year. In those games, he received 39 targets, which is 5.6 targets per game. If he had remained healthy and continued to average that same number over the course of the entire season, he would have had 90 targets, or 17% of the target share. That is with nothing changing from last season aside from Pettis's health.
Improved health should be expected this season after Pettis added 10 pounds and certainly is more knowledgeable about how to prepare his body for an NFL season. But beyond improved health, we should also expect Pettis to improve as a player in year two, and as we discussed above, his situation is much improved with Garoppolo under center.
With all of this as a backdrop, Pettis could easily meet or exceed a 20% target share this season. Though that would mean he will not approach the target share levels of the most elite wide receivers in the league, 20% of 565 team pass attempts (again, assuming a slight uptick in passing rate and more plays run) is still 113 targets. Most receivers with over 100 targets average between 60% and 70% in catch rate. Even if we put Pettis at 60%, since he does run a fair number of deeper routes which lead to a lower catch rate, that would equate to 68 receptions. If he catches 65% of the passes thrown to him, that would equal 73 receptions.
As for his yards per reception, he averaged a very impressive 17.3 yards per reception last season. That is astoundingly high, even higher than Tyreek Hill last season, but that is in large part due to a few long receptions Pettis secured. He is less of a deep threat than Hill and profiles more like a player who will focus on the intermediate sections of the field. If we put his yards per reception at a more tenable 14, his stat line would be 68 receptions for 952 yards.
Pettis scored five touchdowns last season in limited action, but again that is a small sample size. With 110–115 targets, Pettis would need a roughly 4.4% touchdown rate—about the league average for wide receivers—to again hit five touchdowns. If we give him a high end of a 7% touchdown rate, which is where Julio Jones finished last season, Pettis could approach eight touchdowns.
Most fantasy analysts have projected Pettis more conservatively than I have here. Our own projections at 4for4.com have Pettis down for 51 receptions for 818 yards and 4 touchdowns. I have shown here that a ceiling of 68 receptions for 952 yards and 8 touchdowns is certainly within his range of outcomes.
In conclusion, Pettis is a player to target in fantasy leagues this year. His top-end range makes him a top-20 wide receiver if he stays healthy, and as of now, he is around the 30th receiver being taken in drafts. He is going in the sixth or seventh round of almost every draft (I have only seen him sneak into the fifth once). I am targeting him in the sixth round in literally every draft I'm in, and you should too.