NFL Preseason Week 1 Fantasy Football Recap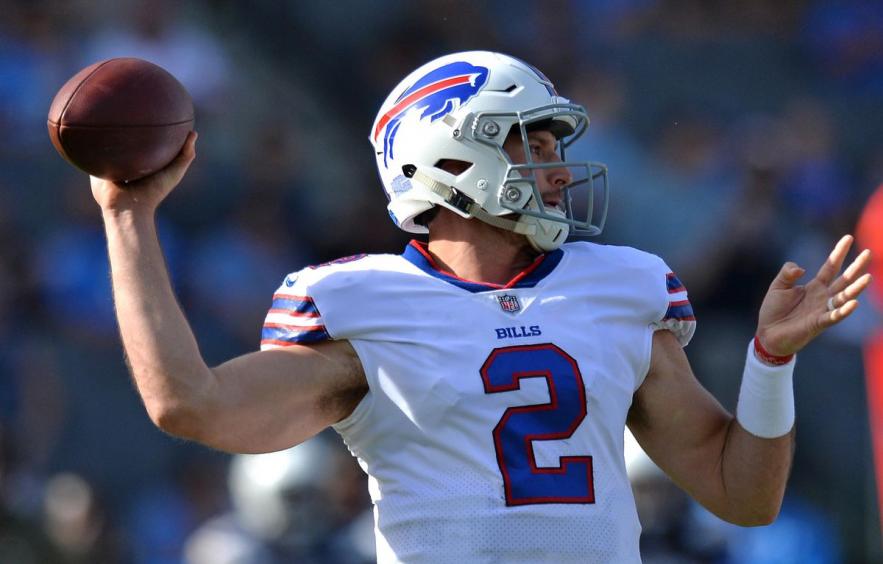 With one week of real-ish NFL games under our feet, it's time to see how impactful, if at all, any of the first preseason contests will have on the game of fake football. This is a position-by-position look at how it all went down so drafters can plan and adjust accordingly for upcoming redraft leagues and best-ball drafts.
Note: All player ADPs mentioned are courtesy of 4for4's Multi-Site ADP Tool.
Quarterback
Bills are no closer to a clear starter: Nathan Peterman went 9-of-10 for 119 yards, a score and a pick on his two drives, while A.J. McCarron connected on 7-of-10 passes for 116 yards on two drives. Rookie Josh Allen seems to be as advertised when it comes to arm strength, sailing a 50-yard pass past Robert Foster on his first snap, but he also showed his rawness and need for development as the game went on. He ended the game with 116 yards and a touchdown.
Andrew Luck's shoulder is not a pile of mush: For his first real NFL play since the end of the 2016 season, Luck showed us that he can throw and take hits, too. He completed 6-of-9 passes for 64 yards, connecting with five different receivers along the way. All signs point to the old Luck, so draft him at will.
Sam Darnold made his case for the starting gig: Right before halftime, the rookie's first NFL touchdown came from a two-minute drive, culminating with a 14-yard score to put the Jets up 17-0. He finished the night 13-of-18 for 96 passing yards, exhibiting the poise and decision making of a future franchise QB. Teddy Bridgewater also showed he deserves a shot, completing 7-of-8 passes for 85 yards and a score. With three preseason games to go, the QB battle in New York is just heating up.
Joe Flacco is still the Ravens' starter for now, but Lamar Jackson looks pretty, pretty good: Flacco only played one 10-play scoring drive, but he went 5-of-7 for 71 yards. He shrugged off a 2nd-and-25 with a 30-yard strike to Michael Crabtree and looked like a starting NFL QB. Rookie Lamar Jackson was impressive, posting a 7/18/119 passing line with an additional 21 yards rushing. At his current late-19th-round ADP, Jackson is certainly worth a bench stash if he continues those type of performances.
Miami's O-Line showed improvement: Ryan Tannehill appeared to be well protected in his first time on the field in 20 months, which bodes well for the Dolphins' offensive fantasy players. He led a 40-yard drive that resulted in a missed field goal. He wasn't super impressive, but he is a bit out of practice. We take preseason Week 1 for what it is, and Tannehill is still draftable in best-ball, superflex and larger leagues at his basically free price tag.
Cleveland has themselves a QB, or two: Tyrod Taylor looked strong, completing all five of his passes for 99 yards and a touchdown in the first quarter. Rookie and first overall draft pick Baker Mayfield put on a show himself, completing 11-of-20 passes for 212 yards and two scores, plus the conversion of two fourth-down plays with his legs. None of this excitement should have an impact on the starting job, but Mayfield could see the field sooner than later.
Running Back
Rookie Kerryon Johnson showed burst: The Lions' second-rounder ran for 34 yards on seven carries and added another 33 yards with four receptions. As the RB36, he's currently the last rookie back off draft boards with a late-eighth-round ADP—not a bad price point for his potential in the Lions' offense.
Beast Mode is still a thing: Marshawn Lynch busted out a 60-yard touchdown run on the third play of the game that was sadly called back due to a holding penalty. He then proceeded to eat what appeared to be a peanut butter and jelly sandwich on the sidelines, perhaps followed by some skittles. Whatever works, as the 32-year-old back showed he still has wheels.
Derrius Guice is out for the season—but you probably already knew that: The rookie back is on the shelf for all of 2018 with a knee injury, so please adjust your draft plan accordingly.
Patriots' depth chart at RB is still long and isn't getting any shorter: Undrafted free agent Ralph Webb rushed for two scores, plus a pair of two-point conversions, while Jeremy Hill also punched one in, along with 11 carries for 51 yards. Mike Gillislee joined the party, carrying the rock 14 times for 43 yards. New England's backfield is always tough to navigate, and it appears this season will be no different.
Peyton Barber wants to play: The third-year back from Auburn trimmed down this offseason and it shows. He was impressive, carrying the ball four times for 21 yards and a score, while rookie Ronald Jones was held to just nine yards on eight carries, with a two-yard touchdown run. For now, Barber is still a great value as the RB63, coming off boards in the 18th round.
Saquon Barkley is good at running the football: Nope, this isn't exactly breaking news, but if you were on the fence on whether he can rush in the NFL, just look at his first professional play from scrimmage. On a handoff from Eli Manning, Barkley tore down the sideline for a 39-yard gain, proving that he's ready for the speed and strength of the league. He's currently the sixth RB off the board, with an ADP in the first round, which shouldn't budge for the remainder of the draft season, barring an injury, of course.
Wide Receiver
Despite a mild verbal skirmish with Cam Newton, Kelvin Benjamin was decent as a full-time Bill: The former Panther wideout seems comfy in Buffalo's offense, grabbing four passes for 59 yards, including a 28-yard touchdown from Nathan Peterman on the Bills' first possession. No matter who ends up as the starter under center, Benjamin is their No. 1 WR and could provide some value as a mid to late-rounder.
Michael Gallup showed depth chart-climbing potential: With the Cowboys' wideout situation on the murkier side, Gallup turned some heads in his NFL debut. The rookie from CSU caught a 30-yard touchdown strike on Dak Prescott's only drive of the night, making a case for a shot as a first-teamer. His ADP is currently in the late-14th round (WR64).
JuJu Smith-Schuster has hops: In the first quarter, the 21-year-old receiver made an acrobatic catch over Rasul Douglas, then ran untouched into the end zone for a 71-yard score from Steelers backup QB Landry Jones. Smith-Schuster is projected for 100+ targets this season and is currently boasting a fourth-round price tag.
Stefon Diggs is in good hands: Kirk Cousins was 4-for-4 in his short appearance, hitting Diggs for a 1-yard touchdown on a quick slant. Diggs was also perfect on the night, catching all three targets for 35 yards and his score. Some have questioned Diggs' ability to stay healthy, but for now, it appears he's worth every hypothetical cent of his late-third-round ADP.
Tight End
Houston's TE room may have gotten cloudier: Already a rough TE group for fantasy purposes, the Texans had a new guy emerge during their first preseason game. Rookie Jordan Akins caught two touchdowns from Brandon Weeden, showing that he has the skills to play in the NFL. I'd still stay away from Texans TEs for now, or maybe all season to be honest.
Dallas Goedert is who we thought he was: With Zach Ertz taking the night off, we got to see Goedert in action and he was solid. The rookie checked in with four catches for 66 yards and a touchdown and should be a hearty compliment to Ertz this season. He's worth a dart throw at the end of your fantasy drafts in the event of any serious injury to Ertz.
A surge in store for David Njoku: There's been no uncertainty surrounding Njoku's talent, but is there room for him in this packed Browns offense? (Yes, I just typed that). He showed that he can be an instrumental part of the team in their first preseason game, hauling in two passes for 46 yards and two scores. As the TE15 thus far in ADP, Njoku could easily outperform his 12th-round price tag and sneak into starting TE territory.
---
Related Articles