Chris Thompson is the Running Back to Buy in Washington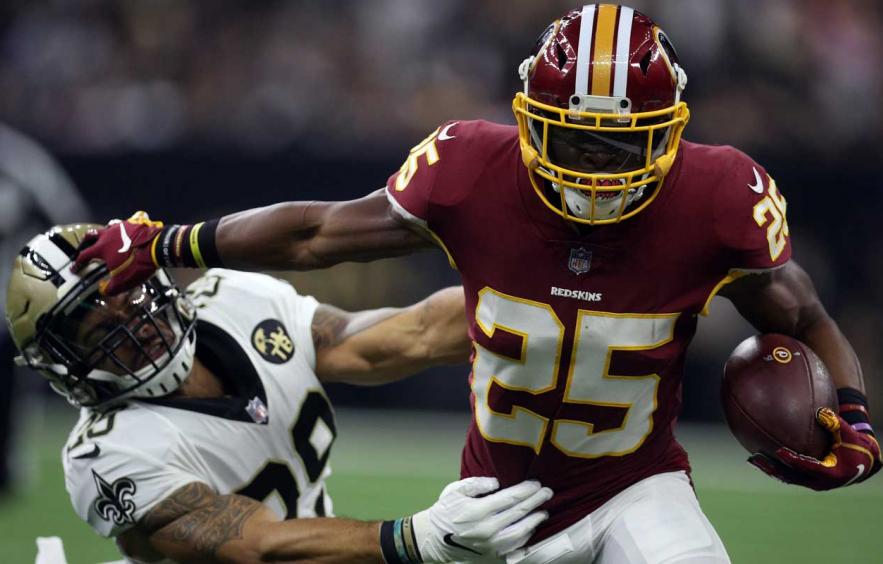 In this year's NFL Draft, Washington used the 59th overall pick on running back Derrius Guice, effectively making him the team's lead back. While the draft capital spent on Guice is relatively high, he was only the seventh running back taken in this year's class and head coach Jay Gruden stated almost immediately after the draft that they aren't expecting him to be a three-down back.
Related: Derrius Guice is Overpriced
The following will make a case for Chris Thompson as one of the best running back values of the 2018 fantasy football season.
Editor's Note: Find all our 2018 Player Profiles here.
Buy Pass-Catching Running Backs
When looking for a running value beyond the early rounds, one of the best approaches is to pinpoint a player locked into a pass-catching role. Simply put, running backs that catch passes score more fantasy points, on a per-touch basis, than those who don't. This goes for all scoring formats, but the difference in PPR leagues is unmistakable—over the last three seasons, running backs have averaged 0.57 PPR points per rush attempt compared to 2.05 points per reception. Given that scoring gap, it's no wonder players like Darren Sproles, Danny Woodhead, and now Alvin Kamara and Christian McCaffrey can consistently put up starter-caliber fantasy numbers without a massive backfield share.
Chris Thompson fits this bill—through 10 weeks last season, he led Washington's backfield with 98 touches. However, he accounted for just 40 percent of his team's backfield work. With 38 percent of Thompson's touches coming through the air, though, he was the overall RB11 after 10 games. Many will point to the fact that Thompson's fantasy numbers were inflated due to an unsustainable scoring rate—he found the end zone on 5.8 percent of touches compared to a league average three percent touchdown rate at the position—but even if Thompson had posted average per-touch numbers, he would have been the PPR RB18 after 10 games, despite ranking outside the top 30 in touches at the position.
Thompson's results are not atypical. Over the last five seasons, 19 running backs have accounted for at least 15 percent of their team's targets over an entire season. Just two of those players failed to finish as the overall PPR RB18 or better—eight backs in that span have seen a target share of at least 17 percent and none finished outside the top 10. Before his injury last year, Thompson ranked fourth among running backs in target share, accounting for 17.1 percent of his team's targets.
Running Backs Under Jay Gruden
Going back to Jay Gruden's days as an offensive coordinator in Cincinnati, his offenses have produced just two running backs who have accounted for at least two-thirds of backfield touches. The emphasis on specific roles for his backs has been especially pronounced in Washington. Since 2014, when Gruden became Washington's head coach, only one running back has seen at least 50 percent of backfield touches and there hasn't been a player who has led the backfield in both rushes and receptions in that span.
Given full autonomy of an offense, Gruden has generally opted for the pass in situations that stand to benefit Thompson the most—on third down and near the goal line. Last season, only one team threw at a higher rate on third down than Washington. Since 2014, Washington ranks 11th in the league in third-down passing rate.
As C.D. Carter recently pointed out, Gruden's offenses have ranked in the top 10 in the league in passing attempts inside the 20 in each of the last three years, despite ranking outside the top half of the league in snaps inside the red zone.
In addition to these situational plays, game script could force Thompson into more snaps than some might expect. Washington's seven projected wins put them in the bottom third of the league in expected win total, and Gruden is relatively sensitive to game flow. In his four seasons in Washington, they have ranked 12th in passing rate in losses and are in the top 10 in passing rate in negative game script (down by more than seven points).
Bottom Line
Cheap, pass-catching running backs are some of the best buys in fantasy drafts. Chris Thompson is a player who will likely be available outside the top 30 at his position that has a chance to put up starter-caliber numbers. Thompson's role is locked in as Washington's primary pass-catching back and Gruden's coaching tendencies on a team that is expected to struggle in the win column point to a back who could push for 80+ targets in 2018.
Photo by Chris Graythen/Getty Images.
---
Related Articles