2023 NFL Draft: Live Fantasy Recap (Round 2)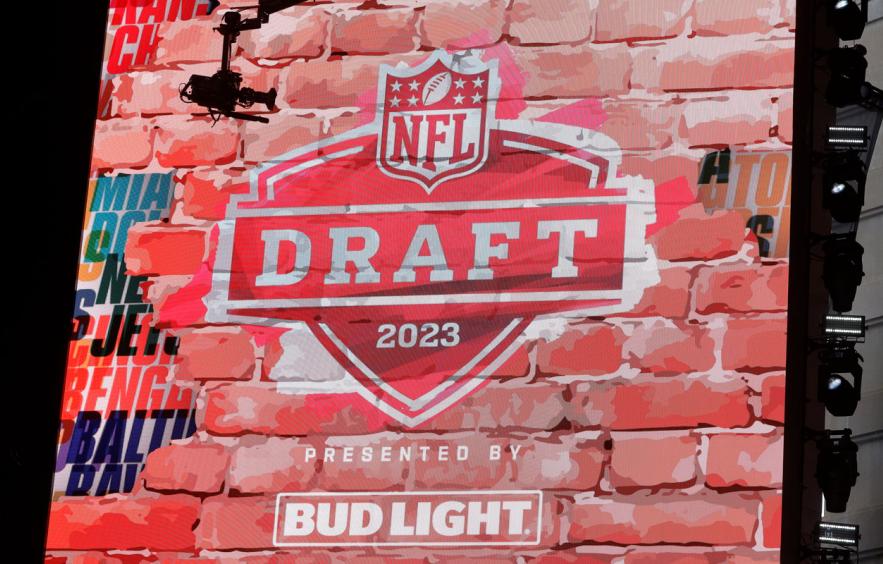 David Eulitt/Getty Images
The second round of the 2022 NFL Draft begins at 7:00 p.m. ET on Friday, April 28th. Coverage is on the NFL Network, ESPN, ABC, and also FuboTV Livestream.
You can find all of our player evaluations from Round 1, including our thoughts on players' opportunities and potential fantasy impact in 2023, at the following link.
Be sure to check back and refresh this page often. Mock Draft Grades for the AFC and NFC will publish on Monday.
2.02 -
Titans

- QB

Will Levis

, Kentucky (via

Cardinals

through

Texans

)

Levis (5'4/229) excelled with career-bests in completion rate (66%) and passing scores (24) under OC Liam Coen, who left the following year to coordinate the Rams' offense with Sean McVay, in 2021 but inarguably declined under new play-caller Rich Scangarello in his final year; the team's o-line, which lost two starters (Luke Fortner, Darian Kinnard) in the NFL Draft, should shoulder some of the blame for his FBS-high 23.9% sack rate on third down. That does not excuse the 23-year-old (24 in June) for ranking stone-last nationally with an interception for every 26.5 attempts with the Wildcats, compiling 23 interceptions and nine fumbles against SEC competition the last two years. While his arm strength is undoubtedly tantalizing, launching 19.4% of his throws (third in the Power Five last year) 20 yards downfield, Levis notably recorded eight turnovers on said attempts. Eight of his 11 rushing scores at Kentucky were also due solely to his size (rather than any perceived athleticism), occurring from inside the five-yard line. His terrible footwork and ball placement will need to be addressed immediately at the next level as both comp him to Drew Lock.
2.03 -
Lions

- TE

Sam LaPorta

, Iowa (via

Cardinals

)

LaPorta (6'3/245) was Iowa's offense in his last three years with the program, leading the team in receptions (138, 30%) in every season since 2020 with a class-high 20% of his routes run from the boundary (including 65 in his final year). Boasting a career 5.2 YAC per reception with the FBS' second-most missed tackles among tight ends and 2.7 YPRR against man coverage in 2022, Laporta displayed why he's a one-on-one nightmare at the combine with a 4.59 40-time and 6.9-second (88th percentile) three-cone. Much like his Hawkeye predecessors in George Kittle (10 collegiate touchdowns) and T.J. Hockenson (9), LaPorta's lone blemish is failing to make a dent (7) where it matters most for fantasy. Second-round capital to open day two as the second overall tight end off the board is a big win for his 22-year-old outlook.
2.04 -
Raiders

- TE

Michael Mayer

, Notre Dame (via

Colts

)

Mayer out-snapped future first-round pick Tommy Tremble as a 19-year-old freshman in 2020, finishing his career at Notre Dame with positional records (both single-season and career) for catches and receiving yards. He also caught a pass in all 36 games he played in college (as noted by The Athletic's Dane Brugler), averaging a class-high 5.0 receptions and 58.3 receiving yards per game. It's a true question mark whether his 71st percentile 40-yard dash at 6'5/249 will allow him to separate over the top at the next level, but his position-high 17 contested catches in 2022 should translate given his physicality and willingness to sacrifice himself over the middle. Coaches are aware of his inconsistent run blocking, though that should not deter him from being an every-down player with a prosperous resume to his name.
2.05 -
Rams

- G Steve Avila, TCU

Avila (6'4/332) did not allow a single sack as a consensus All-American with the Championship Game-bound Horned Frogs in 2022, leading the team in snaps (1,020) across 15 starts. Offering versatility in a pinch — career 1,010 snaps at LG, 1,063 at C, 88 at RG, and 113 at RT — Avila has enough athleticism (72nd-percentile speed score) at his size to carve out a starting role on the interior in Sean McVay's scheme from day one.
2.07 -
Colts

- OT Matthew Bergeron, Syracuse (via

Raiders

)

Syracuse's first true freshman to start at OT since 2002, Bergeron (6'5/318) logged a career 2,539 snaps with at least one start at every position along the offensive line. An inconsistent blocker who did not participate in any drills at the combine, Bergeron's lack of explosion on tape may limit him to becoming a zone blocker under Shane Steichen. Bergeron at least has starting traits worth developing.
2.08 -
Panthers

- WR

Jonathan Mingo

, Ole Miss

Mingo never recorded a 900-yard season and averaged just 3.2 catches per game over his four-year career but turned heads at the Senior Bowl with a 4.46 40 at 6-foot-2, 220-pounds, landing him in the 90th percentile for speed at his prototypical size. With 10 3/8-inch hands and pro-ready strength — Mingo recorded the Power Five's sixth-most receiving yards after contact (208), per PFF — it's no wonder the Panthers invested such high capital. Carolina has more than enough holes to squeeze Mingo into three-wide sets as early as Week 1.
2.11 -
Packers

- TE

Luke Musgrave

, Oregon State

An athletic project with only 20 career games under his belt due to the COVID-shortened 2020 season and last year's knee injury, Musgrave flashed his receiving chops with 6-89-1 and 5-80 in 2022 before sitting out the rest of the year and showing off at Senior Bowl practices by reaching 20.5 MPH on the GPS at 6'6/253. His 87th percentile burst including a 10-foot-5 broad jump lends him a size-speed edge against most NFL linebackers from Week 1. Green Bay would be wise to get him involved downfield immediately after he earned the second-highest rate of targets 20 yards deep in this class.
2.15 -
Patriots

- EDGE Keion White, Georgia Tech

A sixth-year senior at 6'5/285, White began his career as a tight end at Old Dominion before moving to EDGE and immediately leading the team with 19 tackles for loss in 2019. He transferred to Georgia Tech but suffered an ankle injury that sidelined him for the team's first eight games, bouncing back against ACC competition with team-highs in TFL and sacks in his final year. He did not run the 40-yard dash in Indy but was previously clocked at 21 mph at nearly 300 pounds. He also has elite verticality (32 inches) and strength (38 bench reps of 225 pounds) that project him as a rotational pass rusher.
2.18 -
Steelers

- DT Keeanu Benton, Wisconsin

With 49 total pressures on 899 snaps the last two years, Benton's numbers sell themselves after he led the nation in batted passes in his final year. With 1,310 career snaps in the A- and B-gaps, it's unlikely he'll ever be utilized as a true NT planted over center. His elite change of direction with a 7.34-second 3-cone at 6'4/315 gives him pass rush traits worth developing against the league's guards.
2.19 -
Packers

- WR

Jayden Reed

, Michigan State (via

Buccaneers

)

With 203 career receptions, 18 carries, 20 yards per kick return, 15.3 yards per punt return, and a 25-yard touchdown pass across four collegiate seasons, Reed (5'11/191) will have no issues finding snaps in Green Bay's offense. His 56-797-8 receiving line as an 18-year-old freshman across from Dee Eskridge (38-776-3) speaks volumes, transferring to Michigan State against Big 10 competition in 2020 and recording 46 plays of 20-plus yards the last two years. RosterWatch's Alex Dunlap has comped Reed, a route technician with 4.45 40-speed, to Antonio Brown.
2.21 -
Seahawks

- RB

Zach Charbonnet

, UCLA

A five-star recruit as Michigan's lead back as a true freshman, Charbonnet (6'0/214) transferred to UCLA under Chip Kelly in 2021 and registered the third-most missed tackles in the Power Five the last two seasons (per PFF). His 139.4 rushing yards, 4.1 catches (more than Jahmyr Gibbs' 3.6 in the SEC), and 36 receiving yards per game in his final year bill Charbonnet as an NFL bell-cow capable of handling a three-down role. His elite 4.15 yards after contact per attempt in 2022 are also comparable to Bijan Robinson's 4.17. Charbonnet at the very least is expected to open as Seattle's conversion down back and mix in for carries alongside Kenneth Walker.
2.24 -
Chiefs

- WR

Rashee Rice

, SMU (via

Vikings

through

Lions

)

The focal point of the Mustangs' offense, Rice (6'1/204) led SMU in receptions in each of the last three years with 96-1,355-10 and an FBS-high 112.9 receiving yards per game on insane opportunity (156 targets) in 2022. Hyper production in the AAC is always questionable but Rice's experience both from the slot (94% in 2021) and boundary (17% last year) coupled with a 41-inch vertical for a 95th percentile burst score gives him one of the highest floors in this class. He has traits that no other receiver on Kansas City's roster offers.
2.26 -
Giants

- C John Michael Schmitz, Minnesota

A below-average athlete who will be 24 in his rookie year, Schmitz (6'4/301) started exclusively at center throughout his career with the Gophers, earning consensus All-American nods as the catalyst behind Minnesota's top-15 rushing offense in his final year. Albeit Pro Football Focus' highest graded player at that position in 2022, Schmitz's weight is a red flag after he played at 320, showed up to the Senior Bowl at 306, then weighed in at 301 pounds in Indy. He'll be at his best as a scheme-dependent C in the run game.
2.27 -
Cowboys

- TE

Luke Schoonmaker

, Michigan

A strong inline blocker who tallied 19-219-4 through his first three seasons with the Wolverines, Schoonmaker (6'5/251) emerged with career-highs in catches (35) and receiving yards (418) as a threat on option routes in his final year. With 83rd percentile straight-line speed (4.63-second 40) and the strength to match NFL bullrushes, the Cowboys likely envision Schoonmaker chipping defenders in 12 personnel (with Jake Ferguson) only to leak out as a possession receiver underneath.
2.28 -
Bills

- G O'Cyrus Torrence, Florida

Only the fifth offensive lineman to earn All-American status in Florida's illustrious history, Torrence (6'5/330) was initially recruited to Georgia as a defensive lineman but accepted his fate as a redshirt freshman at Louisiana-Lafayette only to be thrust into the starting lineup following an injury to his teammate in the season opener. After permitting zero sacks across his first two seasons, Torrence transferred to Florida for his final year, again allowing zero sacks as one of the nation's best run blockers (with massive 11.2-inch hands) against SEC competition. With only 46 career snaps at tackle and double-digit starts at both interior spots the past four years, Torrence exclusively projects as a guard in Buffalo.
2.30 -
Jaguars

- TE

Brenton Strange

, Penn State

An all-around athlete who struggled to hold his blocks at Penn State, Strange (6'4/253) at least improved his receiving production in every season to finish with career-highs of 32-362-5 in his final year. Earning only 9.7% of the team's targets since Pat Freiermuth (Steelers) was drafted in 2021, Strange will likely be brought along as a developmental project in his first year behind Evan Engram.
2.32 -
Broncos

- WR

Marvin Mims

, Oklahoma (via

Chiefs

through Detroit)

Utilized as a rotational deep threat under offensive guru Lincoln Riley through 2021, Mims (5'11/183) exploded as a full-time player in his final year with 54-1,083-6 for Oklahoma. His role at the next level is unanimous: with a 4.38-second 40 allowing him to create 19.5 yards per catch and score 95% of his career touchdowns on targets 20 yards downfield, Mims is an explosive play on the boundary waiting to happen. His adjustment on deep balls will only elevate year two of Russell Wilson's Broncos career.
3.05 -
Lions

- QB

Hendon Hooker

, Tennessee

Hooker's video-game collegiate production with 11,000 yards of total offense and 105 touchdowns can be attributed to coach Josh Heupel's gimmicky scheme in the SEC, coordinating play-action (along with no-huddle option routes) on 53.6% of Hooker's dropbacks in his final year; he completed 41% of his attempts 20 yards downfield for a 23:2 TD:INT ratio with the Volunteers but only recorded five completions outside the numbers in 2022. With 39 career fumbles and last year's worst fourth-quarter sack rate in the country (15%, per SIS), it's fair to wonder whether November's torn ACL has already put Hooker, a 25-year-old rookie, behind the eight ball for his career. He previously flashed the mobility — career 11.4 carries and 46.2 rushing yards per game, including 45 gains of 10-plus yards in the SEC — to deliver spike weeks for fantasy if he's able to heal and develop quickly.
3.06 -
Texans

- WR

Tank Dell

, Houston

Nathaniel 'Tank' Dell led the FBS in receiving yards per game (101) over the last two years, producing video game numbers with 199-2,727-29 receiving in that span. Whether his 5-foot-8, 165-pound frame is able to translate at the next level is up for debate, underwhelming with a 4.49 40-time (69th percentile) at his figurine size. The Texans ideally have a plan in place to mask his limitations on offense. With 22 yards per punt return in his final year, Dell will win that role from Week 1.
3.08 -
Saints

- RB

Kendre Miller

, TCU

A one-year starter for the Horned Frogs' Championship Game offense, Miller (5'11/215) recorded a career-high 16 carries per game in 2022 with a touchdown for every 13 rushes and, per The Athletic's Dane Brugler, at least one 20-yard carry in 12-of-14 contests. Miller would have arguably landed a fringe first-round grade if he tested at the combine (following his right knee injury late in the year) given his career 6.7 yards per carry. Alvin Kamara's looming suspension may open the door for Miller sooner than expected.
3.10 -
Giants

- WR

Jalin Hyatt

, Tennessee

The reigning Biletnikoff Award winner, Hyatt (6'0/176) totaled 41-502-4 through his first two seasons with the Volunteers before teammate Cedric Tillman (Browns) suffered an ankle injury three games into 2022, allowing Hyatt to emerge with 67-1,267-15 and 20 catches of 20-plus yards. A vertical threat with 4.40 40-speed, Hyatt was hidden in coach Josh Heupel's scheme with a career 89% slot rate and three routes (!) from one- or two-wide sets in his eye-popping final year (per Underdog's Hayden Winks). Hyatt can contribute in the right role but, in never being asked to run a full route tree, has a significantly lower floor than his lone award-winning year of production suggests.
3.11 -
Browns

- WR

Cedric Tillman

, Tennessee

Tillman first emerged as a 21-year-old breakout with 64-1,081-12 against SEC competition and appeared on pace to lap those numbers in his final year (6-83 and 9-162-1 out the gates) before suffering an ankle injury in Tennessee's third game (which elevated teammate Jalin Hyatt for the rest of the year). Tillman won't burn defenders with his 4.54 40 and career 2.9 YAC per reception but his physicality at 6'3/213 with 19 contested catches the past two years comp him to DeAndre Hopkins as a catch-and-fall X wideout. He's arguably the more pro-ready player than Hyatt, the latter being the reigning Biletnikoff Award winner.
3.15 -
Packers

- TE

Tucker Kraft

, South Dakota State

The FCS' Jackrabbits have produced NFL tight ends as recently as 1999 (Steve Heiden) and 2018 (Dallas Goedert) and, at 6-foot-5, 254-pounds with South Dakota State's power-clean record, Kraft is expected to be another. Expected to build off his breakout 2021 season with 65-780-6 receiving as a 20-year-old junior, Kraft suffered an ankle injury in the season opener last year and missed six games; he returned sooner than expected to help the program win the 2022 FCS National Championship. He'll be more than comfortable throwing lead blocks while developing under coach Matt LaFleur.
3.16 -
Colts

- WR

Josh Downs

, North Carolina

Downs registered 30.8% of the Tarheels' targets from NFL prospects Sam Howell (Commanders) and Drake Maye the last two years, being exclusively deployed as a slot receiver (89%) throughout his career. Albeit 5-foot-9 in stature with 2nd percentile weight (171), Downs surprisingly plays as a big possession wideout with a career 7.2 catches per game and 75% contested catch rate (per PFF) in his final year. His 8.99 Relative Athletic Score and 3.72 YPRR against man coverage should allow him to develop into Anthony Richardson's most trusted target.
3.18 -
Titans

- RB

Tyjae Spears

, Tulane

Spears (5'10/201) has endured two ACL tears — the most recent occurring in 2020 — and is not only reportedly "missing one", but NFL Network's Ian Rapoport adds that Spears is also dealing with "knee arthritis" entering the league. Beyond those concerns, 1,052 of his 1,586 rushing yards in 2022 came after contact, finishing his career with an average 6.0 yards per carry in every season. Spears did not run any speed drills at the combine but tested with 91st-percentile burst including a 39-inch vertical. He could carve out a role as a committee back if healthy.
3.21 -
Dolphins

- RB

Devon Achane

, Texas A&M

An All-American track star buried behind three-down workhorse Isaiah Spiller through 2021, Achane (5'9/188) was finally unleashed for 19.7 carries and 4.9 targets per game in his final year, earning the nation's second-most third-down targets at his position. Achane is far more than a one-cut back with unreal 4.32 40-speed, additionally forcing a missed tackle on 29% of his carries since 2020, the Power Five's fifth-best rate in that span (per PFF). He's admittedly a liability in pass-pro if asked to stand in the backfield and block.
3.25 -
Jaguars

- RB

Tank Bigsby

, Auburn

An SEC bell-cow with a career 15.4 carries per game, Bigsby (6'0/210) led Auburn in rushing in every season since 2020, compiling an elite 4.2 yards after contact per attempt (13th-best in the FBS) in his final year. Earning a career 15.4% target share with experience on special teams (23.5 yards per return as a freshman), Bigbsy is a big back capable of wearing down defenses while earning targets. He can handle any spot-starts if Travis Etienne were injured.
3.30 -
Steelers

- TE

Darnell Washington

, Georgia

Primarily an inline (66%) player over his career behind teammate (and 2022 Mackey Award winner) Brock Bowers, Washington averaged 17.2 yards per catch (!) on only 45 career receptions, matching Notre Dame's Michael Mayer with a career 2.75 Yards Per Route Run across 36 games at Georgia. Typically disguised in run-blocking packages as the leaking receiver in play-action, Washington's massive 6'7/264 frame and 11-inch hands should force one-on-one mismatches at the next level. He also clocked a 4.64 40-time and 4.08-second shuttle (third best among every combine invite) as a true Monster and future (albeit inexperienced) spike-week option for fantasy.
3.31 -
Cardinals

- WR

Michael Wilson

, Stanford

A 19-year-old breakout with 56-672-5 with the Cardinals, Wilson (6'1/216) has not been the same player since he suffered a Jones fracture in 2020, missing more games (16) than he's played (14) and registering more drops (9) than touchdowns (5) over that three-year span. His dominant week at the Senior Bowl, not to mention his prototypical NFL frame, presumably tantalized Arizona's front office. There are enough holes on the team's depth chart for Wilson to potentially earn an opportunity down the road.
3.37 (Compensatory) -
Raiders

- WR

Tre Tucker

, Cincinnati

Exclusively a slot receiver in his final year with the Bearcats, Tucker (5'9/187) recorded career-highs in catches (52) and receiving yards (672) before opting out ahead of the team's bowl game. With 67/1,670/2 and 24.9 yards per kick return produced on special teams over his four-year career, Tucker is likely viewed as a gadget receiver to send in motion in order to create mismatches attempting to cover his 4.40 40-speed. His impact with nearly 500 snaps (and 15 tackles) on special teams coverages should at least allow him to be active on gamedays while he develops as a receiver.
3.38 (Compensatory) -
49ers

- TE

Cameron Latu

, Alabama

Initially recruited to Alabama as a defensive end, Latu (6'4/242) converted to tight end in 2019 and tallied 56-785-12 from Bryce Young over his last two seasons with 80% of his collegiate receptions resulting in a first down or touchdown. His willingness as a run blocker will allow Kyle Shanahan to hide him in multi-tight end sets and 21 personnel as an H-back capable of stretching the field against linebackers.