O-Line Rankings and Matchups to Exploit: Week 3
Photo by Harry How/Getty Images
Evaluating offensive line play regarding its effect on fantasy football output has been a stone unturned throughout our game within a game. Here at 4for4, we're dedicated to looking at fantasy pieces from all angles, and that includes the positive and negative impact an offensive line has on that team's fantasy assets.
Below I'm going to be digging into specific weekly matchups between offensive lines and the opposing defense's aFPA —one of the many useful tools available to us here at 4for4. Many sites publish raw fantasy points allowed by position, but 4for4 goes a step further and adjusts those numbers for a defense's relative year-to-date schedule strength. These numbers will continue to strengthen through more data points as the season progresses and, when compared to a team's advantages within the trenches, will expose fantasy pieces we may not have otherwise considered.
---
Editor's Note: Check out the full Week 3 Rankings here.
---
Let's begin by diving into the passing game to see what o-line/defense match-ups we can exploit.
Favorable Quarterback Matchups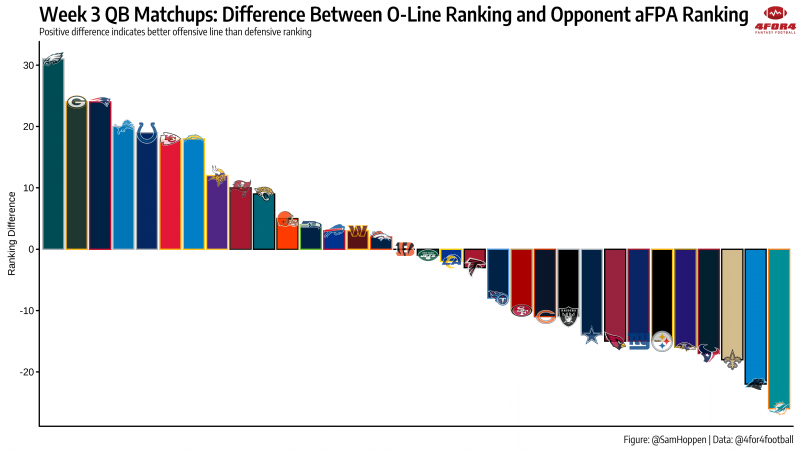 Eagles

@

Commanders

One week removed from being eaten up by an injured Detroit Lions' offensive line, the Washington Commanders will get to try their hand against one of the best offensive lines currently trotting out on an NFL field. The Commanders have been vulnerable through the air and on the ground over the first two weeks of the season, ranking in the bottom seven of both yardage categories while ranking 30th in Football Outsiders' adjusted line yards (5.77). All signs point towards an explosion week for quarterback Jalen Hurts against the defense that ranked dead-last in aFPA to the quarterback position last year and is coming off a week in which they allowed Jared Goff to finish as the QB7 while his teammates ran for 193 yards, including two rushes for 50+.

Hurts is currently ranked as our QB2, and the trench matchup seems to agree with that assessment.
Bills

@

Dolphins

Perhaps somewhat surprisingly, this early-season AFC East matchup pairs two of the top-five scoring teams in the NFL through two weeks. The Dolphins got there by absolutely decimating the Baltimore Ravens defense with six passing touchdowns from Tua Tagovailoa, while the Bills have scored at least 27 points in every single game since Week 13 of last year, remaining one of the most consistent offenses in the game. A large piece of that equation is a good-not-great offensive line that doesn't boast any eye-popping names after Rodger Saffold but continually holds their ground against opposing pass rushes.

Things aren't likely to change this week against a Dolphins defense that has forced pressure on only 15.6% of pass plays, the second lowest mark in the league. Though Stefon Diggs and his incredible 20-270-4 stat line remain the only piece of the offense to eclipse double-digit targets on the year, it's worthwhile to take a stab at one of the team's ancillary pieces in yet another favorable matchup for the offense. Gabriel Davis is a worthwhile WR2 as he returns to action to build on his 4-88-1 Week 1, and Dawson Knox could be spending more time running routes and less time chipping in-line against an edge rush without teeth. In a barren tight end landscape, Knox should be started with (relative) confidence.
Broncos

vs.

49ers

It's been a less-than-steller beginning to the Russell Wilson era in Denver, as the team probably figured they would have more than two passing touchdowns in as many weeks. Here in Week 3, they'll face off against a formidable, if somewhat overrated, 49ers defense that has held steady against two of the worst offensive lines in the league; the Chicago Bears and the Seattle Seahawks. Though San Francisco has a good pass rush, namely, Nick Bosa, they are sure to have a more challenging time against Garrett Bolles than they did against rookies Charles Cross (Seahawks) and Braxton Jones (Bears).

It's clear that Wilson and Courtland Sutton are beginning to click, as evidenced by Sutton's 18 targets, including a 7-122-0 line in Week 2 which bolstered him to the WR15 on the week. We have both players currently ranked as top-12 options at their respective positions ahead of this primetime Sunday Night Football matchup, and the offensive line should hold up effectively enough to see both of those finishes happen.
Favorable Defensive Matchups
Jets

vs.

Bengals

A revamped Cincinnati Bengals offensive line is having issues out of the gate, and much of the problem is coming from former Cowboys tackle La'el Collins, who was thought to be the gem of the team's free agent moves. Mental errors such as false starts and picking up stunts from the defensive line are amongst the initial issues with Collins but he has contributed to the physical part of the game as well, as he is one of three Bengals with at least three blown blocks in the passing game, according to Sports Info Solutions. In fact, there are only 33 players who have blown that many blocks at this point of the season, which means that Cincinnati players make up 9% of that segment, leaving free rushers through the line all over the place.

Even with the Jets coming into this game as 5-point underdogs, there should be a floor for their D/ST, considering the high probability of multiple sacks and possible turnovers due to pressure in Joe Burrow's face.
Texans

@

Bears

This is a pretty gross play, but when we have the opportunity to attack what is likely the worst offensive line in the league, you have to put it under consideration. This game is expected to be one of the slowest-paced games of the week, so the odds that the Texans D/ST would score you zero, or negative, points in this contest is close to non-existent, leaving us to focus on the outcomes in which they make a good-to-great play. While the Bears' Week 1 game took place inside of a monsoon, they still manage to lead the league in adjusted sack rate (15.0%), while Justin Fields has been pressured 18 times on 40 dropbacks.

Right guard Teven Jenkins has yet to round into form since being selected in the second round of 2021's draft, and two former fifth-round selections, Larry Borom (2021) and Braxton Jones (2022), have had their own issues at the tackle positions. While David Montgomery could work as a volume-play, I would avoid the rest of the Bears' offense wherever possible.
Favorable Running Back Matchups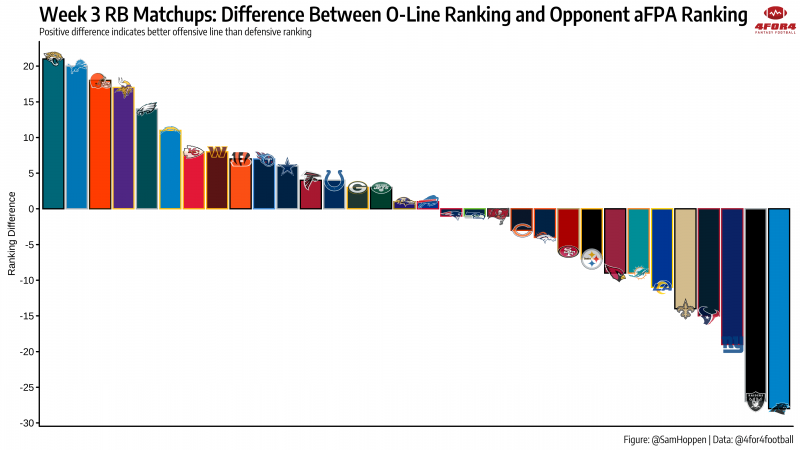 Jaguars

@

Chargers

A quiet plus for the 1-1 Jacksonville Jaguars, the offensive line has only given up one sack through two weeks of play while surrendering only three pressures during Week 2's 24-0 shutout of the Indianapolis Colts. The run-blocking has performed just as well, ranking 13th in Football Outsiders' adjusted line yards, while Week 3 opponent, the Los Angeles Chargers, ranks 28th in the defensive version of the statistic, allowing 157 yards on the ground over 31 carries (5.06 yards per carry).

The issue here —as has been the issue with the first two Chargers' opponents— is that getting the run game going sustainably against a high-powered Los Angeles offense is a difficult task. As such, the play in the Jacksonville backfield this week may be Travis Etienne, who saw more work in Week 2, doubling his opening week workload with his 12 touches. We have yet to see this great college chemistry between him and Trevor Lawrence, but you would expect to witness it more as the season progresses, and this Sunday afternoon could be when things begin to click. It's better to be a week early on a player than a week late.
Lions

@

Vikings

Bolstered by two straight weeks of D'Andre Swift rushing for a 50+ yard gain, the Lions have an unbelievable, league-leading 7.2 yards per carry and 372 yards (third) on the ground thus far. Swift's breakaway speed is to blame for much of that, but the offensive line also needs a hat tip as teammate Jamaal Williams ranks 19th in yards before contact (1.57), while Swift is first in the league by a wide margin with his 4.65 YBC per attempt. All of these big crooked numbers have occurred despite the o-line being down three starters in Week 2, including Frank Ragnow and Jonah Jackson. Their entire interior is dealing with injuries, but their depth was strong enough to force gaping holes in the Commanders' defense en route to scoring 35+ points in their second straight game.

Detroit is going to need those bodies back and healthy before we get too deep into the season, but they do have another soft matchup this week that can be schemed around. The Minnesota Vikings currently sit at 31st place in defensive adjusted line yards after finishing 2021 ranked 32nd and have allowed an RB10 finish (A.J. Dillon), an RB18 finish (Miles Sanders), an RB29 finish (Aaron Jones), and a QB3 finish (Jalen Hurts).
Running Backs with Bad Matchups
As opposed to breaking down every bad match-up through the rest of the slate, here are some running backs I'm looking to avoid because of their poor offensive line and the strong defensive fronts they will be facing: