Fantasy Football Week 14 Recap: 17 Things You Need To Know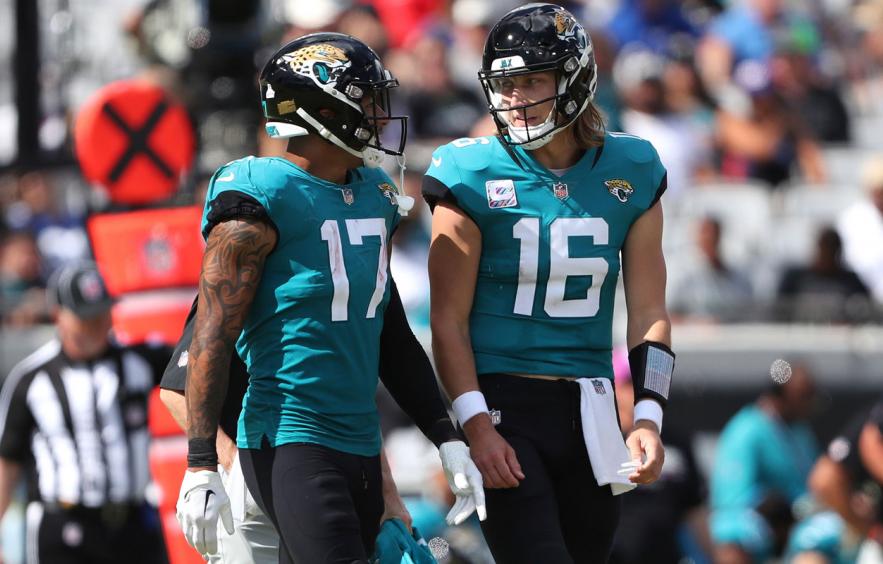 Courtney Culbreath/Getty Images
Week 14 brought us a wild slate. There were so many big performances that I could make this the longest recap of the year. Unfortunately, multiple players left their respective games with injuries. Using some restraint, I'll try to focus on the most noteworthy occurrences of the day. Let's get right to it.
Bright Stars
Evan Engram had his best game ever. The Jags' tight end caught 11 passes on a career-high 15 targets. He gained 162 yards, also a career-high. It was his fourth all-time 100+ yard performance and the first time he ever scored multiple touchdowns. He found the end zone twice Sunday.
Evan Engram was the second tight end to total at least 162 yards and 2 touchdowns in 2022.

(TJ Hockenson in Week 4 the other)

Since 2002 there have been 8 of these games.

4 have come in 2021 or 2022.

— Jeff Bell (@4WhomJBellTolls) December 12, 2022
Justin Jefferson is another player who reached his career-high yardage on Sunday. Jefferson also saw 15 targets and caught 11 of them. He totaled 223 yards. Though he has topped 100 yards 22 times in his career, this was his first time eclipsing 200 yards. Despite seemingly catching every pass, Jefferson did not score a touchdown.
Trevor Lawrence threw for 300+ yards for the second time in three games. It was also his career-high performance. His fifth-ever 300+ yard game ended with him throwing for 368 yards and three touchdowns. Lawrence has not thrown an interception in his last five games.
Jerry Jeudy recorded his first multi-touchdown outing. He finished with three scores on the day. Two were thrown by Russell Wilson while the third came from backup quarterback, Brett Rypien. Jeudy grabbed eight of nine targets for 73 yards.
Christian McCaffrey came up big for San Francisco. His first 100+ yard rushing performance as a 49er came on just 14 attempts. He rushed for an outstanding 8.5 yards per carry. He also caught two passes for 34 yards and scored a touchdown both on the ground and through the air.
Dim Stars
Nick Chubb turned in his second clunker in four weeks. Chubb carried 14 times but he was only able to compile 34 rushing yards. This was the second time he averaged under 2.5 yards per carry this season. Chubb did manage to catch three passes for 20 yards in his lowest total yardage output of 2022.
Dalvin Cook matched his season-low in total yards. He gained 23 rushing yards on 15 carries. He caught one pass for 13 yards. The only thing that kept Cook's day from being a complete disaster was that he did score a touchdown.
Saquon Barkley struggled against the Eagles. His 11 touches were his fewest this season. Barkley was outgunned on the ground by backup quarterback, Tyrod Taylor. Both Daniel Jones and second-year Gary Brightwell earned more yards per carry than Barkley. 48 total yards were the fewest earned by Barkley since he gained just 35 in Week 11.
Rising Stars?
Chris Moore had his biggest day ever. Yet another player to reach a career-best, Moore caught double-digit passes for the first time in his career. Taking advantage of the absence of wide receivers Brandin Cooks and Nico Collins, Moore gained 124 yards on the day. He caught 10-of-11 targets.
J.K. Dobbins starred in his first game back from injury. Activated off injured reserve ahead of Sunday's game, Dobbins saw game action for the first time since Week 6. He looked as though he has not missed a beat. Dobbins collected 120 yards on 15 rushes. He added a rushing score. Dobbins will undoubtedly be a top waiver addition anywhere he is available.
Jameson Williams made his first career catch. He only had one but it was spectacular. Jared Goff hooked up with the rookie on a 41-yard touchdown early in the first quarter. Williams figures to be a popular target on waivers as well.

Injury Concerns
Kenny Pickett was ruled out with a concussion. He left the game after being thrown to the ground by Roquan Smith. Pickett is now in the concussion protocol. This was his second concussion this season.
Ty Huntley left the game with a concussion. He exited shortly after Pickett did, leaving both teams without their starting quarterback. Huntley entered the protocol and his status for Week 15 remains to be seen.
Tyler Boyd injured his finger on Sunday. Head coach Zac Taylor said it was a dislocated finger. It is not believed to be fractured. Boyd is considered week-to-week.
Deebo Samuel was carted off the field in San Francisco. Late in the second quarter, Samuel suffered an ankle injury. The extent of the injury is not yet known. However, Samuel is believed to have avoided a season-ending injury. Head coach Kyle Shanahan suggested it is a high ankle sprain.
Kyle Shanahan says Deebo Samuel has a left ankle injury. He said "we're not sure" the extent but it's "most likely" a high ankle sprain. It is not broken, he said.

— Jeff Darlington (@JeffDarlington) December 12, 2022
Russell Wilson went down hard after running the ball in the fourth quarter. Wilson's head collided with the ground following the run. He was ruled out with a concussion and backup Brett Rypien took over.
Jeff Wilson left Sunday night's game with a hip injury. Wilson was injured in the second quarter. He was seen trying to jog it off on the sideline. Wilson was later ruled out of the game.