Fantasy Implications of Hayden Hurst's Return to the AFC North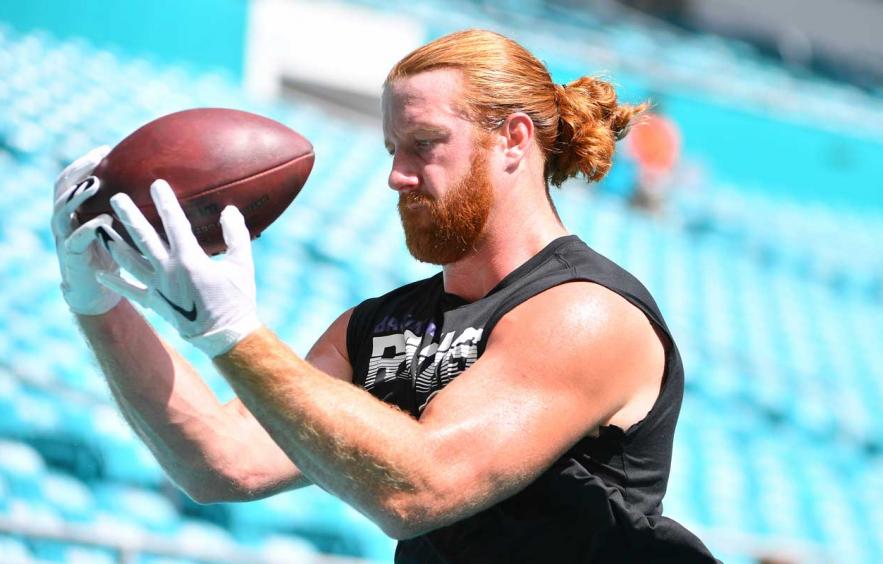 Mark Brown/Getty Images
On March 17, the Bengals signed former Ravens and Falcons tight end Hayden Hurst to a one-year contract to try to replace the departed C.J. Uzomah. Hurst, a former first-round pick, had a breakout season in 2020 before the Falcons used a first-round selection of their own on Kyle Pitts, forcing our subject down the receiving pecking order.
---
Click here for more 2022 Player Profiles!
---
Below we will touch on Hurst's departure from Atlanta and how his arrival in Cincinnati will influence the 2022 fantasy football season.
A Falcon Fallout
In the 2018 NFL Draft, the Baltimore Ravens were intent on switching the dynamic of their offense. By the time they left the third round, they had selected quarterback Lamar Jackson, tackle Orlando Brown, tight end Mark Andrews, and it may come as a shock for those who have forgotten, but Hayden Hurst went before all of them. With solid college production coming out of South Carolina and a great athletic profile on the back of his incredible speed, Hurst looked like someone you could plug into an offense and wait for fireworks. The rest, as they say, is history. Hurst would fracture his foot in August, which left Andrews to take over as the team's TE1, where he has been in contention for fantasy's overall TE1 ever since. After two years playing second fiddle, Hurst was shipped off to Atlanta before the 2020 NFL Draft in return for a fourth-round pick.
Year one couldn't have gone much better for the newly minted Falcon; his 85 targets, 56 receptions, 571 receiving yards, and six touchdowns were all more than Hurst had acquired through his first two seasons in Baltimore combined. He would finish with 7.6 half-PPR points per game in 2020, good enough for a TE14 finish on the back of heightened volume.
Hayden Hurst

Rate Stats Among TEs in '20

| Yards per Reception | TE Rank | Yards per RR | TE Rank | Yards per Target | TE Rank | Receiver Rating | TE Rank |
| --- | --- | --- | --- | --- | --- | --- | --- |
| 10.2 | 21st/35 | 1.1 | 29th/35 | 6.3 | 25th/35 | 84.1 | 30th/35 |
*All data from Sports Info Solutions
Hurst's rate stats show that he had a primarily replacement-level season as a receiver, and for someone who has never been known as a good run-blocker, you could see why Atlanta would look into shopping around for the position again. We didn't have to wait deep into the offseason for that to come to fruition, as the Falcons would use the fourth overall pick on possible-generational talent Kyle Pitts, of Florida Gators fame. The writing was on the wall, and even though the team would finish the 2021 season with the fourth-highest tight end target rate (28.1%), Hurst would be the beneficiary of a measly 32 of them wrapping up the year as the TE35 in half-PPR points per game.
With Kyle Pitts now left in a tight end room filled with undrafted free agents, I wouldn't expect his usage in Atlanta to disappear anytime soon. The uptick we could reasonably give him heading into his sophomore year is somewhat negated by the downgrade in quarterback from Matt Ryan to Marcus Mariota. Mariota has experience throwing the ball to talented tight ends in his past (Jonnu Smith, Delanie Walker, former Hurst teammate Darren Waller). Still, this offense is very likely to struggle, particularly after the Calvin Ridley suspension. I don't see Hurst leaving Atlanta to have a significant impact on Pitts.
Filling A Need (Again)
The Cincinnati Bengals were tied to former Minnesota Vikings tight end Tyler Conklin, as well as a possible re-signing of C.J. Uzomah. Thus, when both options headed to the New York Jets as free agents, the AFC Champions had to turn elsewhere. As we saw last season, it is imperative for this offense to work the seams, maintain a presence in the red zone, and present an option underneath while Ja'Marr Chase and Tee Higgins threaten the defense deep. Whoever came into fill that role for Uzomah was going to be immediately intriguing from a fantasy perspective, at the very least as a streaming option.
In the three years since head coach Zac Taylor and offensive coordinator Brian Callahan joined the Bengals, it has been a priority to run the passing offense through the wide receivers. Hayden Hurst likely landed in the best possible scenario, though it isn't likely that he will be "getting there" on target share alone. The tight end position will spend a lot of time looking up at Chase, Higgins, Tyler Boyd, and, at times, Joe Mixon.
Cincinnati

Bengals

TE + WR Target Share '19-'21

| Year | TE Target% | League-Wide Rank | WR Target% | League-Wide Rank |
| --- | --- | --- | --- | --- |
| 2019 | 19.1% | 18th | 65.90% | 4th |
| 2020 | 13.0% | 28th | 69.00% | 5th |
| 2021 | 15.3% | 28th | 66.30% | 3rd |
The good news —and something I'm sure comes as a relief for Hurst— is that the competition from within the tight end room is slim, if not non-existent. Drew Sample has done hilariously little on an NFL football field since being drafted in the second round of 2019, operating almost exclusively as an inline run blocker and taking 57 of his 824 (7%) 2021 snaps at slot or wide receiver. For comparison's sake, Kyle Pitts took 523 of his 772 (68%) of his snaps last year as a slot or wide receiver.
From watching Hurst's introductory press conference, it's clear that he is excited to get out of Pitts' shadow and prove why he was once the 25th overall pick. When asked by a reporter, "Are you surprised by how frustrating your NFL experience has been to this point?" Hurst responded, "It's annoying, to be honest with you.". He mentioned that "the Atlanta thing didn't really turn out the way I was told it was going to…". He's working with a chip on his shoulder, and you do love to see it.
Target rate issues aside, Hayden Hurst is going to one of maybe a handful of would-be teams in which he will be given an opportunity to seize a role and earn himself a lucrative contract with a fourth NFL team if the Bengals don't end up trying to lock him in for longer than their current one-year deal. Given what Conklin (three-year, $21m) and Uzomah (three-year, $24m) earned in free agency, it honestly looks like Cincinnati lucked into acquiring a very similar skillset with Hurst for a fraction of the price (one-year, $3.5m).

Bottom Line
In fantasy terms, this is a marriage that makes a lot of sense for both tight end and offensive collectively. Let's hope for Hayden Hurst's sake that the Bengals aren't going to spend a premium draft pick on the position.
C.J. Uzomah proved last year that this offense can provide boom-bust potential by earning the overall TE2 designation between Weeks 4-7.
The offense shouldn't lose a step with Hurst sliding into Uzomah's role; I wouldn't consider this a downgrade for anyone on the offense, least of all Joe Burrow.
His current 4for4 ranking is TE24, but the current Underdog ADP indicates that the draft crowd is slow to react to the signing, showing that he is going somewhere in the TE40s. Considering the possibility for blow-up weeks in a high-powered offense, I would suggest you keep him on your radar in later rounds.